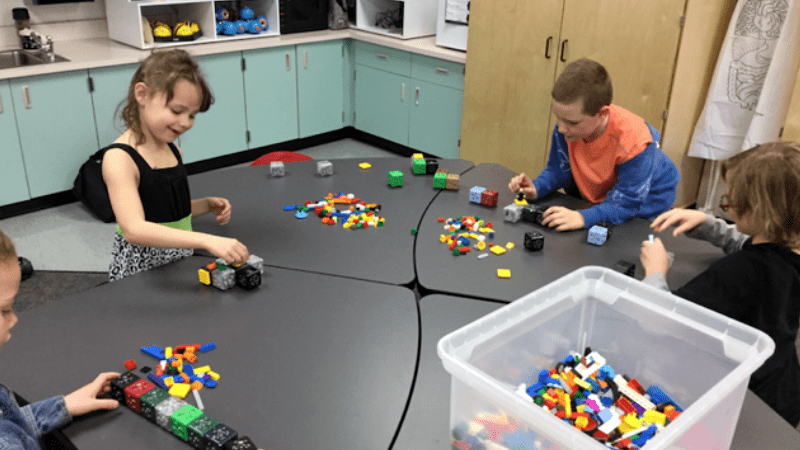 More
Makerspaces are dedicated areas that promote learning through play and experimentation. They are designed to accommodate a wide range of activities and are stocked with tools and materials that encourage students to design, build, invent and experiment as they deeply engage in learning.
Makerspaces are ideal for teaching 21st century skills such as collaboration and teamwork, creativity and imagination, critical thinking and problem solving.
We recently visited three different schools (one elementary, one middle and one high school) to find out how their makerspaces were designed and how students were using them. Their photos and stories are inspirational!
1. Encouraging Hands-On Creativity at the Elementary Level
The STEM Lab at Longmont Estates Elementary School is a beautiful space equipped with modular, movable table groups, flexible seating options and roomy cabinets all generously supplied by the school district.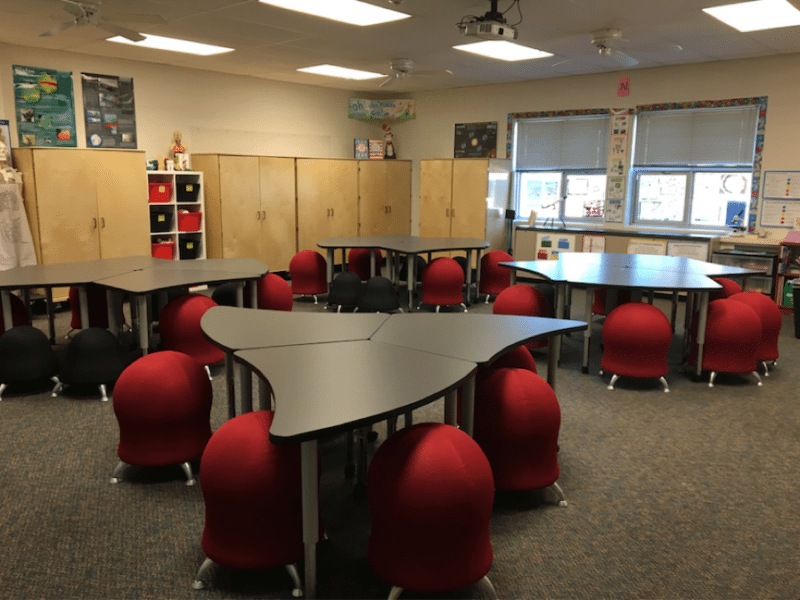 STEM coordinator Jessica Shaffer works closely with classroom teachers at all levels to provide individualized extension and enrichment opportunities for students in a variety of units of study. The lab is also available as a reward for classes and individuals who meet their positive behavior goals.  Students who need a refocus break during the school day are welcome in the lab for some quiet, creative work time.
Students stretch their imagination.
The lab is stocked with technology resources such as tablets and mini robots, as well as copious amounts of building and art supplies designed to provide students with inspiration for free-form building and creating. Here, students experiment with cube shaped robots and LEGO bricks.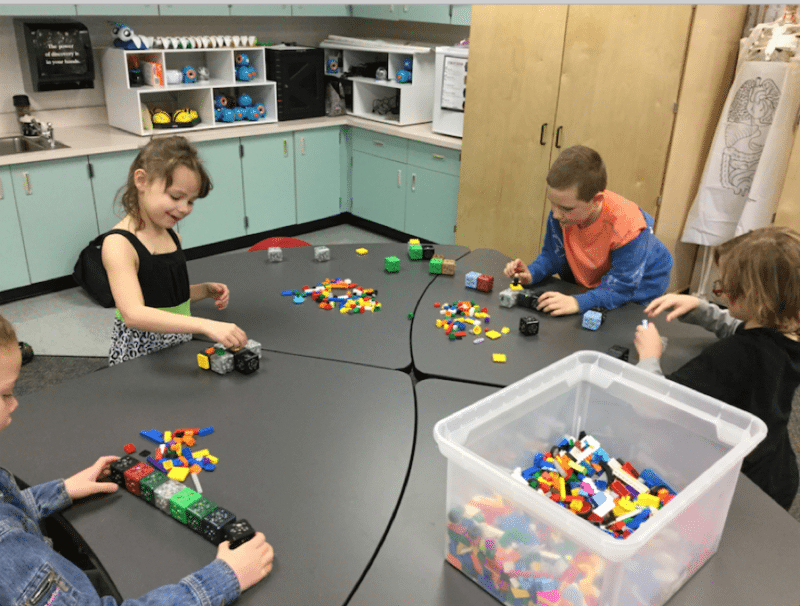 Students build critical thinking and problem solving skills with design projects.
Sometimes whole classes use the lab for a class period, sometimes a small group of students come down for work on a special project. Here, students work on a design challenge project. They are creating a school for colonists on Mars with cardboard and art supplies.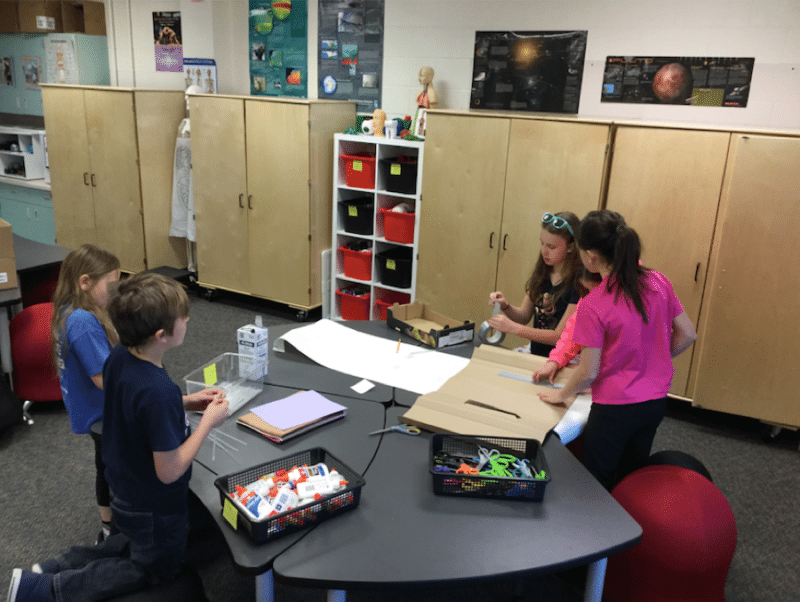 Students collaborate and work on communication skills.
First graders are totally engaged, working in teams on the floor. They are learning the basics of coding as they tinker with robots and iPads.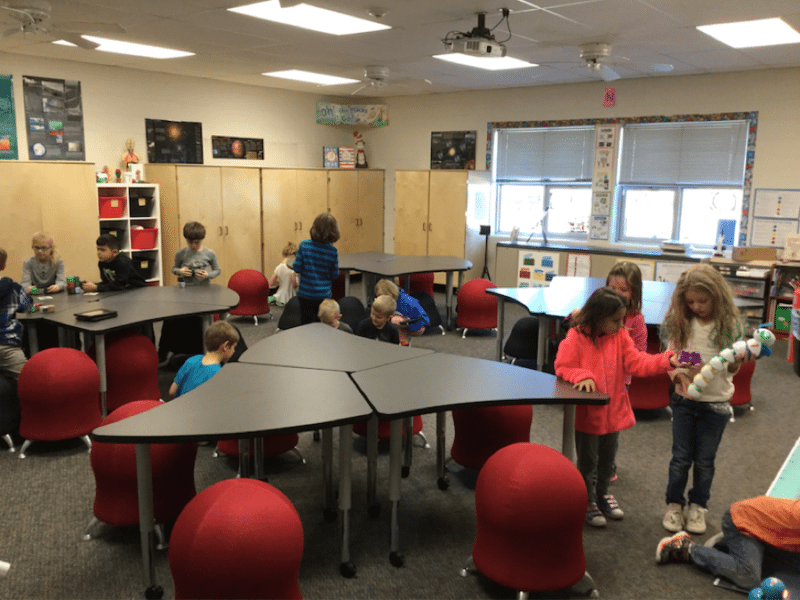 2. Critical Thinking and Problem Solving at the Middle School Level

Bettendorf Middle School in Bettendorf, Iowa is a public, Project-Based Learning (PBL) school. Instructional coach and LEGO Education Ambassador Aaron Maurer coordinates its makerspace, affectionately known as "Coffeechug Café." It is a well equipped, spacious work area that changes configuration weekly as projects evolve. Mr. Maurer works with different groups of students who are working on interdisciplinary projects focused on solving real world problems. "The Café is a place where students can bring their ideas to life," Mr. Maurer tells us.
Students solve real world problems through innovation.
This project was created as a solution to a real world problem from a village in Nepal that is plagued by migratory birds that strip seeds from villager's gardens and severely impact crop yields. Children can't go to school because they must stay home and protect the crops (currently using slingshots and mudballs).
Students from Bettendorf created this "Guardian of the Grain," a four propeller helicopter, from a 3D printer. Then they  programmed a remote control which the villagers can operate to protect their crops by using the quad copter to chase the birds away without killing them.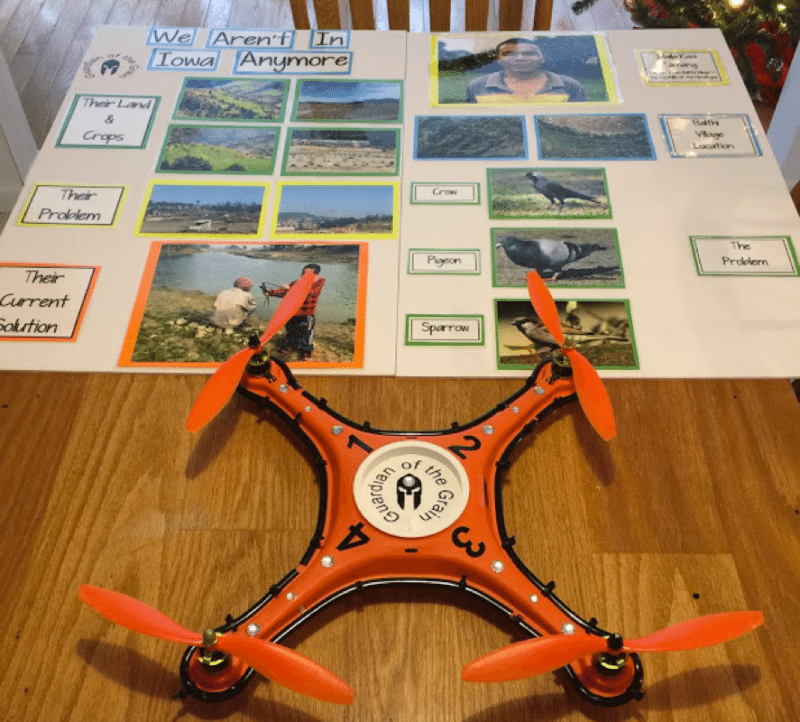 Students use technology to create a bridge between the past and the present.
Each student in this project group was assigned a utilitarian object that was common in Colonial America. Students produced a research project which detailed the importance of that object during Colonial times and how it has transformed into an object of relevance today.
Then, employing coding skills,  students designed and created a laser or 3d-printed facsimile of their object as  an ornament, and attached a card with a QR code that linked to the student's research.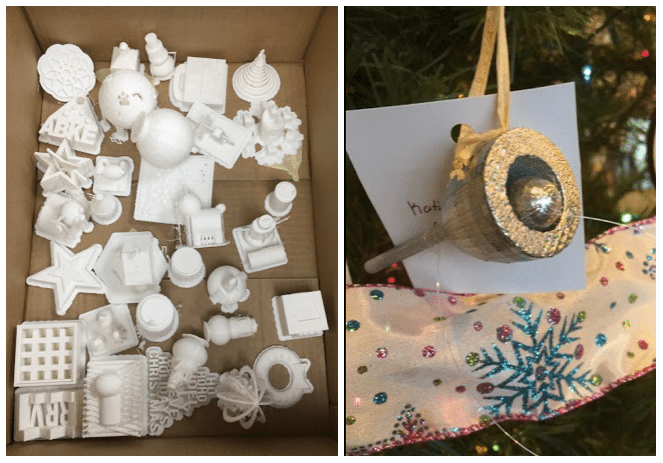 Students collaborate to design and produce a 21st Century helpmate.
Eighth grade students combined planning and design skills with computer coding skills to bring to life a five foot robot named Twitch that operates off of a video game controller. It is constructed out of plastic robotic components, LED lights, and a LEGO MINDSTORMS Education EV3 which serves as Twitch's brain.
He is also equipped with a camera that serves as his eyes, and he is programmed to talk and move through the hallways. Twitch is a staff favorite at Bettendodrf Middle as his main purpose is to deliver coffee to teachers.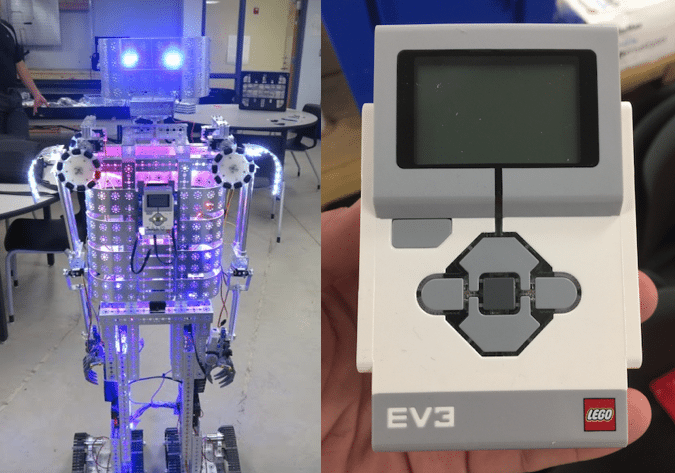 To learn more about PBL programs, see Mr. Maurer's blog Coffee For the Brain. For more ideas about design projects using LEGO bricks and LEGO Education kits, check out Coffeechug Cafe LEGO projects.
3. Deeply Engaged in Learning With Technology at the High School Level
Centaurus High School  in Lafayette, Colorado is an Engineering Focus School with a Makerspace that is impressively equipped with all manner of technology such as 3D and laser printers, vector robotics, programmable jigsaws, a wind tunnel simulator, as well as dozens of computers and much more . Students are inspired to create, design and innovate for courses and projects across the curriculum.
Students come in and out throughout the day, not only for their assigned class periods, but to work on special projects. Groups of students work collaboratively in teams at clusters of computers, in the wood shop, and in the printing shop.
Students create with Computer Integrated Manufacturing aka Robotics.
The storage unit on the left houses all of the components that students use to build robots. In addition to design and production of the robots, students also write the code which operates the robots' functions. Pictured on the right are robotics projects in various stages of design and production.

Students design, manufacture and test Civil Engineering projects.
Students in the Civil and Architectural Engineering class use a computer modeling program to create bridges. They construct them in the woodshop using the programmable mill. The final step is testing the durability of the bridges in the in-house stress tester.
Another woodworking project is a challenge in which students design and create a home/enclosure for a pet, also using the programmable mill.
Woodworking Projects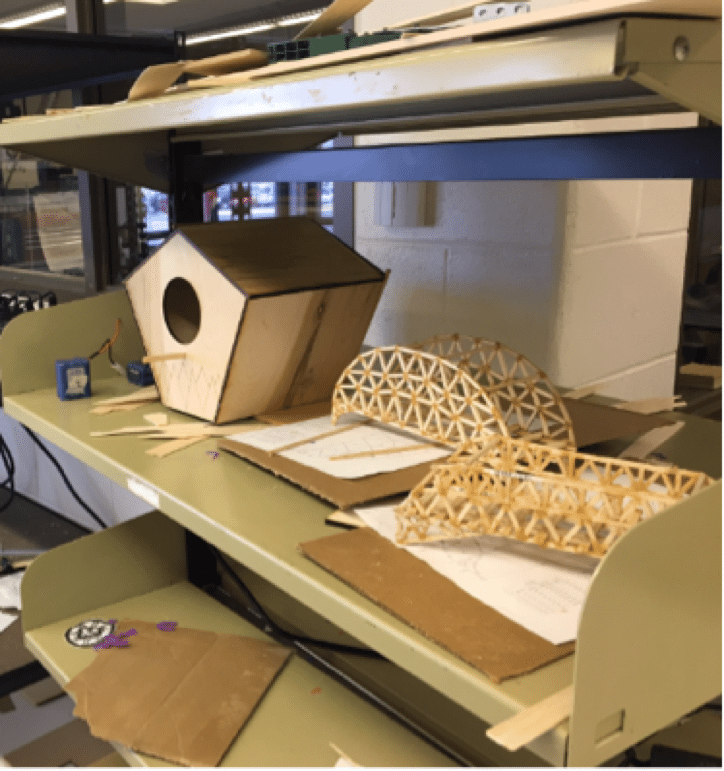 Stress Analyzer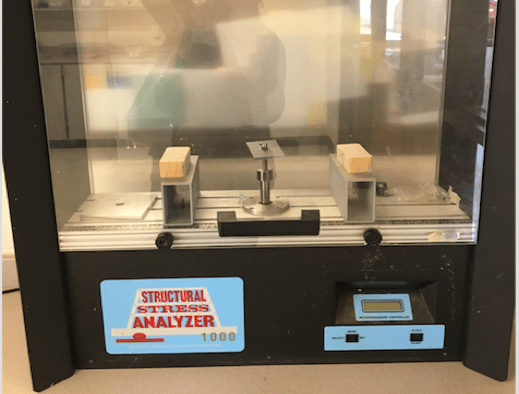 Programmable Mill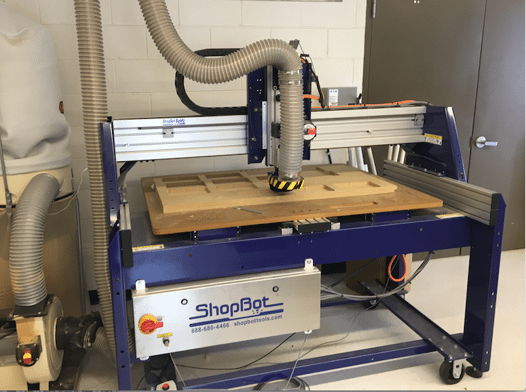 Students create from start to finish with 3D printers. 3D printers provide a steady hum in the STEM lab throughout the day. Students design and build objects to go with projects in many of the different engineering strands. Students from the Intro to Engineering class use the printers for a LEGO project, which involves designing a model with LEGO bricks and then using a  computer coding program to create a 3D model which is then created with the printers.