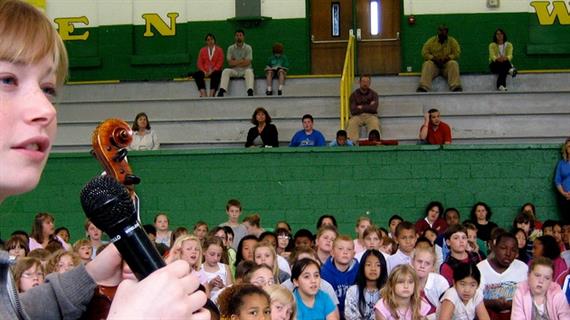 Pretend it's OK to play favorites for a minute, and think of your favorite students. Whose faces popped into your head? The kid with the wicked sense of humor? The one whose tenacity was unrivaled by most? Maybe it was the student with whom you bonded over a shared affinity for the same novel. Whatever the traits, don't you think those students deserve to be recognized for the qualities that set them apart? That's the goal of school pride assemblies.
School pride assemblies acknowledge deserving students according to new criteria, and because these are not the same "repeat offenders" whose names are called out at every school function, we are reaching a new group of kids. Don't misunderstand me: impressive academic achievement and athletic prowess certainly warrant time in the spotlight, and I am not suggesting we give trophies to bench warmers, but the spotlight is wide enough to also encompass the student whose grades are improving and the trainer who never misses a game.
The phrase "school spirit" usually invokes visions of pom-pom-clad cheerleaders and vibrant school colors, but there is so much more to it.
So, how do you decide on the criteria for school pride assemblies? Take a clue from your school's climate and mission statement and find students who embody those ideas. Community service, compassion for others, a team player—whatever attributes are valued within your district will be the criteria for the school pride assemblies. At the end of the day, it is about recognizing students who are not at the head of their class and who sometimes do not feel worthy of accolades. They take their perfect attendance for granted, or the fact that they are willing to give up their lunch to sit in on an extra biology lesson. Work ethic and commitment to education are just as important—if not more so!—than a report card. Yet teachers tend to have a hard time finding ways to recognize and engage these students because the "reward" has historically been their good grades.
Next time you walk down the halls, look for examples of school pride in action. Pride is the student who works diligently on his math homework despite boiling frustrations. (Or maybe that was just my relationship with math?!) Pride is every kid who has a hand in the school play, in front of and behind the curtain. The student who turns off the faucet in the bathroom because the person before her forgot? Pride. What better way to show appreciation for these students, all the while fostering a positive environment for those who haven't always associated school with encouragement, than to honor them at a school-wide assembly?
Feature image credit: Half Chinese via photopin cc
English teacher by trade, smack talker by nature, Stephanie Jankowski loves words, hates math and has a knack for finding the funny in everyday life. Find her wasting time on Facebook and Twitter, and don't forget to check out her blog, When Crazy Meets Exhaustion!