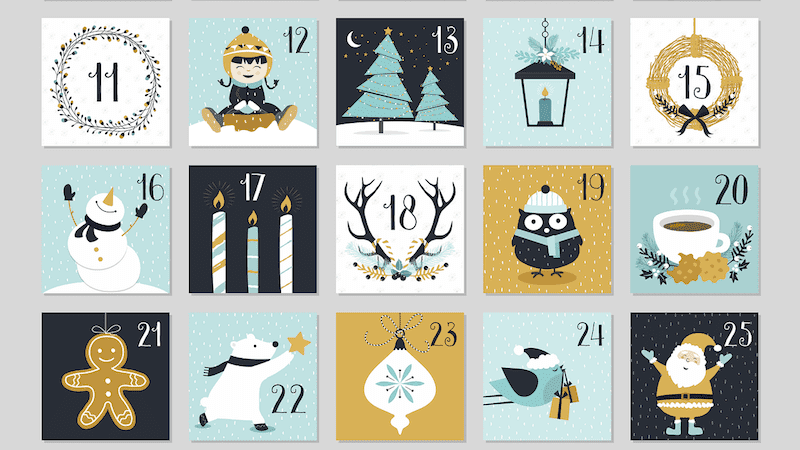 Need a way to boost morale and keep your staff energized this month? We have you covered! Your team will love our Staff Countdown to Holiday Break!
Tons of talented administrators and school leaders have been sharing the ways they use a countdown-type of activity each year during the busy days of December. We're all excited about the holidays and our looming vacation. But this time of the year can be especially challenging for students and teachers alike. Turn up the fun with easy, joyful gestures that make everyone excited to come to school.
How to do a school holiday countdown
Ultimately, this is a way to have staff look forward to each school day in December. Mix it up by alternating between offering a treat or posing a group challenge.
Either the staff is given a small treat each day, or there's a challenge to complete each day. At some schools, staff turn in their countdown sheet on the last day before the break to be put into a drawing for bigger, more exciting prizes. The administrators in our group tell us that planning even small, short activities for their hardworking staff generates great joy throughout the building. It is a great investment in the well-being of your school!
Treat your staff 12-days of Christmas-style
There's an embarrassment of riches when it comes to great ideas for treating faculty. Michelle Dietrich, the principal of Steenrod Elementary School in Wheeling, West Virginia, includes the following when she celebrates her staff in December:
A cardinal in a pear tree … and other assorted fruit
Dove chocolate treats
French Horns in the staff lounge
A CALLing Card (Come A Little Late)
Jeans Until January (better than five golden rings!)
A GOOSE (Get Out Of School Early) pass
Smells of Summer (because swans swim…and you swim in the summer)
Hot Chocolate Cart
A Candy Cane (danced so much needed a cane to get home)
Lord's a Leaping, It's Lunch!
a Kazoo
Gift Card Giveaway (one per hour)
Consider innovative holiday treats
Andrea Kaplan, principal in Mukwonago, Wisconsin designed a countdown to "build staff morale, boomerang kindness and to help spread a little joy during the last 12 days prior to Christmas break". Andrea's staff loved it. She included:
Jeans until January
Popcorn bar
Coffee or hot chocolate
Fresh fruit in the teacher's lounge
"Yes You Can!" (her school's mantra) swag
A sweet treat
Christmas cake
a make your own Chex Mix bar
beverage cart
Staff photo (print one for everyone in the building!)
Cheese and sausage platter
Andrea says, "It was something to look forward to each day. Also, it brought smiles to our students' faces as I pushed around a beverage cart delivering drinks to staff members in their classrooms. I do my best as a Leader to value and appreciate my staff as much as possible throughout the school year. This activity is just one of many ways I show how much I care about them. In the end…we are a team and it takes a village to help students be successful. I want them to know I see them working hard and every chance I get to show my appreciation is worth it!"
Serve the community together
Finally, Mike Caldwell, principal at Bishop Kelly High School in Boise, Idaho, found a way to give back to the community with his staff. Together, they made over 100 sandwiches for a local homeless shelter. "It was awesome," he said. "We've done this for several years and many of our teachers commented on how it is one of the best things we do together as a faculty. I couldn't agree more."
Are you pressed for time but still want to do something fun and meaningful for your staff? We want to make it easy for you to make these culture-building activities happen!
That's why we made this customizable Countdown to Winter Break calendar just for you.
Choose whatever ideas make sense for your team and then add them to your calendar. Our printable Countdown to Winter Break Calendar is editable, so you can make it your own.
Here are just a few of our 12 Days Before Winter Break Ideas.
Jeans and sneakers day
Eat lunch in the Staff Room but make sure there's no talking about school!
Morning donut and bagel bar
Candy canes and hot cocoa mix in every mailbox
Flannel day
Hot chocolate bar with all the fixings
Cozy sock and slipper day
Gift card raffle every hour on the last day of school
Cookie exchange
Favorite team jersey day
Ice cream sundae bar with all the fixings
Nacho bar
Off-duty day! Your duty will be covered.
Class coverage — you will get a surprise 30-minute break today!
Thank you note station—spread gratitude!
Chapsticks in mailboxes for a "chappy" new year
Ugly holiday sweater day
Crazy holiday sock day
Coffee bar
Book, magazine and puzzle swap for the relaxing days ahead
Beat the chill with Hawaiian shirts
GOOSE (Get Out Of School Early pass)
Caroling in the building
Double lunch period today (ask your PTA for help!)
Traveling snack cart
Winter classroom decoration competition
Do tell us what other ideas you'd add to this list—we'd love to know! Share your ideas in the Principal Life Facebook Group.
Happy holidays!