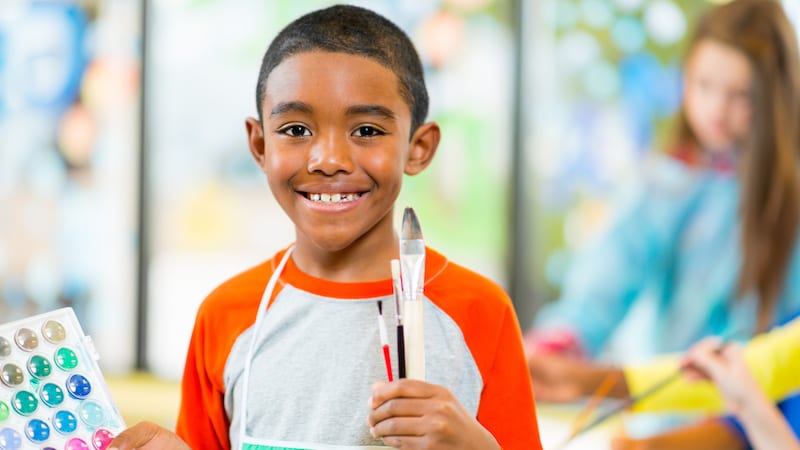 Has your class been commissioned to create an art project for the school auction? These collaborative efforts often go for top dollar on the night of the auction—but an elaborate art project may be the last thing you want to add to your list. That's why we love these simple but beautiful ideas.
1. Popsicle Stick Collage
Give each student 4-6 large wooden popsicle sticks to color in completely with colored Sharpie pens or tempera paint. Encourage them to decorate each stick uniquely. After you have collected all of the sticks, lay them out on a large foam board in a checkerboard manner, experimenting with what you think looks best. When you are satisfied with your design, glue down. Attach a hanger to the back of the foam board.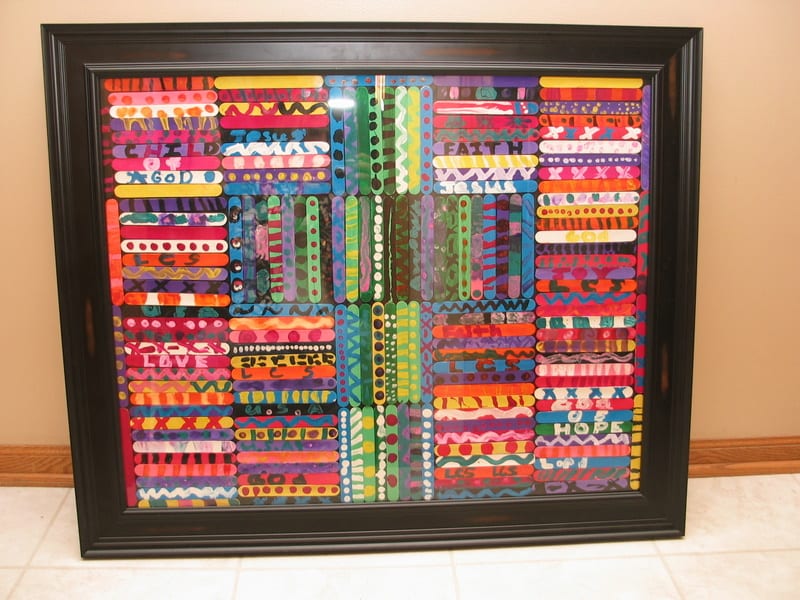 Source: Teaching Middle Level
2. Collaborative Circle Tapestry
Using a 3 inch circle of cardboard, yarn and a needle, students will first create a loom structure and then weave yarn in a circular pattern to create a unique and beautiful circle (see detailed directions here.) String individual circle weavings together using twine attached to a dowel or interesting tree branch.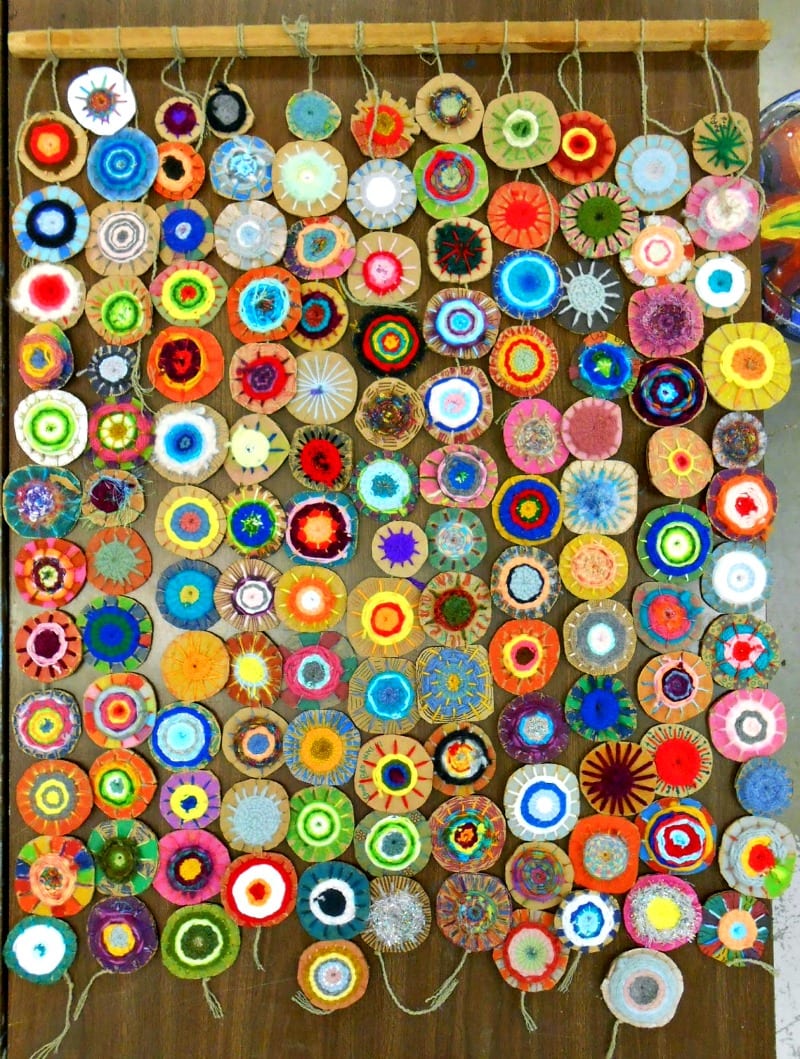 Source: Experiments in Art Education
3. "Chihuly" sculptures
There are two different methods to creating these beautiful sculptures. The first one (directions here)  is constructed with coffee filter papers, water-based markers, paper cups and a squirt bottle of water. The second one (directions here) is constructed with plastic disposable cups, Sharpie pens, and a toaster oven.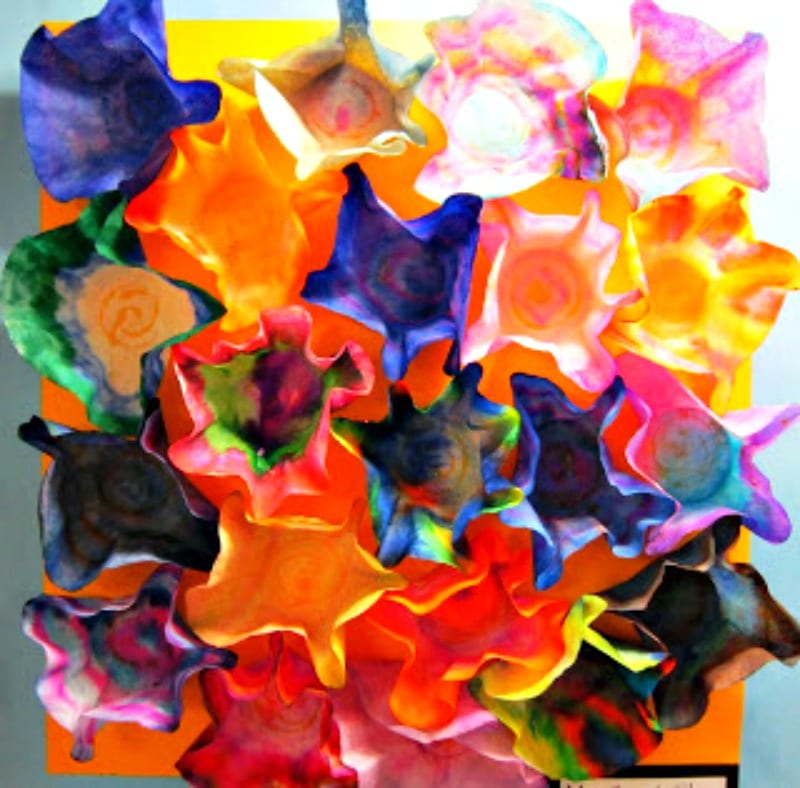 Source: Spot of Color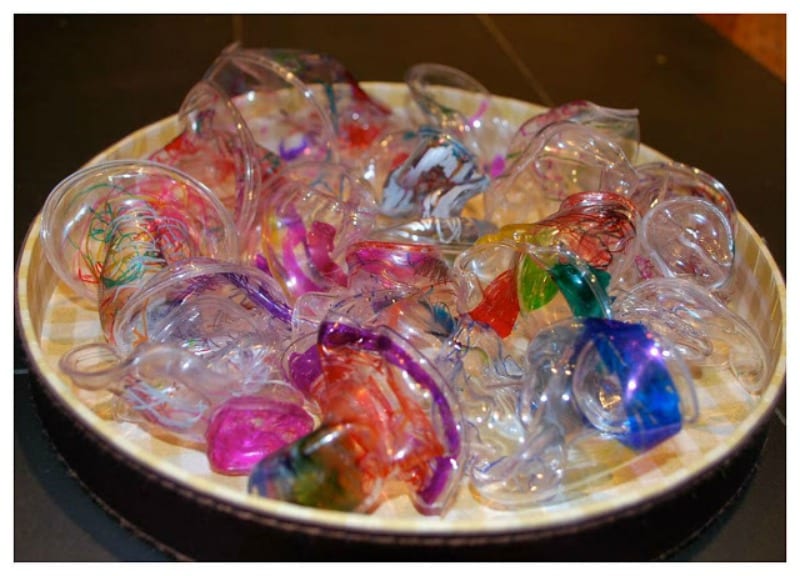 Source: Rubber Boots and Elf Shoes
4. Hand Hearts Photograph
You will need a good camera for this project. Demonstrate for your students how to create the shape of a heart with their hands. Provide a colorful piece of paper as a background for each student to create their hand heart, then snap a photo.  Mount all of the students' heart photos together with a crisp white mat surrounding them, then frame.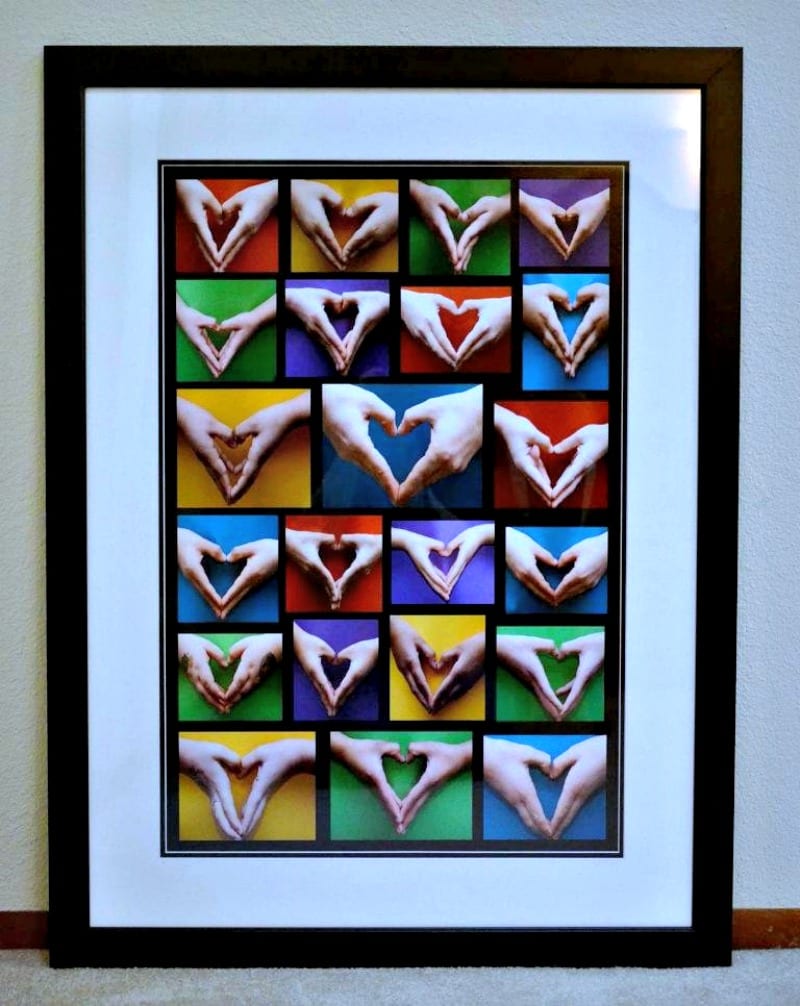 Source: Popsugar
5. Woven Watercolor Strips
Determine the width and length you want each strip of watercolor paper for the weaving to be. Give each student one strip and let them apply different watercolor techniques in the color palette of their choosing to their individual strip. Weave the strips tightly together and glue down onto a piece of black background to form this beautiful piece of art!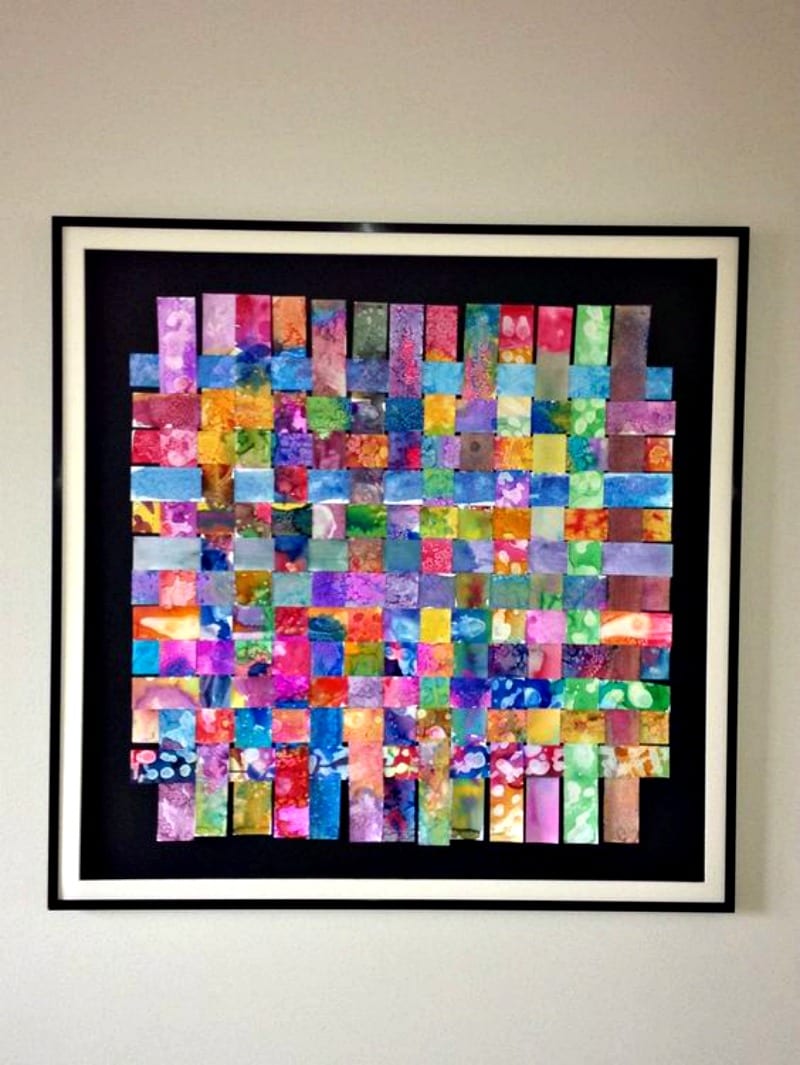 Source: Pinterest
6. Reach For the Stars Collage
Have each student trace from their hand up to their elbow onto plain card stock (or pair them up to do it with a partner.) Color and decorate, then cut out. Assemble all of the hands onto a dark blue poster board, overlapping from the bottom-up as if they were reaching to the sky.  Glue different sizes of shimmering gold stars at the top of the board.
Source: Artsonia
7. Puzzle Pieces
Buy or have someone donate a puzzle with relatively large pieces. Usually a preschool puzzle with 25-30 pieces works well for this. Have students decorate the plain backside of each piece with permanent markers. Encourage them to add lots of details. When they are all colored in, spray all of the pieces with a shiny clear topcoat of spray paint. Assemble the puzzle and mount to a piece of cardboard or plywood. Attach hangers to the back or prop up on a tabletop easel.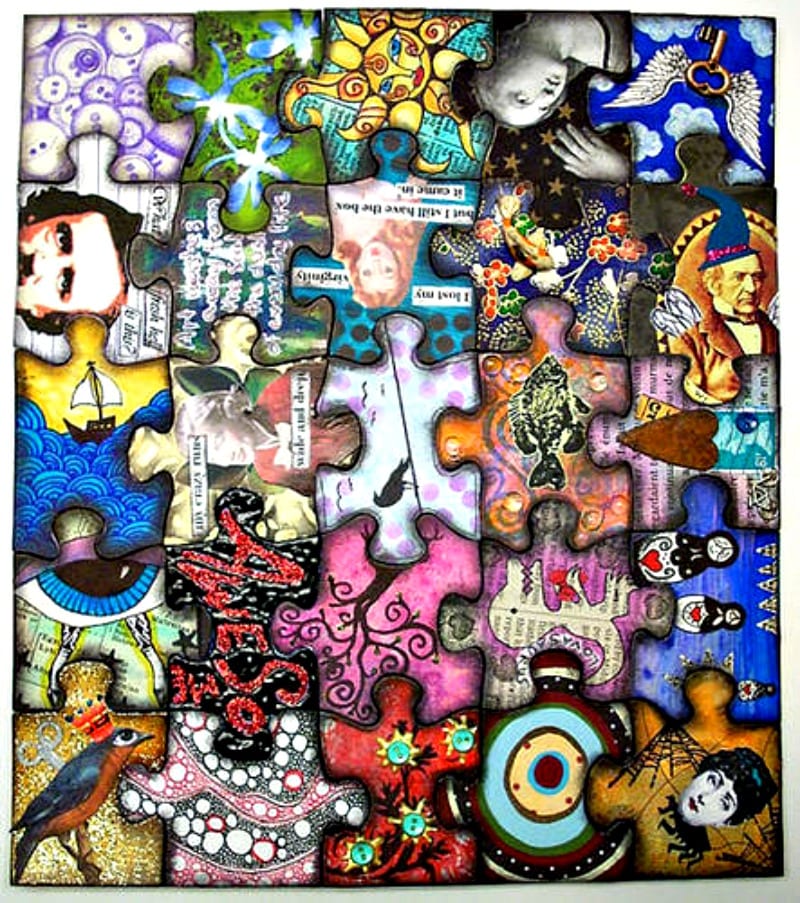 Source: Craftster
8. The Hand Tree
Another beautiful piece of art created by hand from Candice Ashment Art. Click here for full detailed directions.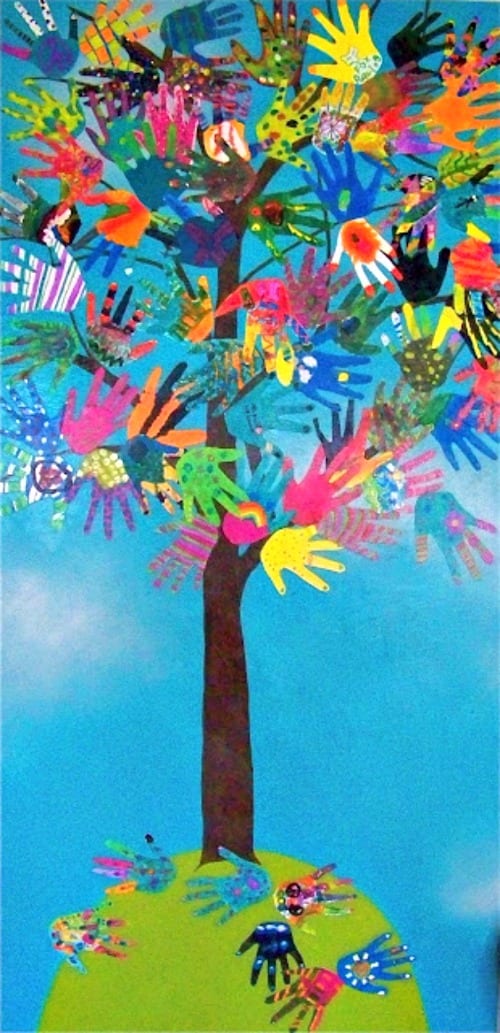 9. Personalized Ceramic Bowl
There are many variations of this craft out there. We like this version found on Pinterest that creates a whimsical scene using students' fingerprints. If you want your piece to be professionally fired, you or a parent volunteer can arrange to borrow the proper paints and markers, as well as buy your pottery piece, from a Pots 'n Paints type of business. After your students add their contribution to the piece, you can return it to the shop to be fired.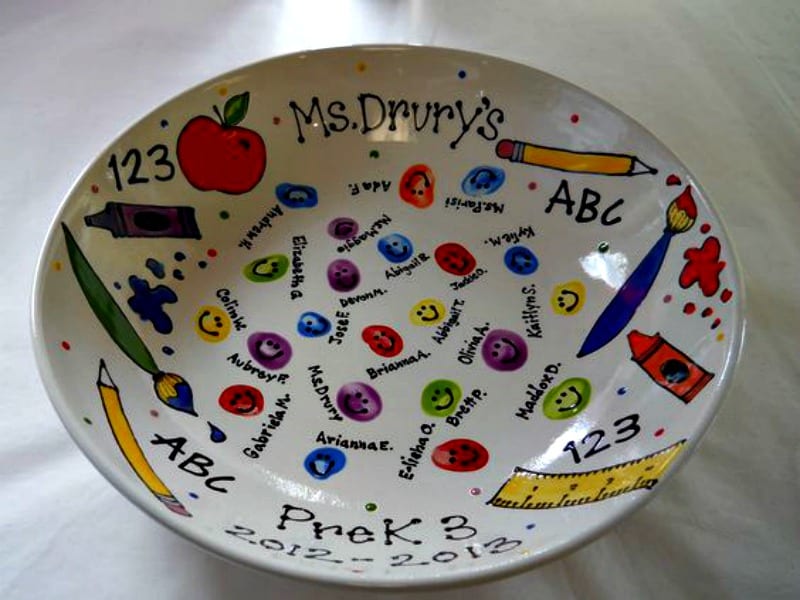 Source: Pinterest
10. Wall of Hearts
Using small stretched canvases, or blocks of wood cut into uniform height and width, but varying depths, students can paint their own design on a common theme (for example, hearts as shown in the image). Other theme ideas: trees, shapes, first letters of each students first or last name, stars, emoji.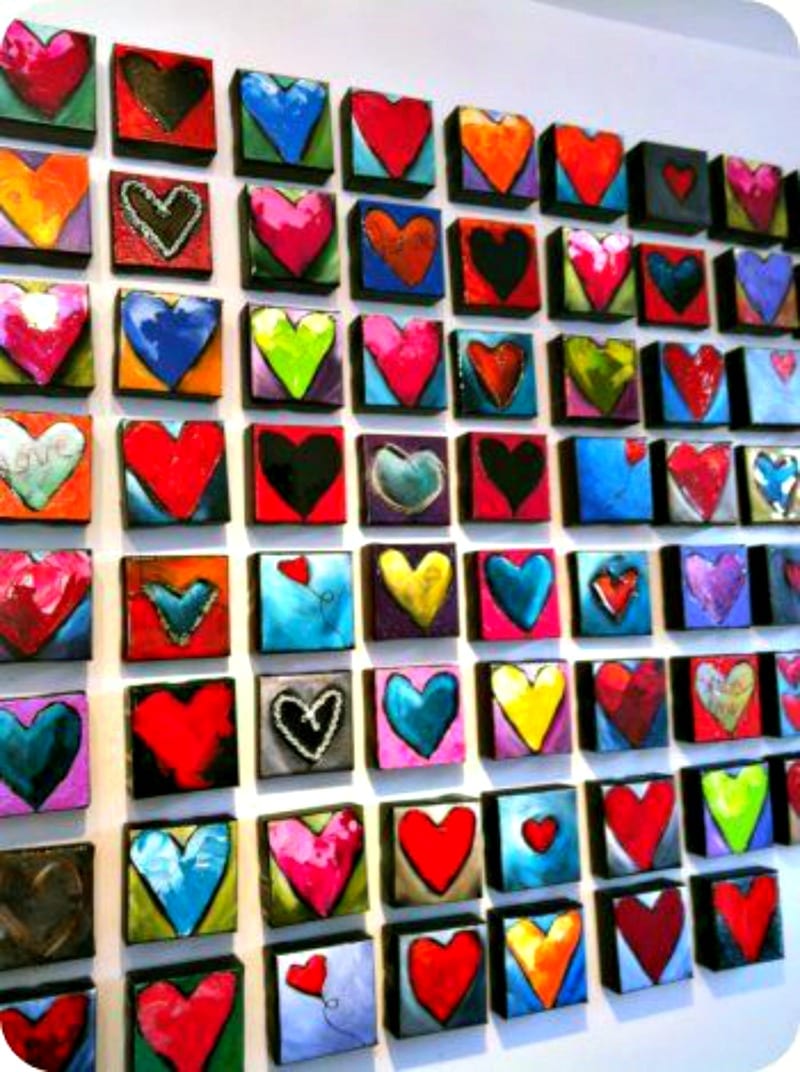 Source: OttawaStart
11. Tile Squares Table
This one requires a little legwork to find and prepare just the right table base—a perfect job for a parent volunteer. For project details, see step-by-step directions here.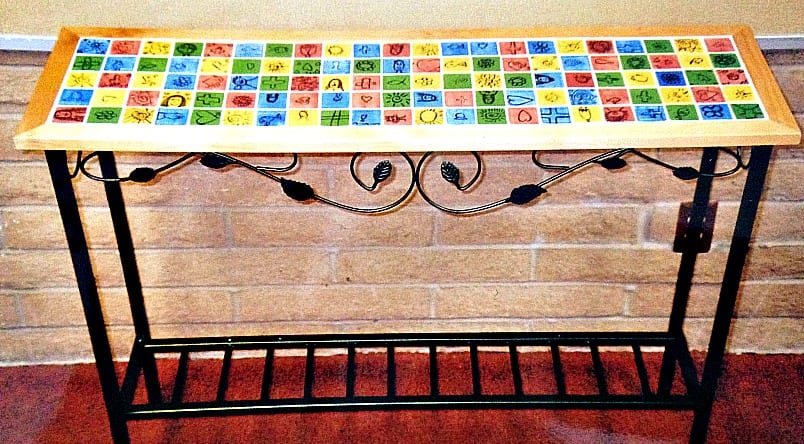 Source: Teach Kids Art
Does your school put on an auction? What have been some of the best-selling projects? Please share in the comments!