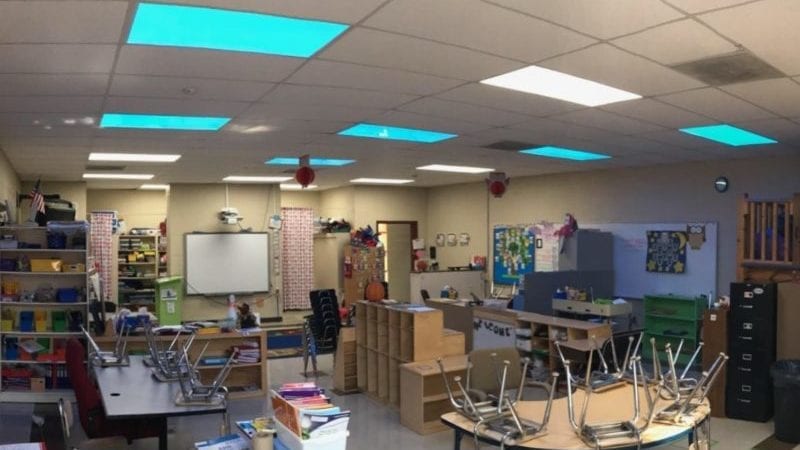 There are figurative lightbulb moments in education, like when kids learn to read or master a math skill. But recently, Gary Anderson, assistant superintendent of operations for Murfreesboro City Schools (MCS) had a literal lightbulb moment that changed the way students in his district learn.
Simple Beginnings for Big Ideas
Part of Anderson's job is to find ways to save his district money. So in 2010, he upgraded MCS buildings from T-12 fluorescent lightbulbs to a quieter and more efficient bulb, T-8s. That lowered district utility bills, which was great. But during a classroom observation, he noticed special education teachers had covered the light fixtures with blue fabric. He asked why.
They responded that the brightness and buzzing of the fluorescent lights bothered the students. But under the blue lights, students felt more relaxed and prepare to learn.
That piqued Anderson's curiosity. So he did some research. He discovered what concert venues and fine dining restaurants have long known—light sets the mood. The brighter the lighting, the more intense someone's emotions (good or bad) may become. And colored lighting, created by using combinations of RGB (red, green, blue) LED lights to make different hues, also has an impact. Cool tones can keep students calm, for example, while warm tones encourage them to move. Blue light is known to encourage alertness, while red light may decrease negative feelings.
Seeing the Light
After doing the research and consulting with teachers on their individual lighting needs, Anderson approached Entrenzik, a LED lighting company. They had installed LED lighting in a Georgia school district in 2013, so they had experience in school settings. Anderson wanted to find out if Entrenzik could help him design multi-colored LED light fixtures so teachers wouldn't have to put overlays over fixtures to alter them. This would enable the light intensity and color to be controlled by the teacher via a rheostat, saving classroom interruptions and reducing the noise and fluttering seen in those older fluorescent bulbs.
Beyond increased control, LED lighting would also be more efficient, translating to massive savings in utility costs. In a district where 60 percent of kids qualify for free lunch, the positive impact on the budget made the lighting change an easy sell. Entrenzik was eager to come on board.
Glowing Results
Anderson has now piloted the LED lights in three of his district's schools and reports anecdotal evidence coming back from the teachers is glowing. Positive effects include improved behaviors, lessened anxiety, and a strengthened student desire to come to class. Time will tell more results, but the case study on the 2013 Georgia school district is complete.
"There are several situations that would have exploded into larger issues in the recent past [without the new lights] … that were resolved surprisingly easily," said Greghri Love, a teacher at one of the MCS schools. "We have had the lights on blue each time. The students calmed down within moments of coming into the room. Knowing the students very well, I noticed the change in their demeanor immediately. The overall mood in the room is considerably calmer."
Join our Facebook group Principal Life for more ideas on how to transform your school.