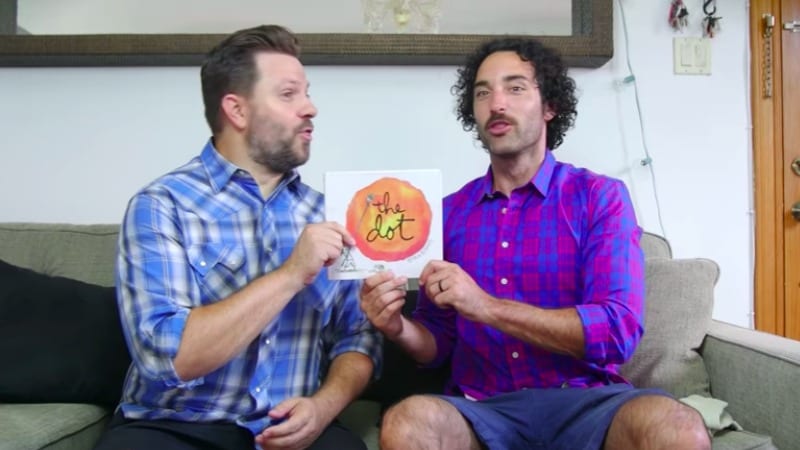 Read alouds on YouTube.
Don't laugh. If you haven't already found them, after today, you'll be thanking your lucky stars for these fearless and faithful book readers.
Whether you need to save your voice or whether you just want the pleasure of leaning on a virtual "classroom assistant", for a few minutes, we encourage you to give these YouTube read alouds a try.
Please note, however, that we are linking to individual videos; please, as always, preview any video you show your students. Especially on observation days.
Kid Time Story Time
Some of the little puppet characters and silly voices can get to be a bit much, but we like the high energy of these read alouds, and kids do too.
And? There's a whole section here of Hispanic Heritage books, seasonal books, and STEM books.
Story Time With Ms Becky
Ms. Becky has such a comfortable presence on screen, and she asks viewers questions before and after reading in an incredibly natural way. Whether classroom teachers want to take time to answer these questions or not is their choice. But hey—thanks, Ms. Becky for getting discussion started!
Storytime with Ryan and Craig
Ryan and Craig? Super funny guys. No, they really are. They're actually both comedians who read children's books and comment on what they're reading, so if you are looking for a plain-old read aloud, don't stop here. If you want a read aloud with sprinkles and a cherry on top, this is your channel.
Kids Stories 4 You
We're talking pretty basic read alouds here with not a lot of fancy. However, viewers see the book, watch the pages turn, and there are a bunch of books read here that older readers will appreciate. This is a super channel for struggling readers to plug into during center time, as there are many high-interest Pete the Cat books and other popular characters from mainstream movies and programs.
Story Time With Erin
Though Erin is no longer creating new read-aloud videos, she has a library of hundreds of great videos worth watching. She's high-energy, always has a smile, and shows readers how to use a book and think about what she's reading.
Miss Yumi
Miss Yumi is a preschool teacher with a vast library of read alouds. Though we never see Miss Yumi, her voice is pleasant and her videos are consistent.
Books Read Aloud for Children
This is your super-duper-basic read aloud, but if that's all you want, this is the perfect channel. Dozens of books are read aloud, and they're organized by author.
Nana Kate's Corner
It's honestly pretty hard not to love listening to Aussie Nana Kate read aloud. She comments on the books and characters as she reads, and she introduces readers to some titles that may not be as popular in the states.
Children's Books
Created by a man who taught first grade for 30 years, these read alouds are simple, consistent, and the library is vast. There's no commentary, no pointing, and no human reader. You see the book on the screen and pages turn automatically.
The Reading Unicorn
Yes, there are lots of commercial-character books read here, but The Reading Unicorn reads them well. Tons of energy, dozens and dozens of high-interest books, and I think that many younger readers would appreciate hearing stories with their favorite characters.
What makes a good read-aloud?
A good read aloud:
has clear sound with an emphasis on the reading (we don't need music or any extra sounds);
shows the cover of each book;
mentions the title, author, and illustrator of the book (and all are pronounced correctly!);
demonstrates proper concepts of print (the pages turn right to left);
shows the text of the book while the person is reading;
demonstrates fluent reading.
What do you think? Are any of these your favorite read alouds on YouTube? We'd love to hear what you think. Share your ideas in our WeAreTeachers Chat group on Facebook.
Plus, the best YouTube screensavers.