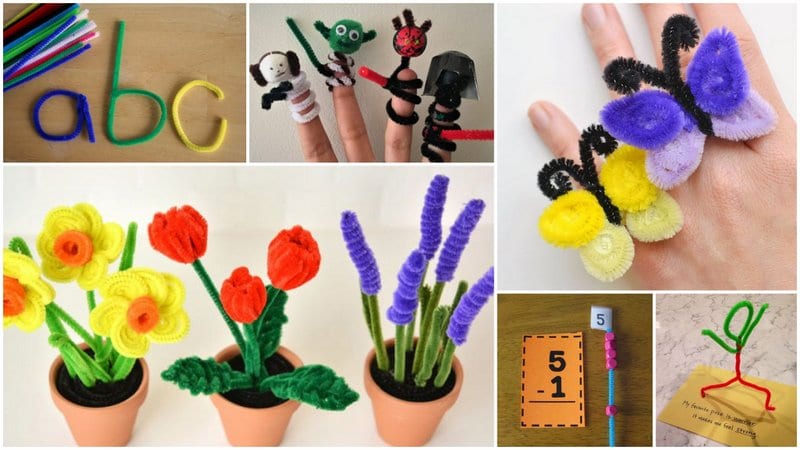 Pipe cleaners have long been a staple classroom supply. They're colorful, inexpensive, and have so many uses. It's time to stock up because we've found so many awesome pipe cleaner crafts and activities you're going to want to try right away!
1. Adopt a pipe cleaner menagerie.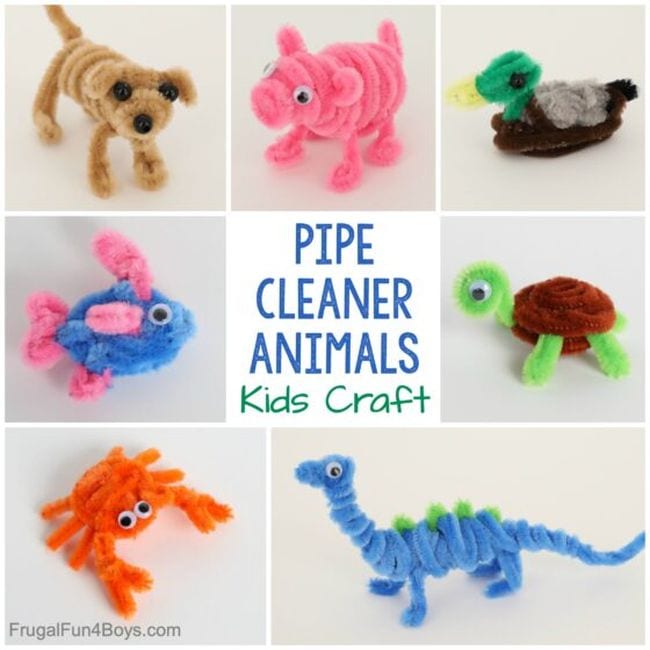 It's almost hard to believe how many adorable animal pipe cleaner crafts you can create! The link below has seven options with instructions; search the web for dozens more.
Learn more: Frugal Fun for Boys and Girls
2. Match colors on a pipe cleaner tree.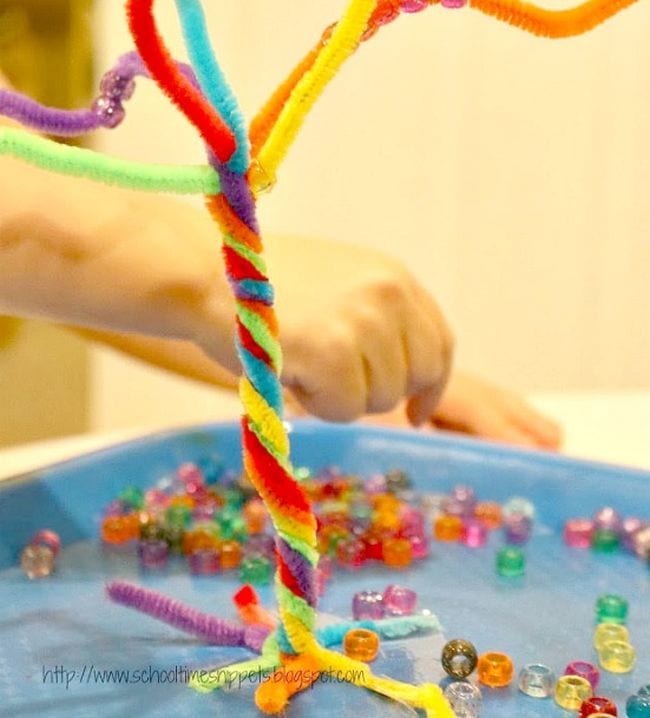 Round up colorful pipe cleaners and beads to match. Twist the pipe cleaners into a tree shape, then let kids string the matching beads to the right branches for some color recognition practice.
Learn more: School Time Snippets
3. Cultivate a cactus garden.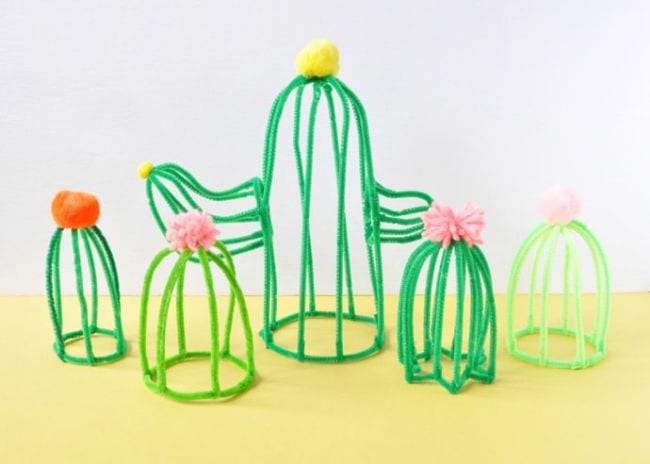 How cute are these cacti! Create a whole garden of them with the easy instructions at the link.
Learn more: Handmade Charlotte
4. Spell with pipe cleaner letters.
Take a break from writing and try twisting pipe cleaners into letters instead. Then, use those letters for fun spelling practice!
Learn more: Make and Takes
5. Wear a butterfly ring.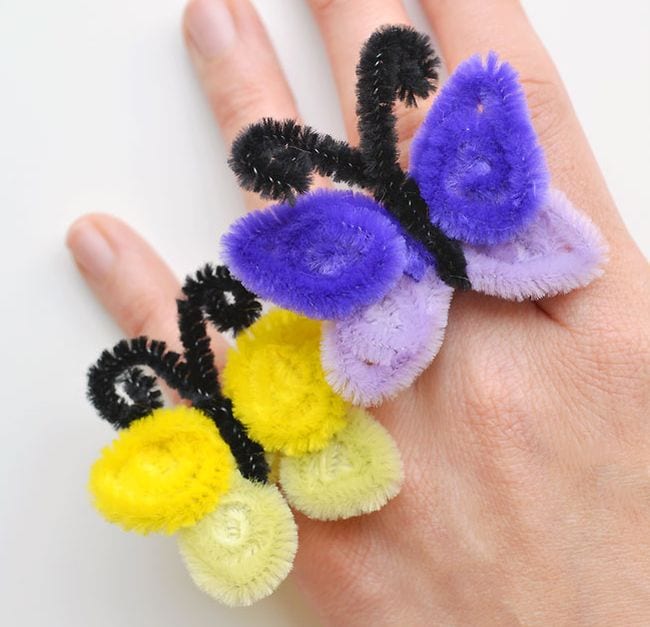 How sweet are these pretty rings? They're easy to make too. Learn how to make these pipe cleaners crafts at the link below.
Learn more: One Little Project
6. Gaze at pipe cleaner constellations.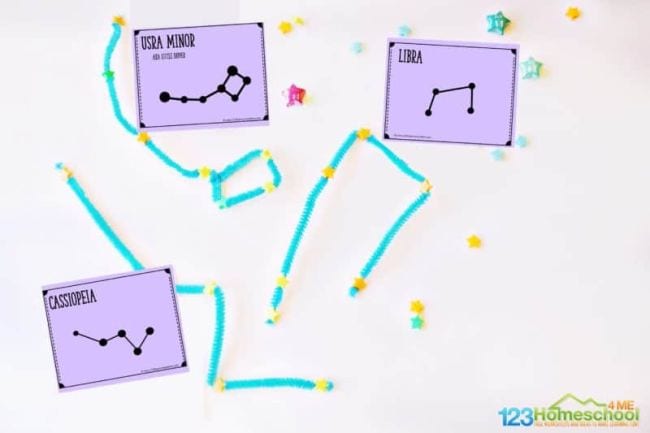 Use star-shaped beads along with pipe cleaners to map out the constellations of the night sky. Bonus tip: Hang them from the ceiling for cool classroom or bedroom decor!
Learn more: 123Homeschool4Me
7. Pick a bouquet of roses.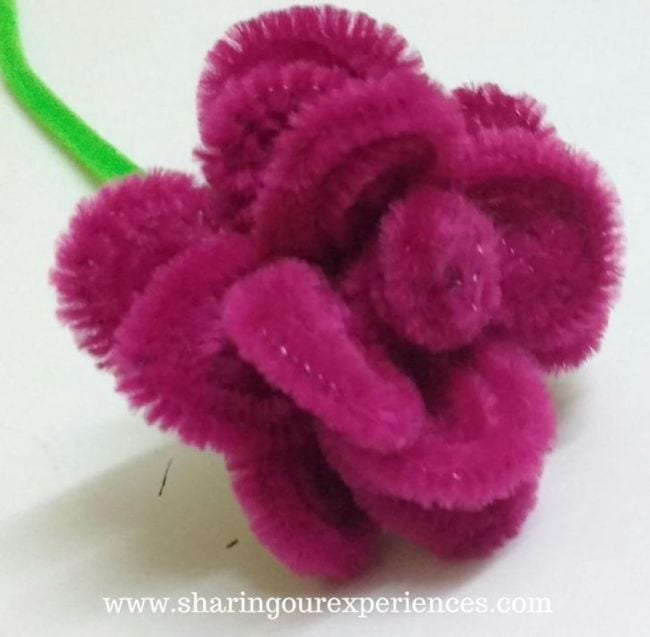 Real roses fade, but these pipe cleaners crafts will last forever! They look fancy, but they're easy enough for even little fingers to learn how to make.
Learn more: Sharing Our Experiences
8. Get hands-on math practice.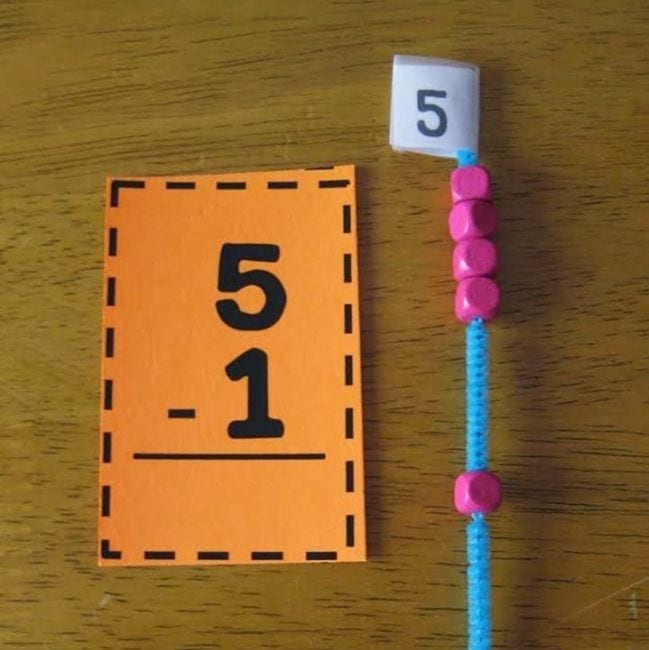 Make simple but effective math manipulatives to help kids see addition and subtraction in action. These are great in the classroom, or for extra practice at home.
Learn more: Tips and Ideas from Anne Gardner
9. Blow bubbles with homemade wands.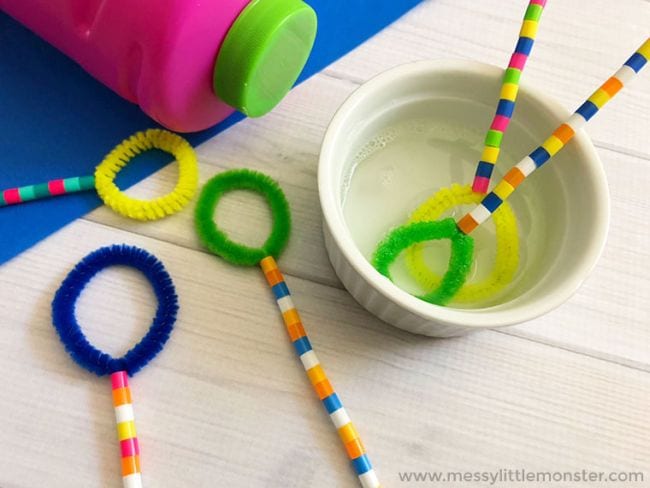 Sure, you could just use the wands that come with bubble solution, but these are so much cooler! Experiment with different shapes, and personalize your own wand with colorful bead patterns.
Learn more: Messy Little Monster
10. Grab a colander for fine motor practice.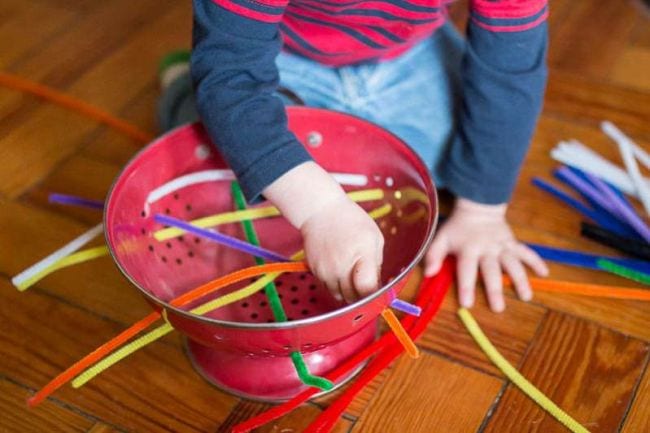 Give a toddler some pipe cleaners and a colander, and you'll keep them busy for hours. Not only will it buy you some much-needed quiet time, but it will also give them excellent fine motor skills practice.
Learn more: Hands On As We Grow
11. Go over the rainbow.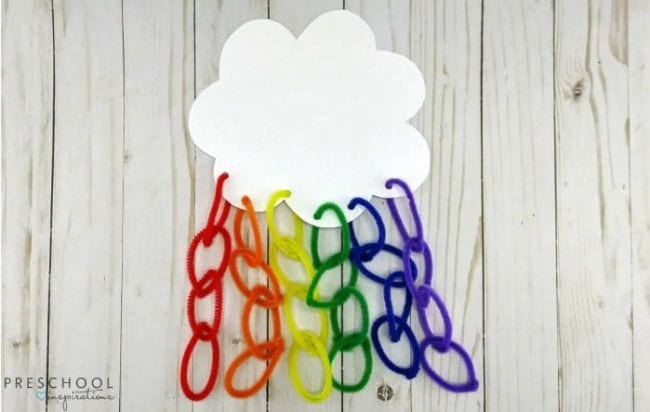 This cute pipe cleaner craft is the perfect way to welcome spring! The rainbow-colored chains are simple enough for little fingers to twist, but older kids will want to get in on this one too.
Learn more: Preschool Inspirations
12. Form shapes with pipe cleaners and straws.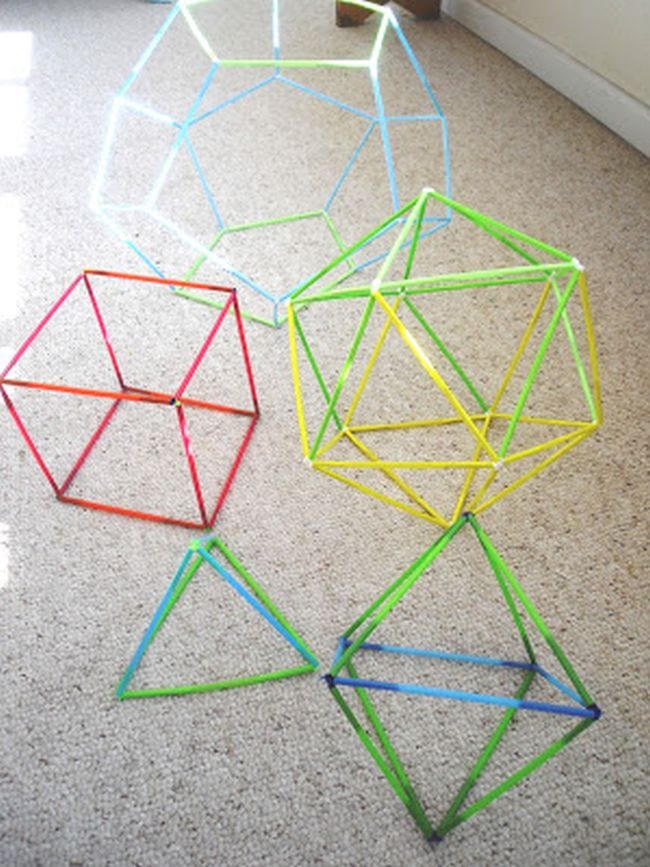 Thread pipe cleaners through straws and use them to create a wide variety of 3-D shapes. This is good for geometry review, but they make fun building toys too.
Learn more: The Map is Not the Territory
13. Plant pretty pipe cleaner flowers.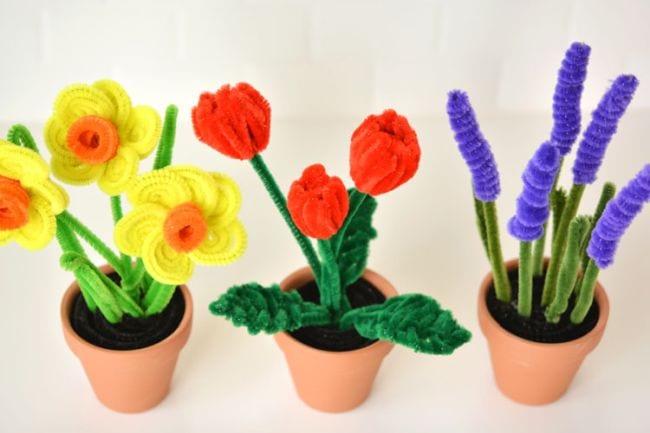 You'll be impressed by how realistic these flower pipe cleaner crafts are! "Plant" them in small terracotta pots for an even better effect.
Learn more: One Little Project
14. Light up pipe cleaner circuits.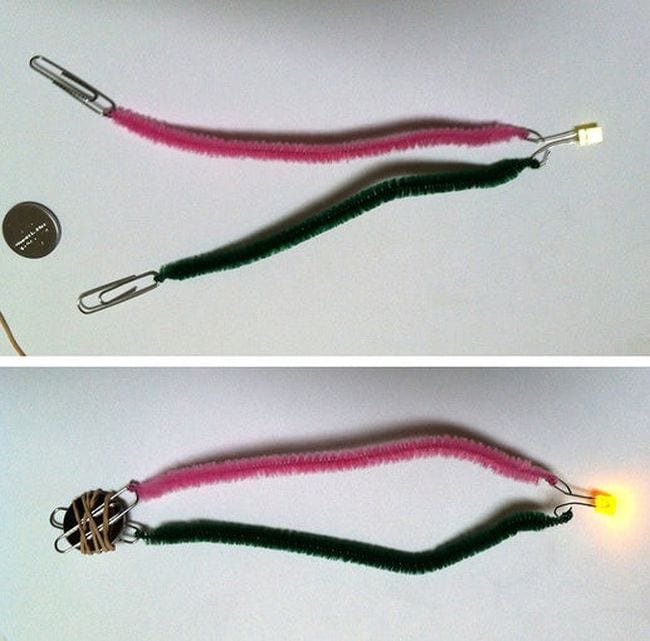 This STEM activity will amaze your science students, and you only need a few basic supplies to pull it off. Get the how-to at the link.
Learn more: Instructables
15. Craft cuddly mini teddy bears.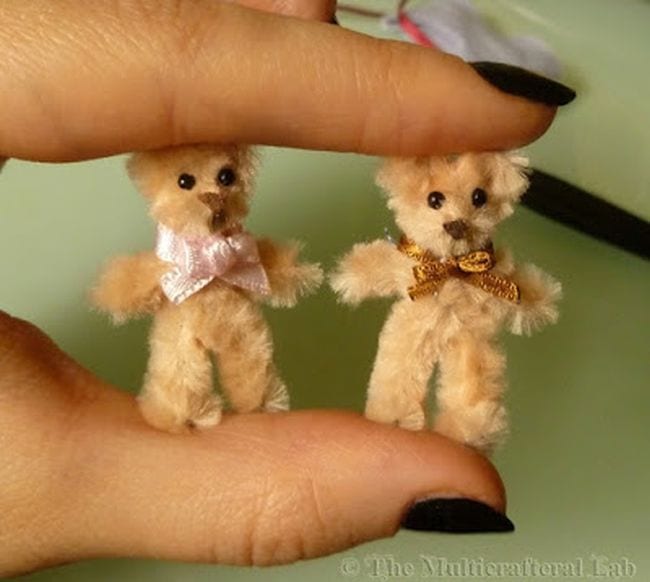 These tiny teddies are big on charm! Make a whole collection to play with or trade with friends.
Learn more: The Multicrafteral Lab
16. Grow crystal icicles.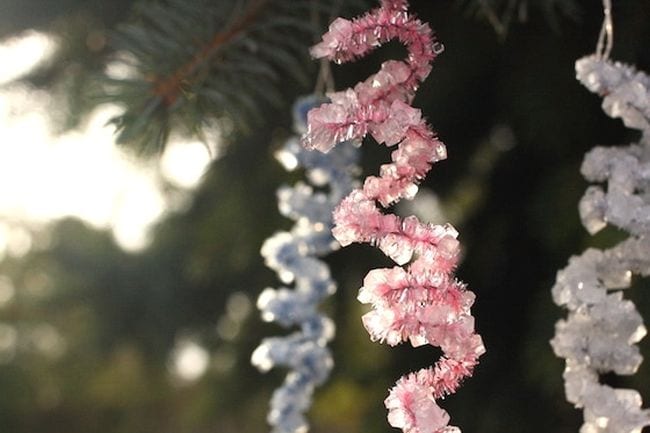 Pipe cleaners are the perfect medium for growing crystals in supersaturated solutions made with Borax. This is one of those pipe cleaner activities that never fails to amaze.
Learn more: Happy Hooligans
17. Travel to a galaxy far, far away.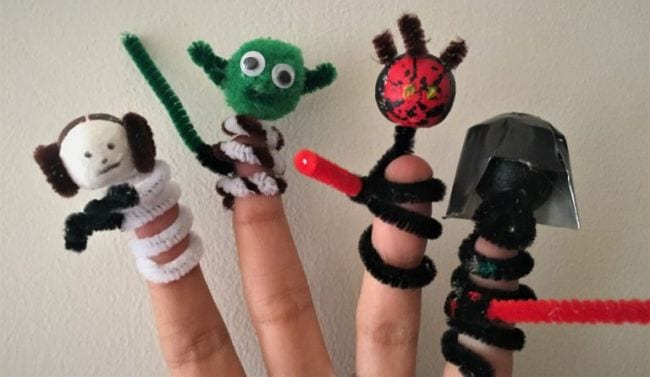 Do or do not… there is no try when it comes to these galactic pipe cleaner crafts! Make the whole crew and act out your own stellar story.
Learn more: Curious and Geeks
18. Count with pipe cleaner numbers.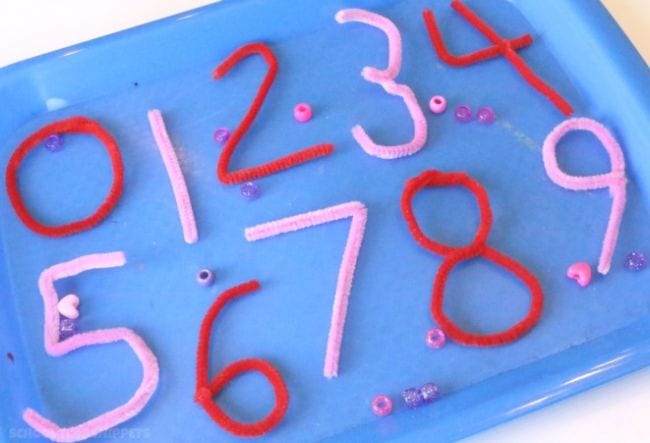 Like the pipe cleaner letters above, this activity gives kids fine motor skills practice along with a way to learn their numbers. String beads onto the letters for more counting practice.
Learn more: School Time Snippets
19. Smile at a crocodile.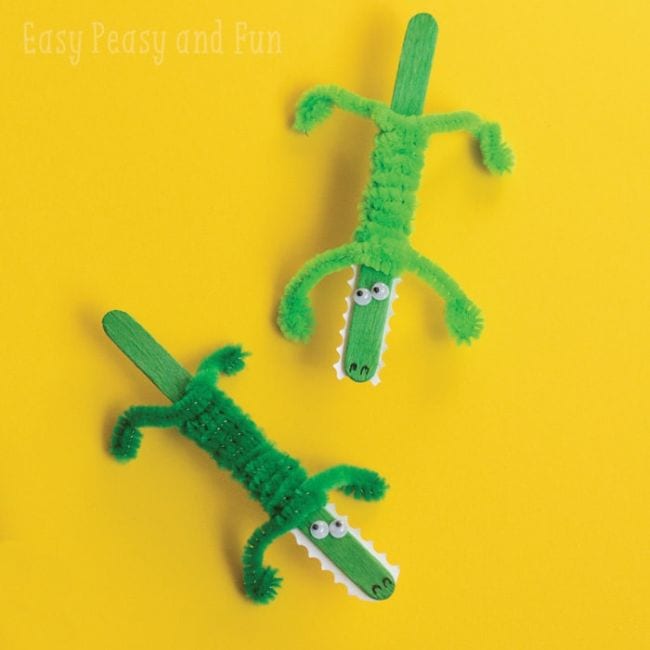 These cute crocs are nothing to be scared of! Craft them with pipe cleaners, wood craft sticks, and a little bit of white paper for teeth.
Learn more: Easy Peasy and Fun
20. Re-create favorite yoga poses.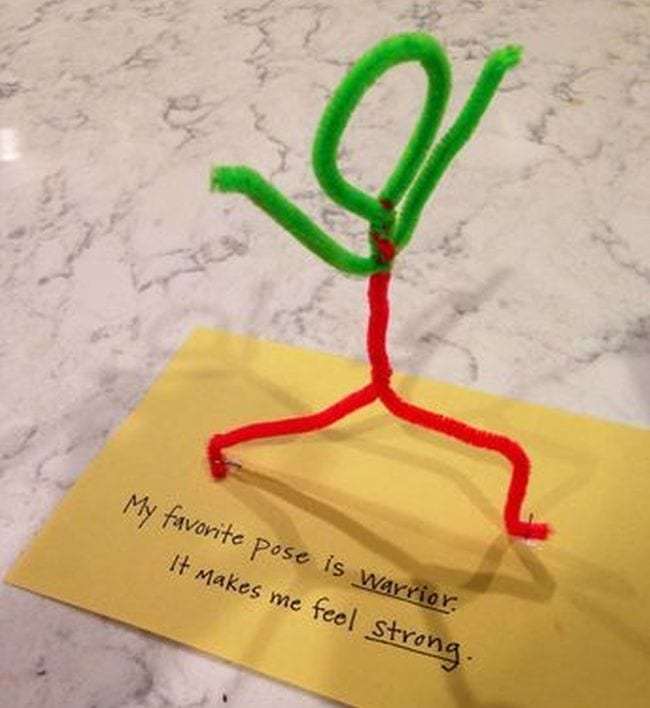 Here's a fun way to work on physical fitness. Have kids bend pipe cleaners to represent their favorite yoga positions, and explain how the pose makes them feel.
Learn more: Liz Espinosa/Pinterest
21. Float pipe cleaner jellyfish.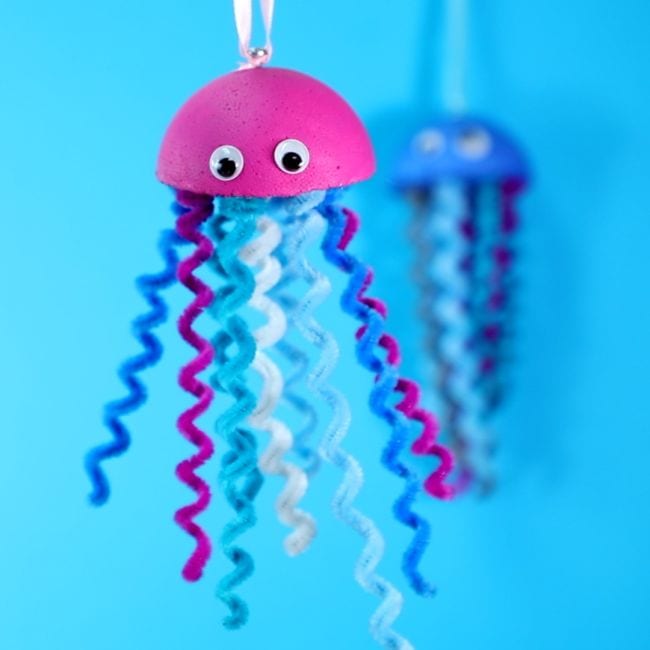 You'll want a whole school of these stinger-free jellyfish! They'd be amazing suspended from the ceiling of an ocean-themed classroom, don't you think?
Learn more: Craft Factory
22. Practice spelling words.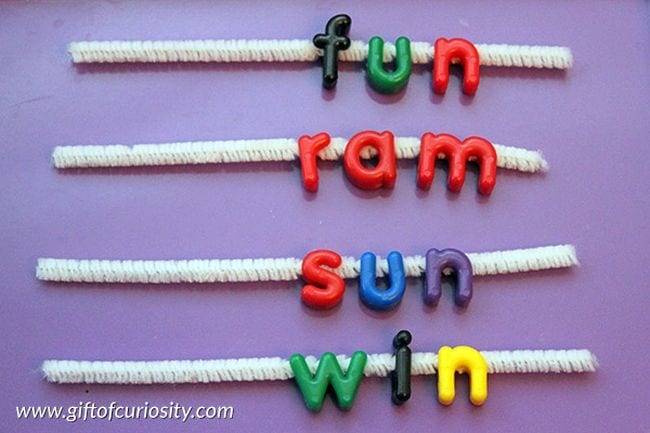 Grab some alphabet beads and work on sight words, CVC words, or whatever's on the spelling list this week. The hands-on component encourages whole-brain learning.
Learn more: Gift of Curiosity
23. Fly a swarm of dragonflies.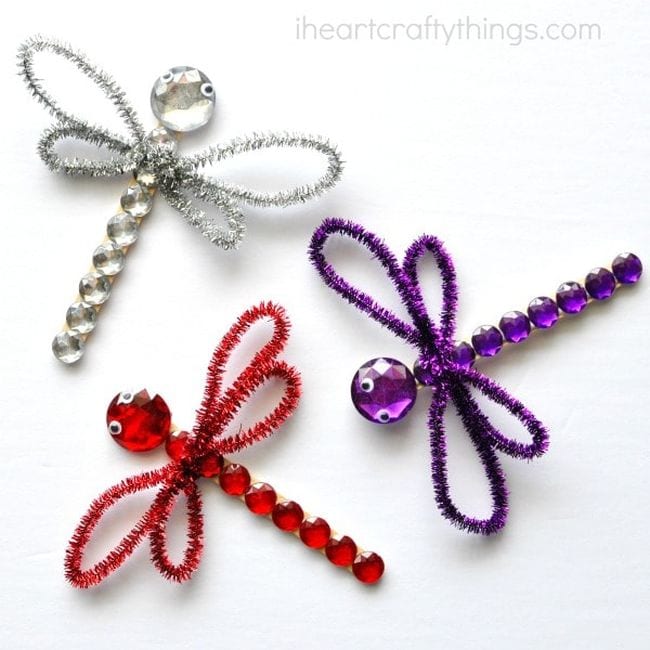 Hang a host of sparkling dragonflies by the window to catch the light! Learn how to make these pipe cleaner crafts at the link.
Learn more: I Heart Crafty Things
24. Craft a DIY fidget stick.
Fidget toys are a terrific way to help kids work off some physical energy while staying focused on the subject at hand. These DIY pipe cleaner fidget sticks are easy and inexpensive enough to make a batch for the whole class.
25. Twist together pipe cleaner lollipops.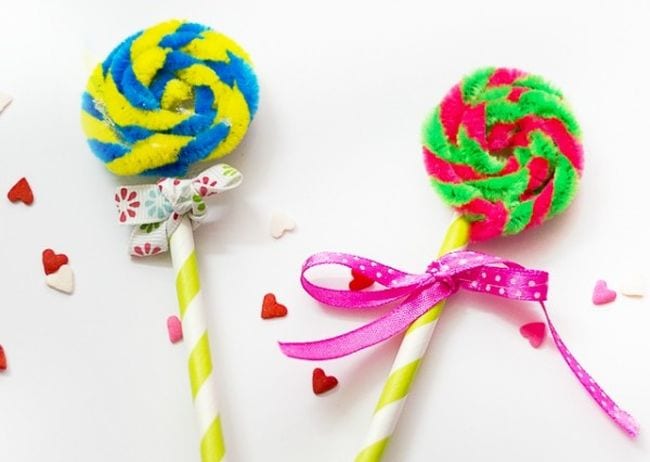 They look delicious, but don't snack on these little lollipops! These pipe cleaner crafts are so cute you'll want at least a dozen.
Learn more: Make and Takes
26. Turn a pipe cleaner into a needle.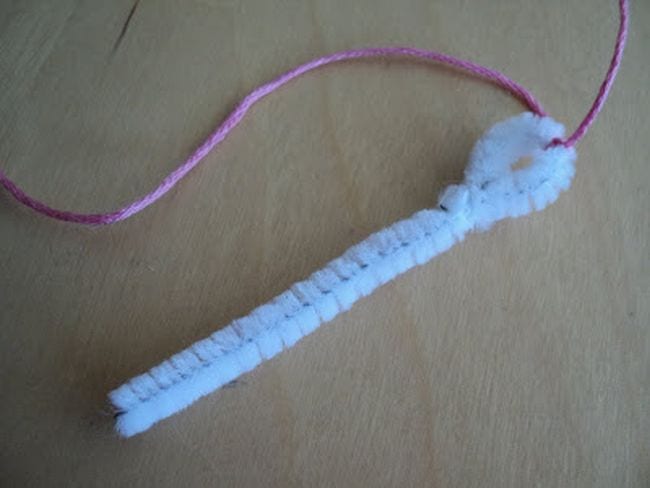 How clever is this? If you don't have kid-safe plastic needles for lacing activities, twist a pipe cleaner into a needle to use instead.
Learn more: A Little Learning for Two
27. Bend pipe cleaner skeletons.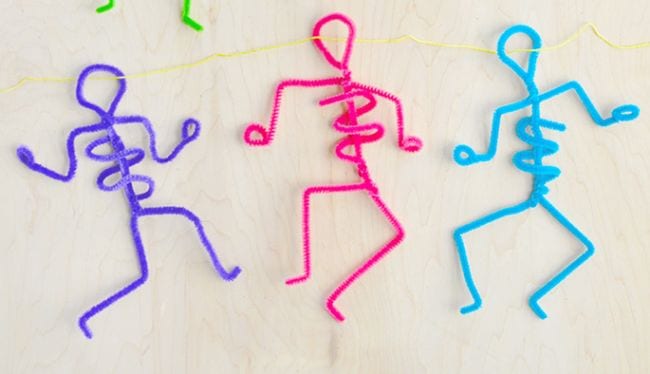 You could hang these as Halloween decorations, but we honestly think they're fun enough to keep around all year long!
Learn more: Handmade Charlotte
28. Create colorful dragons.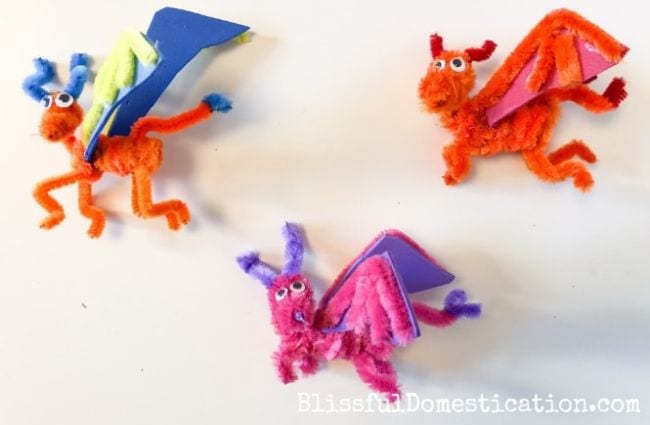 These cuties don't breathe fire, but kids will love playing with them anyway. Learn how to twist your dragons at the link.
Learn more: Blissful Domestication
29. Weave a pipe cleaner bowl.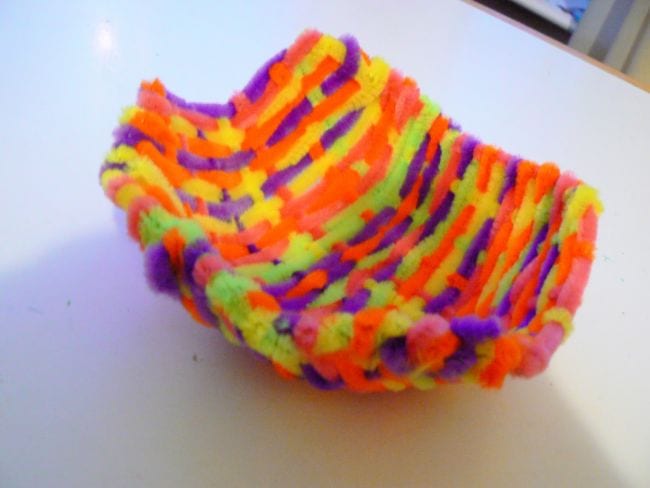 Weaving is an excellent way to work on hand-eye coordination. Use woven pipe cleaners to make mats, or bend them up into bowls or baskets.
Learn more: Having Fun at Home
30. Hang a garland of hearts.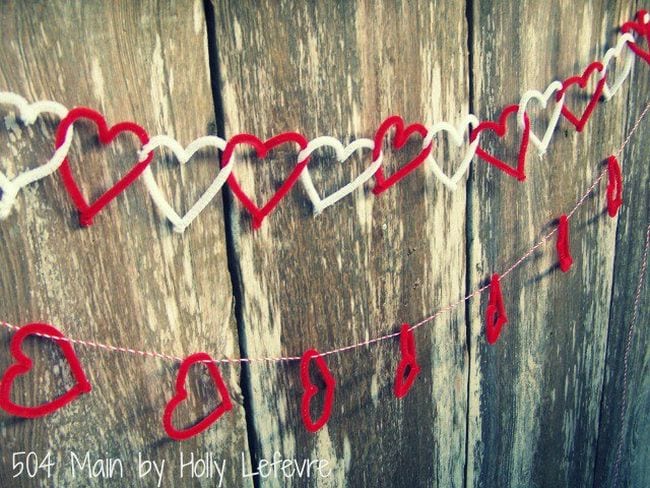 Send a message of love with this easy-to-make pipe cleaner garland. Hang them to celebrate Valentine's Day… or any day.
Learn more: Hometalk
Keep up the creativity with these fun Wood Craft Stick Projects and Ideas.
Plus, 24 Unbelievable Things You Can Do With Broken Crayons!