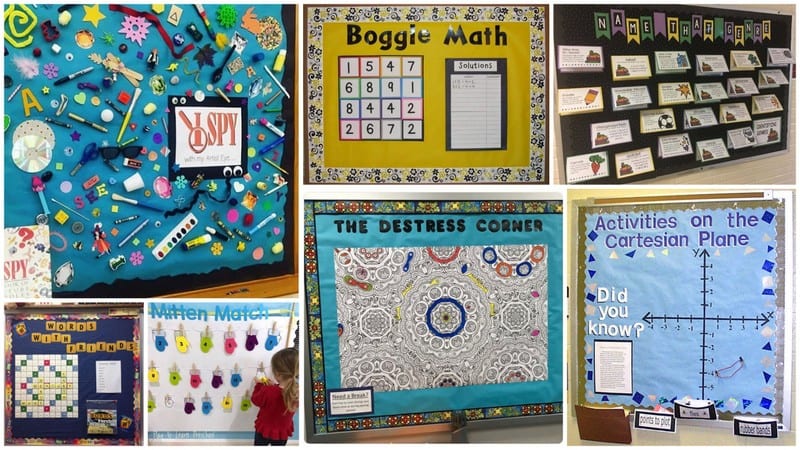 Classroom bulletin boards can be a terrific way to show off your style as a teacher. If you really want to engage your students, take things a step further and try some of these interactive bulletin boards. Kids can get up out of their seats and immersed in the learning experience, even while socially distancing. Just make sure they use their own supplies. We've gathered examples for every subject and level, so find some inspiration and get started!
1. Create a classroom bookshelf.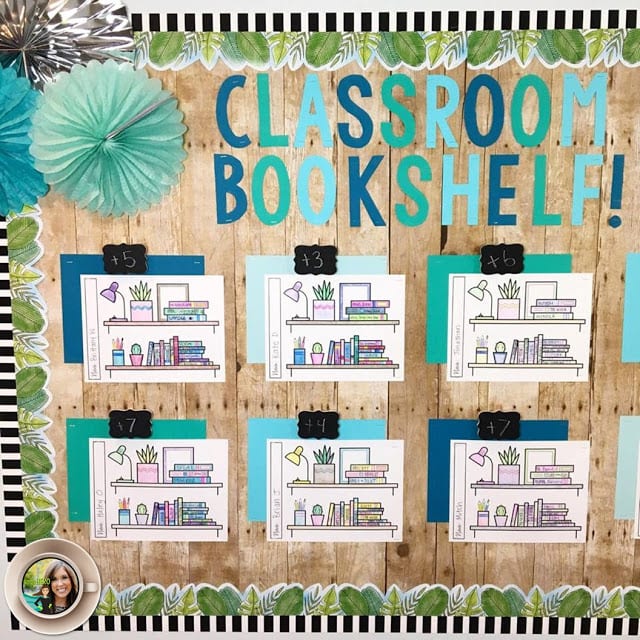 Encourage independent reading and strengthen reading fluency skills with this bulletin board that students can color after they've finished reading books.
Source: The Secondary English Coffee Shop
2. Host a morning brain boost.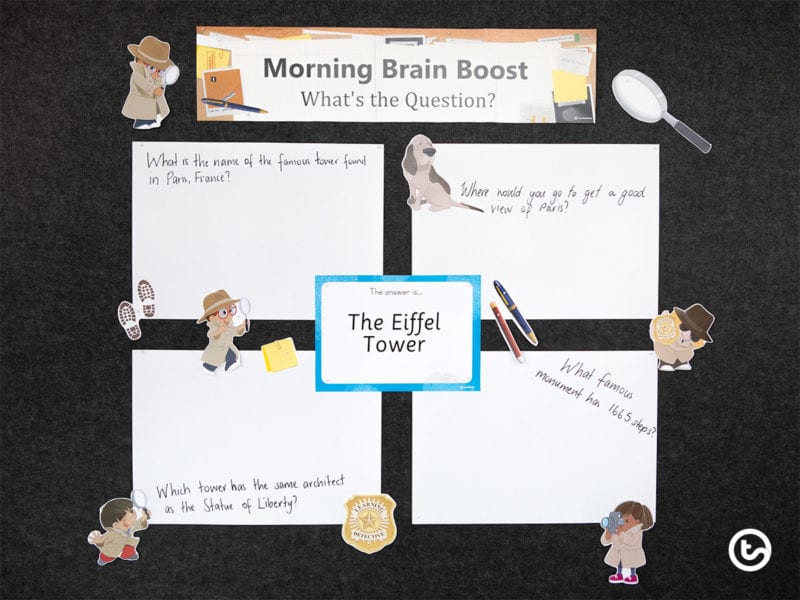 With this bulletin board students get to create questions to an answer you provide.
Source: Teach Starter
3. Invite students to brag a little.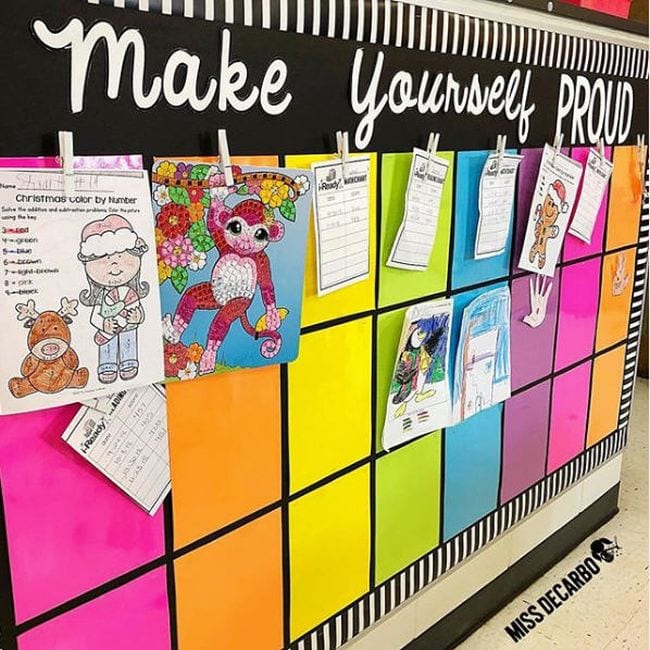 Create a simple, colorful grid that students can use to display their best work for all to see. Add their names, if you like, or leave it blank, but encourage every student to display something regularly.
Source: Miss DeCarbo/Instagram
4. Create an earth science tactile board.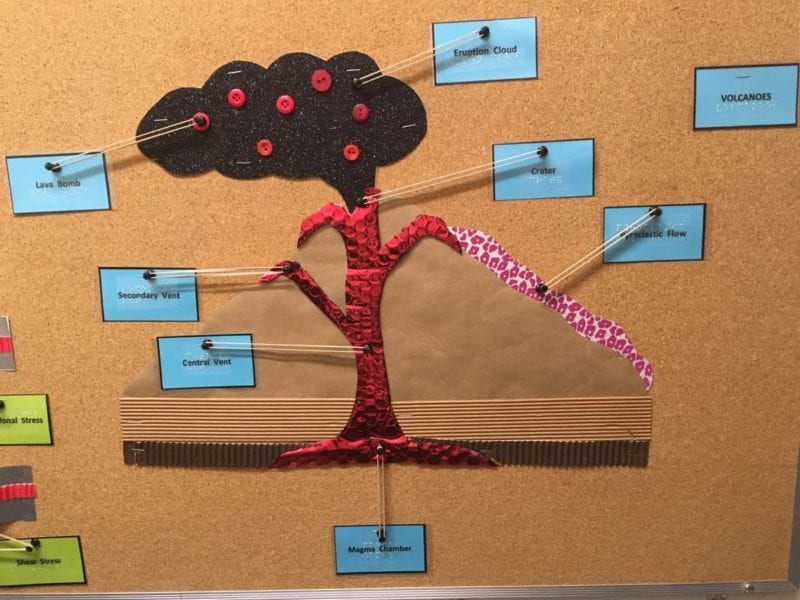 Use rubber bands to match the terms (also marked with push pins) with the parts.
Source: Kutztown University
5. Invite students to change their perceptions.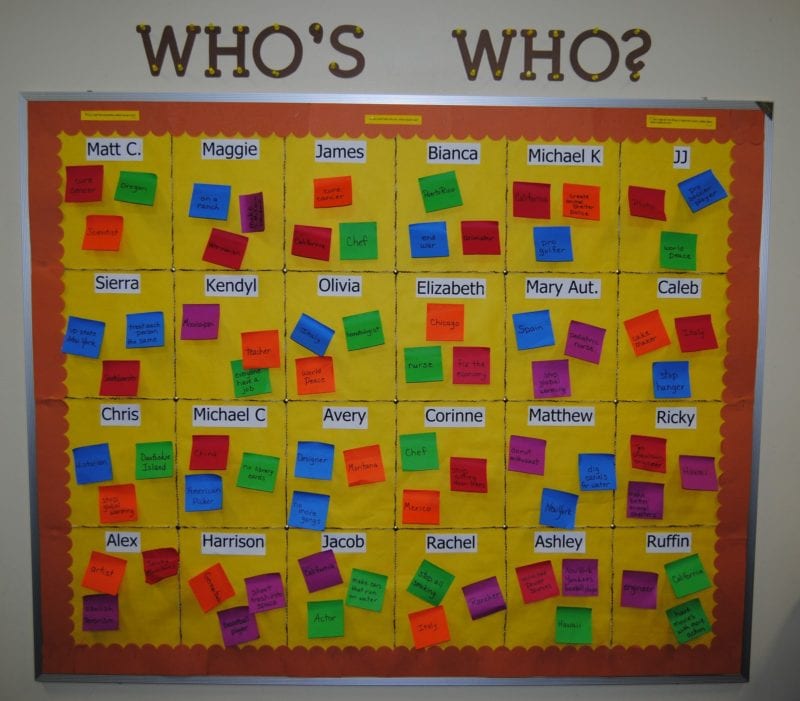 This interactive board allows the students the opportunity to think about their fellow classmates and to see how much they actually know about each other.
Source: Inside Bodine
6. Teach various math terms.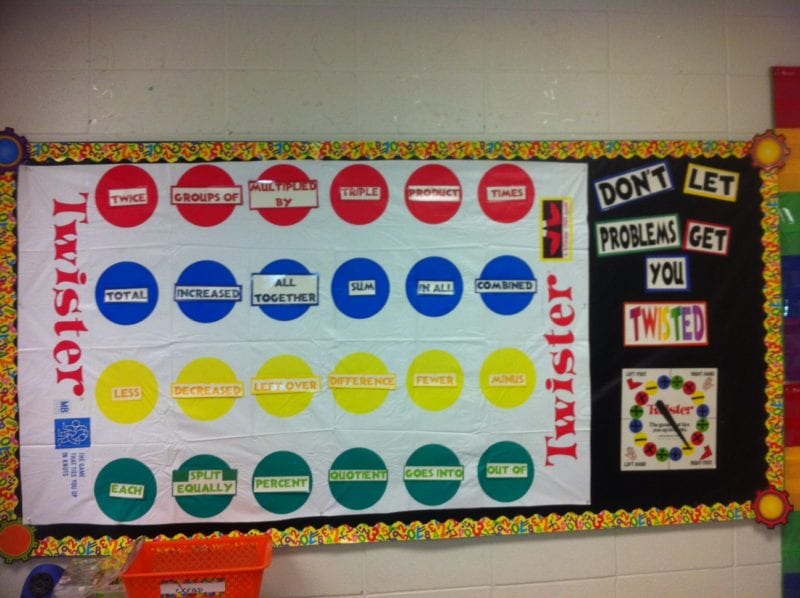 Students can learn how to solve math word problems with this interactive board.
Source: Two Sisters Teach
7. Pit music against poetry.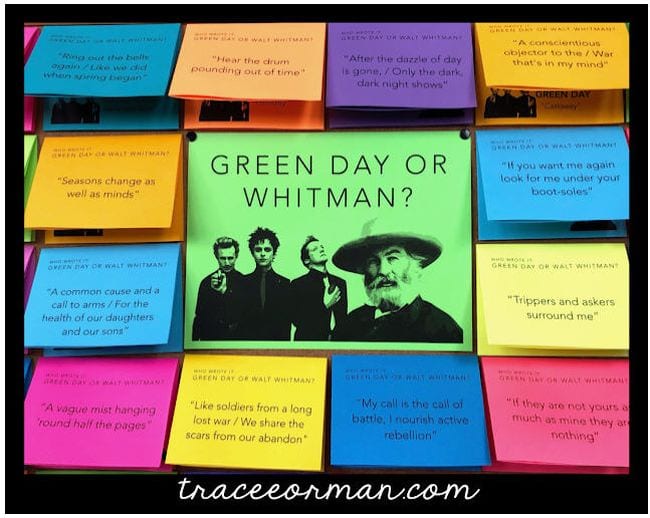 Poetry can be a hard sell for some kids. Help them relate to it by challenging them to determine if quotes are by a famous poet or a famous pop group. They'll be surprised by the answers!
Source: Mrs. Orman's Classroom
8. Create a coloring corner.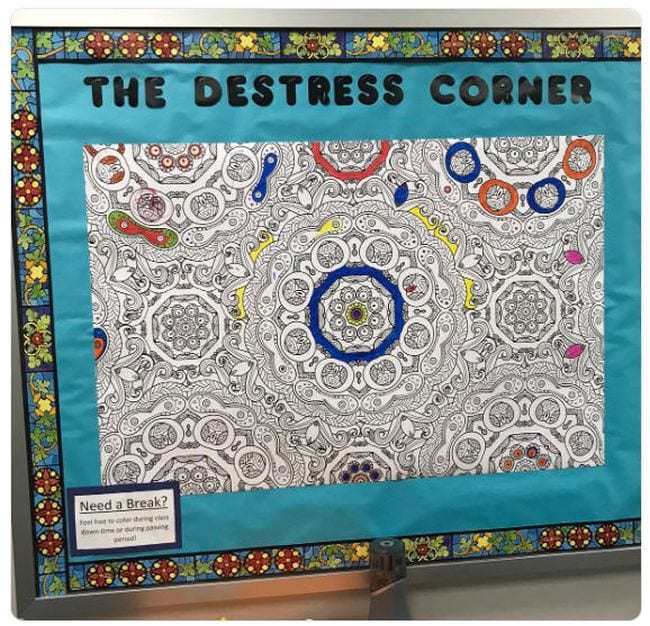 Interactive bulletin boards don't have to take a lot of time or effort. Just pin up a giant coloring poster and have students use their crayons or markers to color. Coloring is a well-known anti-stress activity, plus it can actually help focus the mind on the subject at hand.
Source: Cynthia Platou/Twitter
9. Provide a place for burning questions.
Also known as a "parking lot," interactive bulletin boards like these give kids a low-key way to ask questions they have about material you're covering. Look it over daily to see what you might need to review or save questions to be answered in a future lesson. Remove the sticky notes as you respond to them.
Source: Kate's Science Classroom Cafe
10. Challenge them with Sudoku.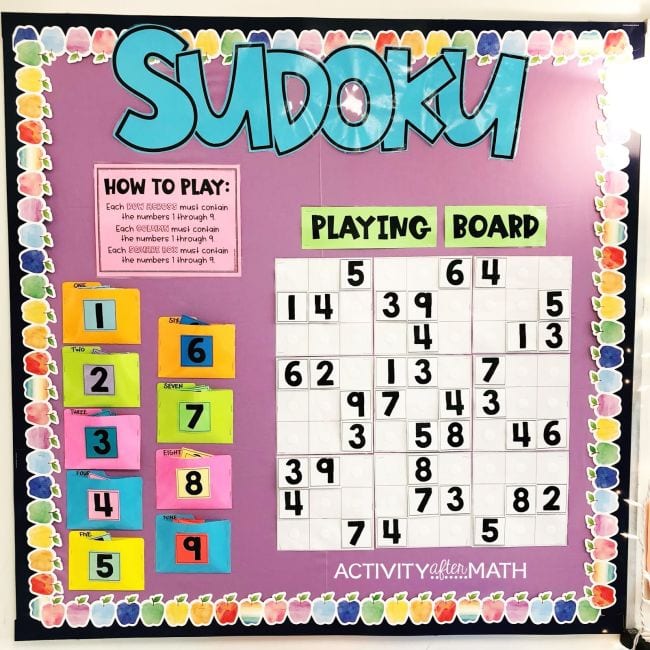 Need something for kids to do when they finish a little early? Sudoku interactive bulletin boards might be the answer! Learn how to set one up at the link below.
Source: Activity After Math
11. Practice compare and contrast concepts.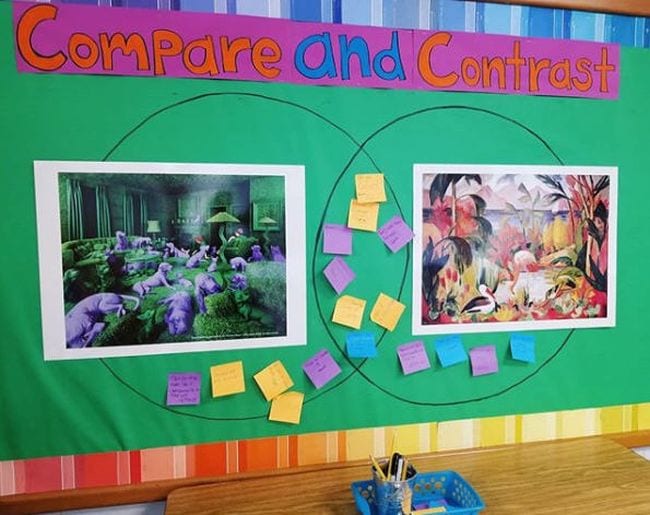 Did someone say giant Venn diagram? I'm in! Post any two items you want students to compare and contrast, and have them write their answers on sticky notes to fill in the diagram.
Source: Laura Kim/Instagram
12. Try a thinking tug-of-war.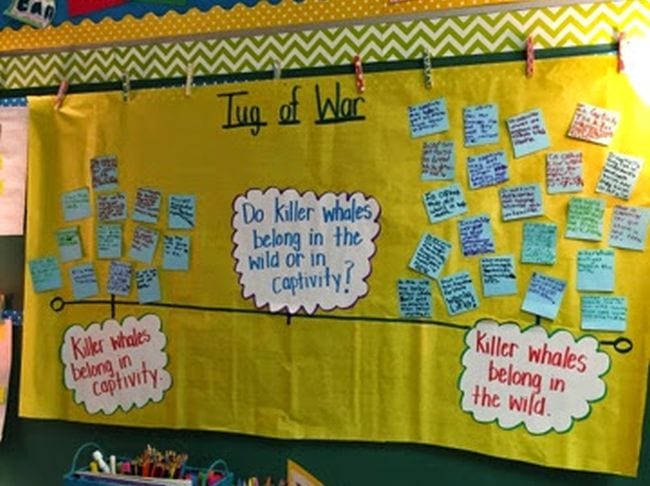 Prepare for opinion writing by having students show their thinking on a tug-of-war bulletin board. These are easy to prep and can be used over and over again with different questions.
Source: The Good Life
13. Use QR codes to spark curiosity.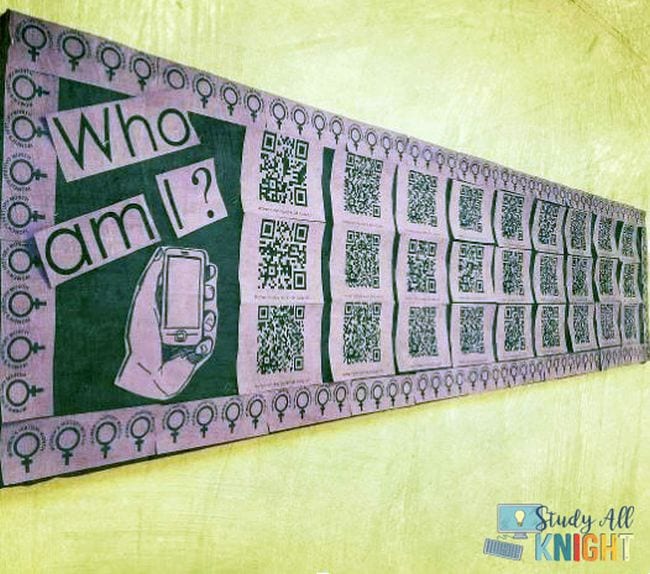 Bring interactive bulletin boards into the digital age with QR codes. In this example, quotes from famous women are displayed on the wall. Students can scan the free-to-generate QR code with their phones or tablets to learn more about each one. This idea can be adapted for so many different subjects!
Source: Study All Knight
14. Bring on the Boggle math.
Game-based learning has so many benefits. This Boggle math board is based on the classic letter game, with a numbers twist. Learn how to play at the link below.
Source: The Routty Math Teacher
15. Craft a color-sorting bulletin board.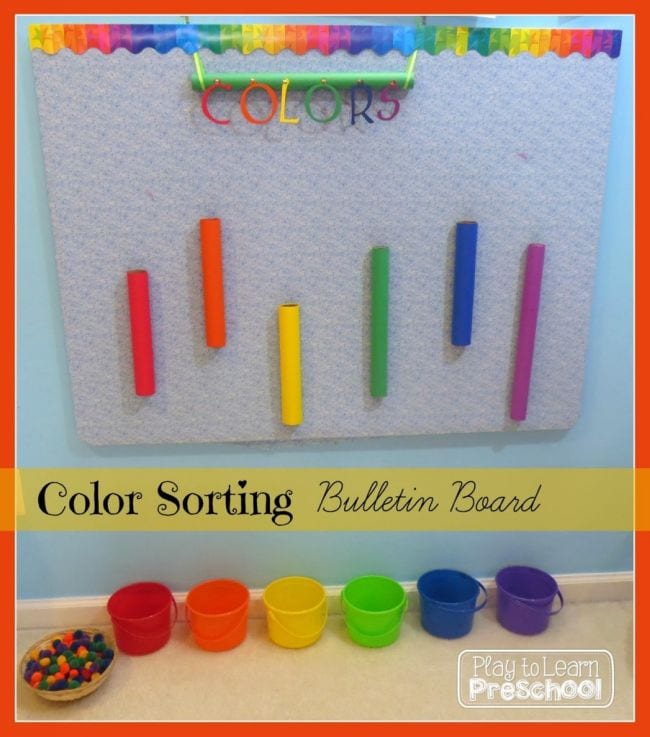 Little ones love interactive bulletin boards. Paint empty paper towel tubes with bright colors and set them up with coordinating buckets and pom-poms. Kids get hand-eye-coordination practice by dropping the right pom-poms through the tubes.
Source: Play to Learn Preschool
16. Get to know literary genres.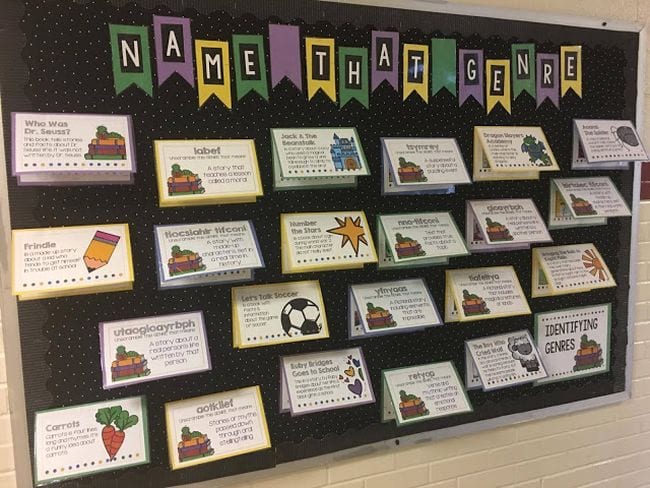 Lift-the-flap cards can be used for so many different interactive bulletin boards. This board helps kids identify literary genres with examples and descriptions.
Source: Buck & Chuck
17. Build a giant word search.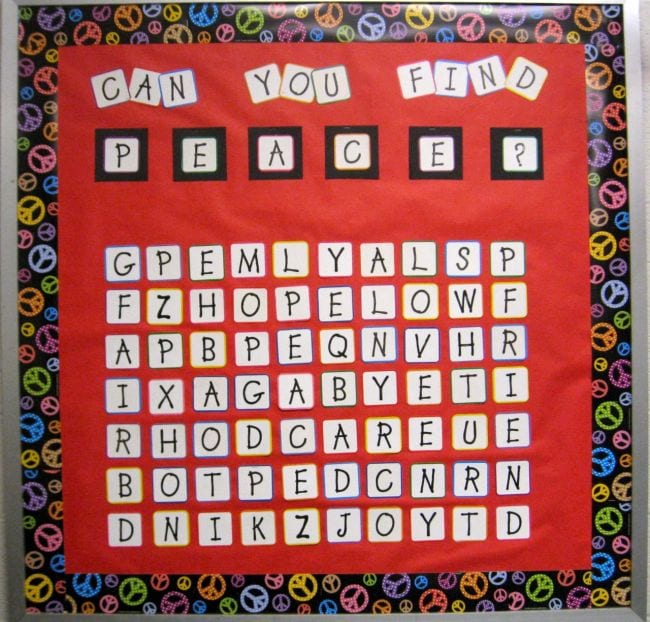 Word searches are an engaging way to practice spelling and vocabulary. You can change up this board to match new subjects throughout the year.
Source: The Corner on Character
18. Attract their eyes with an I spy board.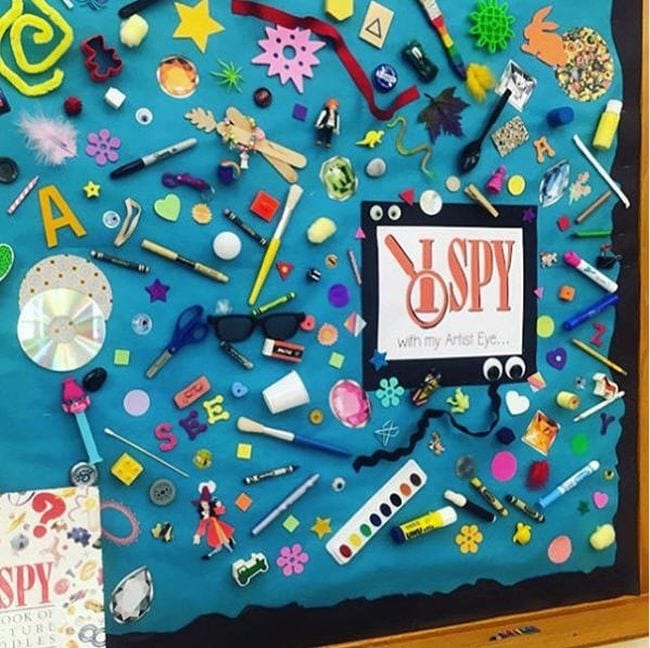 Grab your hot glue gun and get to work! This board provides the perfect opportunity to play a quick game of I spy when you have a few spare minutes at the end of class.
Source: 2art.chambers/Instagram
19. Find out what they're thankful for.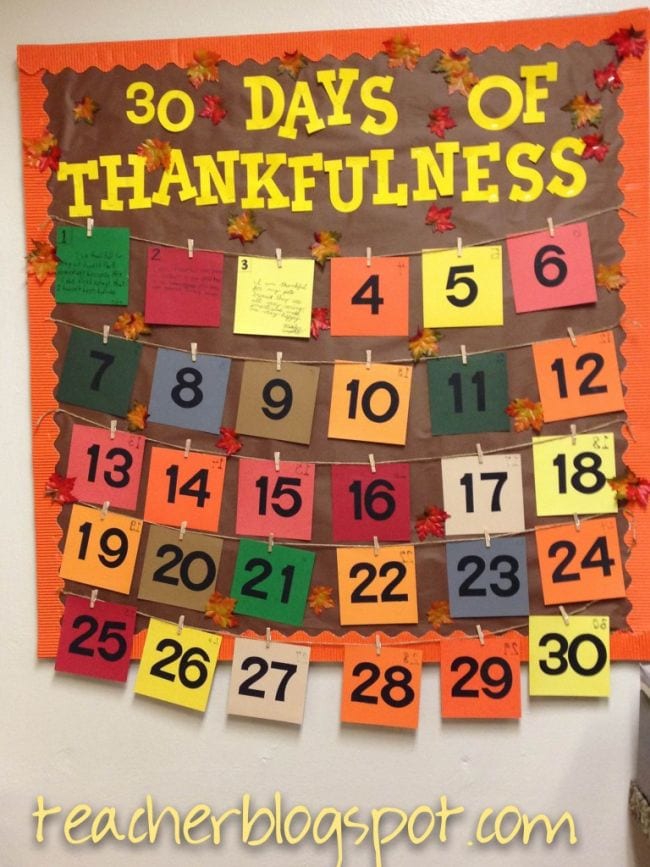 This is an easy idea for a fall bulletin board. On the back of each card, have a student write what they're thankful for. Each day, turn one over and share. (Find more fall bulletin board ideas here.)
Source: Teacher Blogspot
20. Take what you need, give what you can.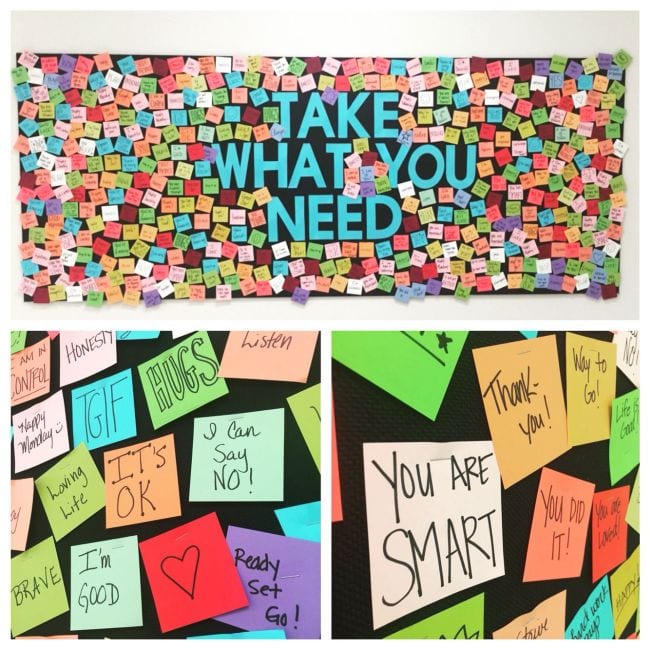 You'll find examples of interactive bulletin boards like this one all over Pinterest. The concept is basic: Post notes with encouraging and kind words on a board for students to grab when they need to be lifted up. Provide paper for them to add their own kind words for others too.
Source: Pinterest/Take What You Need
21. Turn a paper roll into an interactive Q&A station.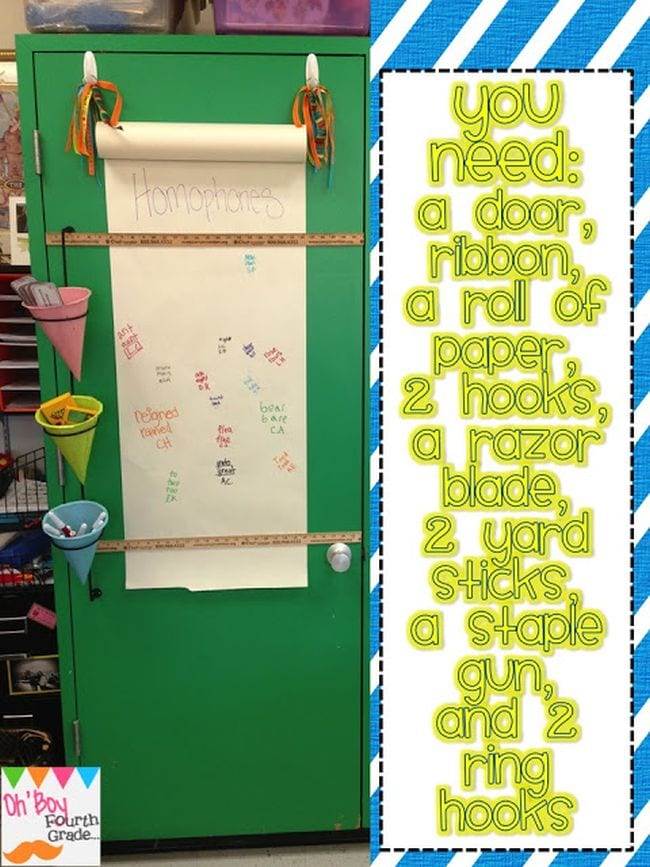 The terrific thing about interactive bulletin boards made with rolls of paper is that they're easy to switch up. Learn how to make this board (this teacher used a door, but it would work for a bulletin board too) at the link below.
Source: Oh Boy, It's Farley
22. Post a read-aloud board.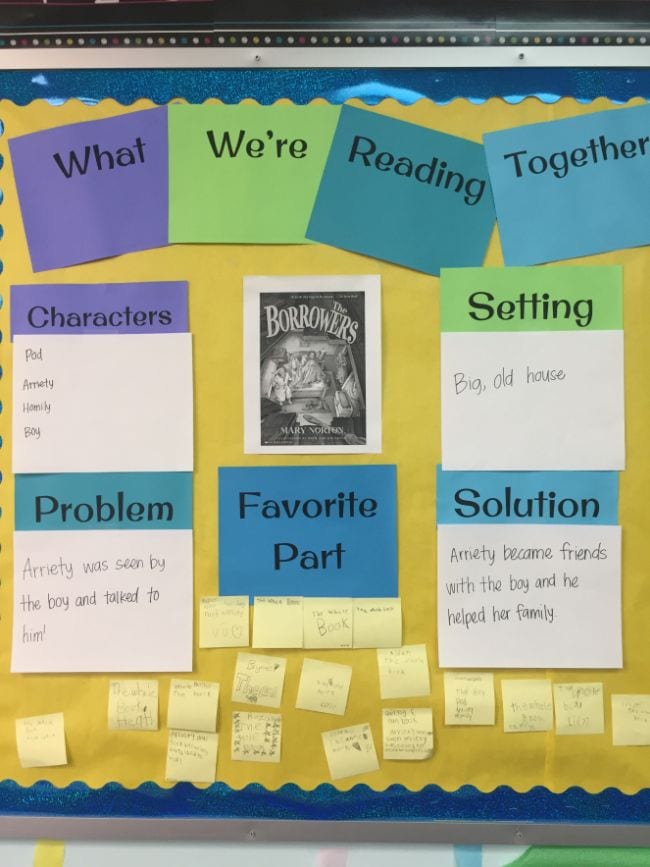 Experience a read-aloud book together by posting the characters, problem, setting, and solution as you read. When you're done with the book, have the kids write their favorite part on sticky notes to share. (See more creative ways to use sticky notes in the classroom here.)
Source: Kidd + Kids
23. Make a mitten match board.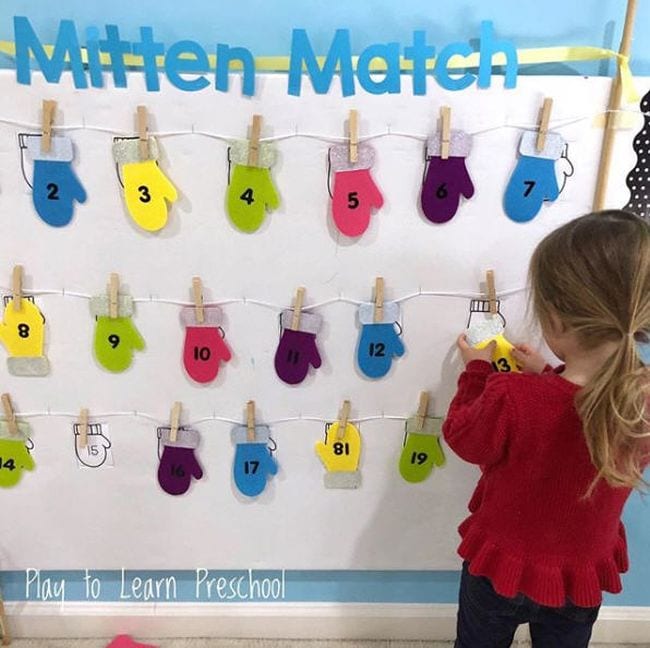 Help little ones learn letters, numbers, sight words, and more with a cute and fun interactive matching board.
Source: Play to Learn Preschool/Instagram
24. Put a pin in the map while you read.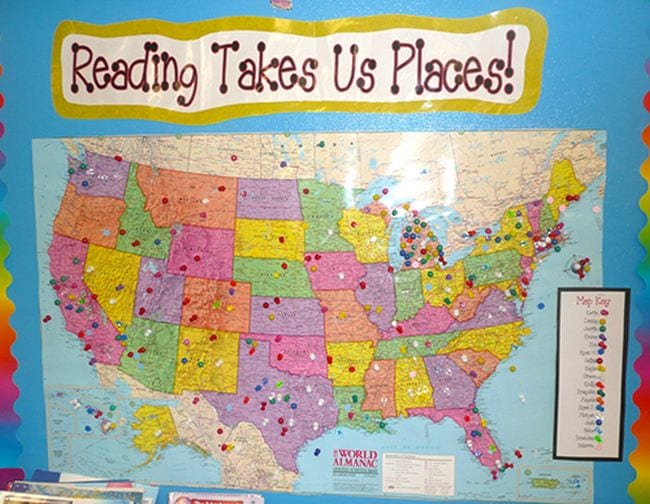 Show students how books open up the world. Post a country or world map and have them put a pin in any location mentioned in the books they read.
Source: Scholastic
25. Win the day with word games.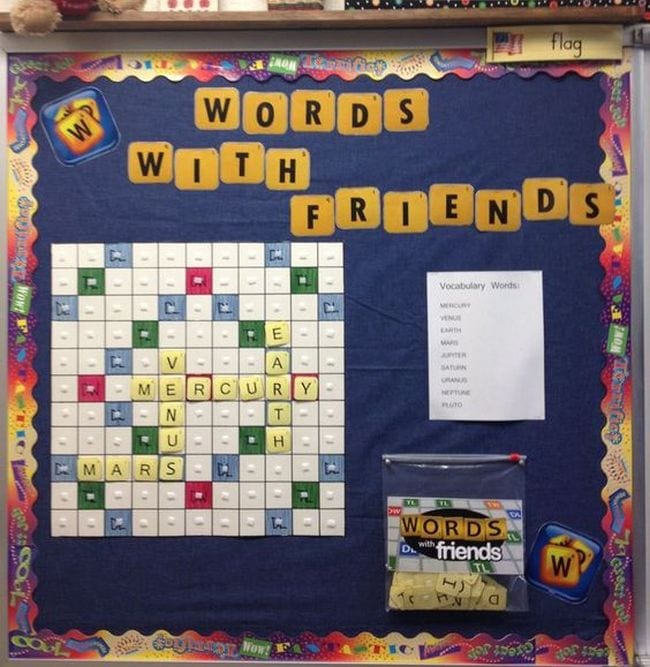 Words With Friends has made Scrabble games popular again. Set up a board with letter cards and let students battle it out for the highest score. Bonus points for using a vocabulary word!
Source: Pinterest/Words With Friends
26. Get reading recommendations from fellow students.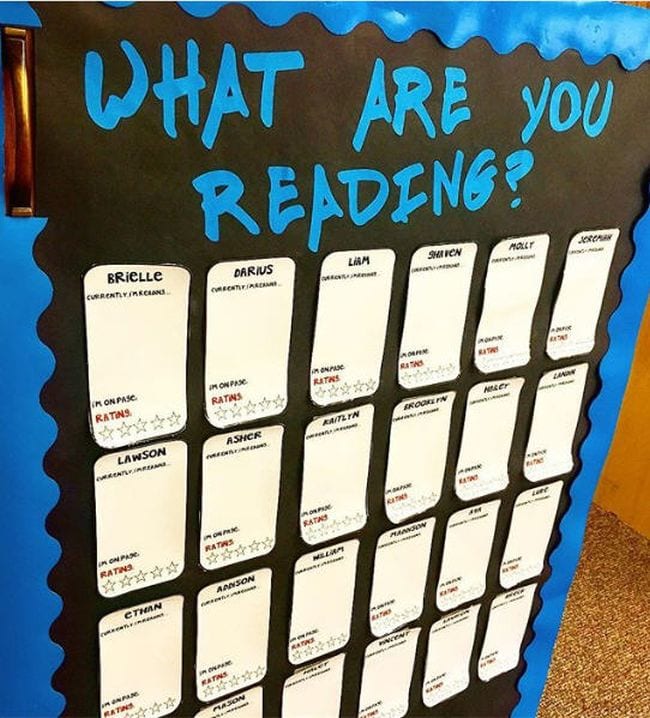 The teacher who created this board says, "Students use sticky notes to write the title, author, and genre of the book they're reading. They use dry-erase markers each day to update the page they're on and their rating (out of 5 stars). This will let me see how much kids are reading and give students a place to refer to when looking for new book recommendations."
Source: Third Grade Swag/Instagram
27. Set up a bucket filler board.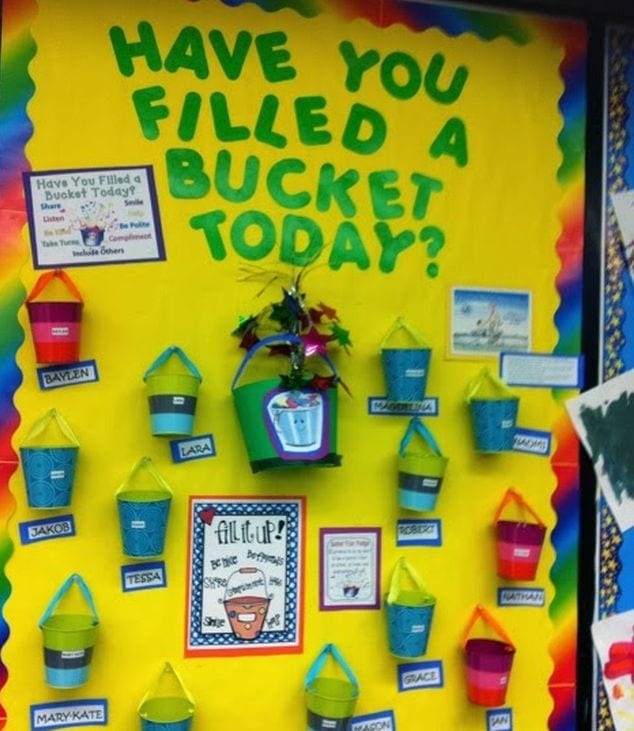 When you "catch" students being kind, give them a "warm fuzzy" pom-pom to put in their bucket. Periodically empty the individual buckets into a class bucket to work toward a reward. (Learn more about the bucket filler concept here.)
Source: Little Mrs. Preschool
28. Spark joy in your students.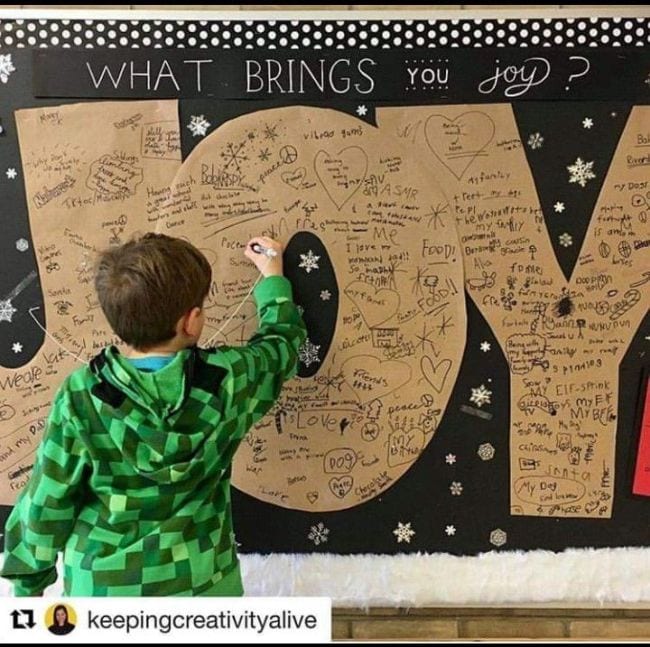 Such a simple concept—spell out a word in large letters and have students fill it with their thoughts on that word. You can easily change this out to fit seasons or subjects.
Source: Paulette Metivier/Pinterest
29. Measure angles on a paper pool table.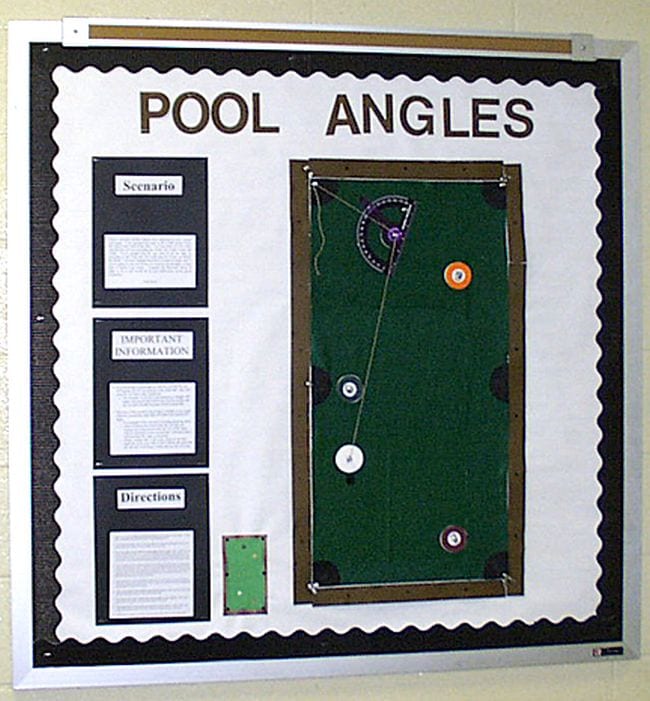 Have students place paper pool balls on the table, then calculate the angles they'd need to shoot in order to pocket the ball using a protractor and string.
Source: Ryan O'Donnell/Kutztown University
30. Give them a space to "tweet" all about it.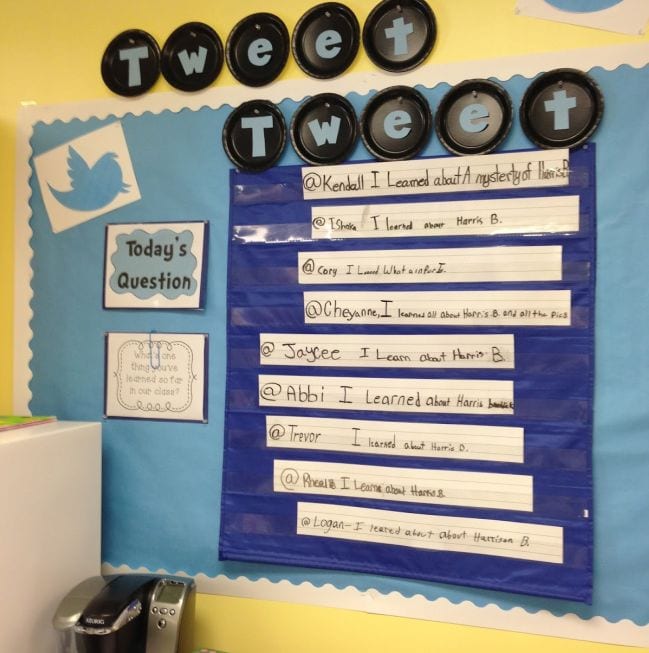 Social media is everywhere these days, including classrooms. Create a Twitter wall where students "tweet" the answer to a question, using laminated sentence strips and dry-erase markers.
Source: Life in Fifth Grade
31. Craft a reader's choice board.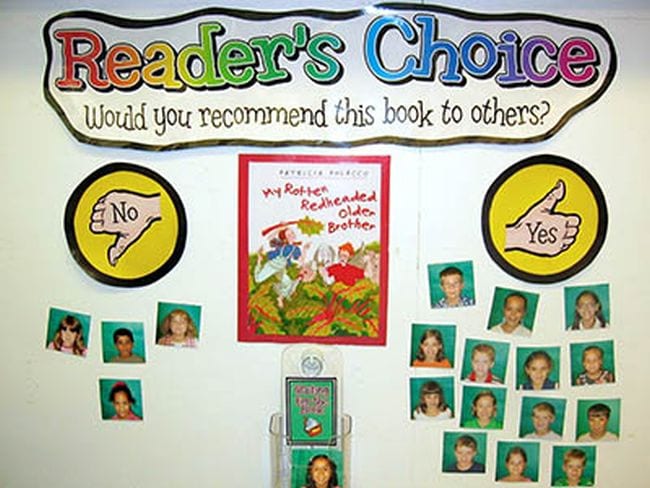 Find out which books are hits and which are misses with reader's choice interactive bulletin boards. Kids can move their picture to show how they felt about a specific book.
Source: Scholastic
32. Put together a pushpin poetry board.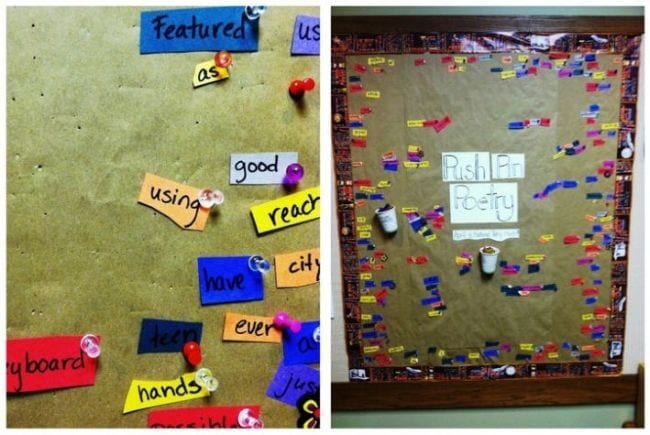 It's like magnetic poetry, but using a bulletin board instead! Cut out words and provide a container of pins. Students do the rest.
Source: Residence Life Crafts
33. Encourage random acts of kindness.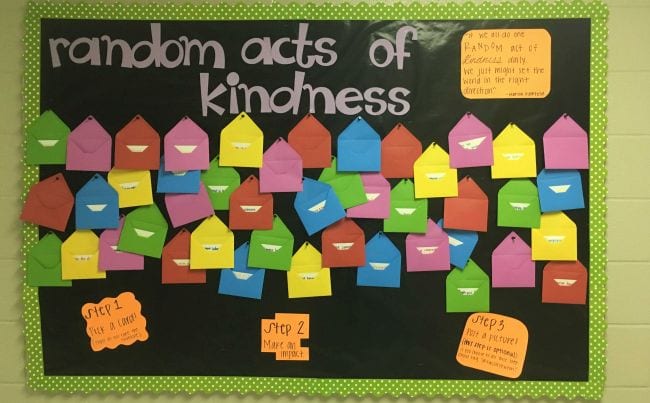 Post a series of envelopes with random acts of kindness ideas inside. Students draw a card and complete the act, then post a pic if they like.
Source: The Green Pride
34. Recognize new classmates by playing peekaboo.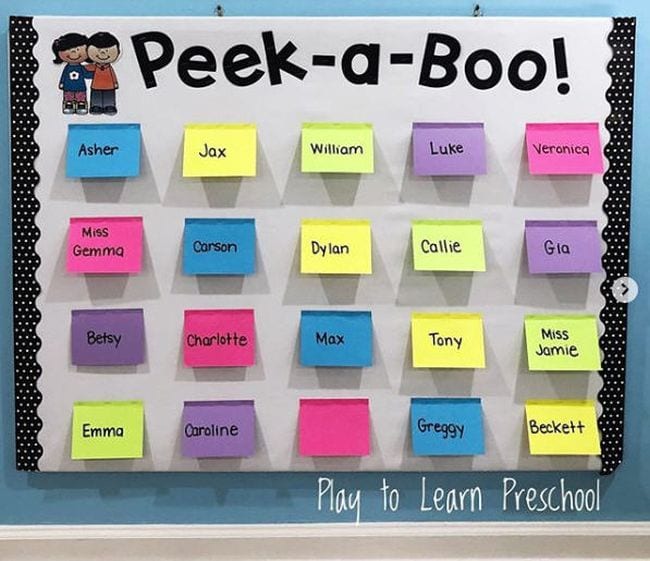 Post a pic of the student under a flap with their name on it to help students learn their classmates' names and faces. This is geared toward younger kids but could be tweaked for older students, too.
Source: Play to Learn Preschool/Instagram
35. Plot points on a big Cartesian plane.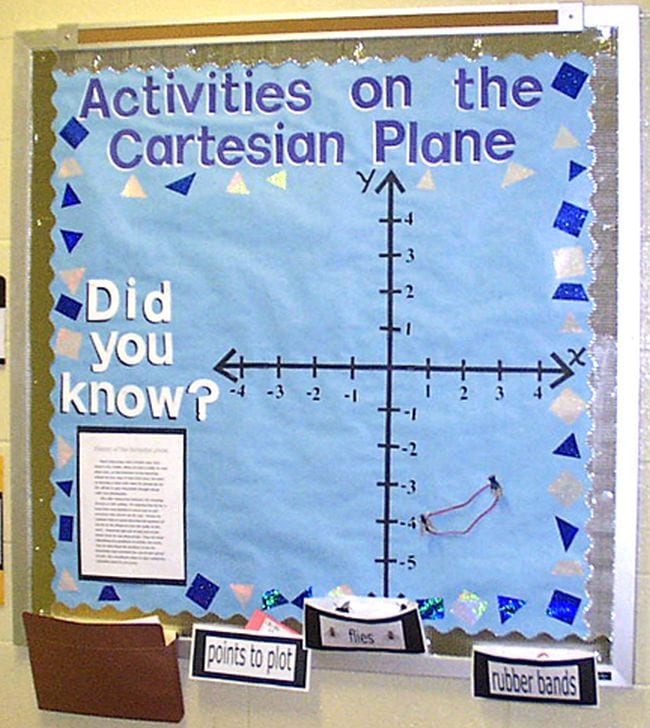 Give students practice plotting points and finding the area of shapes on a Cartesian plane. Use fun pushpins to jazz it up!
Source: Melody Bienfang/Kutztown University
Need more bulletin board ideas? Try these 20 science bulletin boards or these 19 magical Harry Potter boards.
Want to know what makes a bulletin board easy and effective? Check out these tips.