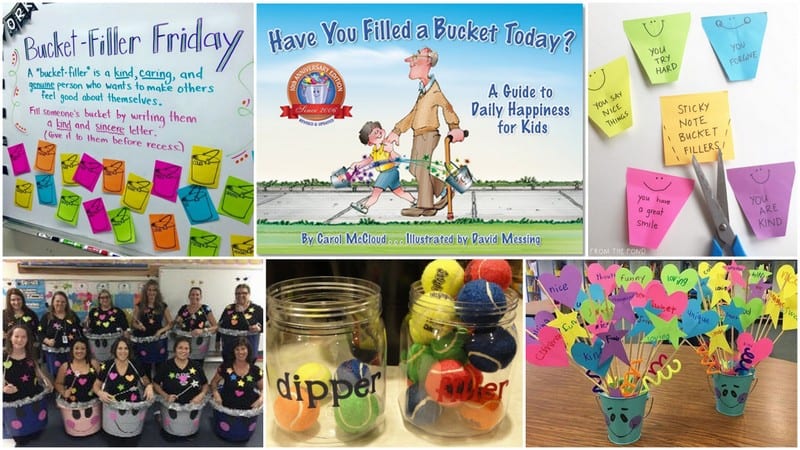 Since the publication of Have You Filled a Bucket Today? in 2006, the concept of bucket filling has become more popular each year. It's a simple idea: being kind to others fills their buckets (and your own). Bucket filler activities encourage kids to be kind in a variety of ways. After all, what classroom couldn't use a little more kindness? Start by reading the original book or one of the many follow-ups to your class. Then try one or more of our favorite free bucket filler activities to go along with it.
1. Create an anchor chart.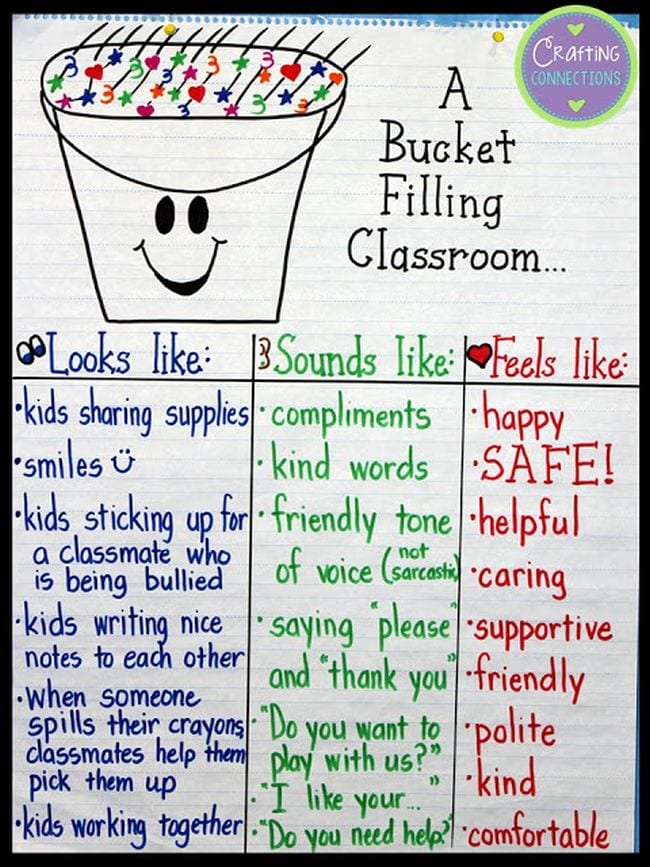 Help kids understand what a bucket filler does and says with a simple anchor chart. When you're done, post it on the wall as a daily reminder of the best bucket filler activities.
Learn more: Crafting Connections
2. Sort bucket fillers from bucket dippers.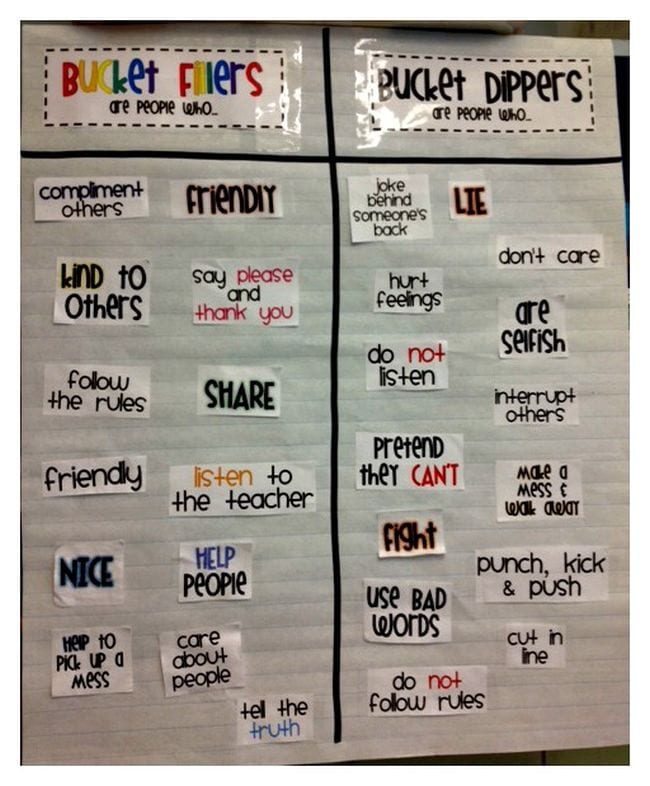 Give students a stack of pre-printed behaviors, and ask them to sort the phrases into "bucket fillers" and "bucket dippers." Tip: Include some blank slips and have kids fill in their own behaviors to add to either list.
Learn more: Third Grade Thoughts
3. Work to fill a classroom bucket.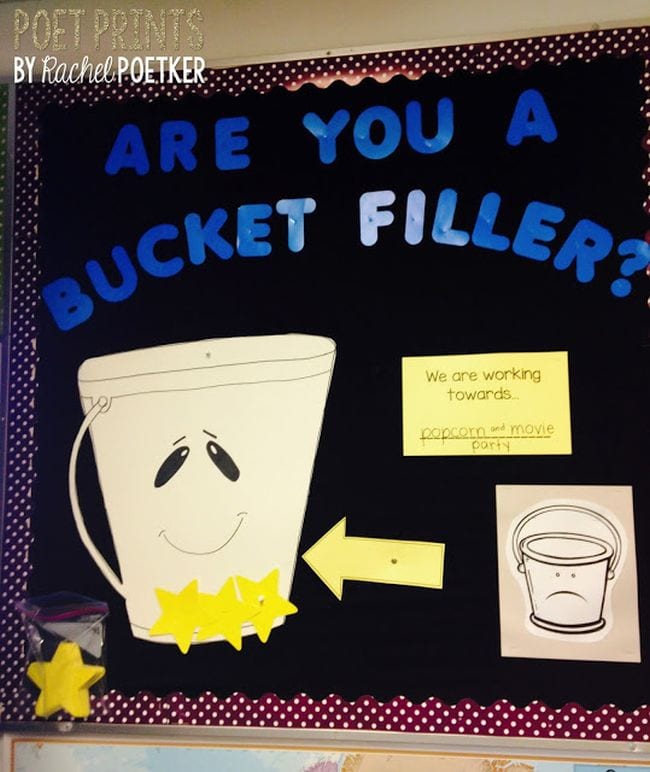 Encourage your class to fill a communal bucket as they work toward a reward. Add a star to the bucket each time you see an act of kindness in your classroom. When the bucket is full, they've earned the reward!
Learn more: Poet Prints
4. Celebrate Bucket Filler Fridays.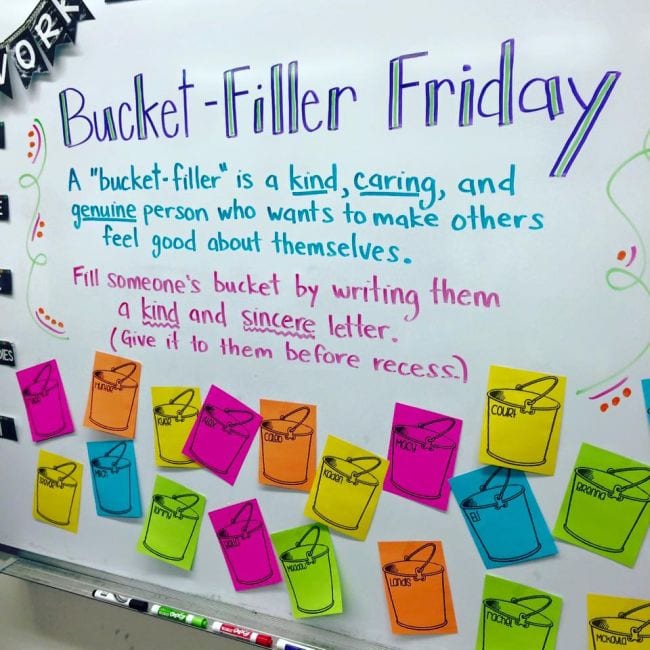 Take time once a week to recognize the power of kindness. Every Friday, have kids choose another student to write a bucket filler letter to. Encourage them to choose a new person each week.
Learn more: Proud to be Primary
5. Craft personalized buckets to fill.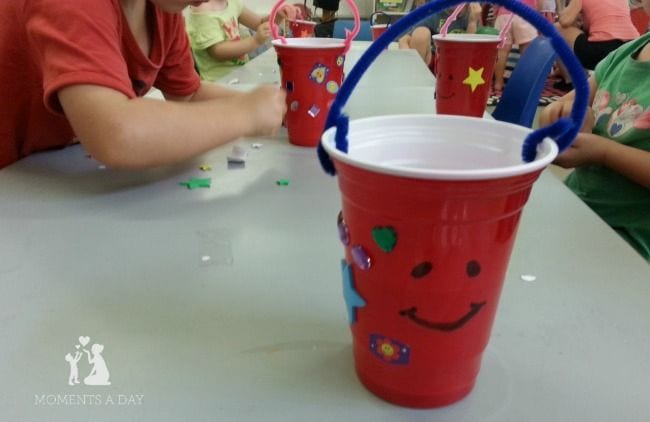 Students will love decorating a plastic cup with stickers, glitter, and more. Attach a pipe cleaner handle, and they've got their very own bucket!
Learn more: Moments a Day
6. Use a shoe organizer to hold buckets.
This clever idea works for DIY buckets made from plastic cups or inexpensive small metal buckets. Slide each into a pocket, label them with students' names, and provide a stack of blank "bucket filler" slips nearby. Kids write messages and leave them in the buckets for each other.
Learn more: One Kreative Kindergarten
7. Fill up a bucket for someone special.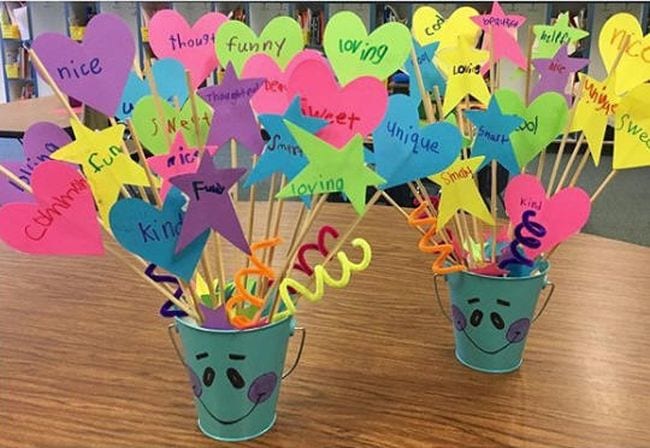 Choose someone to honor (the principal, janitor, or school secretary). Have your little ones write one word that describes that person on a heart or star, then mount them on sticks and fill up the bucket. Present the bucket to your honoree in front of the whole class.
Learn more: the_miss_education/Instagram
8. Dress up in a bucket filler costume.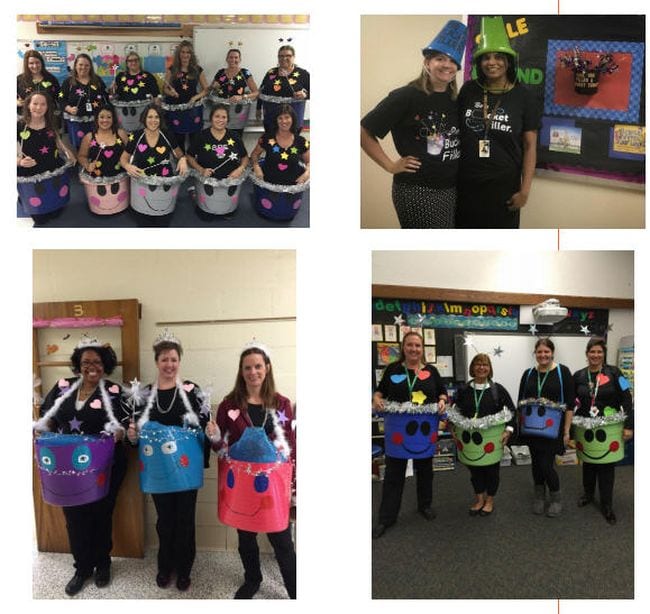 Dazzle your kiddos when you grab your fellow teachers and dress up in bucket filler costumes. This is a great way to kick off a series of bucket filler activities.
Learn more: Bucket Fillers 101
9. Use pom poms to fill buckets.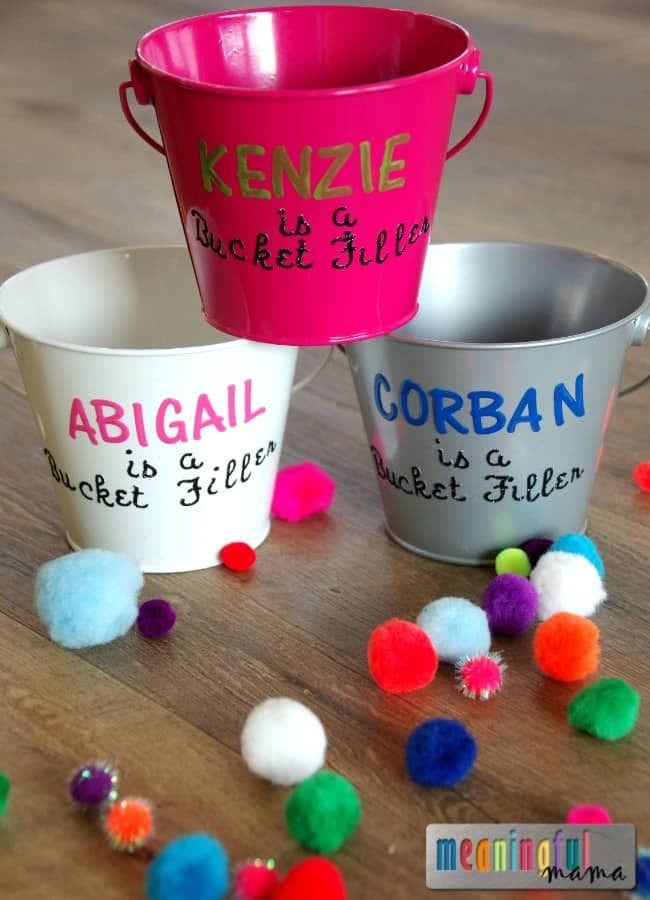 This is a cute and quick way to fill buckets throughout the school day. Recognize bucket filler activities and behaviors by tossing a pom pom (some folks call them "warm fuzzies") into a student's bucket. They'll love watching their buckets fill up!
Learn more: Meaningful Mama
10. Set a daily bucket filler activities challenge.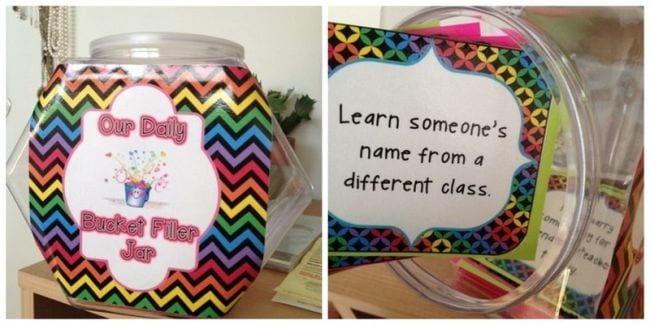 Fill a container with a variety of bucket filler behaviors. Each day, have a student pull one from the container and challenge your kids to complete the activity before the day ends.
Learn more: Sparkling in Second Grade
11. Write a letter to the bucket filler fairy.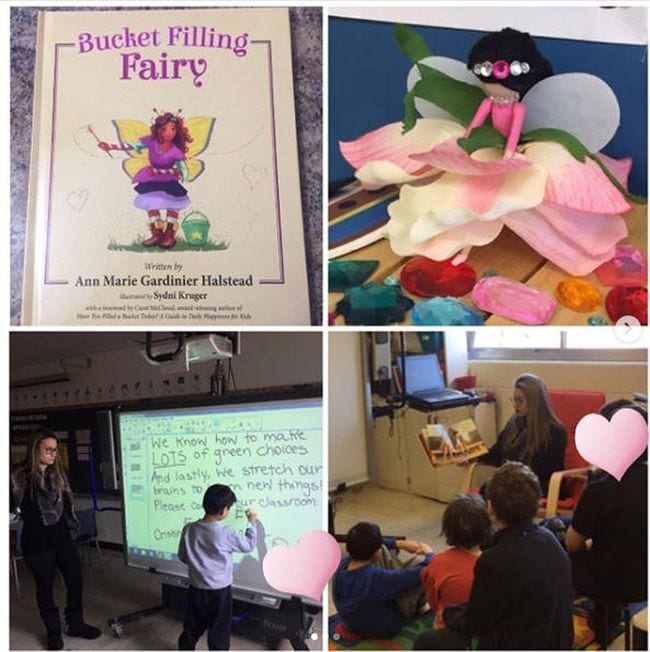 Read to your kids about the bucket filling fairy, and then invite her to come visit your class. Compose a group letter to the fairy explaining why your class is full of bucket fillers. For extra fun, write back to the kids in the guise of the fairy! See more at the link below.
Learn more: primaryask/Instagram
12. Do a bucket fillers crossword or word search.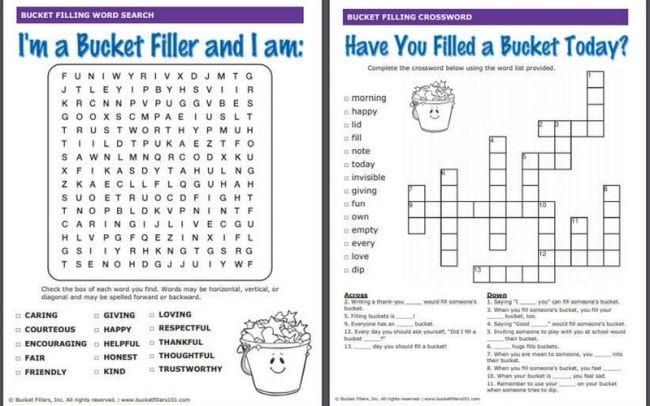 These free printables help kids learn what a bucket filler looks like. Visit the link below to find these and other free printable resources.
Learn more: Bucket Fillers 101
13. Track bucket fillers and bucket dippers.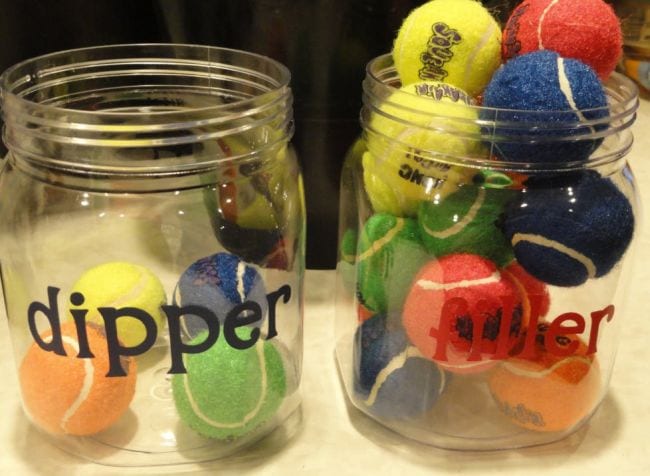 Face it—no class is perfect. Tracking both their filler and dipper activities can help inspire your little ones to be more aware of their behavior. Encourage them to end each day with more balls in the "filler" container than the "dipper" container. (This is a great practice counting activity too.)
Learn more: Busy Bees
14. Make and eat a bucket filler snack.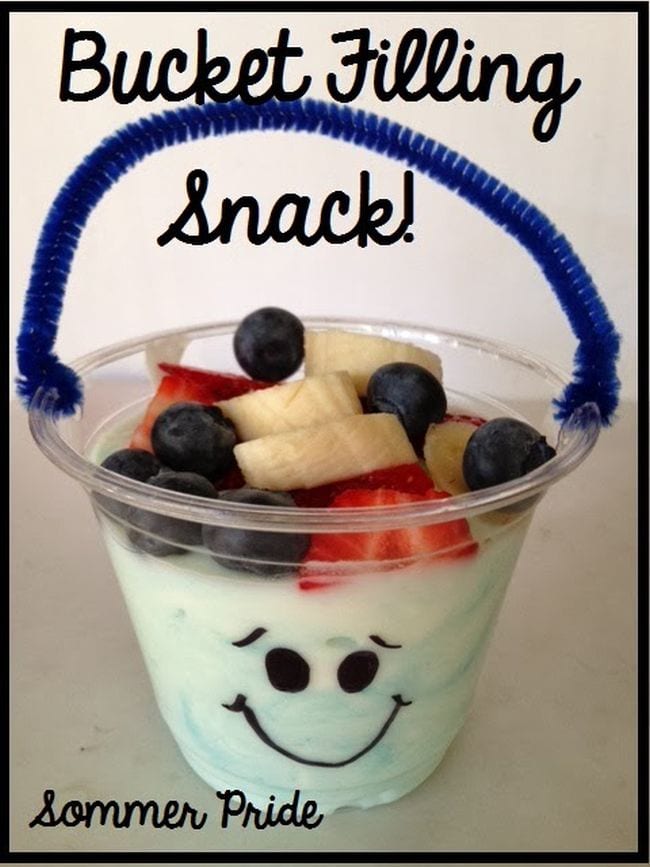 Getting ready for story time? Make these adorable (and healthy) bucket snacks to eat while you read! You could also fill these with popcorn or other treats.
Learn more: Sommer's Lion Pride
15. Fill up a teacher bucket too.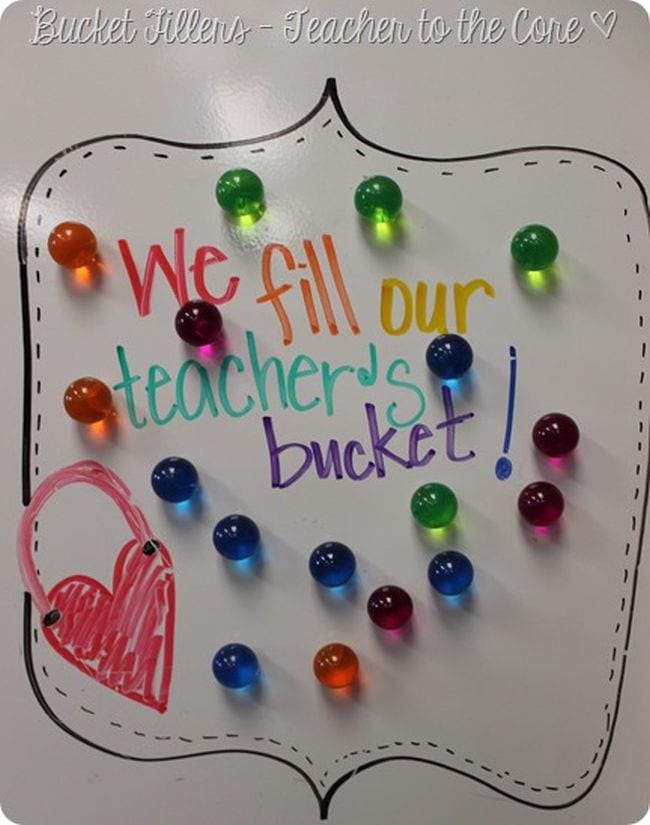 Don't forget about your own bucket! Teach students that their kindnesses can fill up their teacher's bucket. Keep track with colorful magnets on the whiteboard so everyone can see their progress.
Learn more: Teacher to the Core
16. Write a bucket fillers book.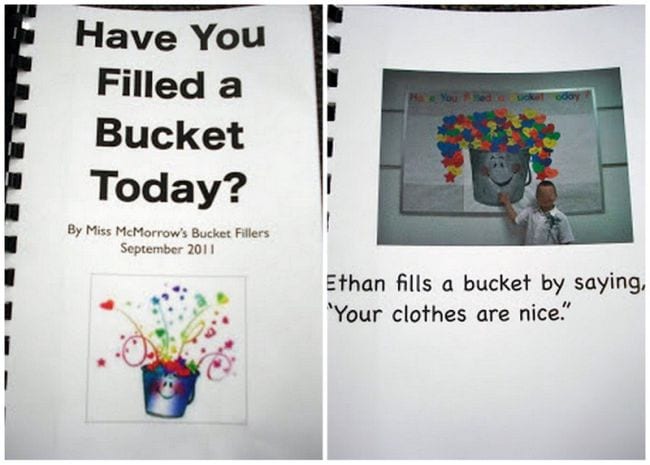 Take a photo of each of your students and describe one way they've helped to fill someone's bucket. Collate them all together into a booklet and display it when parents come to visit.
Learn more: Forever in First
17. Pass out bucket filler punch cards.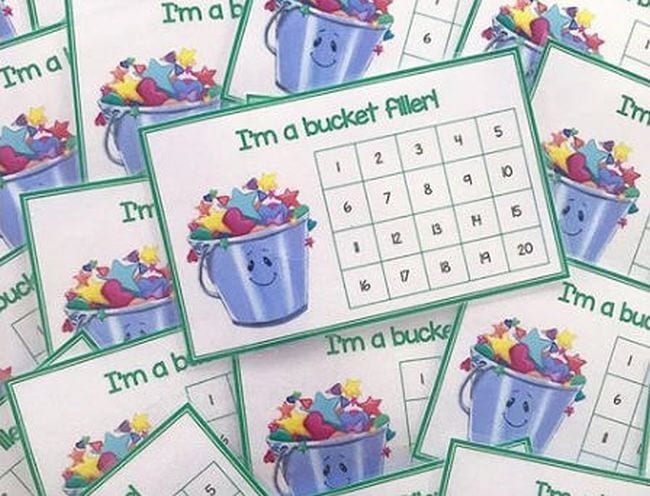 Reward your little bucket fillers by filling up their punch card with a sticker (or teacher's initials) each time they're caught doing something kind. Kids can turn in filled cards for a treat or reward.
Learn more: misszullo/Instagram
18. Play a bucket filler board game.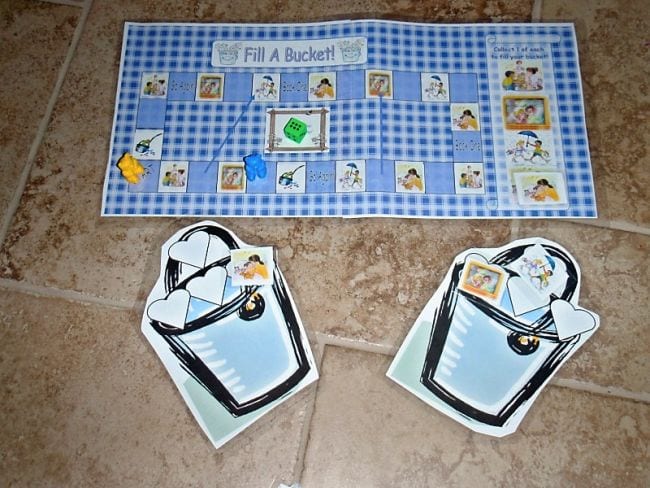 In this simple board game, players work to collect four different pieces and fill up their buckets. Get the free printable game at the link below.
Learn more: Teaching Heart
19. Make little wooden reminder buckets.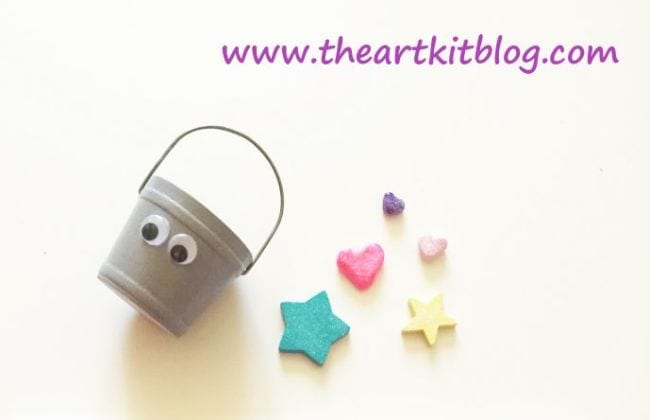 Help kids craft these little wooden buckets with heart and star fillers. They serve as a great reminder to live a kind life dedicated to filling buckets.
Learn more: The Art Kit Blog
20. Turn sticky notes into bucket notes.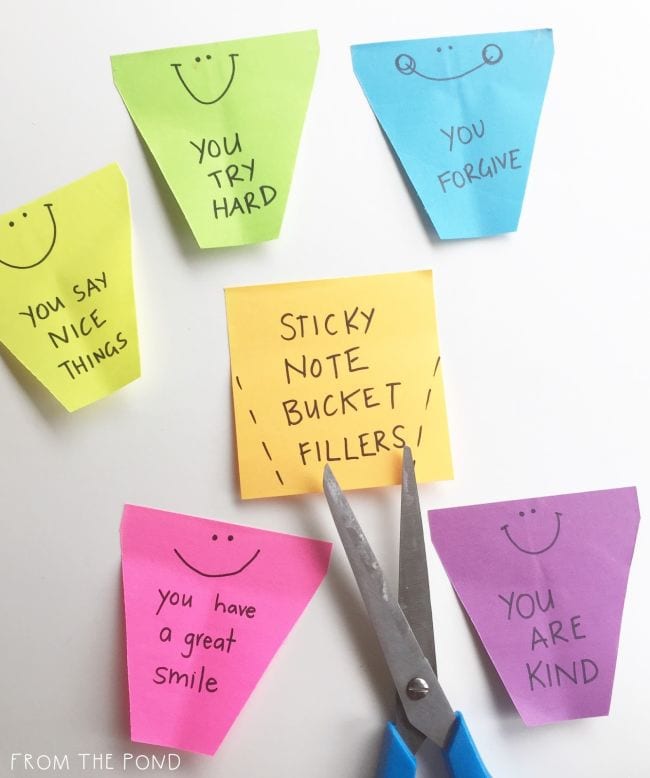 Need a quick easy way to fill a student's bucket? Trim the corners from a sticky note and write them a message. Bucket filled! (See more creative ways to use sticky notes in the classroom here.)
Learn more: A Blog from the Pond
21. Think about how to fill your own bucket.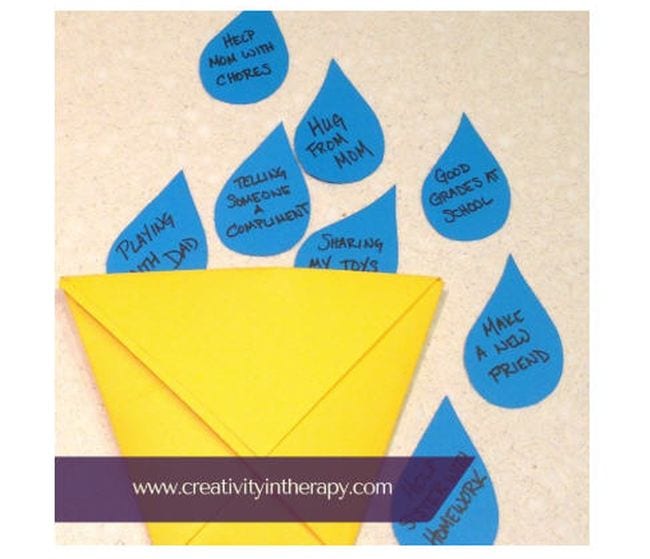 Keeping your own bucket full is an important part of the bucket filler philosophy. Many bucket filler activities focus on how kids can fill others' buckets. This one asks kids to consider how they fill their own buckets with their kind behavior by crafting and filling an origami paper bucket with drops of water.
Learn more: Creativity in Therapy
Looking for more great reads about being kind? Take a look at our list of top kindness books for kids here.
Picture books aren't only for little kids. Learn how one teacher uses picture books to teach mindfulness to middle schoolers.
Got more bucket filler activities? Come and share in our WeAreTeachers HELPLINE group on Facebook.