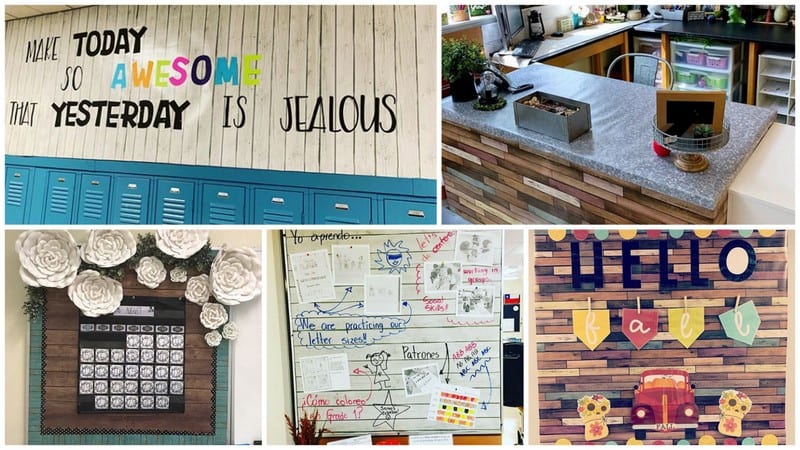 Admit it. Part of the reason you became a teacher was so you could decorate your classroom with awesome bulletin boards, right? Yeah, we get it, and you're not alone. The only bummer part is putting up the background paper, which tends to fade and become full of holes and rips by the end of the year. That's why teachers are going wild for Better Than Paper.
This magic material is stronger and easier to work with than paper, so it lasts for years (really!). It comes in a bunch of gorgeous patterns and colors. And did we mention you can write on it and wipe off the writing later, like a whiteboard? Take a look at how teachers are using this incredible product in their classrooms and prepare to be amazed.
Note: We've provided Amazon Affiliate links in this article for your convenience. When you buy using our links, we receive a tiny percentage of the purchase price, but we only recommend products we know you'll love.
Better Than Paper covers ugly walls with ease.
Buh-bye, boring cement block! Use double-sided tape to attach red brick Better Than Paper instead.
The before-and-after shots are amazing.
Click that little arrow on the right to see what we mean.
Who doesn't love a good makeover?
That is one cool art room.
Watch this classroom go from drab to fab.
Love those bright colors! Royal blue Better Than Paper is brilliant combined with colored pencils die-cut border trim .
Better Than Paper hides the "battle scars" of tape and paint.
Tape peels off this stuff with ease, so you can hang whatever you like wherever you like.
The write-on-wipe-off surface is simply brilliant.
Put up some white wood Better Than Paper anywhere in your room, and you've instantly got a classy whiteboard.
Ever dreamed of having a classroom-mural wall?
Every single bit of this project on white Better Than Paper was later removed to create a new mural. Pro tip: You can use wet-erase markers for a more lasting finish; wipe them off later with a damp cloth.
Chalk markers look especially sharp on it.
Nostalgic for the old days? Put up some chalkboard Better Than Paper and grab a pack of chalk markers.
Wood patterns create a cozy feel in the classroom.
Rustic wood Better Than Paper makes you want to curl up by the fire with a good book, don't you think?
Two Better Than Paper patterns are better than one!
Clever, creative, and classic.
Make use of wasted hallway wall space.
Reusable vinyl letters peel right off when you want to change your message.
Create a bulletin board anywhere you want.
Another tip: Use it to cover a piece of foam board, and you can use thumbtacks on it, just like a regular bulletin board.
Better Than Paper works off the wall too.
Teacher desks can be a little … dingy. So we're loving this combo of reclaimed wood Better Than Paper to cover the desk base with galvanized metal Better Than Paper for the top. (And yes, the teacher confirmed it held up perfectly all year long!)
The designs teachers are creating with it are simply beautiful.
Hello, gorgeous!
Seriously, so beautiful.
Giant paper flowers for the win.
It's easy to see why teachers are using Better Than Paper all over their classrooms.
Home sweet classroom.
They love it so much, they're using it at home too!
It would be perfect for apartments when you can't do a full remodel.
The day your Better Than Paper order arrives feels like Christmas!
Are you a Better Than Paper fan or have questions about how it works? Come talk about it on the WeAreTeachers Chat Facebook group and join the WeAreTeachers Deals group to find great bargains on this and other teacher supplies.
Need bulletin board ideas? Find more than 80 clever and creative ideas here!