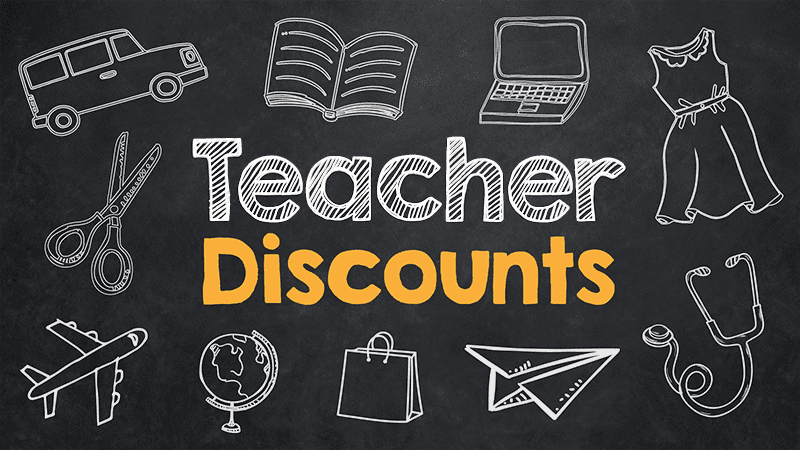 No doubt about it—teachers work hard for their money, and we think you deserve to be rewarded for it. So do all the businesses and organizations on this list.* Every one of them offers teacher discounts and freebies, just to thank you for all your hard work and service. Stores, museums, hotels, rental cars … and that's just the beginning.
Choose your category to see the best teacher discounts:
*Some of the best teacher discounts on this list are only available to members of the National Education Association (NEA). Learn even more about the discounts and benefits of being an NEA member by visiting the NEA Member Benefits website. Not a member yet? Get more info here.
Classroom Supplies Teacher Discounts

Save 10% on classroom materials
Save 10% on art supplies
Save 15% with enrollment in the Academic Edge program
25% off purchase of cushioned floor mats
Save 15% when you join the Teacher's Club
Sign up to receive a 10% discount
20% off
Sign up for the Organized Teacher Discount Program to be notified of deals and teacher discounts
20% off used classroom sets
Clothing, Shoes, & Accessories Teacher Discounts

15% off full price purchases
15% off full price purchases
10% off your purchase with SheerID verification
Register to receive 20% off purchases
15% in-store purchases when you sign up for Dressbarn Academy
10% off when you sign up with ID.me
15% off in-store purchases
20% discount
Save 15% in-store only
10% off your purchase with SheerID verification
Newspapers, Books, & Magazines Teacher Discounts

20% off purchases for classroom use, 25% during Educator Appreciation Days
20% off all purchases
20% off purchases for the classroom with a BAM Educator's Card
10% off purchases when you sign up for the Educator's Card
50% off online subscriptions
Save over 45% on classroom sets
$49 digital or print/digital subscriptions
Save 50% on subscription rates
General Shopping Teacher Discounts

NEA members save 20%
NEA members receive over $60 in extra savings plus 3 free items
NEA members receive discounts and free delivery over $399
Get 20% off when you use ID.me
NEA members receive discounts at a wide variety of retailers, including Macy's, Best Buy, Crate & Barrel, and more
15% off your purchase with a .edu email address
Technology Teacher Discounts
NEA members save 15% on cell phone service
60% off monthly Creative Cloud subscription
Apple Education Pricing available for select devices
20% discount on most products
10-15% off select models
5% off all products
Educators receive Office 365 for free, plus 10% off Windows devices
Save $100 on smartphones and tablets with new line activation
Health & Insurance Teacher Discounts

5% discount
20% discount
$0 deductible when driving car for school business or if vandalized on school grounds; $2500 coverage for teaching materials or school-owned property stolen from your vehicle
Members can receive major discounts on quality hearing aids
Special discounted rates; get a $25 Amazon gift card when you call for a free quote
Complimentary life insurance for qualifying members
10% off with ID.me verification
Sports & Entertainment Teacher Discounts

1/2 price tickets to select home games
2 free tickets to select home games
Craft & Hobby Teacher Discounts

15% off purchases
Save 15% on every purchase
Save 15% on every purchase
10-20% discounts for school purchases
Cars & Trucks Teacher Discounts

NEA members receive coupons, plus no charge for extra driver or daily mileage limits
20% off local moves, 15% off one-way moves
10% discount
NEA members receive discounts on car rentals
Special discounted prices on select new models
NEA members save 25%
Members receive discounts on buying or leasing a new or used car
NEA members save up to 20%
5% discount
Travel Teacher Discounts

Free admission for educators
10% off the lowest available price
$75 savings on trips of 7 days or longer
15% discount
NEA members receive discounts on airfare, hotels, cruises, and more, plus they earn rewards dollars toward future purchases
20% discount and special VIP amenities
NEA members save 20%
25% discount
10% off the best available rate
Special room rates at the Dolphin and the Swan for teachers only
10% discount
Visit Costa Rica, Italy or Peru with this exclusive travel offer
Discounts at Alamo, Dollar Rent A Car, Enterprise, Hertz and National
Regional Teacher Discounts
New England public and private school teachers can join the Teacher Partner Program to receive free admission to exhibit halls and a variety of other benefits
Free access to Discovery World when you register for the free Educator Community
Florida teachers who apply as Teacher Study Program participants receive free admission for the school year
Florida, Georgia, Puerto Rico, and U.S. Virgin Island educators are eligible to receive a 12-month Educators Pass, which gives free admission to Kennedy Space Center
California teachers receive free admission on select days
Florida teachers receive one year of free admission with free Florida Teacher Pass
Wisconsin teachers receive free admission
Teachers who bring their classes to the museum receive the MPM Hall Pass, which provides free unlimited museum visits and other benefits
Florida teachers receive free admission and discounted family memberships
Illinois teachers receive free admission
Free admission for New York City teachers
California teachers receive free admission
New England educators receive free admission and other benefits
Florida teachers receive free admission
Free admission for K-12 educators in Texas and its bordering states
Educators receive free admission from Sept 1 – June 15
Free admission for one school staff member and one additional guest during Teacher Preview Days
Missouri and Kansas educators receive free admission with membership in the Union Station Kansas City Educator Program
Florida teachers get unlimited admission with free Florida Teacher Card
Educators from Illinois, Indiana, Michigan and Wisconsin can register to receive a voucher for a complimentary Shedd Pass ticket
Register to receive a voucher for complimentary admission
Illinois teachers receive complimentary basic admission
Florida teachers receive discounted admission
California educators receive a discounted price on membership
Miscellaneous Teacher Discounts

$20–100 savings on select DNA kits
NEA members can save an average of 15–25 cents per gallon
NEA members receive 30 days of free protection and 10% off membership
$50 savings on Geno 2.0 DNA kit for classroom use