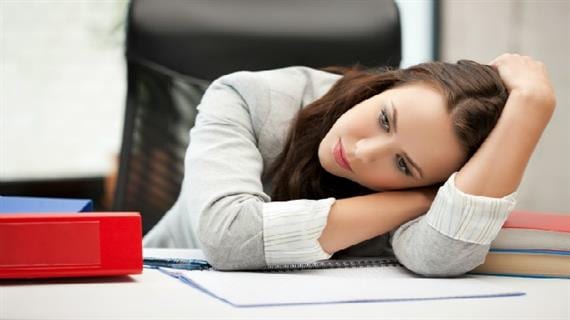 So you've had your first observation of the year, and … it could have been better. That's what teacher Crystal experienced last week, and she shared her disappointment with our community of teachers on the WeAreTeachers HELPLINE:

"Rough day … I had my post-observation conference. I'm a second-year teacher, and I got mostly 'proficients' but a few 'developings' as well. I'm a little bummed because I know I could have done better. Any tips for how to overcome a not-as-good-as-you-wanted observation?"
Crystal, we feel your pain! Every teacher can relate to having a less-than-perfect observation. Here's some advice our teachers offered.
1. Stop comparing yourself to others.
"I always compare myself to the other teachers, so I never feel I get what I think I should." —Phil F.
The best thing to do is improve against your own standards, not someone else's achievements.
"At the end of each year, I look over my observation write-ups for the full year and set goals for myself and what I'd like to improve on for the upcoming year." —Bill K.
2. Ask for suggestions.
"Ask your administrator what she suggests for improving your areas of weakness. Look at your post-observation conference as a one-on-one learning opportunity." —Aaron F.
Then, be sure to implement the ideas, especially for your next observation, so you can demonstrate how much you've improved.
3. Remember that you don't need to be perfect.
Just like you wouldn't expect all of your students to earn an A+ on every test, no one expects perfection from every teacher every time. "Our district is heading toward a new observation framework, and we're being prepped that we'll be scoring lower than we are used to, but it isn't something to be concerned about. The idea is that we use our observation notes for positive change, and that's a good thing!" —Cassie T.
"One principal told our staff that nobody could get 'excellent' because everyone is supposed to improve, but when I taught in a different state, I got all 'excellent' ratings. Bottom line: Try not to let the scores bother you, and focus on doing your best no matter what the paperwork says." —Andrea M.
4. Don't stop working, trying and learning.
"Keep teaching and learning. It will get better year after year." —Katrina P.

"I look at what the administrator noted, then look up articles or books on that skill to help." —Pat F.
"I try not to get too worked up over an observation where I got less than what I hoped for. I remember being marked down because in one of my observations, students were taking a pencil/paper-style quiz on vocabulary. My administrator gave me 'basic' on 'assessments' because he said I shouldn't use only paper/pencil quizzes and suggested having the kids do conversations and skits. I have kids do skits and presentations all the time, but not on the one day he came in for 15 minutes. I try to judge myself based on my own reflections on what went well and what I could have done better. When I have a lesson that doesn't go well, I make notes for myself on why it didn't go well and think about ways I can make adjustments so I improve." —Ann D.
5. Keep it in perspective.
"Observations are one moment in time, and often one person's perception of you. Learn what you can and keep going! You got this!" —Sarah B.

"An observation can't tell your whole story of teaching; it's just a glimpse." —Amy P.