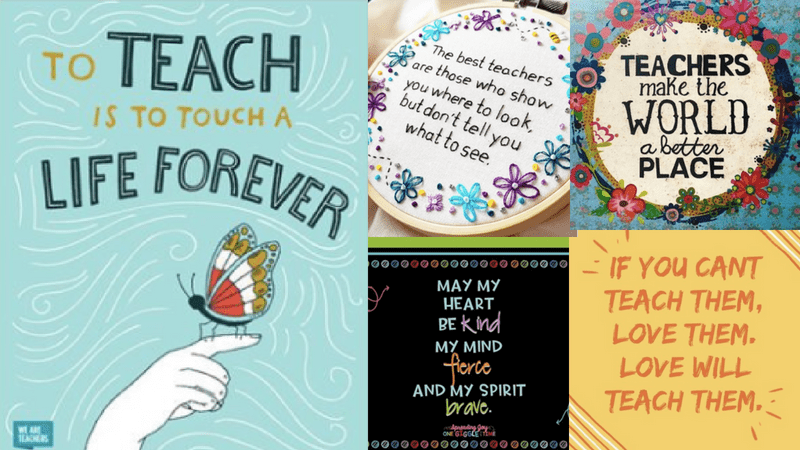 When it comes to motivation, you just can't underestimate the power of a well-timed quote. Here are some of our all-time favorite inspirational teacher quotes, as spotted on Instagram.
Psst…check out our list of favorite classroom quotes, too!
1. You are making a difference every day.
2. Inside of every great educator is a child that needed a better teacher.
3. Anyone who does anything to help a child in his life is a hero to me.
4. The best teachers are those who show you where to look, but don't tell you what to see.
5. Never be afraid to let go of what you think you know. You might just learn something new.
6. May my heart be kind, my mind fierce, and my spirit brave.
7. A well-educated mind will always have more questions than answers.
8. You don't know what they'll be … but you know they'll make a difference in this planet.
9. Teachers make the world a better place.
10. You are enough.
11. If you don't like something, change it. If you can't change it, change your attitude.
12. The influence of a good teacher can never be erased.
13. Strive for progress not perfection.
14. Focus on the next step, not the whole path.
15. Believe in yourself. You are braver than you think, more talented than you know, and capable of more than you imagine.
16. Only the brave choose to teach.
17. The future of the world is in my classroom today.
18. Raise your words, not your voice. It is rain that grows flowers, not thunder.
19. If we teach today's students as we taught yesterday's, we rob them of tomorrow.
20. Our fingerprints don't fade from the lives we touch.
21. Happiness can be found, even in the darkest of time, if one simply turns on the light.
22. When I get to the end of my life, and I ask one final "What have I done?" Let my answer be: "I have done love."
23. Take care of yourself.
24. Educating the mind without educating the heart is no education at all.
25. I wouldn't be the person I am today if I weren't a reader.
26. Students who are loved at home come to school to learn. And students who aren't come to school to be loved.
27. If you can't teach them, love them. Love will teach them.
28. In case no one has told you today, you are a great teacher. Keep on being awesome.
29. Sometimes, it only takes a single teacher to turn a child's life around. Some children will come to school today because of that teacher. Be that teacher, every day.
30. Every student can learn, just not on the same day, or the same way.
31. We can't keep assuming we need to raise kids from the world we came from. We need to think about raising them for the world they're going to.
32. Like a
boss

teacher.
33. You are shaped not only by what you do, but also by what you don't do.
34. The best teaching does not come from a political mandate … it comes from the heart of a prepared and caring teacher.
35. Teaching is the greatest act of optimism.
36. Nothing can dim a light that shines from within.
37. The world needs all kinds of minds.
38. Speak to your children as if they are the wisest, kindest, most beautiful and magical humans on earth, for what they believe is what they become.
39. By doing what you love, you inspire and awaken the hearts of others.
40. Every child needs at least one adult who is irrationally crazy about him or her.
41. Fair isn't everybody getting the same thing. Fair is everybody getting what they need to be in order to be successful.
42. The world is changed by your example, not by your opinion.
43. You hold the future of the world in your hands.
44. Be somebody who makes everybody feel like a somebody.
45. Be an encourager, the world has enough critics already.
46. It is not what is poured into the student, but what is planted, that counts.
47. It takes a big heart to teach little minds.
48. May your coffee be strong and your students be calm.
49. To the world you may be just a teacher. But to your students you are a hero.
50. Teaching kids to count is fine, but teaching them what counts is best.
What inspirational teacher quotes strengthen and inspire you? Come share in our WeAreTeachers HELPLINE group on Facebook.
And if you like inspirational quotes, you'll love these 5 Free Posters to Celebrate Teaching.