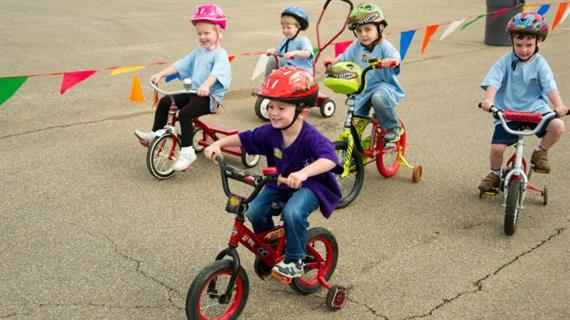 Brought to you by St. Jude Children's Research Hospital
More
Hey pre-K and kindergarten teachers: You can throw a St. Jude Trike-A-Thon® event that your kids will love! We've gathered together the best teacher tips to make this event easy for you, fun for your students and life-changing for the kids who benefit from the care they get at St. Jude Children's Research Hospital. When you host a St. Jude Trike-A-Thon, you're doing more than just creating a fantastically fun event for your students: You're also raising money for one of the top cancer-care centers in the country.
We all know that preschool-age kids love to ride their trikes—they can go in circles for hours. But your St. Jude Trike-A-Thon can be more than just bike-riding time. It can be a full-on pretend-play event for your students that also raises money for an important cause. Many Trike-A-Thon participants build entire trike cities that participants can pedal through. We've put together seven tips to help you pull off a Trike-A-Thon that your kids will remember (and ask for!) year after year.
1. Create Your Own Trike Town
Of course a big Trike Town event with replica cardboard building for every building in town sounds like loads of fun, but what if you don't have the volunteer base to pull something like that off? No worries. A simple orange cone set up in a parking lot works just as well for your little ones. We all know that preschoolers just love to ride, and ride, and ride. The key is to accurately gauge your volunteer base before you commit. If you've got parents lining up outside your door to help out, put them to work and do something grand. If it's just you, keep it simple and keep yourself sane.
2. Gym or Playground? Choose Your Location
You'd be amazed by all of the different locations schools have found to hold their Trike-A-Thons. Some schools set up the course right on their school playground. Others have blocked off a parking lot. Still other schools have transformed their entire gymnasiumS into "Trike Towns." The location doesn't matter so much as the event. Just get your kids and their trikes to your chosen location and turn them loose on the trike track. As long as they can pedal their little hearts out, they'll be happy as can be.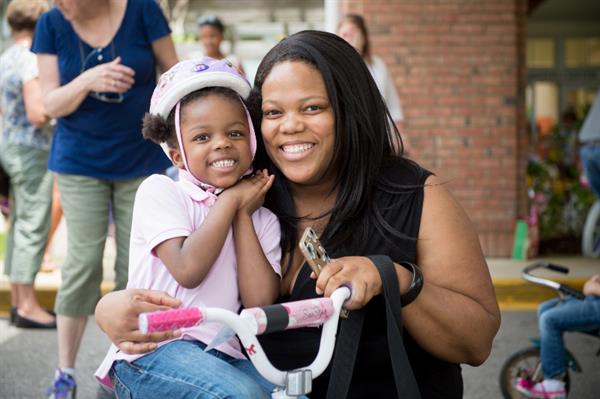 3. Design Your Tricycle Course (Or better yet, get your kids to help you design one!)
Once you've got your location confirmed, it's time to start planning your course. It can be as simple or elaborate as you wish, depending on the time you have and the number of volunteers who are ready to help. No matter which route you go, you'll likely need kid-sized traffic cones or sidewalk chalk to mark the course. If you want to capture the imaginations of your students who aren't avid bike riders, you might want to enlist some volunteers to help you construct a Trike Town for your preschoolers to ride through. If you've got several preschool classrooms in your school, each class can be in charge of creating a particular building for the town (e.g., a fire station, a school, a coffee shop, etc.). Cardboard appliance boxes work great for this kind of thing. Some kids will bike through the town, some kids will serve up ice-cold (pretend or real) lemonade, and all the kids will love it!
4. Teach the Basics of Bike Safety
St. Jude provides a bike safety curriculum that includes stories and DVDs featuring the lovable Bikewell Bear and Pedals the Bunny characters. Bikewell and Pedals introduce the purpose of the Trike-A-Thon, as well as four different bike-safety tips. Your kids will love the music included in the DVDs and the animated lessons that go along with the stories. You'll catch them singing the songs from the DVD as they trike along!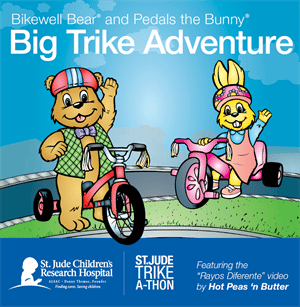 5. Invite Your Community—Neighbors, Businesspeople, Firefighters, Police!
Who better to invite to a bike safety event than your local police department? They know bike safety better than just about anyone, and most would be happy for the opportunity to connect with their communities in this way. You can invite them to the actual event, or include a talk from your neighborhood's community officer during one of your pre-teaching lessons. Some schools have also invited the mayor or other local government officials to their events. A simple tricycle event has the potential to become a bigger lesson about community government.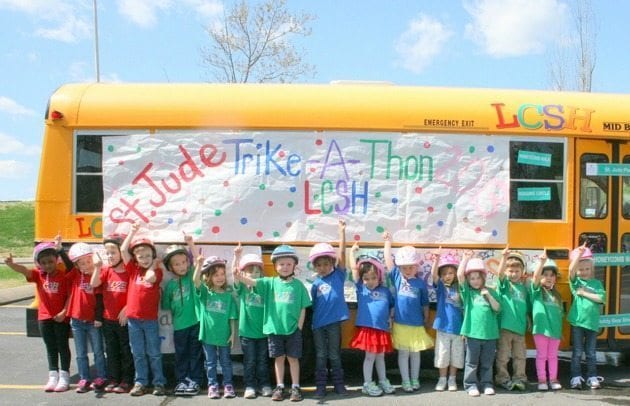 6. Get Families Involved
Perhaps the most important thing you can do to make your Trike-A-Thon a success is getting the families of your students involved. Send home emails and newsletters announcing the event well in advance and offer advice on how to ask family and friends to sponsor a child who participates in the Trike-A-Thon. St. Jude even has a simple online system where families can sign up to collect donations. Families can then share their child's page on social media pages (like Facebook and Twitter), or they can send emails to ask for sponsorship. Encourage families to talk up the event at home with their kids.
7. Decorate Your Tricycles!
You can also send home ideas for trike decorating. If you want to take it a step further, you can send home an actual trike-decorating kit. Pack a ziplock bag full of streamers, ribbons, balloons and construction paper to make signs. (Include a smaller baggie of glitter for the sign if you're feeling really brave!) We've even included a couple of free printables to make it super-easy. If you want to handwrite the names, use this one: Trike-Decorating-Kit. If you want to customize the names on your computer, use this one: Trike-Decorating-Kit-editable.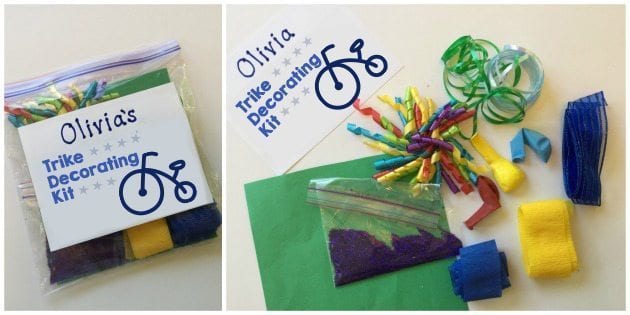 It's the kids and their excitement that will make your event a success. Harness their built-in energy around bike riding, and your school will be all set for an absolute blockbuster Trike-A-Thon. Even more, they'll be learning about what it means to do good things for other kids in the community around them. Visit the St. Jude Trike-A-Thon website for all the information you'll need to create a Trike-A-Thon event that your students will talk about for years to come.