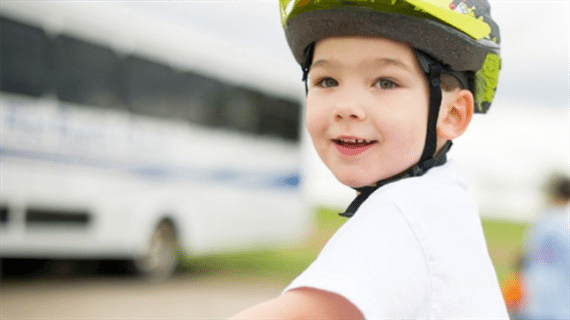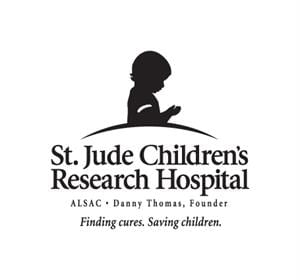 Brought to you by St. Jude Children's Research Hospital

Looking for ways to get your kids outside and on their trikes safely this spring, while making a difference? Find out more about how you can host aSt. Jude Trike-A-Thon.
It's that time of year when your pre-K and kindergarten students can't contain their wiggles any longer and are busting with energy! You're all desperate to head outside to play and learn. Since May is National Bike Month, it's also the perfect time to focus on the bicycle safety rules and smart riding habits that will help your students avoid accidents. Here are nine ideas gathered from teachers and the St. Jude Trike-A-Thon team that will inspire you and your students to get outside and ride in a safe and responsible way.
1. Make it safe: Safety rules are not negotiable.

During everyday play, kids constantly test the limits of their abilities and can easily wind up with minor cuts, scrapes and bruises that hurt a bit but don't cause any lasting harm. Tending to those skinned knees and wounded egos is a familiar part of every teacher's job. Often, a hug is all it takes to make everything better. But more serious injuries do sometimes happen. Your students' curiosity and desire to experiment may not match their capacity to understand or respond to danger. You can avoid most major injuries by sticking to some smart safety guidelines and making it clear to your kids that when it comes to safety, the rules are not negotiable. Your young cyclers can learn the basics with these Rules of the Road Playing Cards from the Deceptively Educational blog.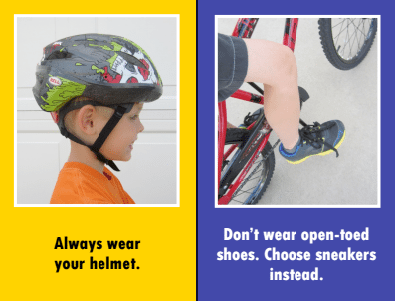 2. Make it fun to wear a helmet.
The single-most effective way to reduce head injuries from bicycle crashes is to wear a helmet. Make it a rule. Every time your students ride a bike or a trike, they must wear a bicycle helmet that meets or exceeds the safety standards developed by the U.S. Consumer Product Safety Commission. Research shows that head injuries account for more than 60 percent of bicycle-related hospital admissions and deaths. Helmets can reduce the risk of head injury to bicyclists by as much as 85 percent. Most children will happily wear their helmets—especially if it becomes a habit that you never let them break, like wearing shoes to school. If your students are reluctant, try letting them decorate their helmets with stickers, or help add and remove padding to make them more comfortable. We love this helmet-decorating idea from the Flour Power blog.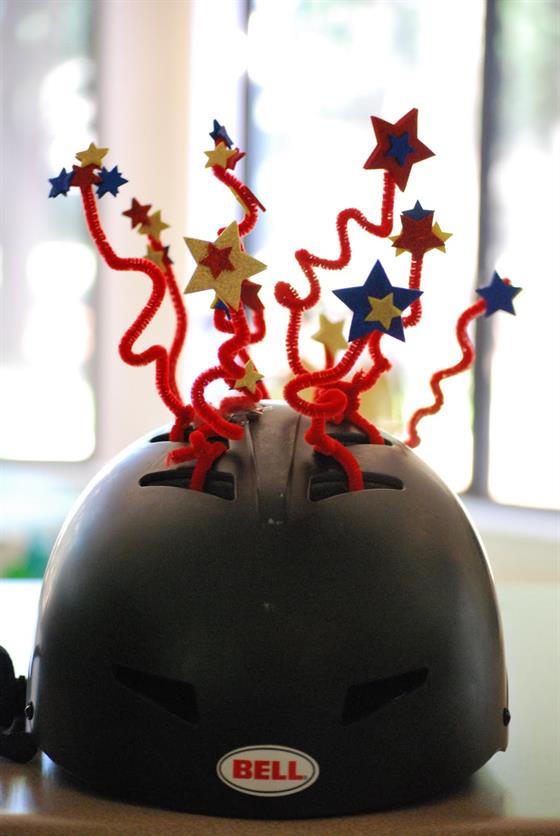 Source: Flour Power
All you need is pipe cleaners, glue and foam shapes to create custom helmet embellishments. In addition to making kids more excited about wearing their helmets, these adorable squiggle designs will make kids more visible and therefore safer!
If your school doesn't have helmets handy, have them decorate this printable helmet from the National Highway Traffic Safety Administration (NHTSA). NHTSA has a list of fun bike and trike activities, including a special section for preschoolers.
You also have to think about fit. Bicycle helmets need to fit properly in order to protect your young riders. But sometimes those straps can be tricky to adjust. Refer to this step-by-step guide from WeMakeItSafer for help in making sure your students are strapped in snugly and securely. It's a great resource to share with parents to help them pick out the right helmet for their child.
3. Protect your melon!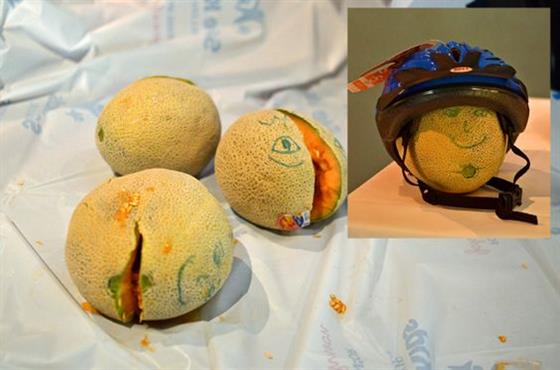 Source: Pinterest
Try this demonstration with your kids to illustrate the importance of wearing protective helmets when cycling or participating in other activities like skating, riding scooters and skateboarding.
Have kids draw faces on two cantaloupes or honeydew melons and talk about how the melons are similar to their heads (round, hard outside, soft inside).
Strap one of the melons securely into a bicycle helmet. (See fit guide above!)
Drop the unprotected melon from about shoulder height (or higher). What happens? Does it dent, bruise or split open?
Next drop the melon in the helmet from the same height. Does it stay in one piece?
Point out how effective the helmet was in protecting the melon from the fall. Tell your students that their helmets can protect their heads the same way.
Celebrate the lesson with a melon snack.
Visit the Consumer Product Safety Commission site for additional bike safety experiments and resources.
4. Teach kids the rules of the road.
The St. Jude Trike-A-Thon has a four-lesson video series to teach kids in preschool and kindergarten the most important bike safety messages:
Always wear your helmet
Never ride in the street
Be careful in and around driveways
Always watch where you are going
Anyone on foot or riding on a skateboard, cycle, scooter or skates needs to be hyperaware of vehicle traffic when on or near the road. It is best to practice road safety with younger children on sidewalks and paths at first. Then when you do venture onto roads, supervise them carefully until you are sure they have good traffic skills and judgment. Even if kids are too young to ride on the road alone, you can begin to teach them important skills when they're riding with adults.
Before you cross the street, stop and look left, right and left again.
Walk facing traffic so the cars can see you as they're driving. Stay as close to the side of the road as possible.
Ride your bike the same way the cars go, staying as far to the right as possible.
Follow the traffic rules. Stop at all stop signs and stoplights.
Be careful when you turn. Watch for cars and use hand signals if you know them.
Never ride when it's dark, foggy or in other low-visibility conditions.
Never run out into a street for a ball, a pet or any other reason.
Watch for cars backing up in driveways and parking lots.
Watch this video from the U.S. Department of Transportation's Federal Highway Administration with your class to reinforce safe cycling habits.
Spanish-speaking classes can enjoy this bike safety video from children's music group Hot Peas 'N Butter calledRayos Diferente, part of the St. Jude Trike-A-Thon program.

5. Issue bike rider's licenses to make it official.
Your students will take their bike-riding responsibilities seriously when you give them each their own driver's license. This is a great reward for successfully learning the safety rules you teach them.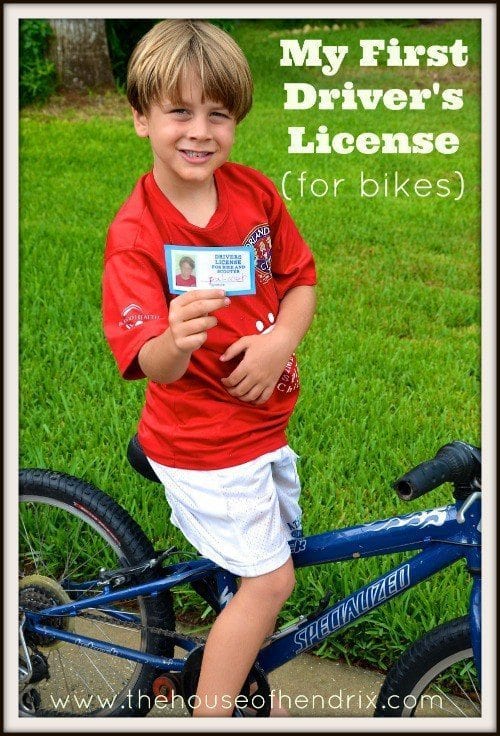 Source: The House of Hendrix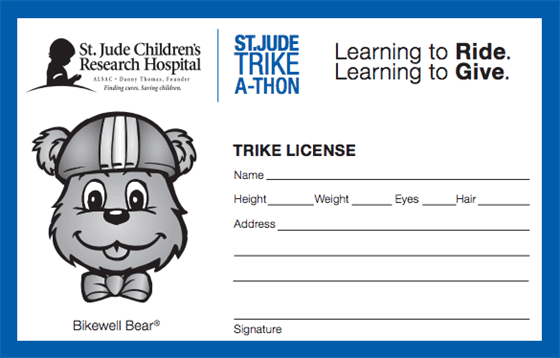 Source: St. Jude's Trike-A-Thon
6. Host a Trike-A-Thon.
Host a St. Jude Trike-A-Thon. Here's an article with tips for running a successful event to raise funds for a good cause.
Including a teen trike race or a slow bike race is a great way to encourage bigger kids in your school or neighborhood to participate. Your preschool and kindergarten-age kids will love to share their bike safety smarts with the older kids. They will also love winning the tricycle race and watching the taller kids struggle to pedal the tiny trikes across the finish line.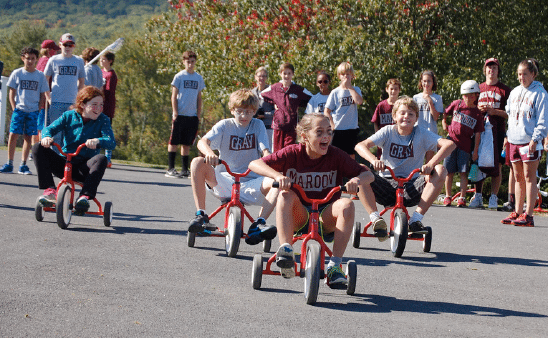 Source: Indian Mountain School
Next, challenge anyone who can balance a two-wheeler to a Slow Bike Race. The object is to go as slowly as possible and to be the last person to cross the finish line without touching a foot to the ground. B is for Balance!

Source: Indian Mountain School
7. Play Simon Says Stop and Go.
Print out these Stop and Go cards from Melissa and Doug and use them to play games that will help kids practice the two most basic road signals. You can play a variation of Red Light, Green Light or a fast-paced game of Simon Says that has students stopping and starting on demand. These games can be played on foot or trike and are a great way to add a bit of learning to outdoor play.

8. Create a safety course with sidewalk chalk.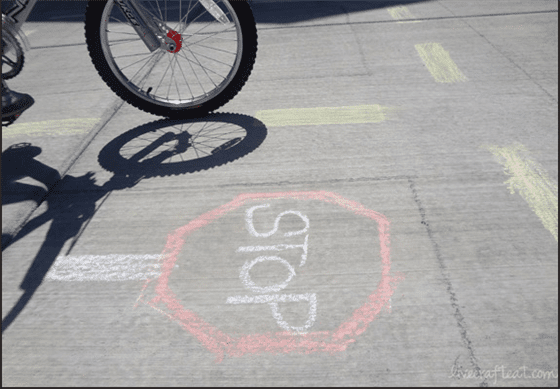 Source: Melissa & Doug Blog
Kids in preschool and kindergarten are safest staying away from roads, but the same old sidewalks and blacktops can get old. Add your own obstacles and road signs to create a safety course to keep kids entertained and practicing their cycling maneuvers. Use sidewalk chalk, orange cones (or upside-down sand pails) and crepe paper streamers to create lanes, intersections, tricky turns and a finish line. Check out the CoolMomPicks website for more great ideas for jazzing up a day of cycling, including mud-puddle cycling.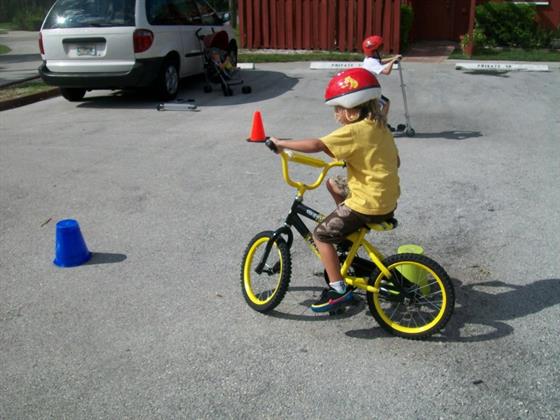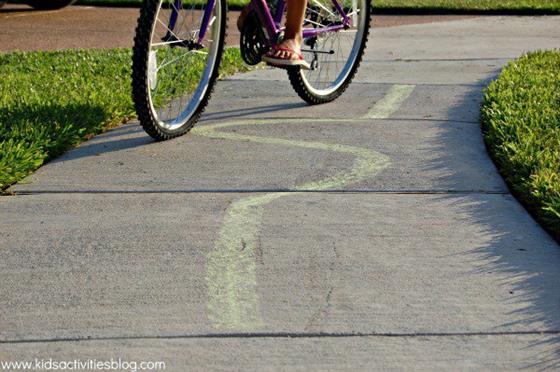 Source: Kids Activities Blog
9. Bring it inside.
Take a break from all of the fun by handing out this printable Bike Maze for kids to complete back in the classroom. They can use crayons, markers or even a scrap of leftover sidewalk chalk to color in the correct path.
This is the sixth article in the Community Service Ideas series sponsored by St. Jude Children's Research Hospital. Looking for fun ways to get kids outside and moving? Find out more about how you can host a St. Jude Trike-A-Thon.