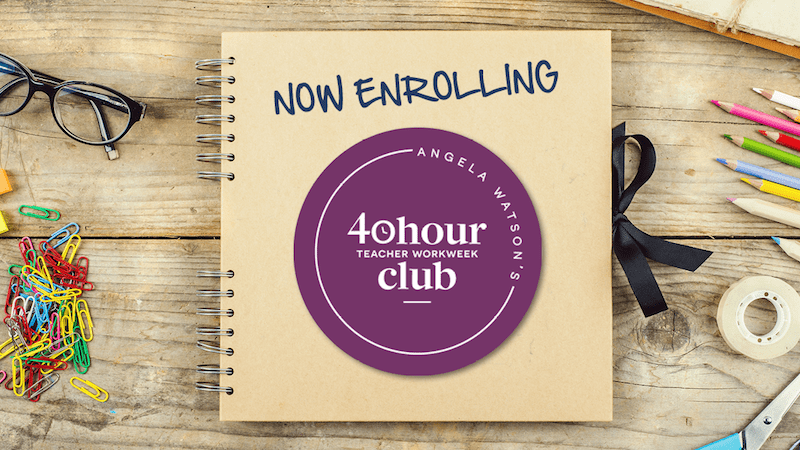 Hey teachers, feeling exhausted by the overwhelming demands of the job? Don't know where to look for help, much less find the energy to achieve work-life balance? We've been hearing a lot of buzz about Angela Watson's 40 Hour Teacher Workweek Club as a helpful resource and decided to check it out for ourselves. Here are the answers to all your questions, plus reviews from teachers who've tried it.
Psst … Angela let us know that right now, when you enroll with a teacher friend, both of you will get a $25 Amazon.com gift card. Huzzah! Just list one another as your referral when you sign up for the club.
Just a heads up, WeAreTeachers is an affiliate partner of the 40 Hour Teacher Workweek Club. All information in this post comes from actual participants of the Club.
What exactly is the 40 Hour Teacher Workweek Club?
A 52-week program, the 40 Hour Teacher Workweek Club helps you streamline your teaching, one area at a time. Essentially, it's yearlong professional development on increasing productivity. Each week you receive simple, actionable tips to help you do your job more efficiently. The club is about cultivating a more productive mindset to help you succeed, no matter what you teach.
How does it work?
Each month of the program focuses on a plan for simplifying ONE aspect of your teaching. Every week you will receive an email with classroom-tested productivity ideas. You can read the PDF or listen to the podcast, then choose one new strategy to try out for the week. The club's motto is "Small changes add up to big results." Each focus area is designed to help you make incremental changes that will have the biggest impact.
What does membership include?
The club's weekly emails include printable resources and templates that help you put the strategies into action. In addition, when you join the club you get access to a private Facebook group where you can ask questions and find support. Also, at the end of the course you will receive a professional development certificate to document up to 104 credit hours. Once you become a member of the club, you will have unlimited access to the membership site and the Facebook group, even after you complete the course.
What are some of the topics?
Relevant, timely information, from tackling the logistics of the classroom and managing the enormous workload of the job to building and maintaining positive relationships and achieving work-life balance, is presented in detail throughout the year. To see the master plan, check out the club's blueprint.
How much of a commitment is it?
The club is entirely self-paced. If a topic doesn't interest you or you have a particularly busy week, you can always access the materials at a later time. Once a topic is released, it is available on the membership site at any time, even after you "graduate" from the club.
How much does it cost?
You can pay a one-time purchase fee of $137 or break it into three payments of $49. And if you find the club is not for you, there is a 100 percent money-back guarantee. (Although the site estimates that only three percent of teachers who join request a refund.)
Can I join anytime I like?
No. There is a limited enrollment period. A new cohort begins each July. These cohorts give you the support of other teachers who are working through each focus area at the same time.
How do I sign up?
To join the July 2019 cohort, visit Angela Watson's 40 Hour Teacher Workweek Club and enter your email. Right away you'll be able to access the club's June materials for free.
Before and after stories from teachers who have tried (and loved) it:
Prior to joining the club, I felt like I was climbing up a steep mountain with a heavy load strapped to my back. The climb was dragging me down, and I was never able to reach the top. My backpack was filled with grading, lesson planning, maintaining a classroom, building positive student relationships, communicating to parents, delivering dynamic lessons, designing rigorous assessments, integrating new technology, attending meetings, endless paperwork, and so much more.
Angela Watson's 40 Hour Teacher Workweek Club transformed how I climbed up the mountain. At the conclusion of the club, I had reached the summit and the view was breathtaking! It was everything I hoped it would be and more. This club allowed me to take back my personal life, guilt-free. It also gave me the most precious gift—the gift of time. Time to take care of myself and time to spend with my loved ones who support me every day. My husband and children now have the best version of me, as I have finally captured the perfect work-life balance.
—
Jill Capotosto-Baio, fifth grade math and science teacher
My days were a combination of high-intensity grading and record-keeping, meetings and phone calls, and an overflowing inbox of emails. I was constantly sick, constantly exhausted. My evenings and weekends were spent dividing my time—and guilt—between my family and the toppling stacks of grading and prep work haunting my dining room table. But I knew something had to change; the job I loved so dearly was going to be the death of me if I wasn't careful.
Ultimately, Angela Watson's 40 Hour Teacher Workweek Club gave me the tools to free up my time and energy so that I could become the teacher I have wanted to be. I've gone from working 60 hours to working 40–45 hours per week. I'm modeling the hard work, strategic organization, and the balance in writing and learning that I want my students to have. And most importantly, my priorities are straight. My conscience is no longer plagued with work all weekend. I am able to give time and attention to being the wife and mother I want to be, rather than allowing them to be another casualty of my profession.
—
Erin Palazzo, high school English teacher
Before the club I was always working, or feeling bad about not working, or thinking about working. I had difficulty seeing the good that I was doing because I was so fixated on a to-do list that was nebulous, huge, and impossible to ever finish.
After joining the club, I work fewer hours, carefully plan out my time, and when I'm not working I mostly turn off my brain and don't think about work until I'm ready to go back refreshed. I could talk about my experience in the club all day, it's been that transformative!
—Kelly Steiner, middle school science teacher
Are you one of the many teachers who has joined the 40 Hour Teacher Workweek Club? Come and share your experience on the WeAreTeachers HELPLINE group on Facebook.
Plus, tackling the myth of the rock star teacher.