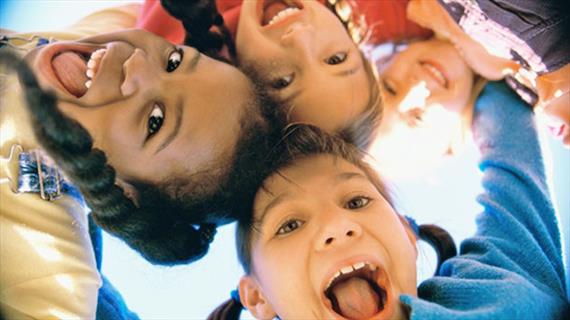 Friendship skills may not show up on standardized tests. But how students navigate their relationships with their peers not only informs how your lessons will go but what students will achieve in your classroom and beyond. With that in mind, we've gathered twelve ideas for improving friendship skills at every grade level, from kindergarten story time to high school discussions about Facebook. Enjoy!
In Grades PreK–2:
Talk about what friendship looks like. Students at the early-elementary level are just learning the skills it takes to be a good friend, from sharing to listening to waiting your turn. What else goes into friendship? Solicit students' ideas and create an anchor chart that you can refer to during social struggles.
Read stories that focus on key social skills, such as self-esteem, honesty and kindness. We like these recommendations from the Center on the Social and Emotional Foundations for Early Learning.
Role-play common challenges for this age group, such as name-calling. Then brainstorm possible solutions as a class. Write the solutions on an anchor chart and encourage students to refer to it to mediate their own problems.
In Grades 3–5:
Give kids language they can use during social struggles. As kids get older, friendship troubles get more complicated and the solutions that worked for earlier playground drama may no longer suffice. Teach students to use "I Statements" that take responsibility for their own emotions rather than putting the blame on someone else.
Take time out for the girls—and the boys. At this age friendship troubles tend to be confined to one gender or the other. It can help to have periodic check-ins with just the girls or the boys to talk about how things are going and address any concerns.
Encourage parents to let kids handle their friendship issues independently. While it's natural for parents to want to "solve" friendship problems, kids at the upper-elementary level need to begin taking responsibility for their own actions and relationships. Send a letter home to parents explaining how you are helping kids discover their own problem-solving strategies and encourage them to do the same at home.
In Grades 6–8:
Read stories about changing relationships. Longstanding friendships frequently change during the middle school years, and reading books about characters going through similar experiences can help your students cope. Two to try: "Water Balloon" by Audrey Vernick and "Eighth-Grade Superzero" by Olugbemisola Rhuday-Perkovich.
Share your own friendship stories. When you're traveling the rocky road of middle school, it can help to hear how others have made it through. Be honest about your past experiences as a middle schooler and ask your colleagues to share their challenges and successes as well.
Encourage students to talk about their interests. At this age, kids often feel entrenched in their social worlds—the classmate sitting across the room might as well be an alien. Help students find common ground by incorporating their interests and talents into your curriculum. A student who writes about her passion for jazz, for example, might be surprised to find a like-minded soul in your classroom.
In Grades 9–12:
Talk about online friendships. Most teens we know are hooked on Facebook and Twitter. But what does it mean to be friends with someone online? Ask kids to write about the pros and cons to virtual relationships, analyzing what an online component brings to an in-person friendship and vice versa.
Discuss how teenage friendships are portrayed in books, movies and TV. The media often tells us what social life is like in high school. But how accurate are these depictions? Talk with students about what books or shows come closest to depicting students' own experiences, and which ones miss the mark.
Conduct a poll about the social climate in your school. What do students think are the biggest issues (e.g., cliques, bullying, online behavior)? What are their ideas for fixing those problems? Challenge students to start a campaign that addresses the barriers to friendship in your own community.
Question for you:How do you teach students about friendship?