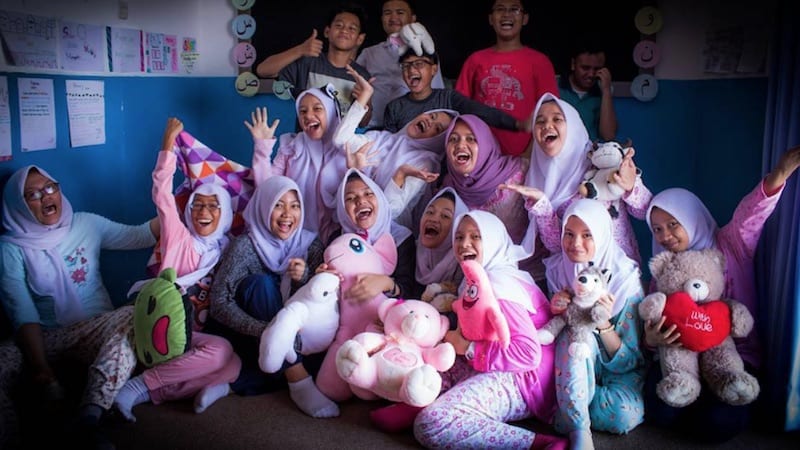 In classrooms around the world, teachers are giving. Caring. Losing sleep to make life better for their students. Making fun decorations out of whatever they can get their hands on. To celebrate World Teacher Day, we've rounded up 25 photos to show that national borders make no difference when it comes to teachers connecting with kids.
Because we're not afraid to jump in…
We share our enthusiasm about anything and everything.
Because we love to get our holiday on…
We celebrate them all.
Because even when we're so so busy…
We always seem to volunteer for one more thing.
Because who needs lunchtime to rest…
Our students always end up hanging out with us.
Because we respect our students…
We work weekends. A lot. So much.
Because we want students to reach higher…
We set the highest goals for them.
Because their smiles make us smile…
We keep each other going.
Because we don't do blank walls…
We fill our spaces with our own kinds of inspiration.
Because we enjoy our work…
We are not afraid to treasure our students.
Because we share our identities…
We get a chance to truly know our students.
Because we believe in our students…
We lift them up whenever we can.
Because we know the power of a good song and dance…
We don't embarrass easily.
Because we never, ever, give up…
We gain confidence when we break down the barriers.
Because we all learn from our students…
Every day brings a new reward.
Because we respect all cultures…
We learn about the world as we teach.
Because we remember being kids…
We want our students to feel at home in our classrooms.
Because we try so hard…
We have the chance to make a lasting difference.
Because we're not afraid to get out of the classroom…
The world is our students' oyster.
Because we rejoice with them…
We're not afraid to show our pride.
Because parents love to see them shine…
We create new ways to share that shine.
Because teachers love banners…
We all flutter them over our students' heads.
Because we want to connect…
We find meaningful ways to reach our students.
Because they give us energy…
They help us get through those tired moments.
Because we can all rock a selfie…
We can all fit as many students as we need to into our camera window.
Because we want them to dream big…
We will always be on their side.
https://www.instagram.com/p/BMVZVrggo1C/?tagged=teacherwithstudents
Happy World Teacher Day, everyone!