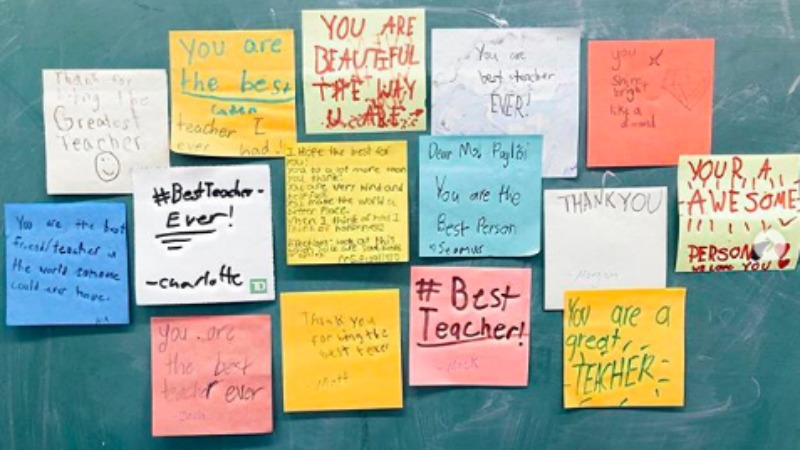 For some reason, everyone thinks they know what it's like to be a teacher. But the truth is, there are things you just can't understand about teaching until you're in the middle of it. We love all these teachers who are keeping it real and sharing all kinds of #TeacherTruths.
Top 📷 credit: Miss Pugz
1. My life is made up of piles.
Waaaaaay too many piles.
2. SO much yes.
I might add wine to this list.
3. Decisions, decisions.
There are always one million things to do at once.
4. I'd like to "spark" my piles of papers.
See you later!
5. Abnormal and freaky.
That's how we roll.
6. Yes and yes!
Killin' it.
7. It's what you'd call an intimate relationship.
They're also like gum under students' desks—not going anywhere.
8. Every. Single. Day.
When you thought it would be a simple direction.
9. Reality check.
Can I say it again for the folks in the back? Wash. Your. Hands.
10. Maybe they cover these in grad school.
And here are the missing college courses, too.
11. Who needs a fitness program?
Teaching: the ultimate cardio.
12. Oops, did I say that out loud?
I didn't mean it.
13. Am I right?
Or ride a bicycle while it's on fire. Take your pick.
14. #Goals
Day over, feet up! Who's with me?
15. At least the herd-of-charging-rhinos part.
Where's Robin Williams when I need him?
16. What teacher dreams are made of.
When they invent automatic-grading technology, I will be here for it.
17. Just doin' a little role-play.
Also, when is recess?
18. Any way this qualifies me for a raise?
The side effects of teaching.
19. It's a daily challenge.
Parents' job: Trust me.
20. Low supply, high demand.
Happy to see you, second semester!
21. SAME.
Or find my keys in my trash can.
22. True love.
❤️❤️❤️
23. Come again?
There's a little bit of holding your pee in there, too.
24. We've got the documentation to prove it.
It's actually kind of shocking when you add it all up.
25. There is an eerie connection.
Full moon, full cray.
What words of wisdom would you add to our list of #TeacherTruths? Come share in our WeAreTeachers HELPLINE group on Facebook.
Plus, why teachers make the worst students.