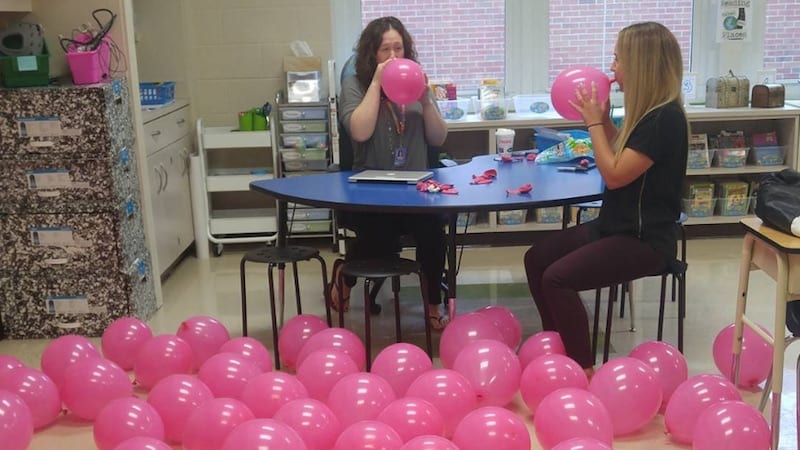 Ahh, your teacher BFFs. Where would you be without them? Many of us can say that we wouldn't survive our jobs without supportive coworkers by our sides. Here are just some of the things that teacher friends do for you, day in and day out.
1. They come to the rescue during last-minute art projects.
2. They're always ready to celebrate with you.
3. They leave surprise pick-me-ups.
4. They're always there to cheer you on.
5. They find silly ways to make you laugh.
6. They want you to know that "you've got a friend in me."
7. They're always ready for a little mischief.
8. They brave snowy weather with you.
9. They understand your sugar and caffeine needs.
10. They use you to teach Venn diagrams.
11. They can read your mind, even when autocorrect can't.
12. They help you reach things.
13. They choose you for their galentine.
14. They celebrate half-birthdays with you.
15. They find the best school supplies.
16. They can "bearly" contain their excitement around you.
17. They're the very best co-teachers.
18. They're not afraid to color in public.
19. They're always down to sip and paint.
20. They help your boyfriend propose.
21. They go on vacation with you.
22. They remind you that the tassle is worth the hassle.
23. They love your wild ideas.
24. They rock the photo booth.
25. They brag about how much they love working with you.
26. They go book shopping with you.
27. They grow healthy lunches for you.
28. They stick by your side at the school carnival.
29. They recognize your superpowers.
30. They're always down for twinning.
31. They travel through time with you.
32. They take you to get pampered.
33. They're always thinking of you.
34. They trade successes and failures over dinner …
35. … and over drinks.
36. They totally get the stress and excitement of recorder concert day.
37. They love a good elfie.
38. They know that retro is where it's at.
39. They blow up balloons for you.
40. They've got your back no matter what mood you're in.
41. They know when you need a word of encouragement.
42. They're your ride-or-die co-chaperones.
43. They know the importance of a kooky hat.
44. They come to your wedding (and you go to theirs)!
45. They'll make a grocery store run with you.
46. They pack the same lunch as you, since you're always on the same wavelength.
47. They're happy to be your extra-credit question.
48. They support your team.
49. They wanna grow old with you.
50. To sum it up, they're the ketchup to your mustard.
Who are your teacher friends, and what would you add to the list? Share in the comments!
Plus, check out our video ode to teacher friends!