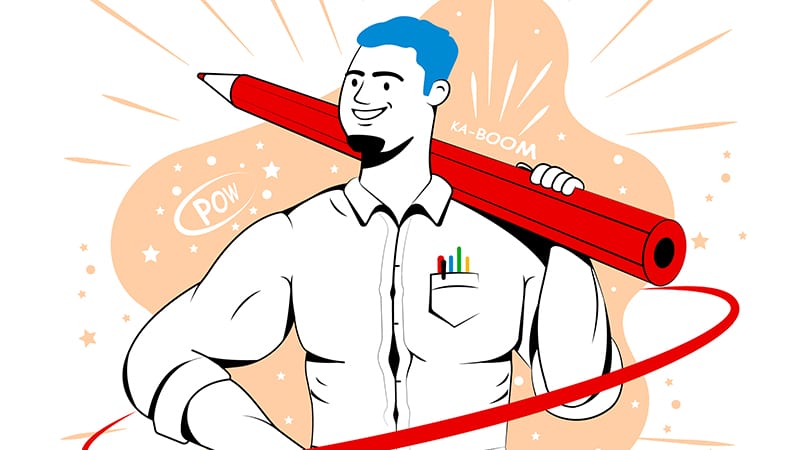 Brought to you by Verizon
Verizon is proud to support teachers and to share their amazing stories with this program. Check out their discounts just for teachers and how to save on their best Unlimited plans.
Defender of immigrants, a hero to the disenfranchised, Ignacio "Nacho" Rivera is El Peso Hero. And he's the creation of Texas teacher Hector Rodriguez. Growing up in Eagle Pass, Texas, and later as a bilingual teacher for the McKinney Independent School District, Hector was inspired to create a comic book that spoke to the unique experience of life on the border. In doing so, he's given his students superhero they can really call their own.
A comic book border hero makes his debut
As a kid, Hector grew up influenced by a father who loved comics, as well as Mexican entertainment, from telenovelas to lucha libre. He began writing and drawing in earnest in college. But it wasn't until he became a teacher that he felt called to create the hero that he'd been waiting for—a hero that spoke to him… and would speak to his students.
The first year he taught fourth grade, Hector had a life-changing moment. One of his students was visibly upset, and he asked him, "Mijo, how can I help you?" The boy replied, "My father's gone. La Migra took him. They picked him up at work and took him." In this moment, Hector knew that it was time for El Peso Hero to come forth.
A hero for Latinx kids
El Peso Hero is a larger-than-life character with superhuman abilities. Hector describes him as a very humanistic superhero. And as he fights corruption, drug cartels, and racism on the border, he tells the untold stories of immigrants—the stories of Hector's students. Hector says, "A lot of students don't see themselves in books, in comic books. This representation was a way to uplift a lot of voices and tell their stories, their experiences."
It's not just the kids in Hector's classroom who benefit either. Hector describes a speaking engagement in which he spoke to a group of students. A child held up a copy of El Peso Hero and told him, "This speaks to me because this is my mother and me crossing."
Teacher first, creator second.
El Peso Hero is now in its tenth year. Even after his tremendous success, Hector continues to teach full time. He remains dedicated to the profession not just because he wants to support and mentor students, but because his students and their stories continually inspire and uplift him.
He says, "Their world is challenging, their home life is challenging. I do the best I can in my classroom to move them forward and inspire them. Success is them seeing education and reading as a love, as a tool to move forward and a way to be inspired to create art, to write, to find their own passion."
Want to see more inspirational stories? Check out how Verizon is honoring teachers and telling their stories.