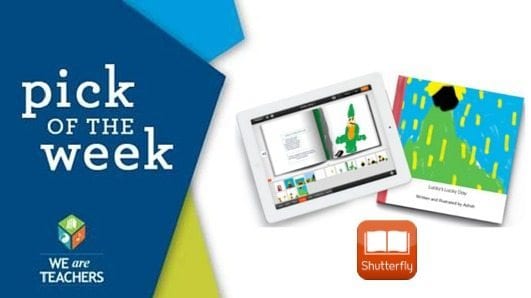 Imagine engaging and exciting your students while improving both their writing and technology skills. Then picture sending your students home with gorgeous digital and professionally bound books of their hard work. Our Pick of the Week makes it all possible.
Teacher Review: Shutterfly Photo Story
Why we love it: Shutterfly Photo Story is an intuitive iPad app that helps students publish their own books. Students will find the app engaging and easy to use as they document projects and tell their stories. Their original texts, drawings, photos and even audio clips will be pulled together in a digital book that will have them bursting with pride.
Photo Story digital books can be viewed both at school and at home, shared via Facebook and e-mail, at absolutely no cost. Students and their families can view their books and listen to the audio clips on any device, without downloading the app themselves.
Publish for posterity: Shutterfly makes it easy to print hardcover and paperback versions of students' Photo Story creations. When at least 10 photo books are purchased for the classroom, the price starts at just $10 per book and shipping is free. Even bigger savings are available on school-wide orders of 100 books or more.
Teach us a lesson: Shutterfly has compiled incredible teacher-developed lesson plans across all subjects to help you integrate Photo Story in your classroom. There are dozens of standards-aligned lesson plans for grades K–8 in ELA, math, social science and science.
Ideas to try:
Publish a compilation of students' poetry, accompanied by their illustrations.
Assign students the task of writing a biography of a family member, complete with photographs and audio snippets of the subject.
Document life science projects in book form so that findings can be celebrated long after the last fruit fly or pea plant has bitten the dust.
Pilot program: Sign up for Shutterfly's limited pilot program and learn more about how you can use Photo Story in your classroom. If you're selected to be part of this special focus group, you can earn free books for your students.
Learn more: Shutterfly
Download it: iTunes