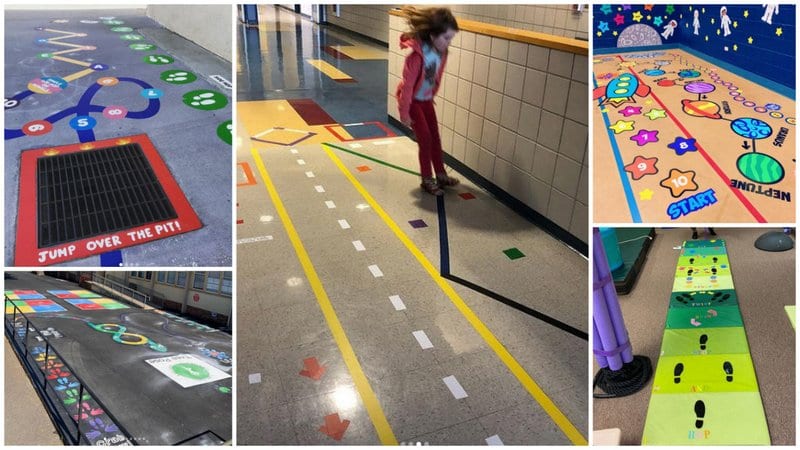 Sitting still is a challenge for lots of kids (and adults!). Schools and teachers are starting to realize that children are actually more focused on learning when they're given a chance to wriggle, fidget, and move around. That's why classroom yoga breaks, flexible seating, and fidget gadgets have become popular. A sensory path is another cool option for helping kids re-focus their energy throughout the day. Find out how they work and what you need to know to create your own.
Just a heads up! WeAreTeachers may collect a share of sales from the links on this page. We only recommend items our team loves!
What is a sensory path?
A sensory path is a series of guided movements for kids to follow, shown by markings on the ground or walls. As students follow the path and complete the movements, they work off excess energy and develop their gross motor skills. The various movements on a path are often designed to engage different parts of the body and brain, from frog hops to spins and wall pushes. You'll find sensory paths in school hallways or on playgrounds, from pre-K through middle schools.
Teachers often use sensory paths as their kids walk through a hallway between activities. (Yes, you really can train a group of kids to do this quietly!) These paths can be especially effective for students who experience frustration, anger, or other sensory overloads during a learning activity. Sending them out to the hall to work off some of those emotions can help them re-focus when they return to their desk.
Sensory Path Creation Tips & Inspiration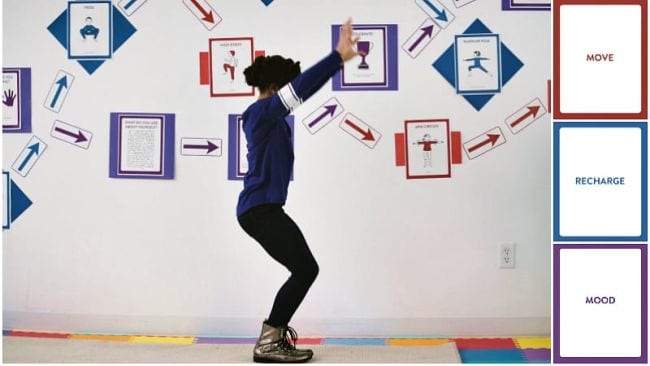 Grab a free printable Wellness Way sensory path here!
Good sensory paths have a wide variety of physical elements for kids to try and often include some learning concepts like counting or the alphabet. They're colorful and engaging and tough enough to stand up to lots of jumping feet, day after day. Inside, try vinyl decals or even duct tape. Outdoors, use paint to create paths on the playground or sidewalk. Here are some terrific ideas and inspiration to get you started.
Purchase sensory path decals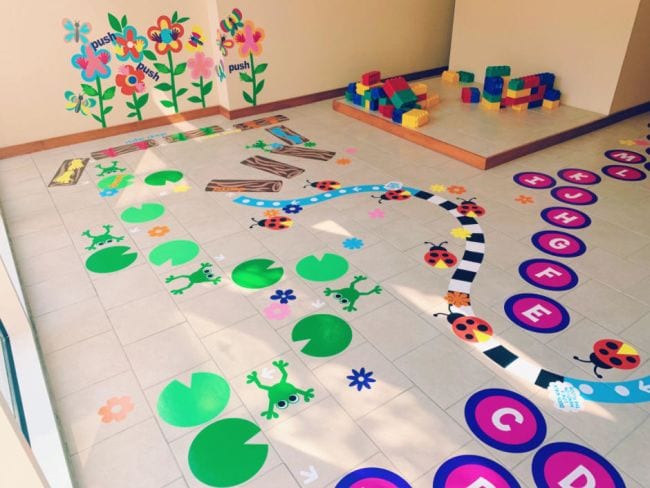 Buy it: Original Sensory Path Package, The Sensory Path
Schools can purchase specially-designed sensory path decals in a variety of themes. These are usually meant to be used indoors, though some may stand up to outdoor conditions. One popular company is The Sensory Path, founded by a long-time special education teacher. She worked closely with occupational therapists and autism experts to create paths full of fun and effective activities. These kits are fairly pricey, but the company notes that a properly applied path can stand up to several years of heavy wear-and-tear. They offer dozens of fun options.
Buy it: Blast Off Package, The Sensory Path
You'll also find a selection of decals on Amazon. These are a fraction of the cost but might not stand up to quite so much use. Ask your janitor to apply several coats of wax overtop to help protect them.
Buy it: EZ Stick Sensory Path 98 Decals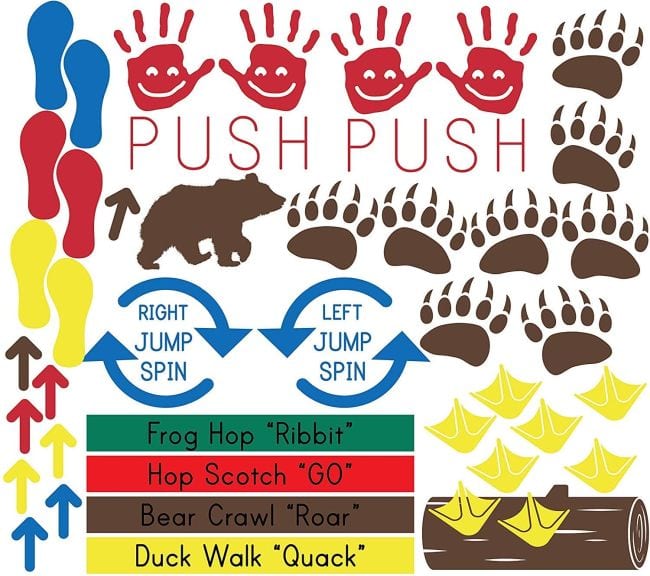 Buy it: Deluxe School & Classroom Sensory Path Kit
Cut your own decals
If you've got access to a die-cut machine like a Cricut, you can buy patterns from places like Teachers Pay Teachers or Etsy and make your own decals. Use the highest quality vinyl you can find to ensure it will last, inside or out.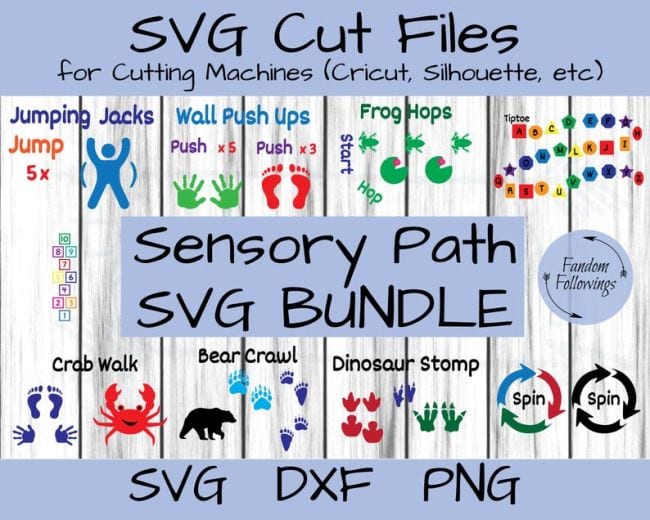 This set gives you a wide variety of action decals to choose from, in a format that works perfectly with die cutters.
Source: Etsy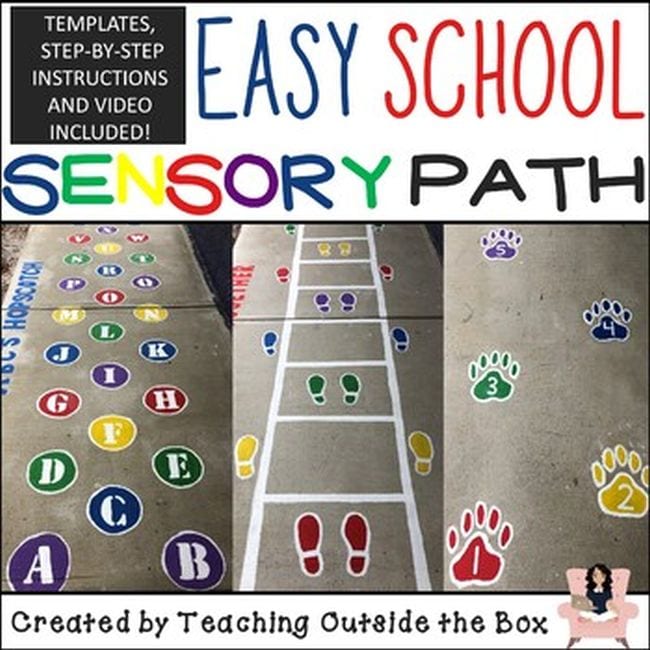 This kit includes the stencils you need to paint your own path, plus detailed instructions and a video.
Source: Teaching Outside the Box
Take it outside
Try sensory paths on the playground, especially if you don't have the funds for playground equipment. Kids can race, challenge each other, or play solo. Check out some of the inspiration we found on Instagram!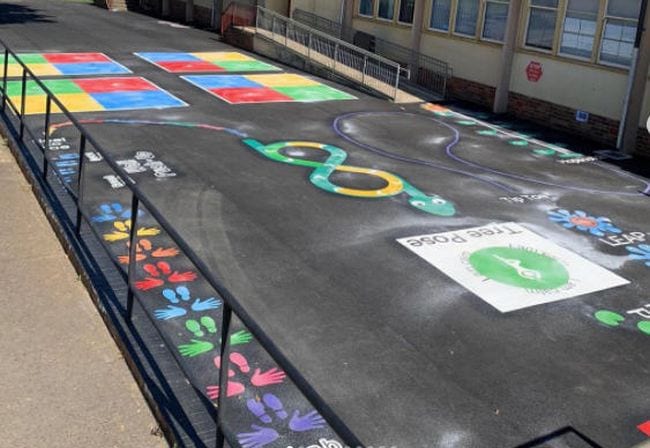 Consider adding yoga poses and other calming aspects to your path. Mindful movement can be just as valuable as running or hopping. See more details of this path at the link.
Source: @edumarking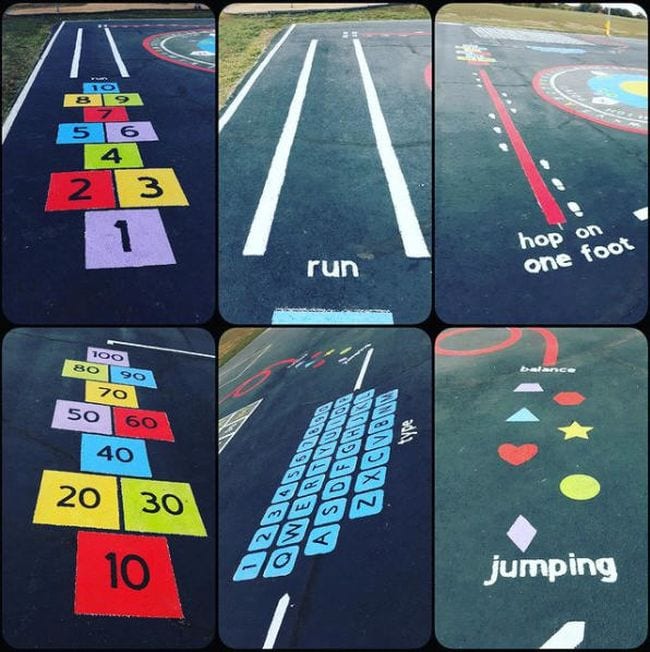 That oversized keyboard is genius! Kids will have fun learning the letters on the keyboard and practicing spelling words while they jump.
Source: @thesimplifiedclassroom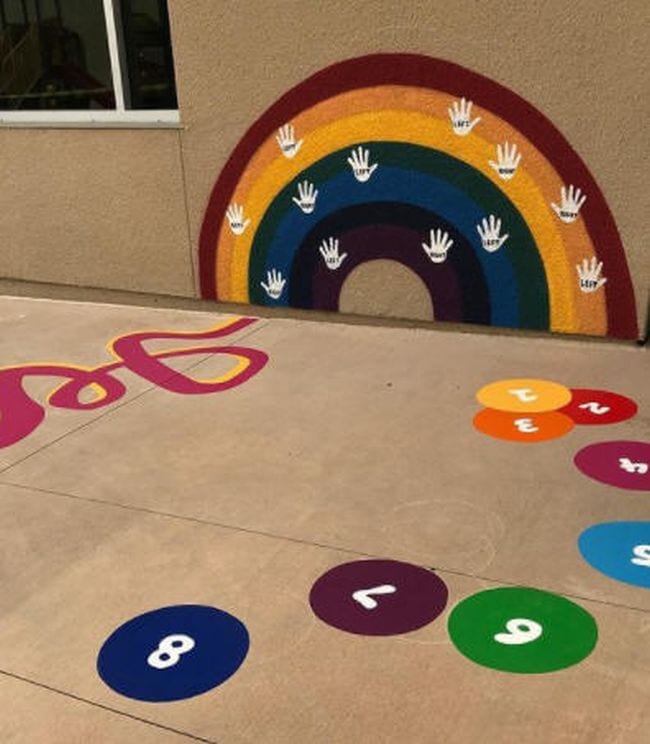 Don't forget to incorporate walls into your path. Students can push off or leap high to slap a target.
Source: @mindfulmurals
Make a portable path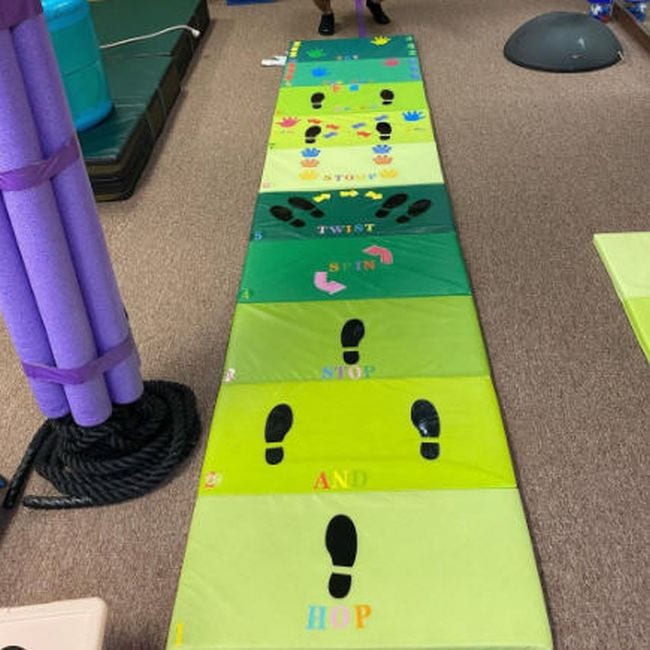 This is so clever! Turn an old gym mat into a portable path. Fold it up when you want it out of the way, or move it to a different classroom or corridor.
Source: @otapkids
Go simple with duct tape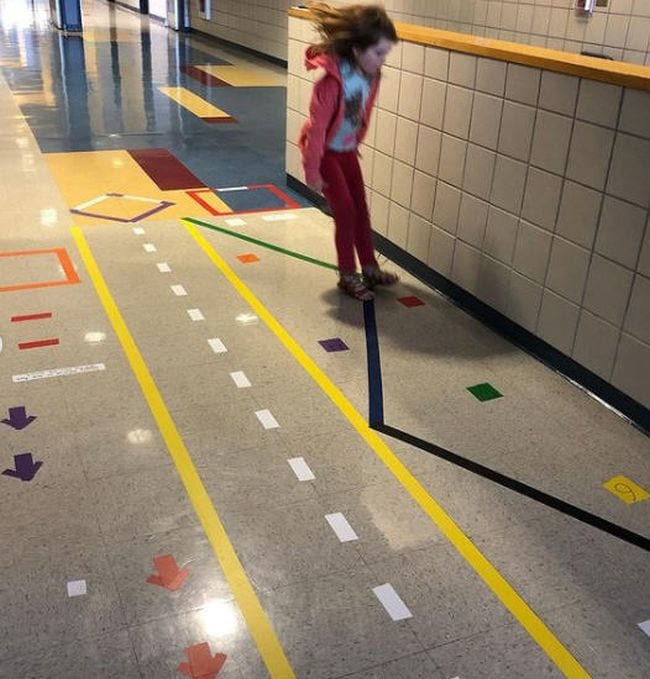 It doesn't take expensive decals or permanent paint to create an engaging sensory path. Tape lines with instructions serve the same purpose and cost so much less.
Source: @whole.brain.connections
Use what you've got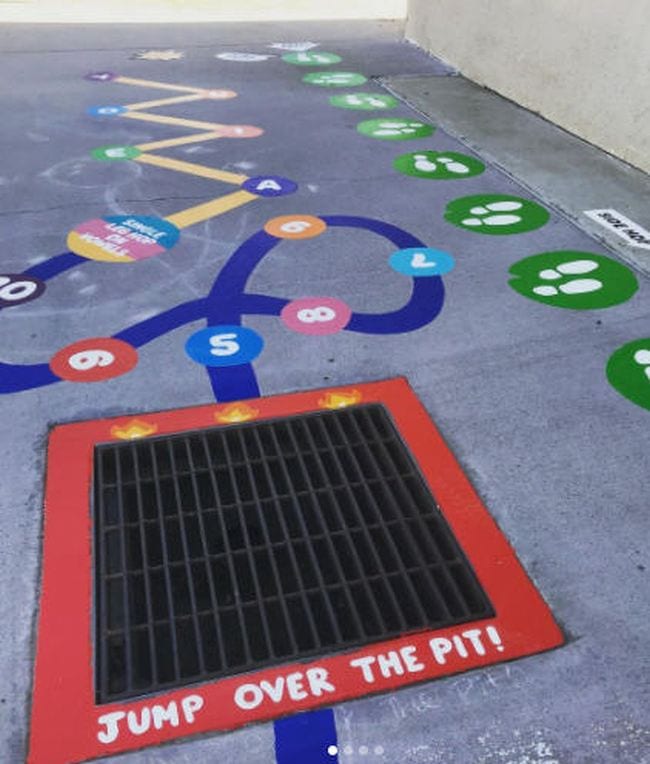 Turn obstructions into challenges! Wind around poles, leap over drains, and climb over obstacles.
Source: @mindfulmurals
Sketch a sidewalk chalk sensory path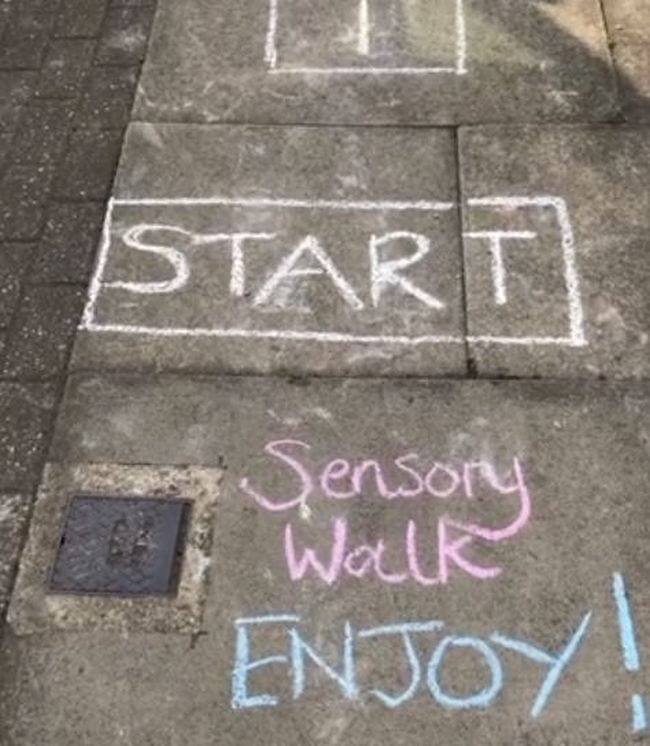 Want to give it a try without committing? Draw a sensory path using sidewalk chalk and see which elements are a hit and which ones need some work. See a video of this whole sensory walk at the link.
Source: @sjt.25
End with a superhero pose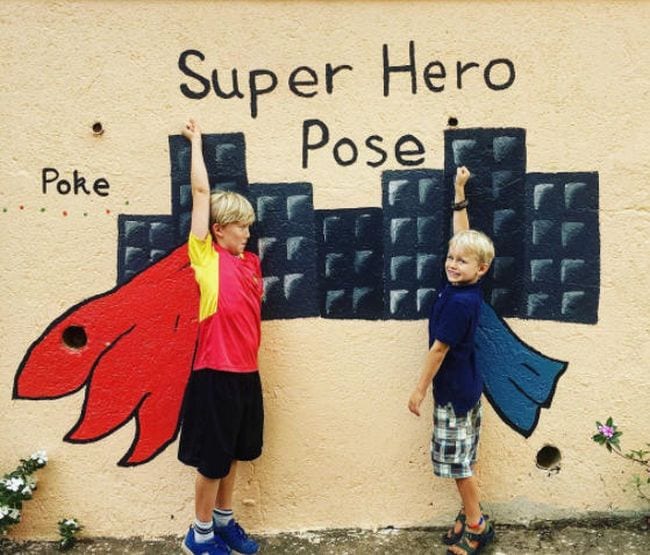 Finish up with a place for kids to pose in triumph. Everyone wants to feel like a superhero!
Source: @lauraavrildove
Looking for more inspiration? Try these 18 Awesome School Playgrounds That Make Recess More Fun Than Ever!
Plus, 22 Wonderful Ways to Make School Hallways Positive and Inspiring.