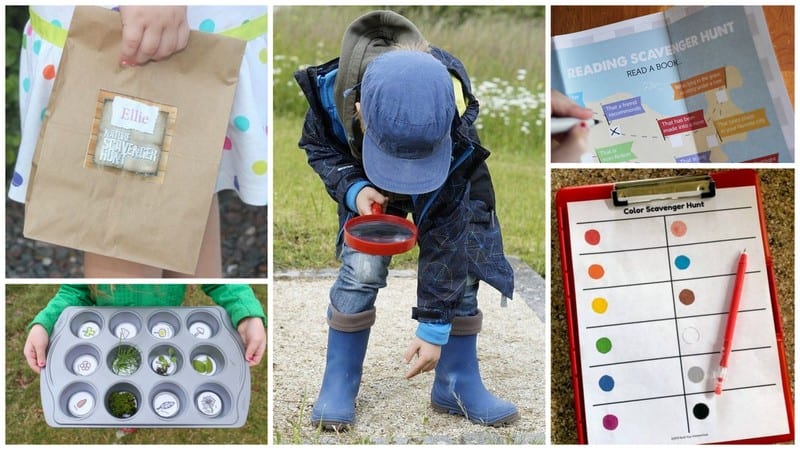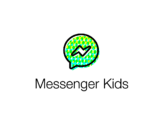 Messenger Kids is a free video calling and messaging app designed for kids to connect with close friends and family from their tablet or smartphone. Learn more>>
More
Looking for ways to keep busy young minds occupied while they're stuck at home? Try some of these scavenger hunts! Students of all ages will have fun hunting down items found around the house and yard. Whether they're looking for constellations, snapping selfies, or filling a muffin tin, these activities will help make the day a little more fun.
1. Start with ABC.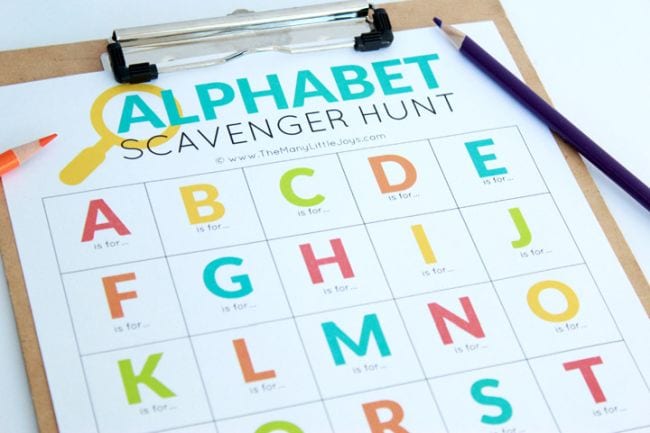 Scavenger hunts like this one work for kids of any age, and can be used in a bunch of different ways. Try having kids find items only in their room, around the backyard, or in their favorite book.
Learn more: The Many Little Joys
2. Have a look around the house.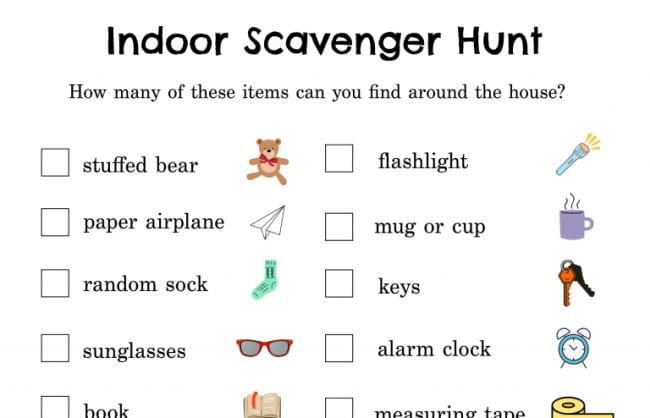 This simple printable hunt sends kids off to find various items around the house. Have them check them off the list, or actually collect each item and bring it to a central location. (Be sure they put everything away when they're done!)
Learn more: About a Mom
3. Turn a muffin tin into a scavenger hunt bin.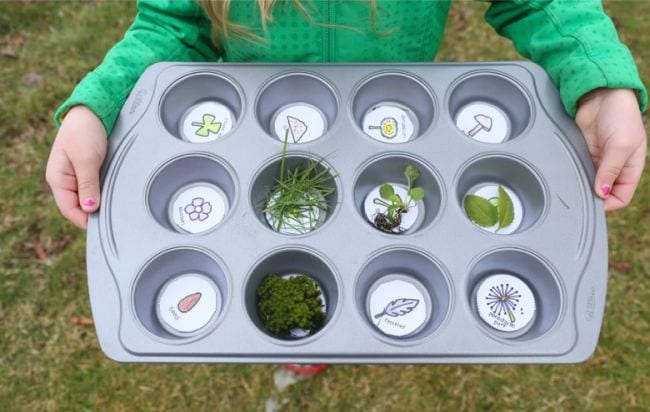 How cute is this? Get the free printable sheet for your child to cut out and color. Then, take the tin outside and find as many items as you can!
Learn more: Mama Papa Bubba
4. Chase after colors.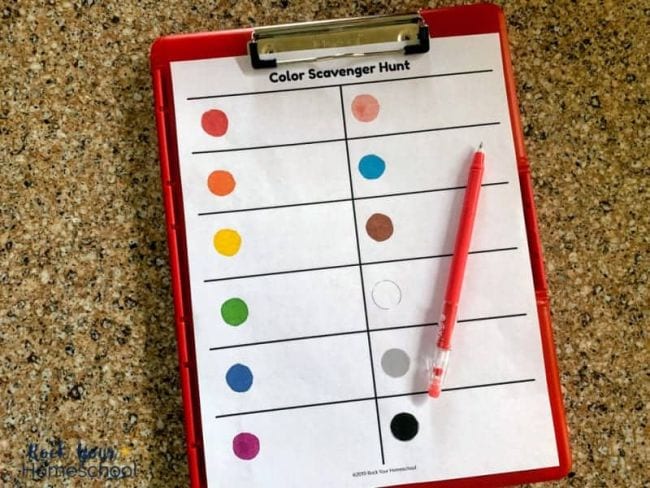 There are so many scavenger hunts you can do with this free printable! Hunt around the house, head to the backyard, or try to find items of the right color in your favorite movie or video game.
Learn more: Rock Your Homeschool
5. Count and hunt.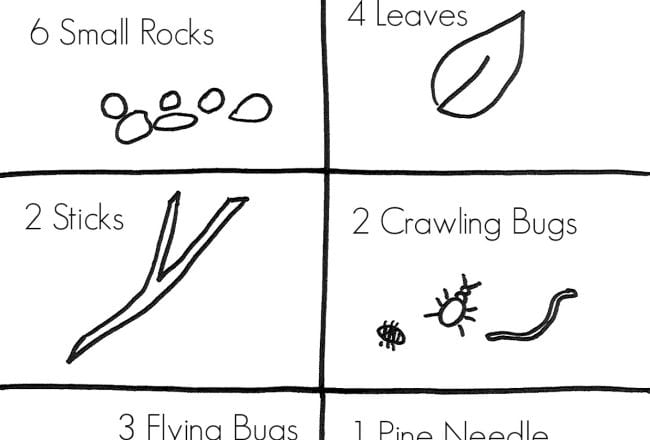 This simple scavenger hunt gets kids counting while they look. If you like the concept, it's easy to make more hunts like this.
Learn more: Fun at Home With Kids
6. Two is twice the fun.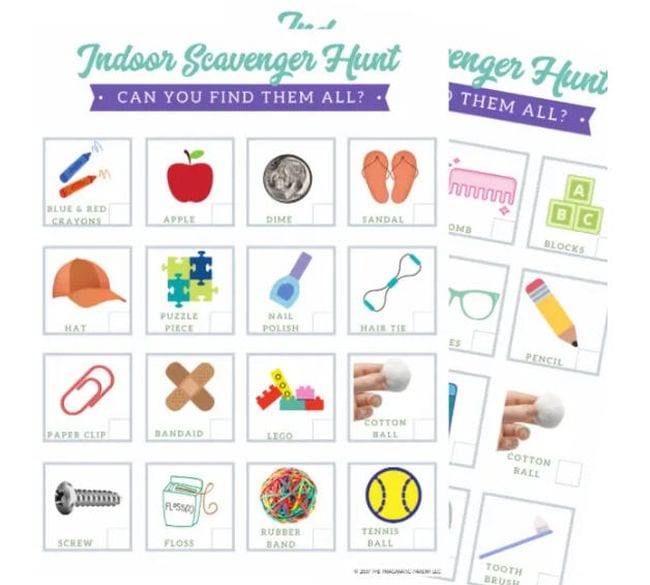 With the two scavenger hunts at the link below, kids can compete to see who finishes first! More than two kids? Have them work in teams.
Learn more: The Pragmatic Parent
7. Find things to be thankful about.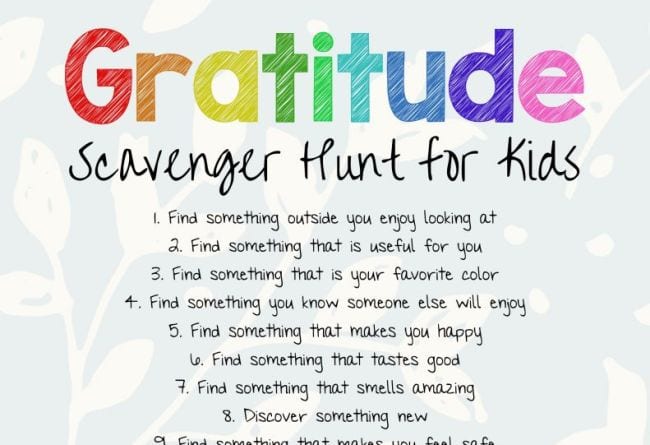 We love this sweet twist on traditional scavenger hunts. Kids search for things to be grateful for, like something that's their favorite color or something that makes them laugh. These are things really worth looking for.
Learn more: Natural Beach Living
8. Go on a geography scavenger hunt.
Even if you're stuck at home, you can still travel world! Pull out the atlas or use Google Earth to complete these free geography scavenger hunts. Explore the whole United States or just the state where you live, and learn while you have fun.
Learn more: Little Bins for Little Hands
9. Snap a selfie.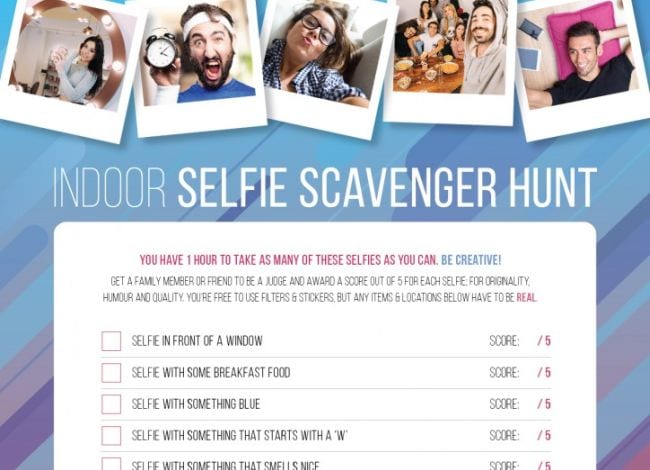 Teens will definitely want to get in on this one! Little ones can borrow your phone as they have fun taking selfies in this incredibly cool scavenger hunt.
Learn more: Faffy Tea
10. Search the bookshelves.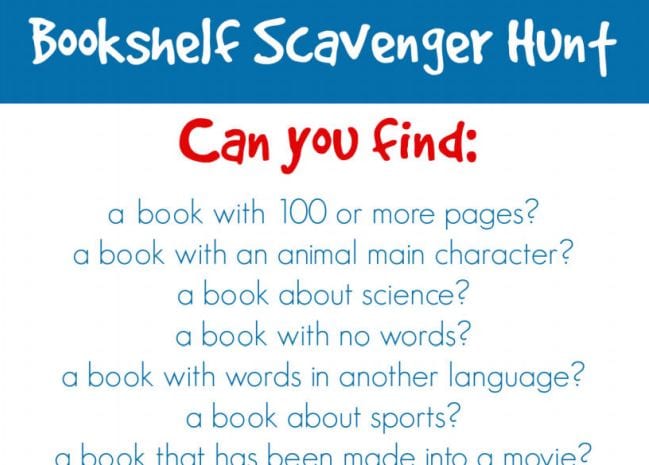 If you've got a good home library, try this search to find different types of books. Not many books at home? Use your library's online catalog instead!
Learn more: Scholastic
11. Hunt through the pages of a book.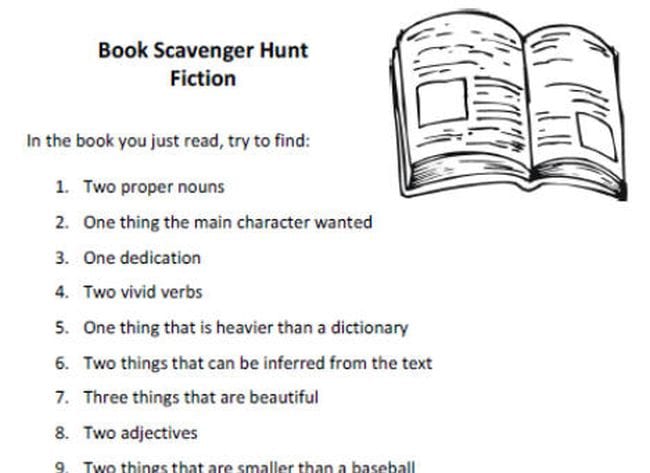 You can use this free printable for scavenger hunts over and over again with any books your kids are reading. It's a fun way to encourage deeper reading.
Learn more: I Love 2 Teach
12. Take a walk outside.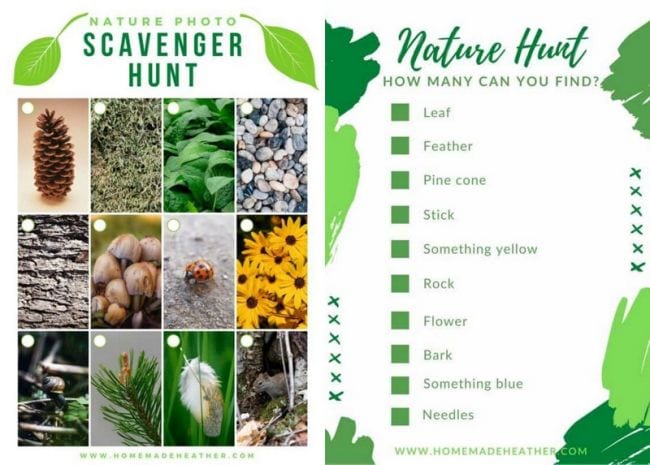 The backyard is a terrific place for scavenger hunts. We like this one with differentiated options, which offers picture clues for younger seekers and words for older ones.
Learn more: Homemade Heather
13. Look to the sky.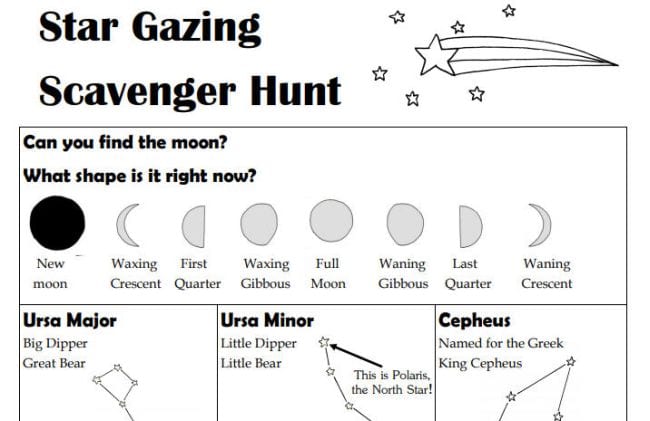 Stay up late and turn your eyes to the sky with this fun nighttime scavenger hunt! Learn more about the phases of the moon and how to identify constellations.
Learn more: Real Life at Home
14. Get the picture.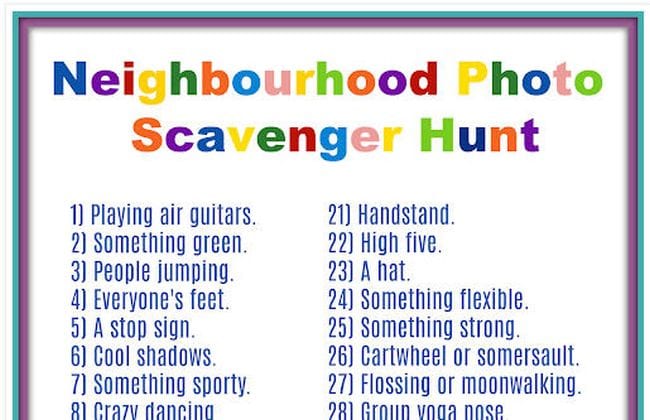 Gather the family for a neighborhood stroll and work your way through this scavenger hunt together. The free printable lists 30 photos you need to take, capturing everything from a group yoga pose to a jagged rock.
Learn more: East Coast Mommy
15. Leaf through the newspaper.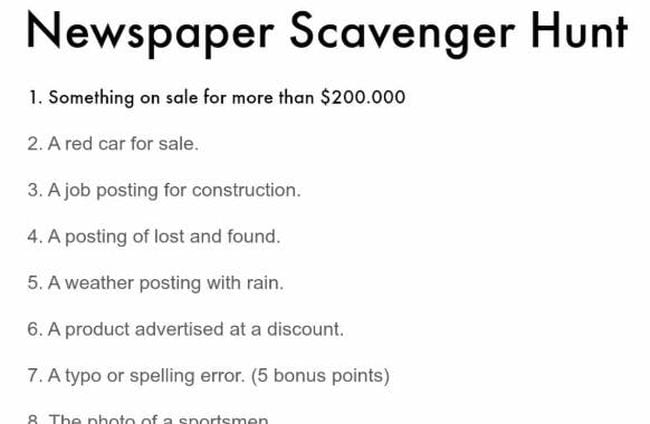 Grab a Sunday edition and get ready to explore the pages! This is another one of those scavenger hunts you can reuse over and over with fresh newspapers.
Learn more: Playtivities
16. Take up bird watching.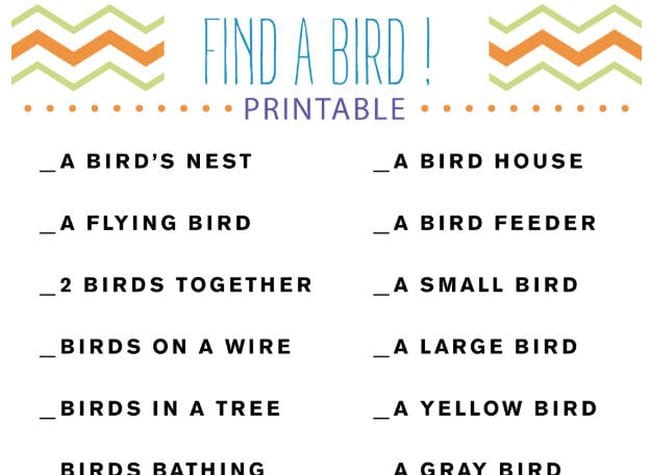 Spark their inner ornithologist with this fun little hunt that you can do in your own backyard or on a walk through the neighborhood.
Learn more: Red Tricycle
17. Perform acts of service.
This hunt was originally intended for kids to do acts of service throughout the neighborhood, but charity begins at home, right? Turn it into a fun way to get kids to do chores around the house instead.
Learn more: One Creative Mommy
18. Discover a world of books.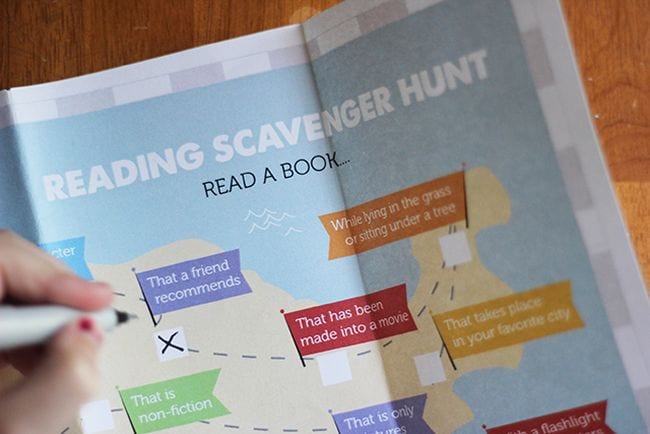 This scavenger hunt will take some time to complete, but it's great for book lovers and reluctant readers alike. Kids read books that fit a variety of criteria, like one that's been made into a movie or was written more than 20 years ago.
Learn more: Modern Parents Messy Kids
19. Bag it up.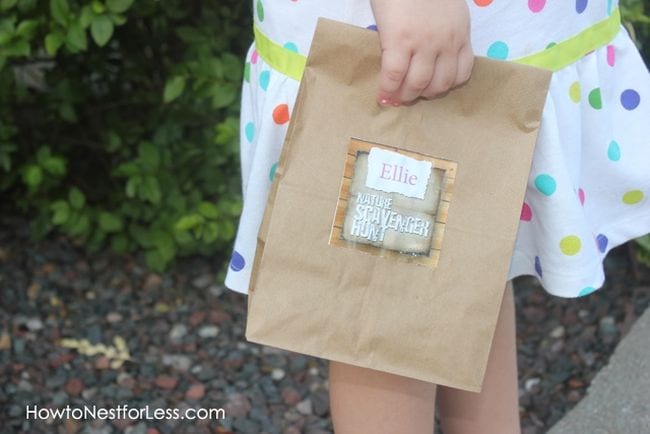 Kids love to pick up stuff like rocks and sticks, so this scavenger hunt gives them a little bit of purpose. Give each kid a paper bag with the list of items to find, then have them fill the bag and bring it to you when they're done.
Learn more: How to Nest for Less
20. Page through the dictionary.
Kids don't necessarily spend much time with a dictionary these days! It's just easier to look things up on the Internet. But, there's still a benefit to knowing how to use a dictionary. If you don't have a printed one, try using the Dictionary.com app instead.
Learn more: Moms and Munchkins
21. Seek out different emotions.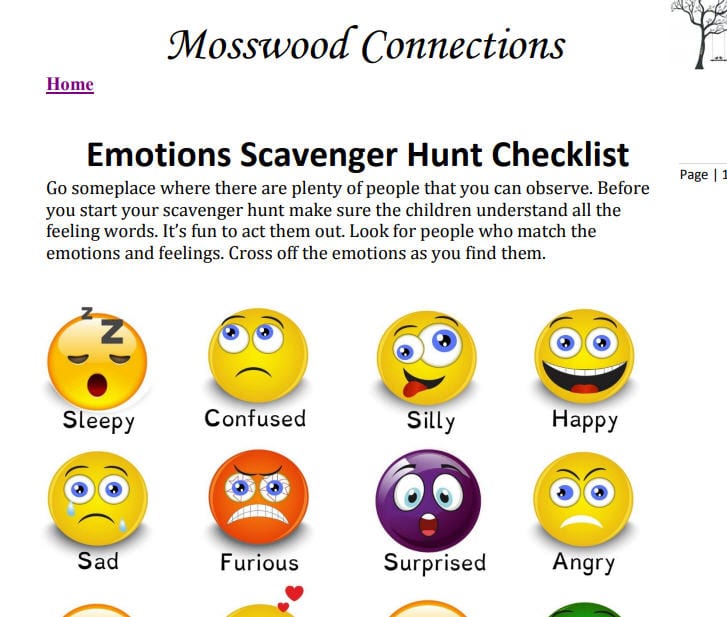 This social emotional learning scavenger hunt can be used in a variety of ways. If you can't get to a public space to watch people, try using it while you watch your favorite TV show instead. Check out the link for the printable and other ideas for using it.
Learn more: Mosswood Connections
22. Do you wanna have a scavenger hunt?
When your little ones beg to watch Frozen for the ten thousandth time, just let it go and give them this scavenger hunt to complete while they watch. It'll improve their observation skills and keep them busy while you grab a much-needed cup of coffee… in another room.
Learn more: The Pickled Procrastinator
Clipboards are a must for scavenger hunts, but there are lots of other clever ways to use them in the classroom and beyond. Learn more here.
Plus, keep your kids up and moving at home with these fantastic virtual PE resources.