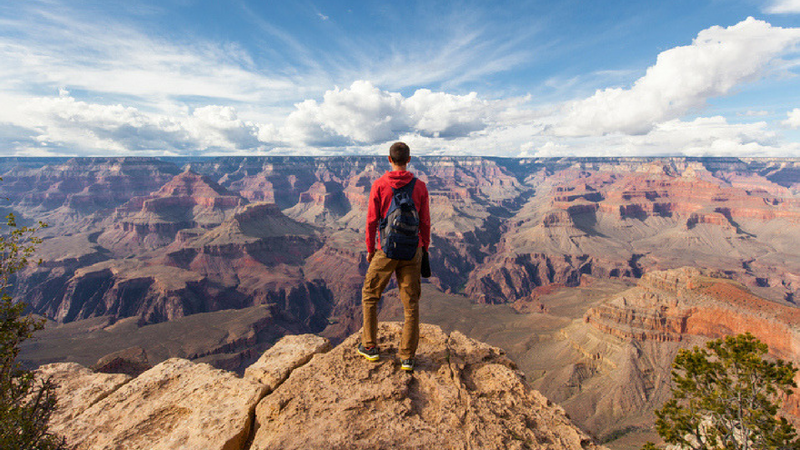 Help your students build real-world skills used by National Geographic Explorers. Join the 2018-19 National Geographic GeoChallenge. Learn more HERE.
More
Today's students are planet savvy; they want to help the earth. Similarly, through research and exploration, National Geographic Explorers are trained to solve the toughest challenges out there. Bring the two together, and you have the National Geographic GeoChallenge, an annual project-based challenge for grades five to eight that puts students in the shoes of National Geographic Explorers, solving real-world issues that face our planet.
Along the way, students also develop these important 21st-century STEAM skills:
1. Research and Storytelling
Research is about more than googling facts. It's about synthesizing information from reliable sources into a clear, compelling story that motivates people to act. One of the winning teams from last year's GeoChallenge, the team from Bradford K–8 in Littleton, Colorado, used online annotation. In class, they learned this practice by marking up articles in National Geographic, Newsela, and other Internet sources. "The kids are trained on how to look for reliable sources," says Sean Stevinson, the team's coach. "They are turned loose to find the data they need, and it's their responsibility to make sure it's valid." Student teams submit their GeoChallenge projects for appraisal by National Geographic Explorers and staff.
2. Videography
As part of last year's GeoChallenge, students created a video that proposed a solution for an animal species that experiences a barrier to migration, like humpback whales, whooping cranes, and wildebeests. In the classroom, videography lets students utilize art and technology for effective storytelling. Stevinson explains, "It's about how you tell the most effective story and what tools will help you do that." As GeoChallenge teams created videos, students practiced their presentation skills, creativity, and persuasive communication skills. For example, Bradford K–8 students who studied wildebeest migration asked people to sponsor the building of a land bridge to help animals cross highways safely.
3. Cartography
Cartography may not come to mind immediately as a 21st-century skill. However, whether drawn by hand or created with software, creating a map provides students the opportunity to practice math, geography, and communication skills. This places map-making solidly at the cutting edge of exploration. Cathie Pearson, a gifted-support teacher and GeoChallenge coach at Woodland Hills Academy in Turtle Creek, Pennsylvania, said one of her GeoChallenge teams focused on beluga whales and created the Beluga Aid to Migration (BAM) project. As part of BAM, they created a paper map of the Arctic Circle, which showed the whale migration and drilling locations and how they overlapped. Map-making helps students visualize and explain a problem. It also involves measuring, reading maps, and making scale models of the maps, boosting students' spatial-thinking skills.
4. Innovative Design
National Geographic Explorers design solutions to real-world problems every day, and so do students during the GeoChallenge. Avelino Sanquiche's students at I.S. 318 Eugenio Maria de Hostos School in Brookyn, New York, researched obstacles that piping plovers face when they migrate. Students had to fully master the Next Generation Science Standard for Engineering Design in order to create a two-pronged approach to solving the problem. First, they designed drones with speakers that played the calls of prey birds, which encouraged the piping plovers to stay away from heavily populated areas and airports. Then, they designated safe zones along the migration route with speakers, which played mating calls to encourage birds to mate out of harm's way. Students combined familiar technology (speakers) and new technology (drones) in new ways to tackle the problems these birds faced. "Not to be cliché," says Sanquiche, "but the GeoChallenge gave students an opportunity to think outside the box and tackle things that they otherwise would never have been exposed to."
5. Collaboration
Like any project-based activity, a GeoChallenge solution won't come together without collaboration. Pearson said her students sometimes have a hard time working together. They can't let go of their own ideas or see how working together would make a final product better. The GeoChallenge encouraged the team to come to a consensus. Stevinson's students came together during lunch and worked in teams outside of their immediate friend groups. "Their collaboration skills rose to the top," he remembers. The project "broke down barriers between people who don't normally hang out together."
Ready to teach your students these STEAM skills?
This year's GeoChallenge focuses on solving problems caused by single-use plastics, such as straws, containers, and even contact lenses, that pollute the earth. Join the GeoChallenge to teach 21st-century STEAM skills used by National Geographic Explorers. You'll spark your students' commitment to helping the earth and ignite their enthusiasm. When Stevinson saw how excited his students were about the GeoChallenge, it inspired him. "It gives you hope," he says, "that there are people who want to solve problems."
Help your students build real-world skills used by National Geographic Explorers. Join the 2018–19 GeoChallenge. Learn more HERE.