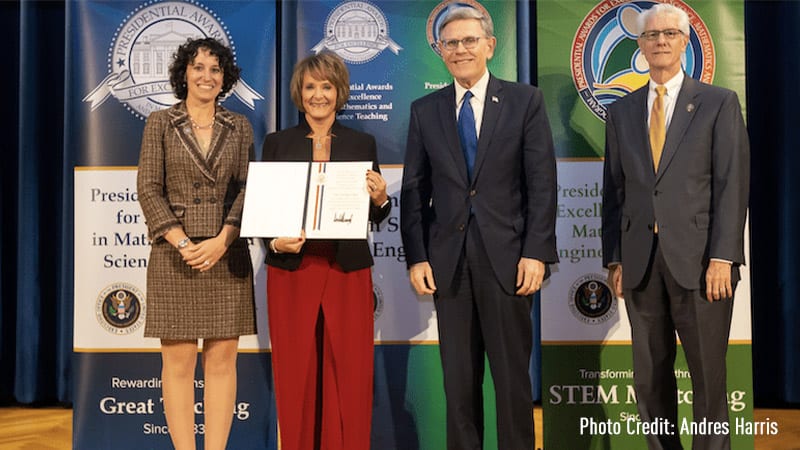 Many of us became teachers because we had a teacher that changed our lives for the better. And many of us stay teachers because we teach alongside colleagues that inspire us. This is why it is so important for us to take the time to nominate teachers (or apply ourselves!) for awards that celebrate our hard work and dedication, like the Presidential Awards for Excellence in Mathematics and Science Teaching (PAEMST).
Also, who doesn't want to win $10,000 and join a cohort of teachers for ongoing PD and community? If you aren't familiar with PAEMST, you should be. Here's a breakdown of everything that you need to know about the highest recognition that a STEM teacher can receive in the U.S.
108 winners receive:
A certificate signed by the President of the United States.
An all-expenses-paid trip to Washington D.C. to attend a fun and rewarding series of recognition and professional development events.
$10,000 award from the National Science Foundation (to spend any way you want!).
Access to a network of award-winning teachers across the country.
Ongoing professional development.
Nominate a Colleague:
Anyone can nominate a STEM teacher.
You can nominate more than one teacher.
All you need to do is submit the teacher's name, email address, and school's name.
The deadline is March 1, 2021.
Start an Application:
Teachers are encouraged to nominate themselves (don't be shy!).
You need at least five years of experience teaching in a classroom.
This year the award is for STEM teachers, grades 7-12 (K-6 teachers, next year it is your turn!).
You must be a full-time teacher.
This award is for U.S. citizens or permanent residents.
You must teach in one of the fifty states, the District of Columbia, the Commonwealth of Puerto Rico, the Department of Defense Education Activity schools, or the U.S. territories as a group (American Samoa, Guam, Commonwealth of the Northern Mariana Islands, and U.S. Virgin Islands).
You need to have a BA.
The deadline is April 1, 2021.
Here's What Winners Are Saying: