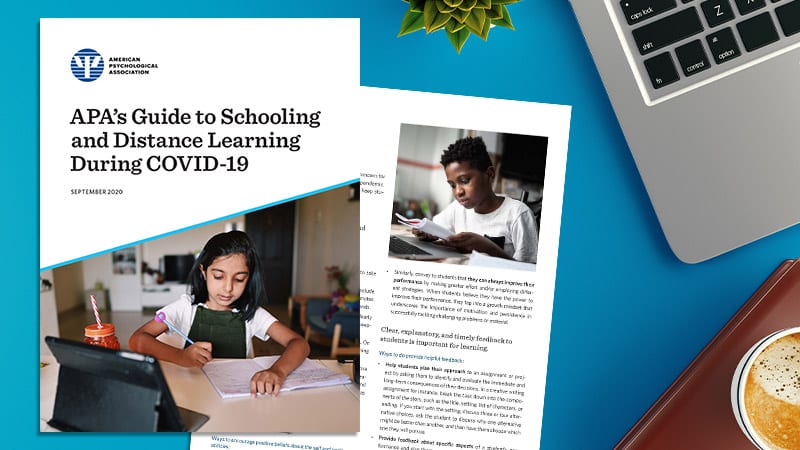 APA's mission is to promote the advancement, communication, and application of psychological science and knowledge to benefit society and improve lives. Learn More!
More
We have so many questions about pandemic teaching. Good news: a team of eight psychologists is here with answers. This is why we're grateful and excited to share American Psychological Association's Guide to Schooling and Distance Learning During COVID-19. The guide covers everything from how to engage students virtually to how to help them manage their stress and anxiety. Here's a sneak peek at what you'll find inside.
What can I reasonably expect from my students, and how can I keep them on track?
Worrying about learning loss is keeping us up at night (just one of many reasons why we need a pandemic teaching guide). We're doing our best to teach grade-level content that is rigorous and engaging. Yet, we also have to be realistic given the circumstances surrounding online learning. Under these conditions, everything takes more time. We feel immense pressure to keep kids on track, but it's a delicate balancing act with so many new distractions and challenges. Teaching practices that foster students' executive functions is a strategy that t APA recommends. We love it (and wish we had thought of it first!).
Answer: Teach students awareness practices
Our students are as anxious and worried as we are. Their whole lives have been turned upside down. It's no surprise that focusing on schoolwork and staying on top of their work is challenging right now. One recommendation the pandemic teaching guide suggests is to help your students develop executive functioning skills like planning, organizing, and setting reasonable goals. You can also help your students stay on track with stress reducers like brain breaks, "unplugged learning" opportunities, deep breathing, or listening to a story.
More Tips For Preventing Learning Loss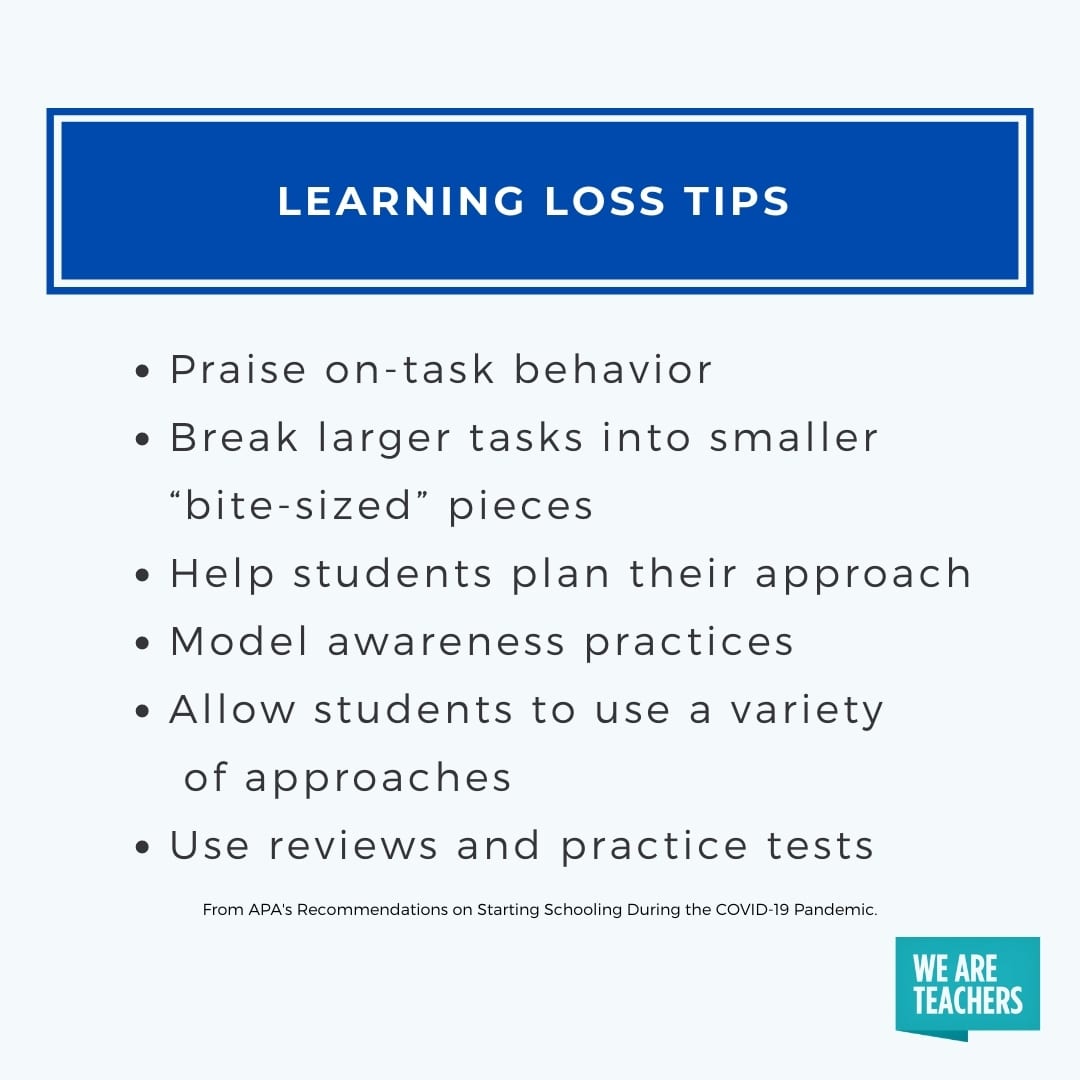 How can I engage my students when I'm teaching online? I am not sure how to build excitement in a virtual learning environment.
Many (I would go so far as to say most) students like coming to school because they get to socialize with friends. Learning is interactive, and children learn through collaboration. It's difficult to sit in front of a computer screen and show up excited and ready to learn. The science of motivation suggests that students do better and enjoy learning more when they find the work personally and internally rewarding. One of the recommendations in this pandemic teaching guide is to make learning as meaningful as possible by incorporating student interests.
Answer: Make learning meaningful
Get to know what your students like and enjoy and bring these topics into your curriculum. This might look like giving students word problems about basketball (if that's what lights them up) or reading about Star Wars when you teach informational texts. Of course, some tasks are not intrinsically interesting and praise for movement toward accomplishing goals is very effective in these cases.
More motivation tips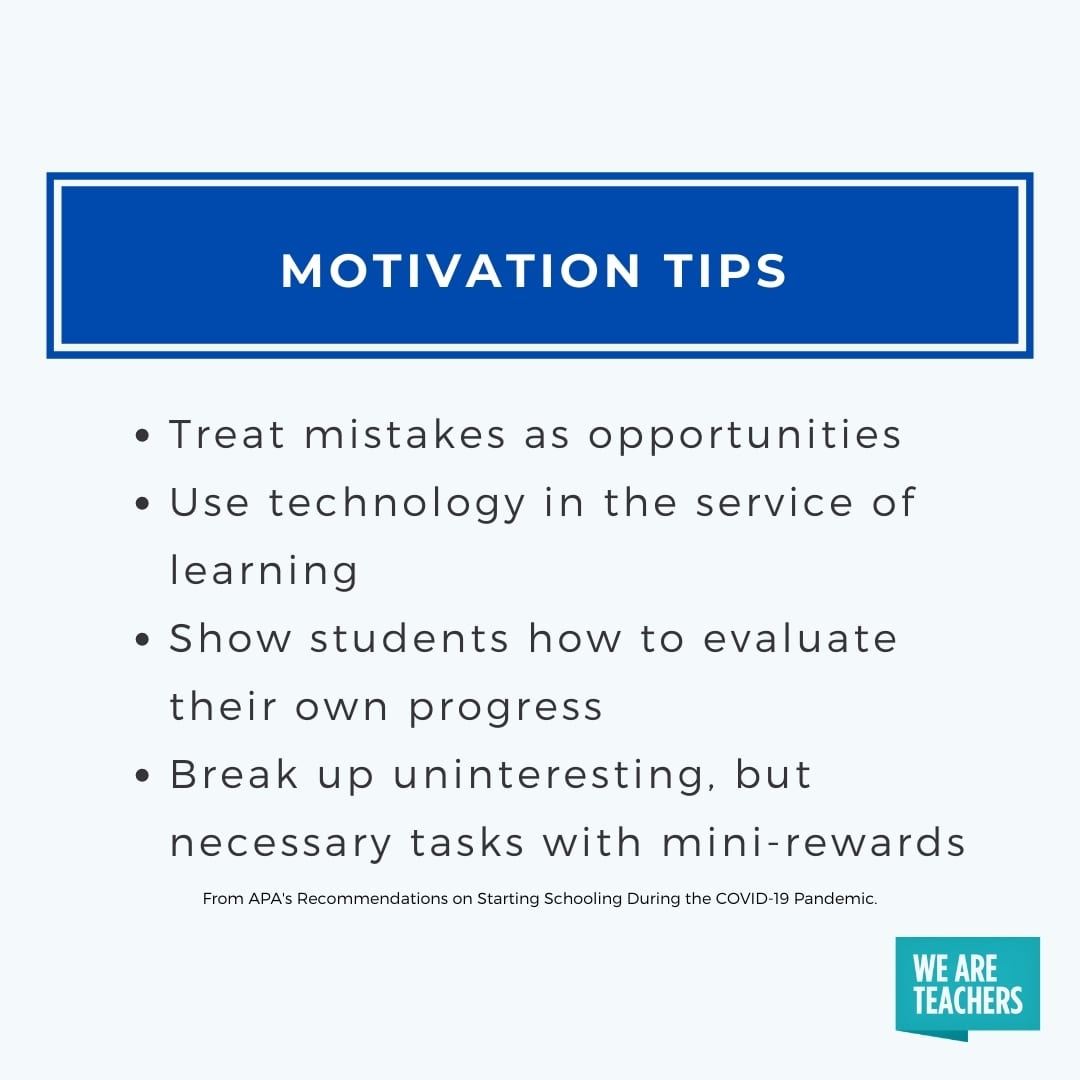 My students are worried and stressed. How can I support them?
We have to support our students' health and well-being while productive learning takes place. One of the recommendations in the pandemic teaching guide is to create a sense of safety in our classroom through routines.
Answer: Establish routines
Even though we don't have control over our circumstances, we can create structure within those circumstances. A routine helps students cope with stress and make schoolwork time more productive. You might start each day with a warm-up question or exercise. Maybe you leave a few minutes at the end of each class to play a game like Would You Rather or Two Truths and a Lie. Every Wednesday, you might ask students to share "shout-outs" or compliments. These routines will help students feel a sense of belonging. Creating and maintaining a safe and well-arranged physical environment and a predictable schedule, both at home and at school, can reduce distraction and keep the focus on academic instruction.
More tips for supporting student well-being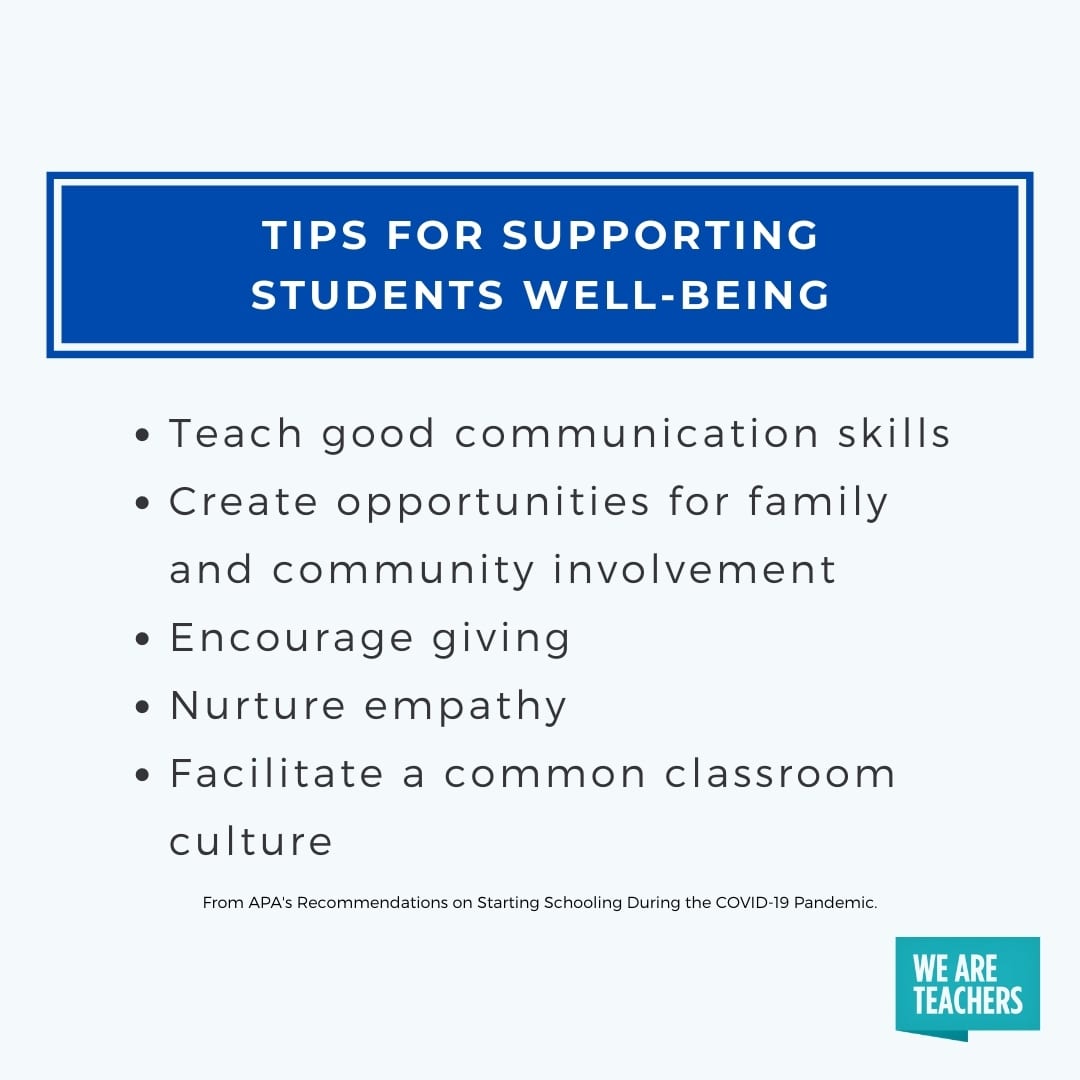 If you have questions about using assessment wisely, equity in online and distance learning, and want to dig deeper into APA's insights and recommendations for pandemic teaching, download your free guide below. Also, check out their Mental Health Primers for more ideas for supporting students.
Download Your Free Guide
Just click the orange button below to get your free guide.