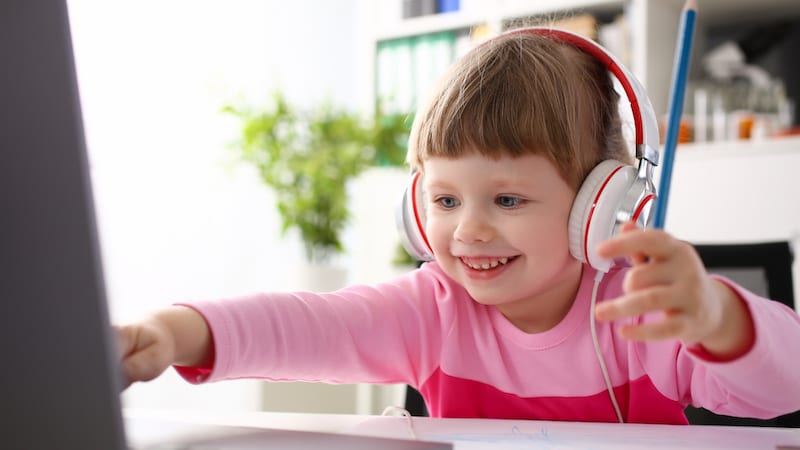 The state of New Hampshire is seeking 200 families to pilot an online preschool program, funded by national non-profit Waterford.org. In the program, 4 year-olds will spend 15 minutes a day, five days a week completing computer-based lessons. The idea behind the free online program is to provide preschool access to rural, low-income, and immigrant communities. Improving access to quality preschool education is essential, but online preschool is a step in the wrong direction. Here's why:
Children learn through play.
All play is meaningful—from creating make-believe restaurants to building block towers to inventing games with friends. When preschoolers play, they learn and develop cognitive skills like problem-solving and reasoning, grow their working vocabularies, and build their capacity for imagination and creativity. O. Fred Donaldson said, "Children learn as they play. Most importantly, in play, children learn how to learn." This kind of child-driven, spontaneous play results in children who know how to make sense of their world and it simply cannot be replicated digitally.
Movement is an essential component in preschool education.
Kids aren't meant to sit still in front of a screen. They use their whole bodies to learn, and they want and need to move. Let's not forget that some of the essential milestones for preschoolers are gross and fine motor skills. They need to practice galloping, throwing a ball, zipping up their jackets to go outside, and holding a pencil. Having good motor control is essential for children's growth and independence. They cannot develop it by sitting at a computer.
Young children need the social enrichment provided in traditional preschool.
Children need to be around other children in order to learn how to work cooperatively, share, take turns, and make friends. They also need the support of loving, caring teachers. Interactions with peers and adults—from formal activities like circle time and "show and tell" to impromptu conversations about bearded dragons and endless rounds of "Duck, Duck, Goose"—teach our youngest learners self-management, social awareness, and personal responsibility. They are also fun and make preschoolers want to come back to school!
Online preschool focuses on academics.
By its nature, online preschool is task-oriented. After all, it's much easier to design online games in which students identify colors, shapes, letters, and numbers than it is to provide free exploration in a digital environment. It's not that math and literacy skills aren't important, but research shows that the greatest predictor of kindergarten readiness isn't knowing your ABCs … it's having social-emotional skills, which are precisely the skills that children cannot develop in online preschool.
What are your thoughts on online preschool? Come and share in our WeAreTeachers HELPLINE group on Facebook.
Plus, check out our article on kindergarten burnout.