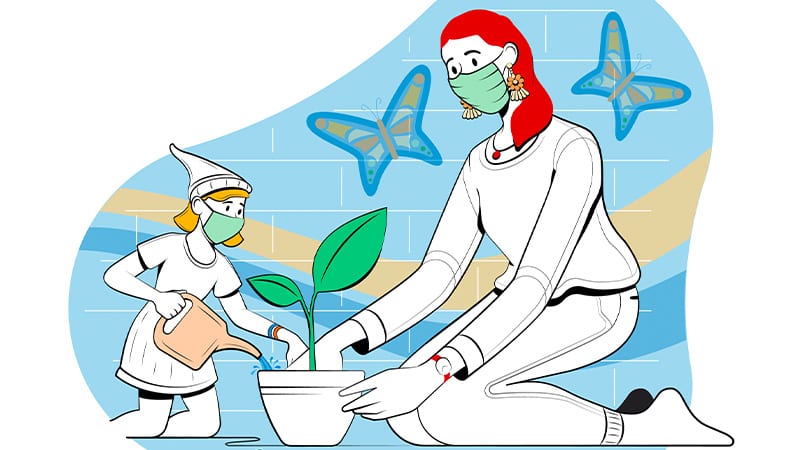 Brought to you by Verizon
Verizon is proud to support teachers and to share their amazing stories with this program. Check out their discounts just for teachers and how to save on their best Unlimited plans.
National Teacher of the Year Juliana Urtubey didn't just roll out a welcome mat for her new students—she planted one. Urtubey, a Colombian-American whose family immigrated to Chicago when she was a child, knows just how important it is to feel comfortable and accepted in a brand-new environment.
And so, with the help of some soil, seedlings, and support from her community, she built a place that embraced students and their families and transformed her school into a place of belonging.
A project for the whole community
Juliana chose gardening as a way to bring students, teachers, and the community together because "it was community care at its best. It blurred these invisible barriers that first generation or communities of color sometimes feel in public education spaces. It just made it a place where everybody had a role, something to offer the school and each other."
She organized community build days with more than 200 volunteers, relying on grassroots funding and putting students and their families in charge of what to plant throughout the garden.
"Reflecting, I realized that asking families what they wanted was really powerful. In the kind of neighborhood where I teach, families don't usually get asked what they want. It built trust and a collective goal of beautifying our school, of having access to fresh fruits and vegetables, of allowing students the space to become leaders and stewards and allowing learning to literally come to life."
The impact on students
She saw a difference in her students' mindsets right away. In their new hands-on outdoor environment, those with attention difficulties became more focused. Shy students came out of their shells. They became so passionate about their garden, they formed a "Garden Gnomies" club, where they would care for the plants and flowers all decked out in insect wings and felt gnome hats. They organized farmers markets to make fresh produce grown in their garden available to all students and families.
The garden has been especially important to first-generation students. She recalls a student from years ago, newly emigrated from the Philippines, who she invited to a community build day along with his grandfather. Unfamiliar with the language, rules, and social cues of his new school, the garden provided a welcoming space for the student. The following year, his sister arrived at the school from the Philippines, already knowing that the garden was waiting to receive her. And the following year, a third sibling came to the school and became the third to join the club. One of the siblings, now a high school student, recently wrote Juliana a note.
"In the Philippines, everything is green and beautiful and lush and knowing that a garden was waiting for her that reminded her of home made her feel like she was with family," Juliana says.
A team effort
The biggest challenge Juliana encountered was, quite simply, breaking new ground. No one had ever tried anything like this before in her school. She didn't quite know how to work through the red tape. Did she need permits? Where would she find supplies? Who could make the time to keep the garden beds weeded and watered? She realized, "We have to build this in a way where there's distributed leadership, where it's not just me running it, because I may not always be at that school."
Juliana learned to recognize other peoples' strengths, especially her fellow teachers. "There's this asset mindset of seeing the best in everybody else. Through the garden, I realize that some of my colleagues themselves hadn't felt affirmed at the school. It's about finding other peoples' strengths and making sure we're all lifting at the same time so that it's an equitable lift. Often, these projects are on teachers' extra free time, which is a funny thing to say because teachers don't have a whole lot of free time!"
Juliana is teaching at a different school this year, but the garden continues to grow in her absence. A core group of student, teacher, family, and community volunteers continue to care for the plants and each other. "I feel empowered by this collective celebration because it's not me; it's we," Juliana says. "It's all the people who believe in a just and joyous education for all children."
Want to see more inspirational stories? Check out how Verizon is honoring teachers and telling their stories.