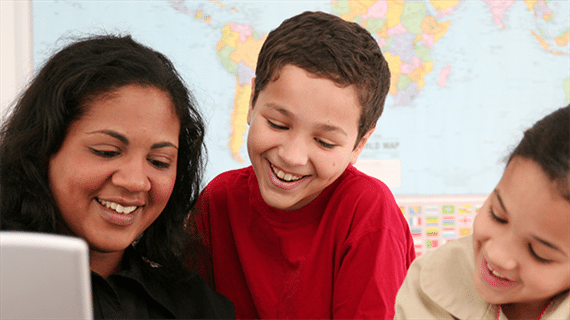 Brought to you by Rosetta Stone
More
Students sit at computers and tablets, each one absorbed in a different conversation. You can hear snippets of the sentences they're speaking into their headphones."El gato es negro." "La mujer corre con un perro en el parque." These students are engaged in a dynamic language-learning experience using Rosetta Stone Advantage K-12, our Pick of the Week.
The Rosetta Stone's Advantage K-12 provides students with everyday language experiences, from word recognition to sentences and conversation, so that they start to learn a second language more like the way they learned their first: from native speakers, with lots of practice. Kids learn to speak, listen, read and write in any one of eight languages (including English), while teachers get to see just how fast their students learn when they're in the immersion environment.
Here are six ideas for using Rosetta Stone Advantage in the classroom:
1. Encourage intense ELL practice: Without a one-on-one tutor, it's hard to get all the language practice in every day to become fluent. Advantage's English-language program builds ELL students' skills and confidence by giving them an authentic opportunity to be surrounded by English at their current level. As students continue to learn, the software constantly adjusts to challenge them.
2. Personalize students' language learning: If you teach a foreign language, you know how hard it is to differentiate, providing just the right language experiences for students who've had varying experiences with vocabulary and grammar. After whole-group time, you can use Advantage to have individual students either review skills or move on to new conversations.
3. Build true bilingualism: Advantage's speech-recognition technology uses native speakers' voices and pronunciation to ensure that students hear and speak the way they'll talk in the real world. Students progress with confidence, knowing that their pronunciation is spot-on! This is particularly important for language lab and homework time, when they will not have a language teacher by their side.
4. Expand language offerings: Let's face it. Most high schools and middle schools don't have the staffing to offer six or eight different foreign language classes. Independent study with Advantage overseen by a teacher or teacher/coordinator is a great option for that student who really wants to learn Italian or Dutch!
5. Maximize learning time: Advantage provides multiple options throughout students' days for language learning. In the Pueblo City Schools, students spend 30 minutes every other day in the labs using Advantage as a complement to their daily world-language classes with teachers. Homework and activities they do not finish in class can be completed at home, since the interactive solution is Web-based and supports all blended-learning models.
6. Brush up on your skills: If you have a diverse class (and chances are you do), Advantage can help you sharpen your communication skills to talk with students' families, or write bilingual newsletters—no more wondering whether or not the time you set for conferences was lost in translation.
Find it: Rosetta Stone Advantage K-12
Cost: More than 20,000 schools use Rosetta Stone language programs and the cost varies depending on the level of service and number of licenses required.
Request a free consultation, or you can learn more at their upcoming webinar, EdTech + Traditional Instruction: Mixing It Up In Today's Language-Learning Classroom.
Connect with other language teachers, access resources for your classroom, and hear what's new in language learning and EdTech by following Rosetta Stone on Facebook, Twitter, and LinkedIn.