"Imagine it's like an alligator's mouth, and it wants to eat the biggest number. Which way should he face?"
Teaching the "greater than" and "less than" symbols takes some work, so you definitely don't want your kids to forget how to compare numbers using these symbols.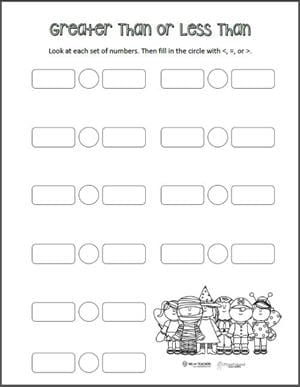 Use these eight free printable templates to create comparison practice worksheets all year long! If you're teaching older kids, consider having them compare fractions or decimals. Maybe you're teaching a measurement lesson and you want your kids to tell you if a cup or a gallon is bigger. There are endless opportunities to use this week's free printable. Enjoy!
Download the full-size printables: Greater Than or Less Than [PDFs]