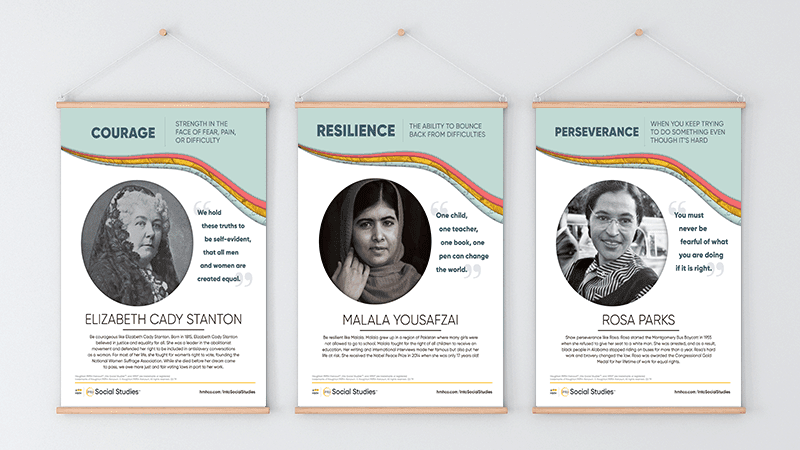 HMH Into Social Studies™ captivates K—6 students with vibrant magazines and hands-on activities that transform every classroom into a world stage. Learn more>>
When we think about the qualities we want to nurture in our students, there are no greater role models than those from history, both recent and distant. That's why we're delighted to share these free character ed posters from HMH Into Social Studies, featuring real-world heroes Elizabeth Cady Stanton, Malala Yousafzai, and Rosa Parks. These historical figures embody the traits we want to see in our students, including problem solving, resilience, and perseverance.
Each poster features a quote from the historical figure, a mini biography, and information about the character trait that person reflects. Use these posters in social studies class, yes, but also around your school to spark conversations about the importance of these values.
To get your free posters, just submit your email here. Then save and print to share with your staff. Here's a closer look at the posters you will receive:
Elizabeth Cady Stanton—Courage
"We hold these truths to be self-evident, that all men and women are created equal."
Malala Yousafzai—Resilience
"One child, one teacher, one book, one pen can change the world."
Rosa Parks—Perseverance
"You must never be fearful of what you are doing if it is right."