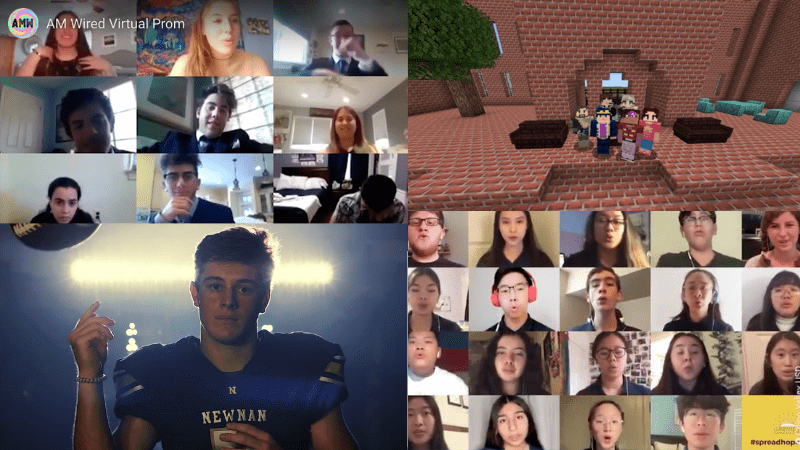 It's only been a couple of weeks since school closures started for the coronavirus/COVID-19 pandemic. While teachers and parents scrambled to gather ideas to keep younger students busy and learning, there was another group of students with a lot on their minds. The class of 2020.
Prom. Senior week. Graduation. Grad night. College acceptances. Their lives went from fun and excitement to fear and sadness. But resiliency reigns! Students and parents alike have come up with ways to recognize the class of 2020. Here are some fun ways they are celebrating the class of 2020.
Throwing a Virtual Prom
With get-togethers capped at less than ten people, even hosting small proms were out of the question (believe me, I considered it for my senior!) But that doesn't mean you can't go virtual.
AM Wired, the news show of Livingston High School broadcasted the AMW Virtual Prom where students got ready in their bathrooms and danced in their bedrooms.
Consider your own: set a theme, encourage students to dress up, share a playlist, and all join in on a video app.
Throwing a Minecraft Prom
If you don't actually want to have to invest in a prom dress, consider taking prom to the video game world like the students at Hunter College High did. They created a virtual scale model of their high school where people could interact and have prom!
Consider your own: allow students to create a school and allow others to join in.
Decorating Front Doors
One parent of a high school senior decided to decorate the front door with a collage of her son's academic and sports accomplishments. She hopes it catches on for other seniors and we do too!
Consider your own: add photos, momentos, and let other senior parents know!
Performing Together Virtually
Many seniors are coming to grips with the idea that their last theater, choir, or dance event has been canceled. Something they looked forward to (possibly for years) is now an impossibility. Some groups are getting together to put on their performance virtually.
These students recreated their choir concert virtually. Give their beautiful version of 'Over the Rainbow' a listen 🌈 pic.twitter.com/VEolNg19Nd

— NowThis (@nowthisnews) March 23, 2020
Consider your own: use zoom or another video round-up tool and conduct your performance remote.
Spring Sports Round-Ups
Some stations, such as Georgia Public Broadcasting, are asking for senior students to submit highlights, clips, and hype reels as a way to share and celebrate those seniors impacted by spring sports closures.
Consider your own: see if your local stations or sites are featuring round-ups.
Senior Spotlights
Some schools are taking over their social media accounts with senior spotlights. This one features where the senior will be going to college, favorite memories, and even their favorite Covid-19 activity.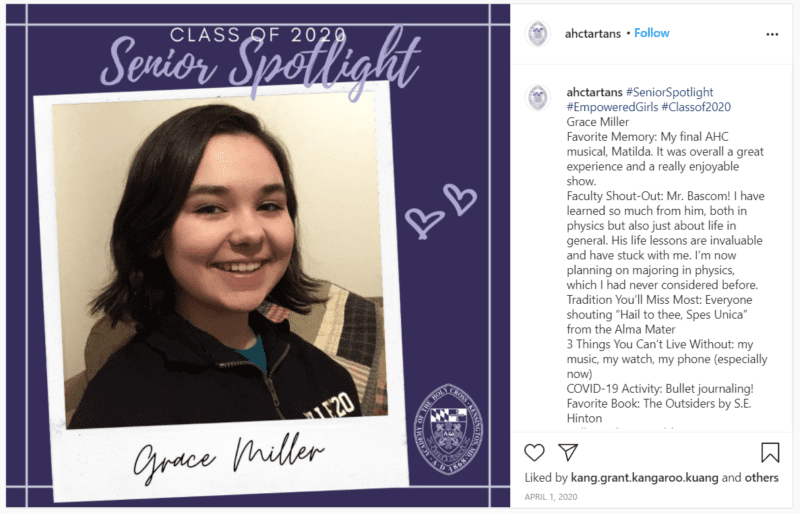 Source: @ahctartans
Consider your own: encourage seniors to submit their answers and photos to be featured over the next few months.
Has your high school been finding ways of celebrating the class of 2020? Share the details with us in the comments below! Plus teachers deal with the reality they may never see their students again.