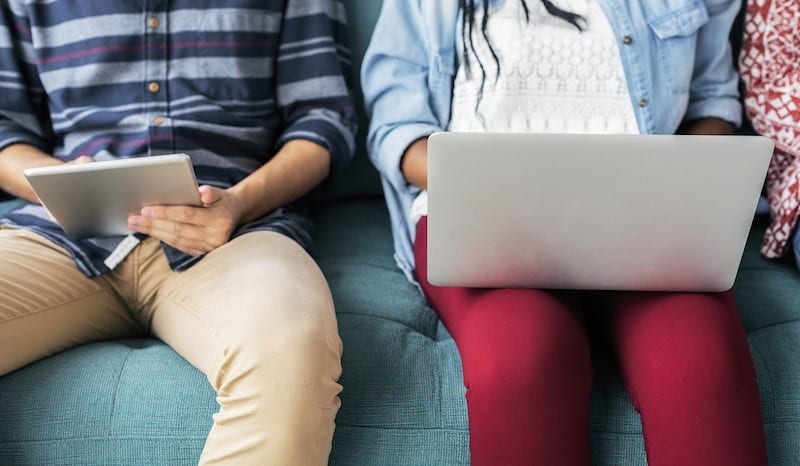 Much has been written about social media being a misnomer because students are not connecting face-to-face. But the word social actually means relating to a community. Teaching kids how to blog can transform how they think about themselves and those around them. Here are nine ways blogging helps kids with social-emotional development.
1. It increases their connections to grown-ups.
Children's blogs require grown-up help to set-up. Adults are charged with introducing kid bloggers to everything from internet safety to digital footprint to personal responsibility. Kids don't have enough online experience to understand how blogging communities work. It is up to us to model appropriate post language and stories, as well as what commenting looks like and how regularly it should happen.
2. It helps them relate to their peers.
When many kids in a classroom blog, reading peer posts advances innovation and collaboration. Students show their friends what they're writing and how they've used images, inspiring new ideas for one another. Blog commenting also creates strong peer relationships. The community grows as students learn how to critique rather than criticize. The more comments students receive, the more authentic their next post will be. This is how a real audience affects writing.
3. It teaches them self-awareness.
When students write in a journal, they share an internal part of themselves that others may not know. Taking their writing public on a blog pushes kids to write in honest, responsive ways. That freedom of expression is how blogging helps kids develop a sense of self.
4. It allows them to identify strengths.
As kid bloggers read positive comments from readers and watch their followings grow, they start to recognize that they can convey powerful messages with words and images. This recognition of ability tends to move into all aspects of their academic world and even spills over into their personal world.
5. It supports and strengthens them emotionally.
It is much easier for some kids to express emotion in a blog than it is one-on-one in real life. Some might say this means kid bloggers aren't learning in-person relationship building, but on the contrary—blogging helps kids learn that expression of true emotion is not only possible, it is applauded. They can carry this lesson into their daily lives.
6. It gives them empathy.
Writing is personal, and blogging makes it public. Kids who blog open their personal stories up to public comments and then begin to realize how their own comments may affect others. Blogging helps kids develop empathy that will help them become more aware of the people around them and how they react to things.
7. It helps them regulate emotions.
There is a difference between writing in a journal no one else reads and writing on a community blog. But it's a difference kid bloggers don't always immediately understand. There will be times when a kid will blog about something too personal—this is is when kid blogging gets tough. Teachers can help kid bloggers regulate their emotions as they write. In this way, blogging helps kids learn to adjust their emotions according to the place and time.
8. It reminds them to think before they act.
The tendency with a blog post is to get it all out, but like emotion regulation, students need to learn what appropriate behavior looks like. Students who blog under the watchful observation of adults learn how to comment in respectful ways and how to find an adult when a comment or blog post makes them feel uncomfortable or angry.
9. It shows them how to understand the world and their place in it.
Blogging helps kids understand how the social world works. It is different than in-person interactions because writers and readers cannot see each other and react to facial expressions and physical gestures, so they have to rely on other cues. Blogging helps kids learn to use clear communication and how to react to a difference of opinion.
Have you tried blogging in the classroom? What benefits have you seen?