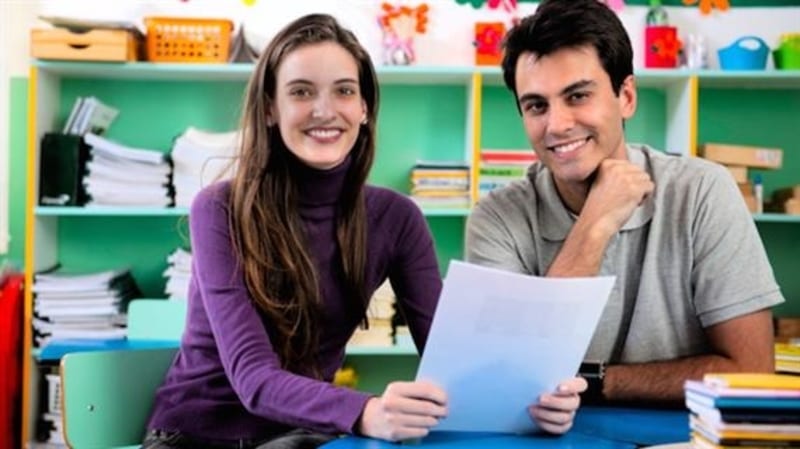 Co-teaching exists in many forms, but which is the most effective for your classroom? Rebecca recently asked the WeAreTeachers HELPLINE! for advice on what the ideal co-teaching classroom entails. Here are some of the highlights of the answers we received.
1. Your relationship counts.
Most of our teachers are in agreement that the number-one factor in a successful co-teaching classroom is having a good relationship with each other."
"It should be fluid, where you can't tell who the general education teacher is or who the special-education teacher is. It really only comes by people who have a great relationship." —Mindy J.
"My in-class support teacher and I would bounce off of each other and finish each other's sentences. Our students thought we were married!" —Sherrie E.

"A good relationship is key. If you can't get along, it is obvious to the kids." —Jillian E. 
2. Planning and preparation.
"It requires planning and collaboration." —Angelique K.
"Sit down at the beginning of the year and share ideas and see how you want to work the classroom." —Stefanie W.
"I parallel teach with my co-teacher. I give her lesson plans and she teaches the content to the SPED." —Frankie C.
3. Discretion.
"The kids are never quite sure who's there for whom. The special-education teacher teaches on a regular basis and teaches all the class or a small, fluid, mixed group that is not just the 'special' kids." —Adriane G.
4. Share the work.
"There shouldn't be a 'my class' or 'I did this.' It becomes 'we did this' and 'our student.'" —Angie O.
"I once worked with a co-teacher whose idea of planning was, 'What are we doing today?'" Avoid this scenario by initiating co-planning meetings regularly. —Sharon B.
5. Mix it up.
"Sometimes my co-teacher and I split the class. She and I sit down regularly and look at how all of the kids are doing, but we divide the class and teach in separate rooms, especially if certain kids need a quieter environment to focus." —Suzanne B.
"Co-teaching is also great when you want to do small groups or review a skill." —Stefanie W.
"My co-teacher this year is like family. The students think we are sisters. We both deliver content. We split the classroom on occasion where she teaches one thing on one side of the room, and I teach one thing on the other side. Then we swap. We were able to cover lots of ground that way." —Tiffany F.