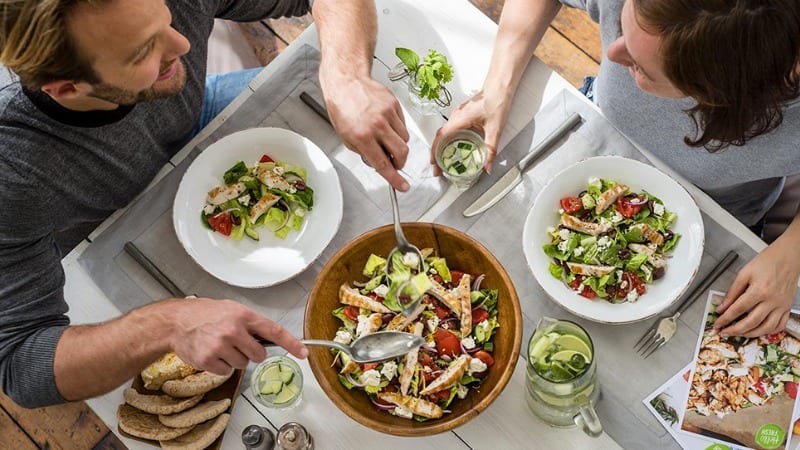 More
Who has time to meal plan, grocery shop, put it all away, chop it all up, and cook it up after a long day at school? Not teachers! Here are the best meal delivery services and online grocers to save you time and keep you away from the drive-through.
Just a heads up, WeAreTeachers may collect a share of sales from the links on this page. We only recommend products our team has tried and enjoyed!
You can feed your family a completely nutritious, delicious, and sustainably-farmed supper with Blue Apron's meal boxes. Everything you need to cook foodie-fabulous dinners is included in your fresh deliveries—from the proteins, produce, and spices to step-by-step instructions. Get $30 off your first order!
Home Bistro meals are all pre-prepared and flash frozen, so all you have to do is heat up and enjoy. They set themselves apart by keeping their dinners all natural, packed with superfoods, and at or below 700 calories and 800 mg of sodium.
Want to bring a friend who just had a baby or is ill a meal, but don't have the time? Or maybe you live in a different state? Send them a meal through Meal Gifts. You select the meal you would like to send and the serving size. Then Meal Gifts prepares and beautifully delivers the meal with a heartfelt note you write.
This organic grocery delivery service makes healthy living easy and affordable. Thrive features all our favorite organic and non-GMO brands, priced at up to 50 percent off their regular retail grocery sticker price. But the best part is getting those groceries delivered to your front door—fast and free. WeAreTeachers readers can exclusively save an extra 25 percent off, plus free shipping, on their first order!
Vegetarians are the focus of plant-based meal service, Veestro. Shop a la carte, meal packs, weight-loss options, or juice cleanses. There's a protein meal pack for those trying to increase their plant-based protein. Or you can choose a meatless Monday option to ease into more vegan meals.
Hello Fresh promises "delicious ingredients you'll love to eat and simple recipes you'll live to cook." We especially like the family meal plan for its kid-friendly yet healthy meals and accessible price point.
Meal ingredient and recipe delivery service Home Chef sets itself apart by inviting customers to pick the chef-inspired meals they would like to try. There is an array of choices each time you order. Each meal kit is perfectly measured so you can skip the grocery store and reduce waste. Just go straight to cooking a delicious meal. Get three free meals with Home Chef!
Seasonally inspired menus and budding master chef recipes that take your culinary techniques to the next level are the focus of Plated's fresh ingredient and recipe boxes. Try this service if you would like your dinners planned plus not-too-intense self-guided cooking instruction.
Have you tried one of these services? What has your experience been like? Please share in the comments!