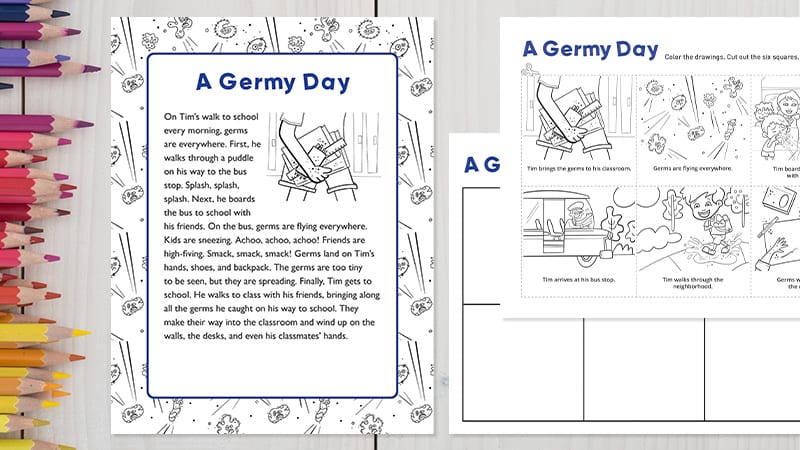 Teaching kids about germs can help prevent them from getting sick. This germ education activity was designed especially with grades K-2 in mind and teaches kids how germs spread through a fun story and cut-and-paste task. Plus, it provides extra practice in an important reading skill: sequencing! We love this activity because it works for either in-person or virtual learning.
The Story: "A Germy Day"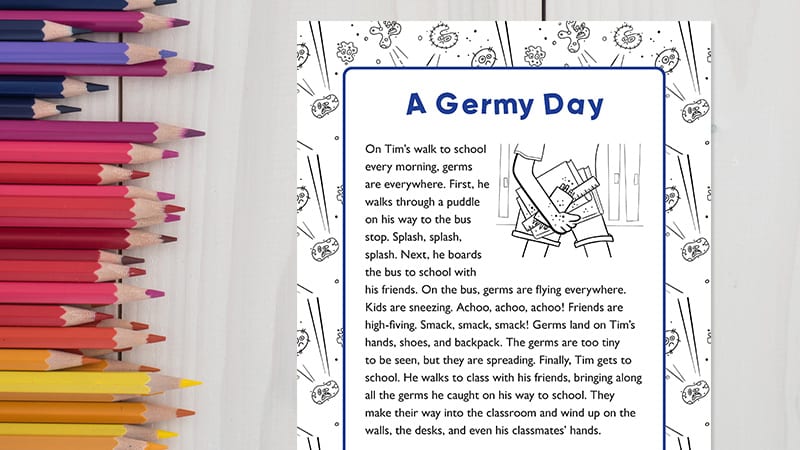 Follow Tim as he makes his way to school … and picks up lots of germs on the way. Depending on your students' reading levels, you can read this aloud, post it in a center, print it out for them to read on their own, or send it for learning at home.
The Activity: Sequencing
Students can color in the comic squares before they cut them out and paste them in order on the story mat. This makes for a great at-home activity and can be hung up as a reminder of how germs spread.
Creative Writing Extension: Create your own "A Germy Day" story together as a class or have independent writers do it on their own.
This activity is part of the HERE for Healthy Schools by Lysol lesson, "A Very Good, No Germs, Fresh and Healthy Day."
Yes! I Want This Free "A Germy Day" Activity
* Any reference to a specific product does not constitute or imply an endorsement by Lysol(R). This article may contain links to third party web sites. The linked sites are not under the control of Lysol and Lysol is not responsible for the content of any linked site or changes and updates to those sites. The linked sites are offered as a convenience and as such, you are responsible for viewing and abiding by the terms of use and privacy statements posted on those third party sites.