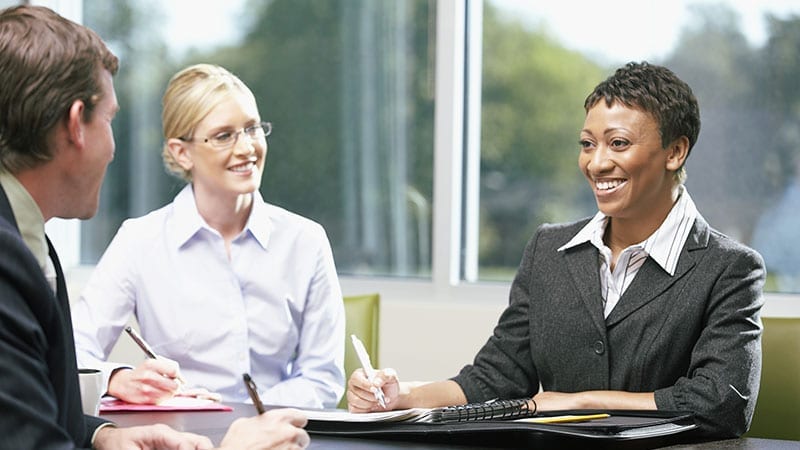 Rick Jetter and Rebecca Coda answer readers' questions about getting hired at district-level jobs and navigating a sometimes cloudy application process.  
Dear Rick & Rebecca:
I'm getting ready for the "Summer Shuffle." There is so much movement in education and I really want to be ready for any vacancy that pops up in the spring or summer.  I also want to make sure that my résumé and application materials are solid as I search for a principalship, but I get so many different pieces of advice about what I should have, what I should use, and how I should approach getting an interview.
Also, should I use a one-page résumé when applying?
Signed,
"Hope to Get Hired"
Dear "Hope to Get Hired":
We're not sure where the myth of a one-page résumé came from, but we're guessing it was from someone lazy who didn't want to read too much, or maybe it was created in the business sector.  Disregard the one-page boloney and let's get to the real meat on the bone about hiring:
1. Whether online or on paper, spellcheck
Most districts use an on-line system for recruitment.  Most are terrible because they are out-of-the-box software systems with no personality or creativity.  Other districts still use a paper process where you have to mail a ton of stuff to either the HR Official or the Superintendent.  This is very archaic during times of digitization and usability and provide no legal explanation as to why hard copies are still used.  Whether you are directed to use digital or paper processes, don't misspell anything!
2. Create your website!
We recommend you have both a creative résumé AND an on-line presence where you set up a website with a domain that is easy (your first and last name).  For your paper/digital résumé , we recommend Canva—just because it's free and you can design things that look really neat. Don't feel chained down to ugly resumes.  We are no longer in a day and age where standardized materials look better to a recruiter. Feel free to look at our websites to get a feel for how we use different styles based on your audience.  Design something that reflects your personality.  Have fun with it too!  Here is Rick's website and here is Rebecca's website.  There are so many free platforms for designing a website.  All you have to purchase, really, is your domain name. We both use Wix, as well. It is an amazing platform.
3. Have very recent references.
Make sure your reference letters are up to date and modern.  We have seen candidates get turned down for interviews just for this one reason alone—having old stuff.  Strive to get 4-5 solid letters.  Also, put together a directory of 10-20 references that go beyond your written references (include names, titles, e-mails, and phone numbers).  It will demonstrate that you have an army of people who can vouch for your personal and professional character and competence.
4. Always, and we mean always, create an entry plan for the position.
This will take lots of leg-work and time on your end researching the district and looking at what they do, what they don't do, how their culture is displayed through the web presence, etc.  Even if you do not analyze things perfectly because you are not in their culture, you get a gold star for having a great work ethic and preparing for your interview.  Plus, who wouldn't want to have an entry plan when starting a new position anyway?  Planning out a road map will only help.
5. For the interview, pack smart and light.
Never, and we mean never, walk in to your interview with luggage on wheels, packed with everything from your entire career including a back-up car battery. You'll just be remembered as the candidate who "brought the kitchen sink."  Remember, they want to know you, not your stuff.  Being prepared is one thing; being insane is another.
6. Have an interview that showcases your good attitude.
Finally, once you put your terrific foot forward by creating an amazing set of documents that don't ramble on and on (no one wants a 10-page cover letter that regurgitates the same things in your resume), remember that your application is meant to get you in the door.  It is the interview that will pack a punch. Rick's book about Hiring the Best Staff for Your School includes some great e-resources that will prepare you to think beyond your knowledge, skills, and abilities, and help you go deeper with your interview team about your attitudes on career, education, students, and teaching and learning.
7. Persist.
And, remember one last thing, if you get turned down a thousand times, it's not necessarily because you stink.  It might be because there is something better for you around the corner. Please keep us posted on your job search and thank you for writing!
R&R
Dear Rick & Rebecca:
I was talking to a former colleague about a position in his district that had posted, which I was interested in applying to. But he shared with me that it wasn't even worth the interview because they already knew who they wanted. I haven't been in my district long enough to really know who to trust or who is connected. How can I tell whether I'm walking into an interview set-up or a legitimate interview? I want to interview for a district-level position, but I don't want to chase after a job if it is already slotted for somebody else. I want to be strategic about my interviews rather than looking like I am applying for just any job. What should I do?
Your Friend,
"Looking for a Legitimate Opportunity"
Dear Looking for a Legitimate Opportunity,
Since you have only been there a year and haven't yet created those trusting relationships with the people at the district office, there are five questions you may want to reflect upon prior to applying for any new position:
Do I have the prerequisites and skill set to perform the job?
Does the timing seem right for me and do I feel emotionally ready to take on this new role?
Am I prepared to invest more time in relationships, new content knowledge, and higher demands?
Is my growth mindset leading me to seek out this position, or is it my ego or some other reason?
Am I so passionate and excited about the opportunity that I can visualize doing the job?
If you can honestly answer yes to all the above questions, then there is no reason why you shouldn't apply, even without knowing for sure that there are no internal candidates with a leg up for the job. Every interview is an opportunity to create connections, to practice delivery, and to highlight your skills and talents with colleagues and leaders.
We totally understand not wanting to apply when you know 100% that a job is slated for someone else. But since you are in a situation where you don't know if someone has been pre-selected, realize that there is value in just applying. Even if you don't land the position, it will afford you the opportunity to shine during the interview. You never know if a stellar interview could lead to a different position that may open later. Or, a great interview could make you a back-up for someone that doesn't accept a position.
Best of luck on your new endeavor!
R&R
Rick Jetter (@RickJetter; www.rickjetter.com) and Rebecca Coda (@RebeccaCoda; www.rebeccacoda.com) offer weekly advice on navigating the waters of school leadership. With more than 34 years of combined teaching and school leadership experience, Rick & Rebecca's new book, Escaping the School Leader's Dunk Tank, (published by Dave Burgess Consulting Inc.), is available on www.amazon.com. For more information, please visit www.leadershipdunktank.com and #SLDUNKTANK on Twitter.
Join our Facebook group Principal Life for more conversation about and insights into the challenges of school leadership.