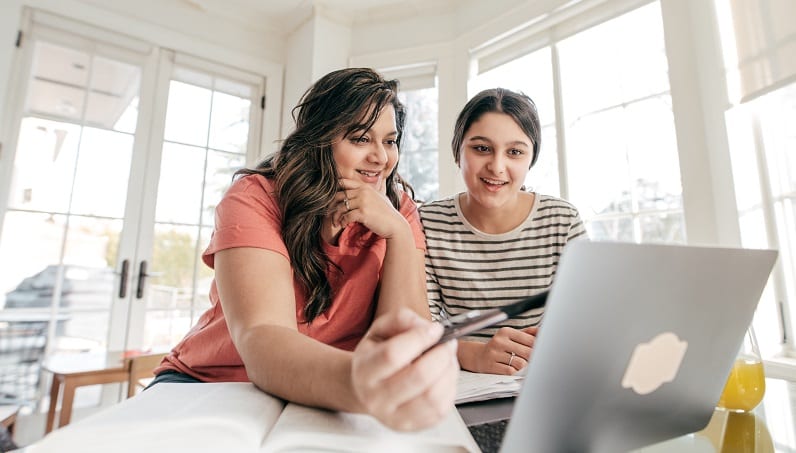 You send your school newsletter to parents and faculty on the regular, but is anyone actually reading it? If your school newsletter is somewhere between a pain in your side and a dull afterthought, the answer is probably no. What's a pain for you to write might also be a pain for others to read. It might also be a sign that it's time for a school newsletter–writing intervention. Dive into revamping your newsletter with these tips from e-marketing experts and parents. You'll create a smarter school newsletter that people will actually want to read—and that will help bring your community together.
1. Give your school newsletter life by being your authentic self.
Jennifer Severns is chief experience officer for the American Marketing Association and knows a thing or two about newsletter marketing. She's also a parent who's had to read weekly newsletters and emails from schools for the last decade. "You want your school newsletter to come from a person," she says. "Parents should relate, and the more it feels like it's coming from a human and not a cold, formal, and generic letter, the more people will feel the sense of community." Are you a Parks and Rec fan? Slip in a reference or two. Will the upcoming talent show rival Beyoncé's Homecoming? Say that. Do you, boo.
2. You have spirit, yes you do! Show it in your school newsletter.
Parents told us that when their school leader is excited, it fuels everyone's rah-rah spirit. It's contagious. Your school is a family, so you want to establish a comfortable, welcoming environment for everyone to feel the connection. You want everyone to know they are a part of something bigger than themselves. Get them excited about joining and being at the table. This inspires teamwork, promotes inclusion, and attracts volunteers that you'll be grateful for a various points throughout the year ! So convey that enthusiasm in your newsletter.
3. Build your newsletter like a packing pro.
Parents want a quick read, but with thoughtful, pertinent information. It's a tall order, yes. On any given week, your school could have a hundred updates. Parents want to be able to scan and digest the school newsletter and read the sections they're interested in. Design is your friend here. Severns suggests "quick highlights with bold sections, consistent headlines, and outbound links (like to your school website) for those who want to go more in depth."
So, what are most parents consistently eyeing? Parents told us they appreciate sections for key dates/an event calendar, critical contact information, and any major school-wide news (with photos of their happy kids, of course!), maybe even a weekly spotlight on a staff member or teacher to boost morale. Showcase your pride!
If and when you need to dig deeper per grade level, that's where your grade teams or classrooms likely come into play—unless you want a really long read. Encourage teachers to be consistent with design and clarity in their weekly or monthly classroom newsletters too.
4. Your inner organizational superstar is ready for their close-up.
"Inconsistent formatting makes me crazy." Parents told us this over and over. And no, this wasn't a room full of graphic designers we were talking to. Think of all the newsletters you receive. (Are your eyes bulging already? Rolling? We feel you.) Like school administrators, parents are inundated with emails, social posts, and yes, newsletters, where it feels like their eyes are going to pop out of their heads. Ease the burden with short, smart headings, bullet points, and consistent organization each time.
There are a plenty of free newsletter-template designs out there, like Mailchimp, Smore and Canva. Have fun with it, and if you don't feel design savvy (not that you need it with these seamless options), see if a staff volunteer or friend has some skills. (Delegating responsibility is a skill all great school leaders have.) Once you have the template that you want to use in place, just input your awesome content.
Consistency (sensing a theme here?) with when and how frequently you send is also an organizational game changer for parents. If you pick a day, say Friday evenings or Saturday mornings, parents know when to expect the newsletter and will start to look out for it. #Protip: The parents we talked to said they're way more likely to read a school newsletter in the evening or on weekends than during the work day. So keep that in mind as you think about when to send out yours.
5. Social media is your school newsletter's follow-up best friend.
Whether you, another school administrator, a PTA member, or all of the above is in charge of your social-media strategy , everyone who plays a role in writing and sending the newsletter needs to be on the same page. Some schools link to a web-version of their newsletter from Facebook, Twitter, etc. when it's posted. You want to reach as many parents as possible, so cover all your bases. PTA Facebook pages and even FB parent groups per grade are common, so have some type of organizational structure here. Who is in charge of the PTA social media or the third-grade parenting group? Ask if they'll link to your newsletter each week, too.
Writing the school newsletter can seem like a tedious task, but it doesn't have to be. As you write, be short but informative, be yourself, and be organized. As a result, your school community will actually read the newsletter—and respond accordingly.
How do you like to keep your school community informed? Come share your ideas in our Principal Life Facebook group.
Plus, the best parent communication apps for school leaders .