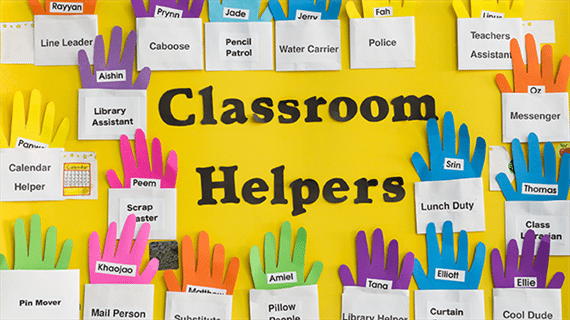 In my classroom, the job chart really gets hard use and rarely lasts more than one season. But I don't mind too much, because there are so many cute ideas out there that I actually like changing it up every year.  Check out these fun classroom job chart examples we found all over the internet using cheap and easy-to-find resources.
1. Bucket loads of helpers
Adorable pirate-themed job chart.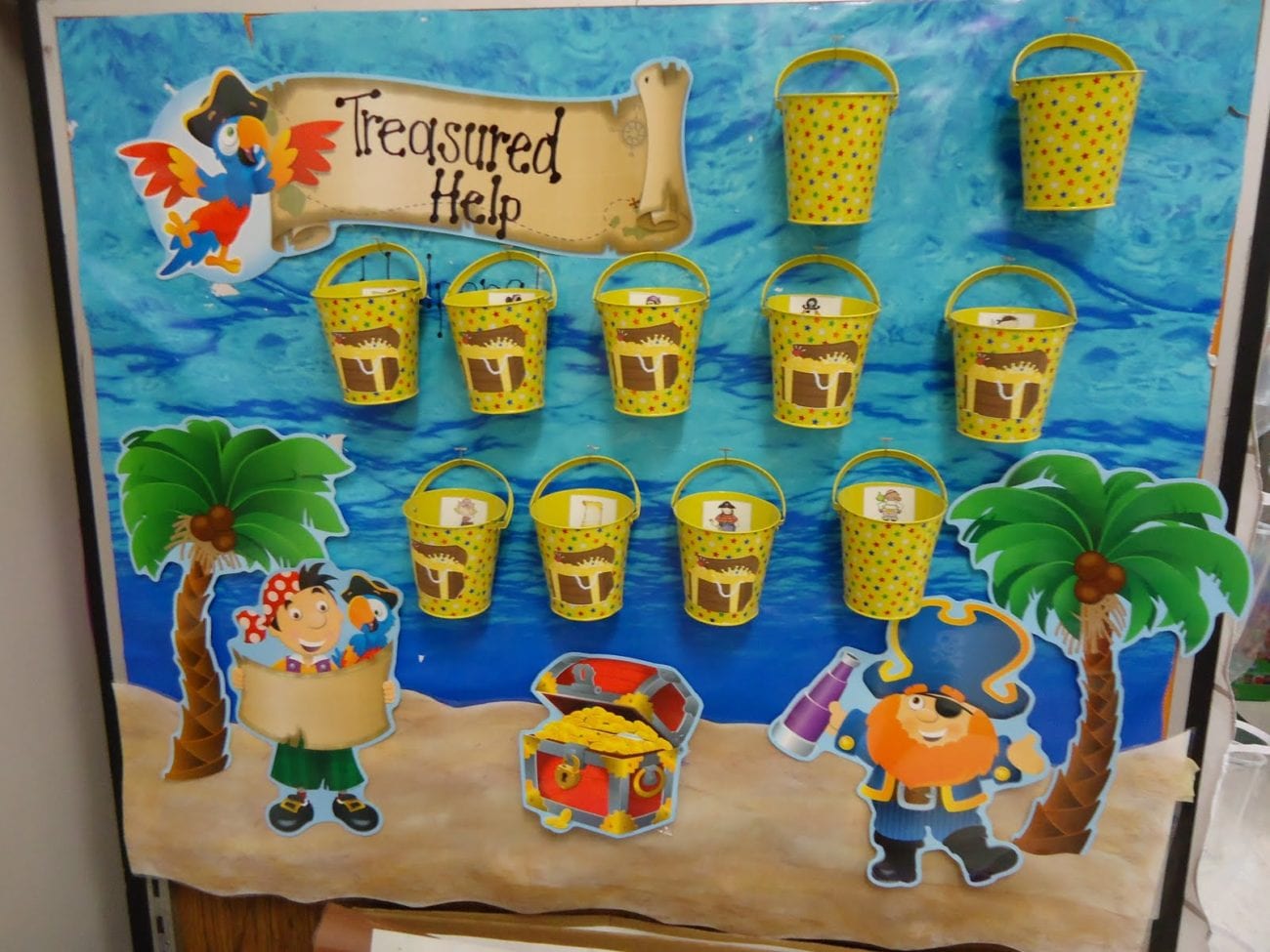 SOURCE: Frogs, bees, under the seas
2. A rainbow of duties
Perfect for your art classroom.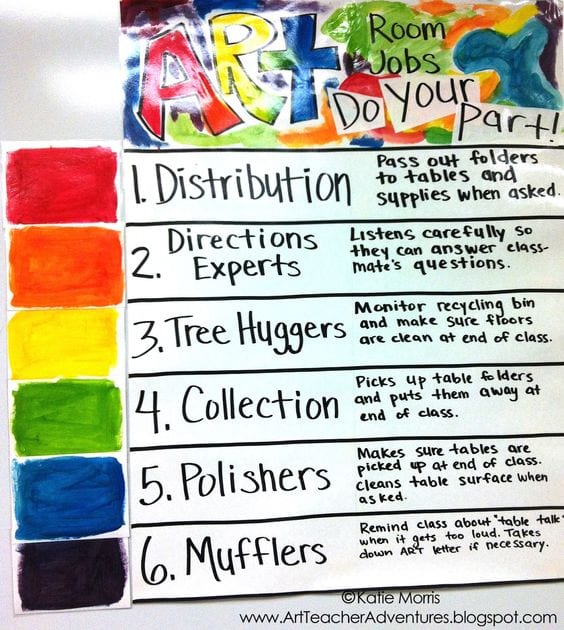 SOURCE: Adventures of an Art Teacher
3. Sneaky space job chart
Love how this one is tucked onto the side of the filing cabinet. Perfect place to use magnets.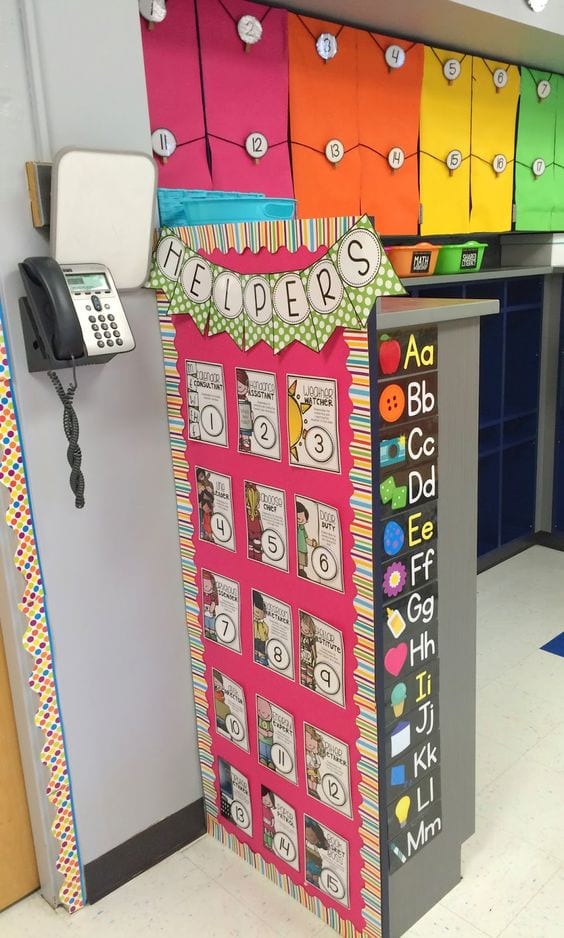 SOURCE: First Grade Made
4. Star helpers
Love the job descriptions on this one.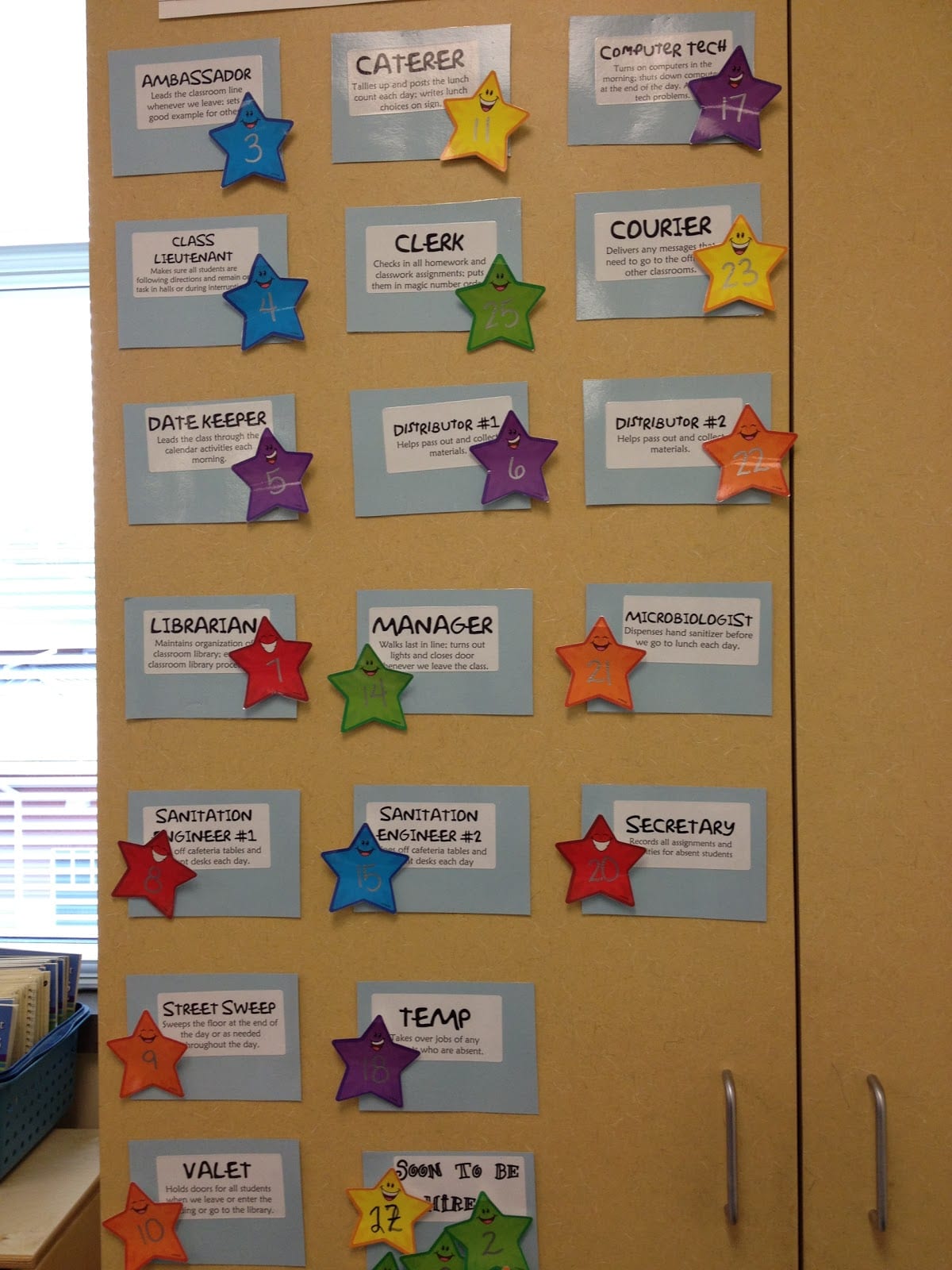 5. Apron job chart
Every pocket has a job and the spoons inside each have a student name or number. Perfect for Home Ec class.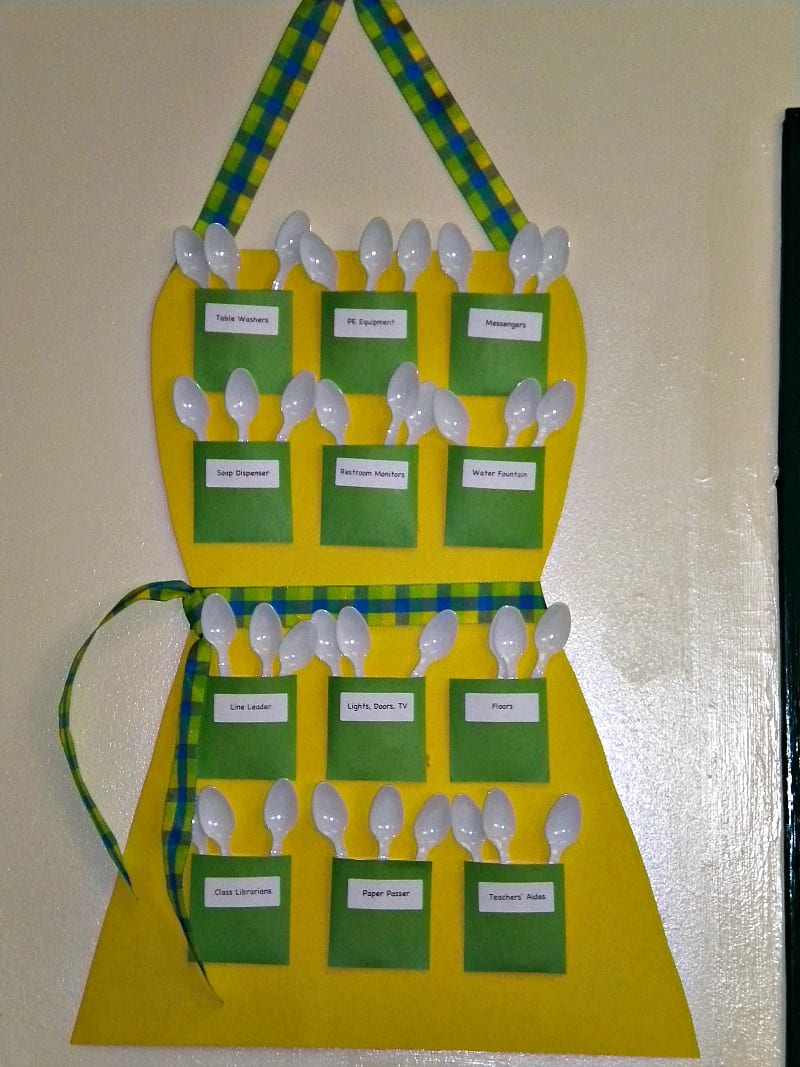 6. Job wheel
Create this awesome wheel to help kids keep track of classroom tasks. Jobs go on the inner wheel, kids rotate around.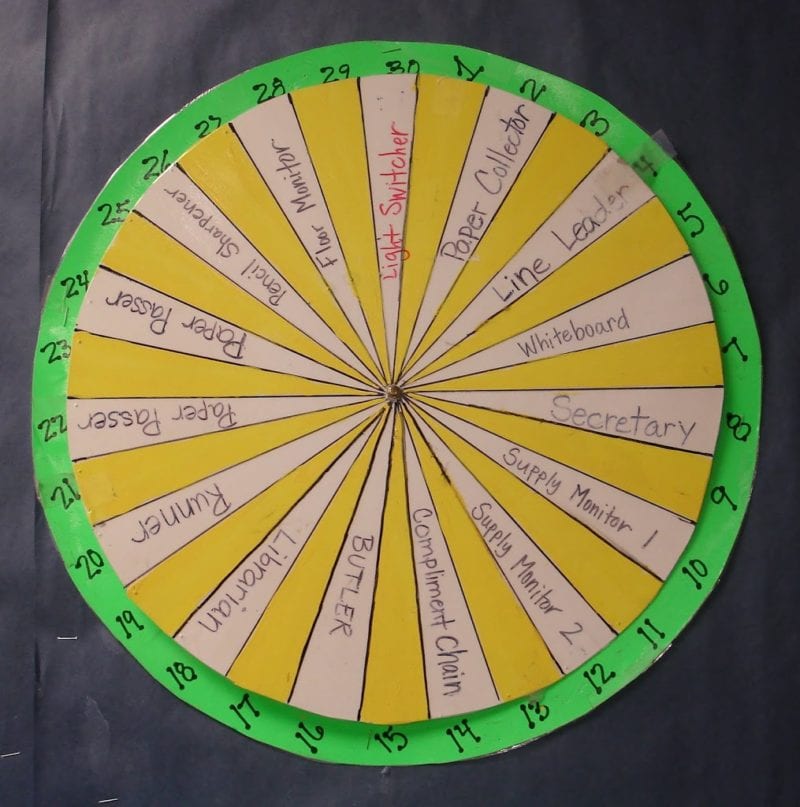 Source: Teach-a-Roo
7. Reverse Job Wheel
Kids in the middle, jobs rotate around.
Use dry erase markers in case your class list changes or you want to tweak the jobs.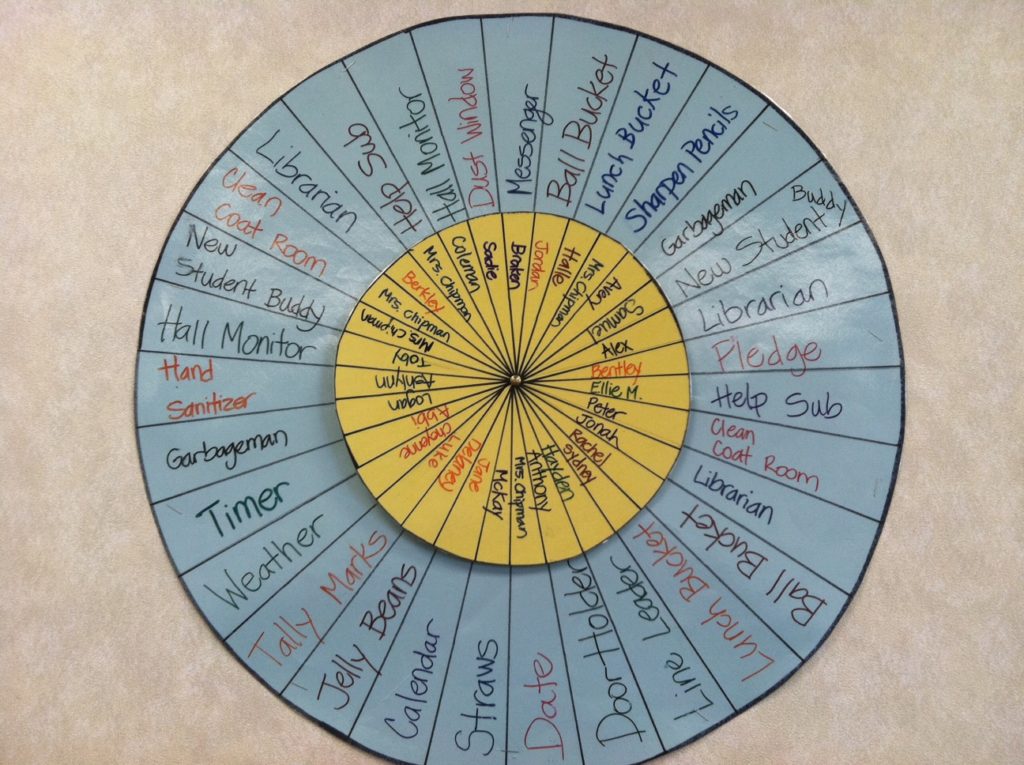 Source: Cookin' Up in First
8. Colorful Library Pockets
Love the way the black background makes these colorful pockets pop!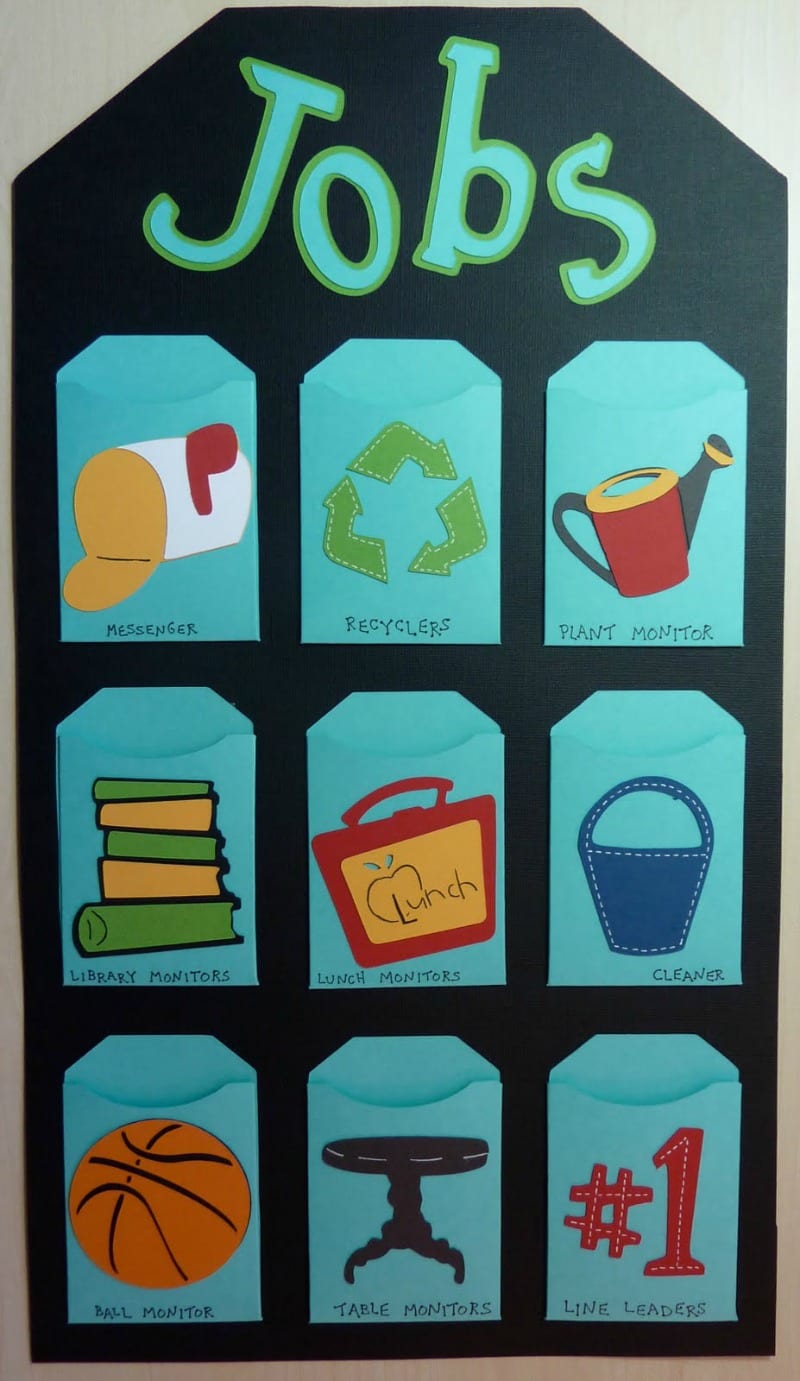 Source: CraftingwithKatie
9. Help Wanted
Clever newspaper background on this super cute job chart.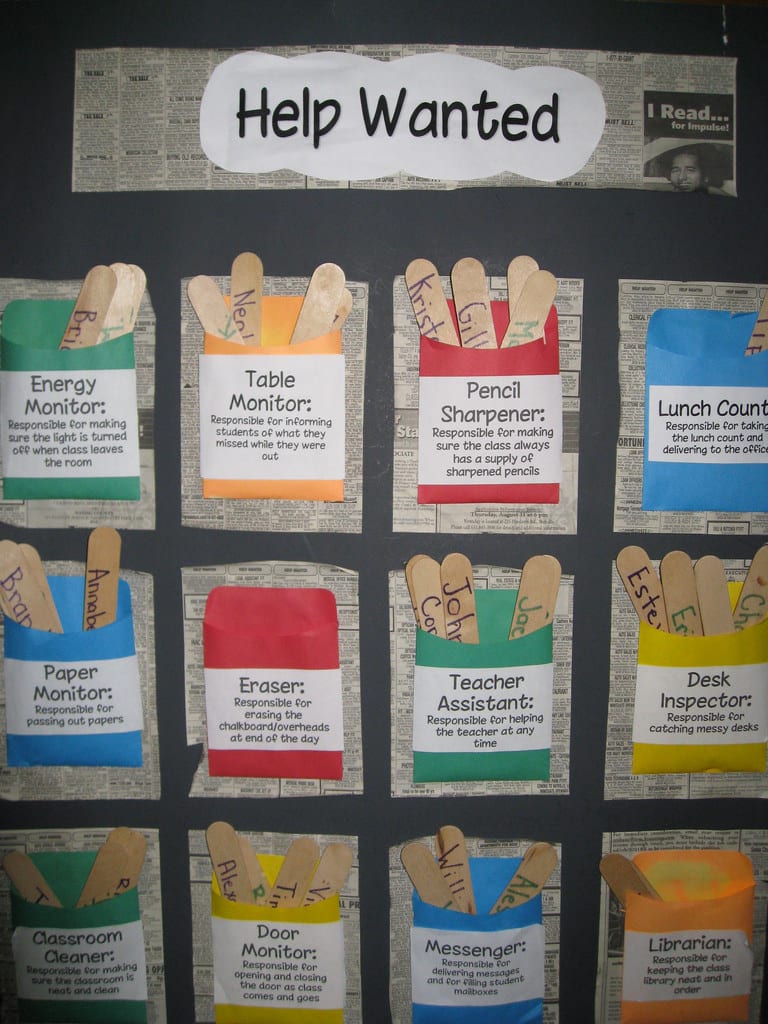 Source: The Teaching Excellence Program
10. Popsicle Stick People
Avatars! Have your students decorate their own little person to fit into a job pocket.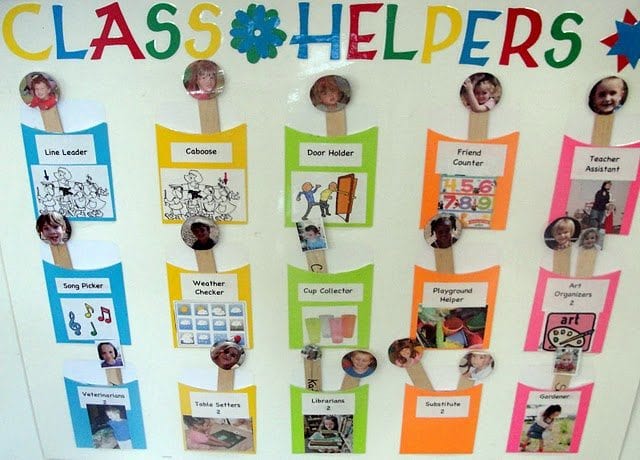 Source: TheLittleSchoolCommunityBlog
11. Happy Helper Octopus
A pocket for each arm. (For the rare 8-job classroom.)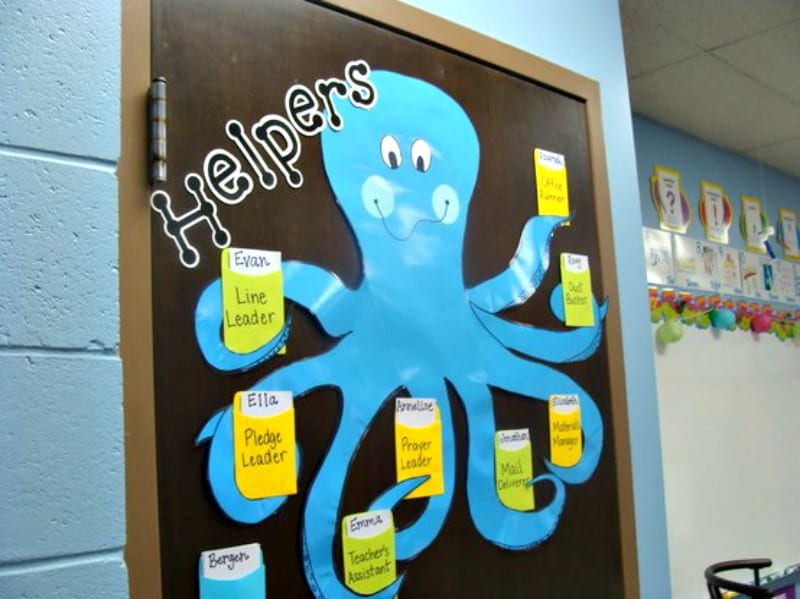 Source: Creating and Teaching
12. I help, you help, we all help
Pockets are sort of like iPhones, and kids love iPhones.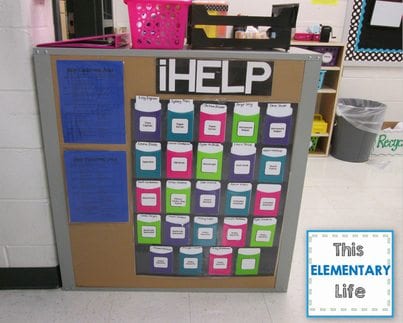 Source: This Elementary Life
13. Colorful clips
Colorful job descriptions with room on the side for clips. Notice the "job applications" folder beneath. Adorable (and practical).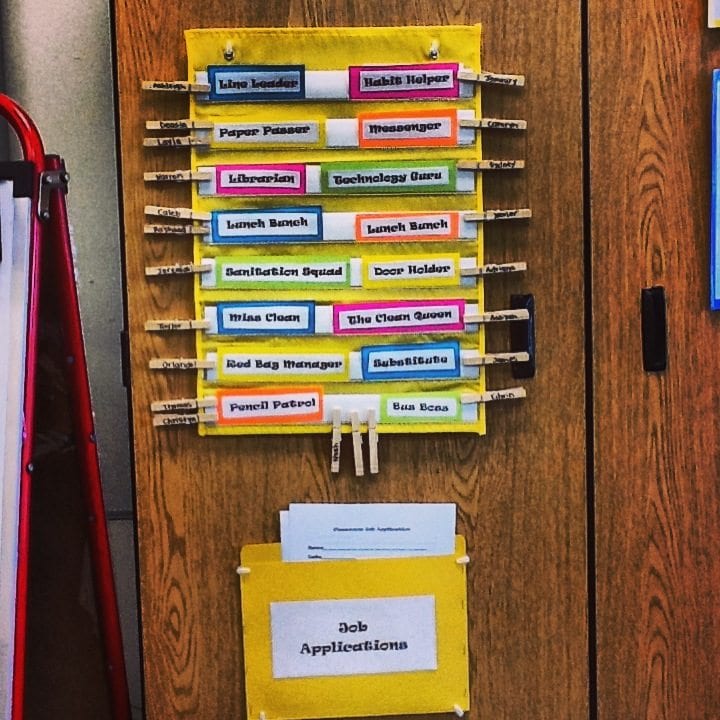 Source: Lena's Leaders
14. Ribbon clips
Laminate the job cards so they survive all the clipping that will happen during the year. Kids "on vacation" from jobs for the week can be attached to the ribbon at the bottom. If anyone is absent, those kids can fill in.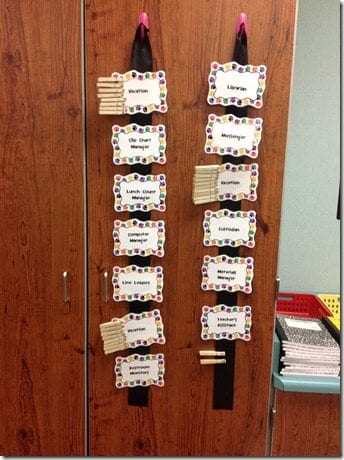 Source: The Classroom Creative
15. Circle clips
Clip-on colorful circles attached to ribbons- so cute! Circle shapes could be turned into planets, animals, or faces with different expressions. You can sturdy paper plates as your circle templates.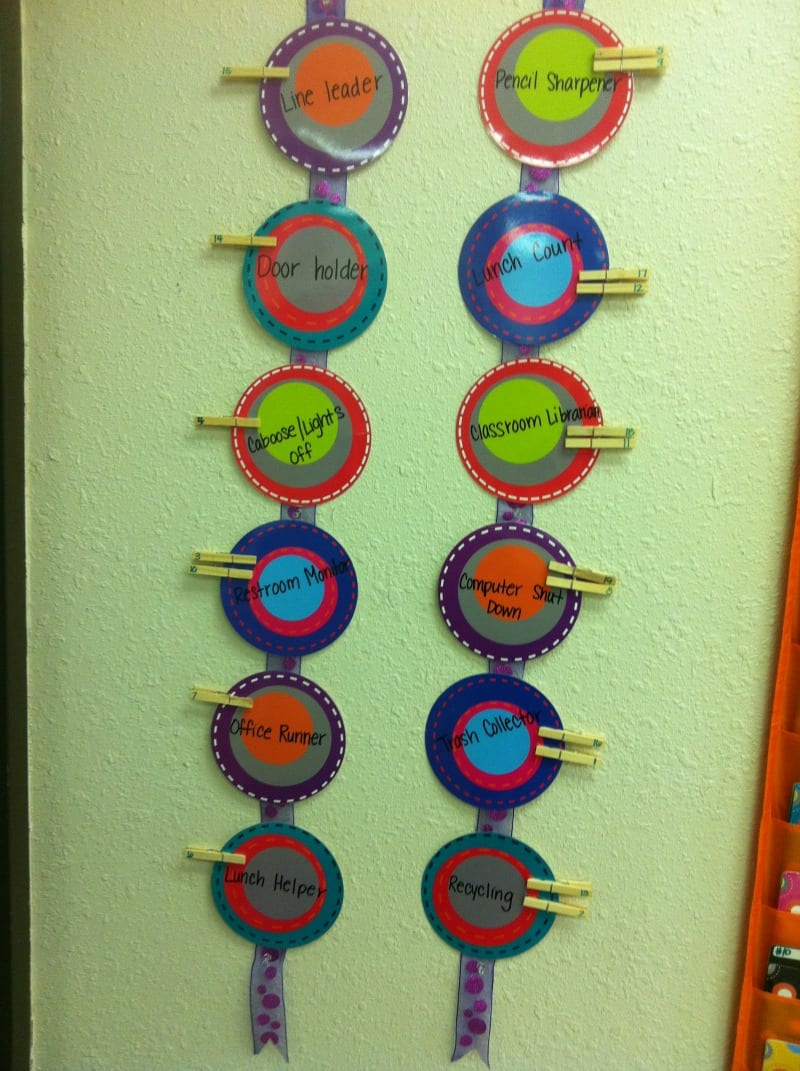 Source: The Vintage Modern Wife
16. Downloadable job cards
Laminated job cards on polka-dotted background and funky clothespins make a pretty display.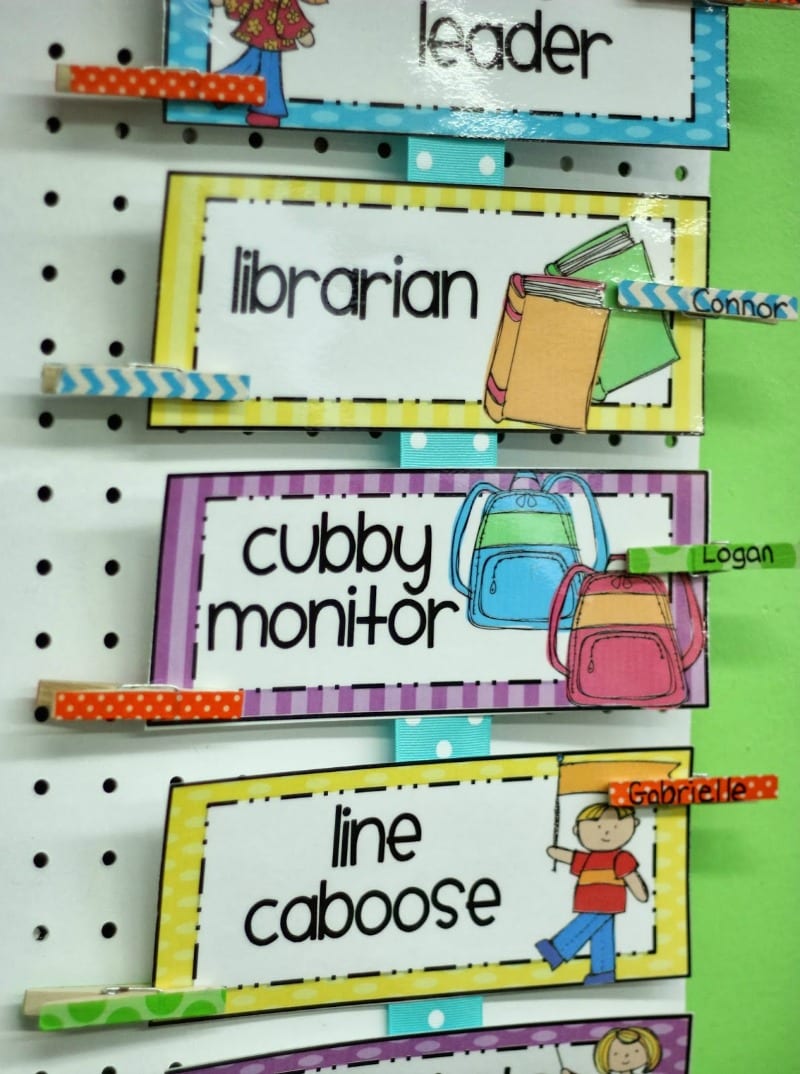 Source: Bright Polka Dots
17. More downloadable job cards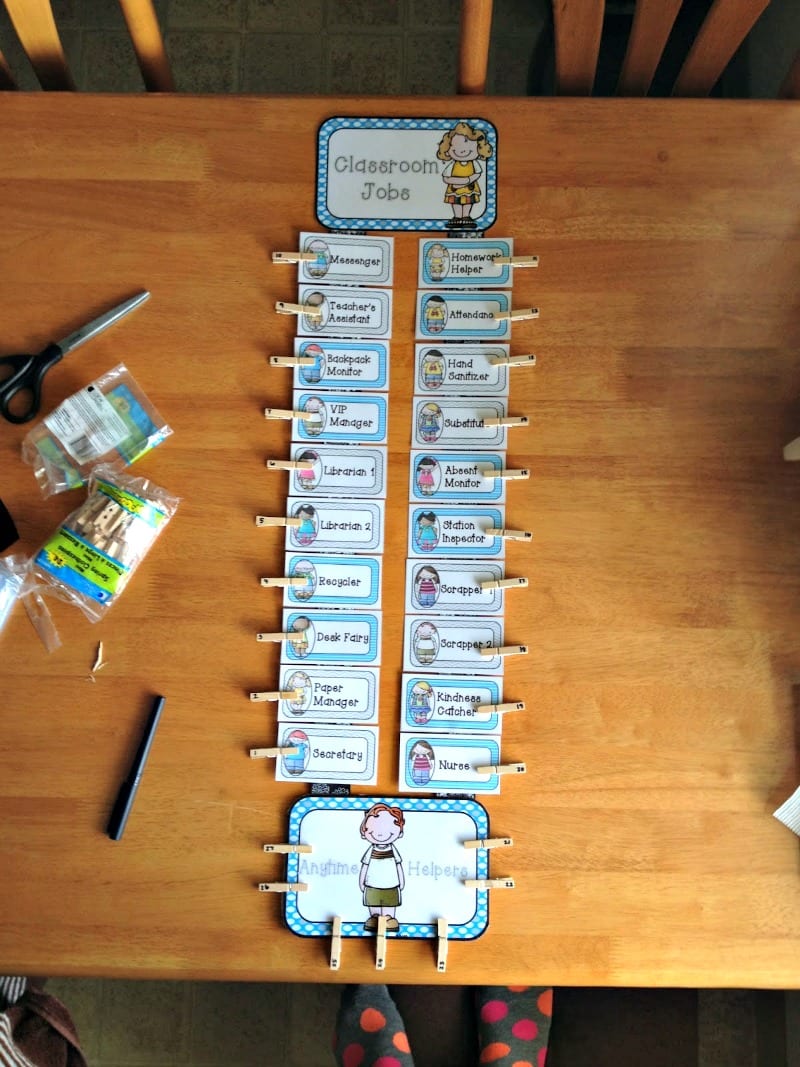 Source: Fourth Grade Frolics
18. Busy bees job chart
Your classroom will buzz along with the help of busy bee helpers.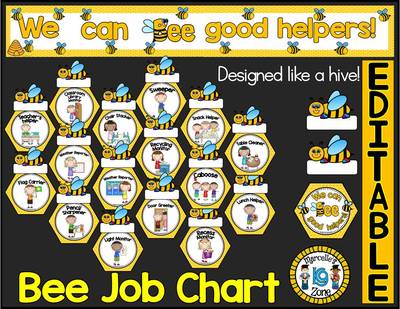 SOURCE: Teachers Notebook
19. Helping hands job chart
Students can create their own handprint cards to personalize this job chart.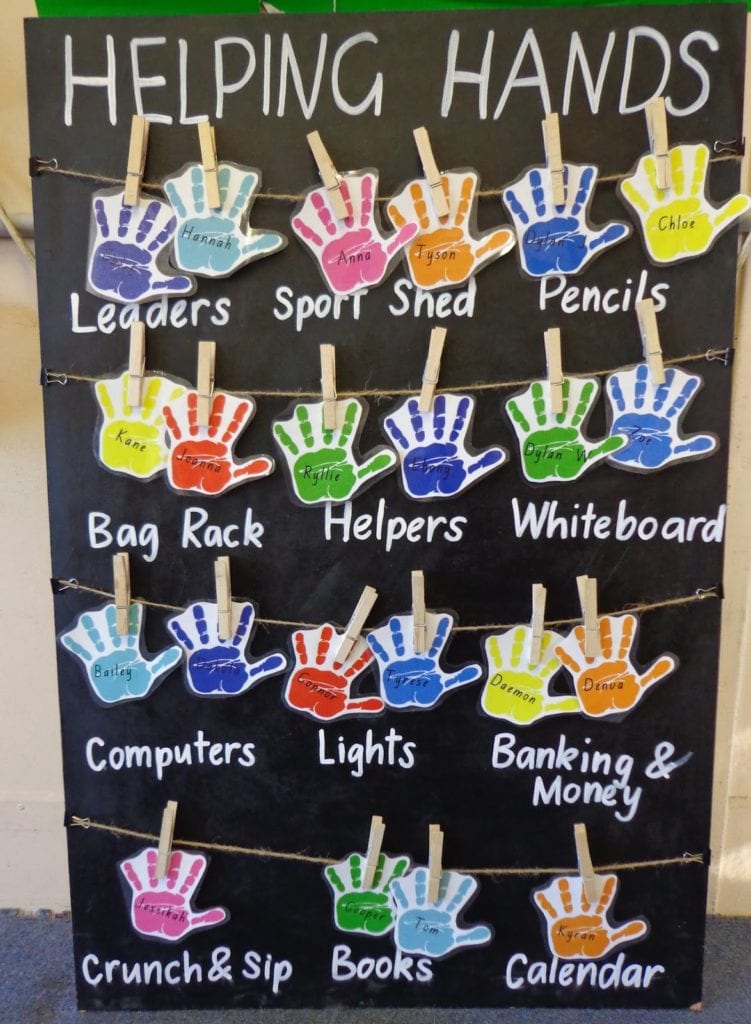 Source: Mrs. Possum's Class
20. Baseball job chart
Love that the kids that don't have a job for the week are in the "dugout."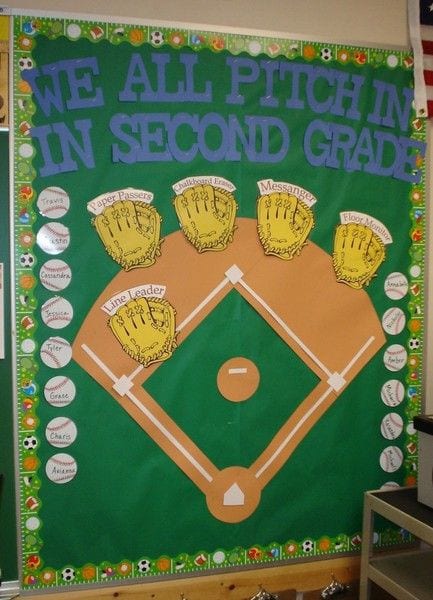 Source: Clutter Free Classroom
21. Rockin' responsibilities
Like a giant iPod!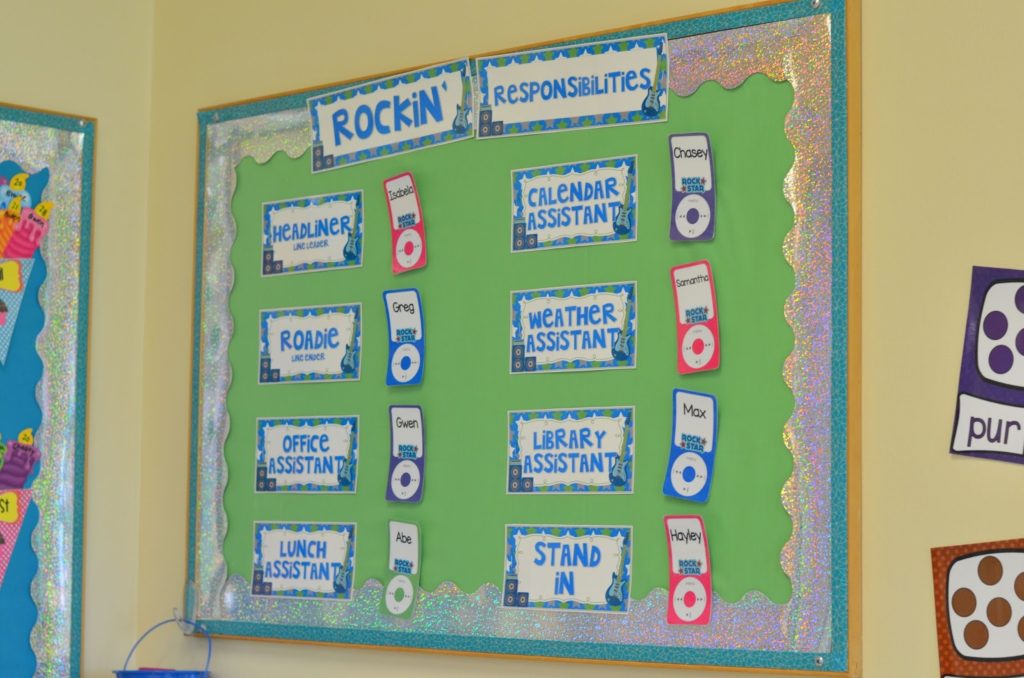 Source: Fun and Fearless in First
22. Get hopping!
Get those kiddos hoppin' with these colorful frogs and lily pads!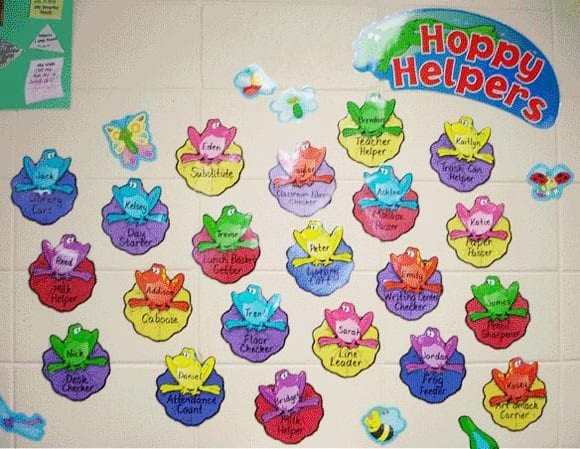 Source: Teachers Net Gazette
23. Happy helpers
Every little monkey in the jungle has a job!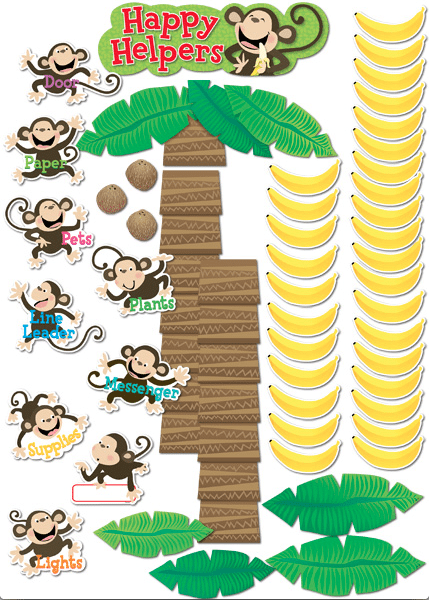 Source: CreativeTeachingPress
24. Keeping it simple
If you like to keep it simple and straight to the point.


Source: McElhinny'sCenterStage
25. Colorful pocket chart
Or, you can spruce it up with a little color.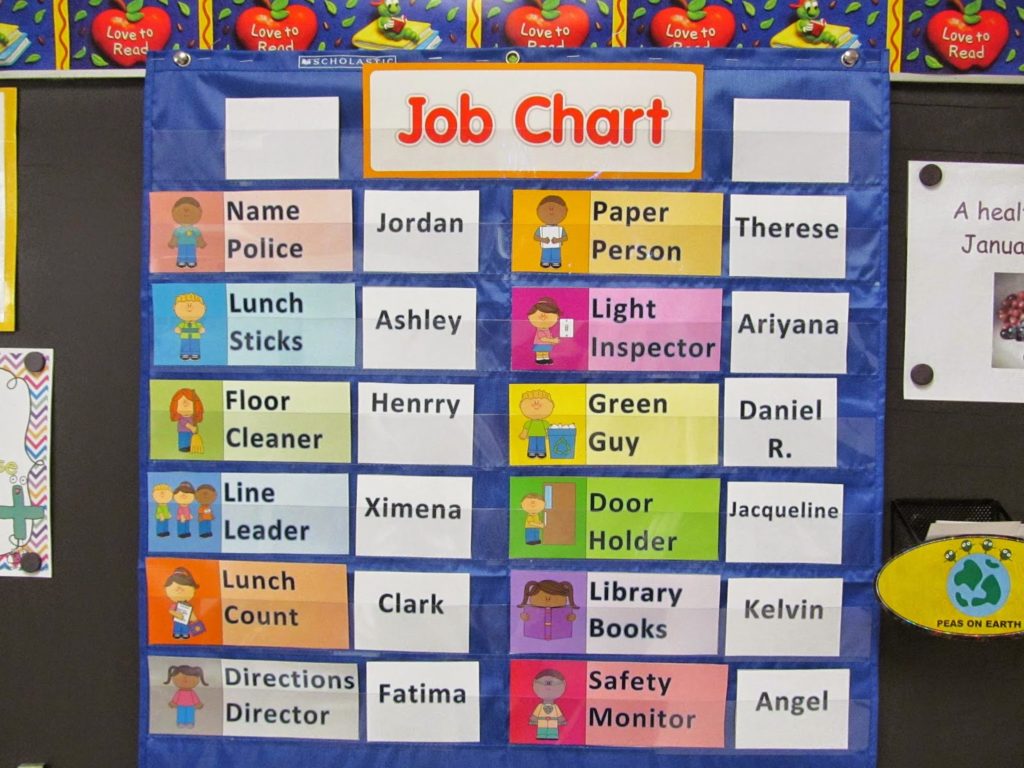 Source: 2happyteachers
26. Personalized pocket chart
This chart may be store-bought but you can personalize the nameplates with  photos of your kids.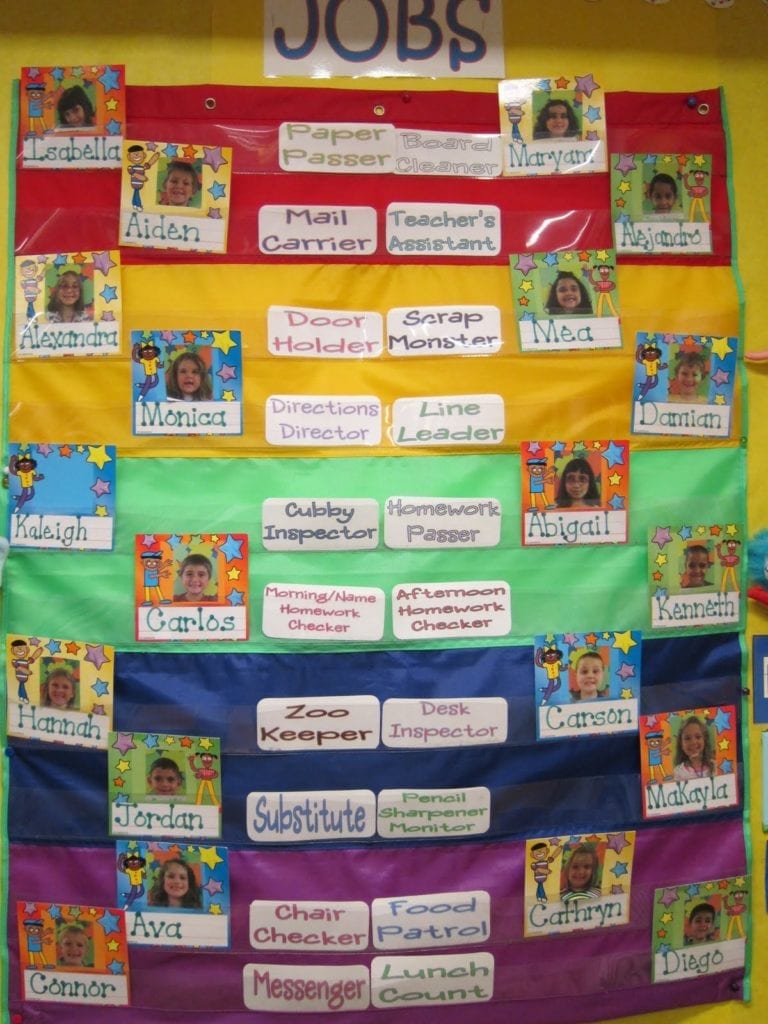 Source: Seusstastic
27. Magnetic job chart
Click here to make your own magnetic job board.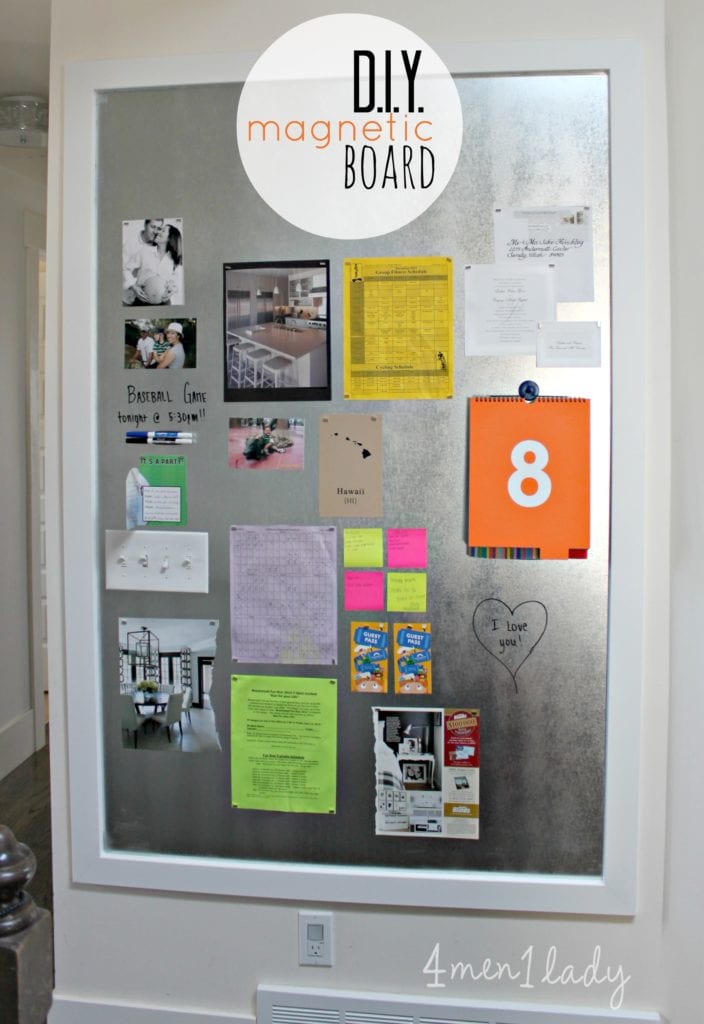 Source: 4men1lady.com
And to go with it, check out these cute magnets.  And  these!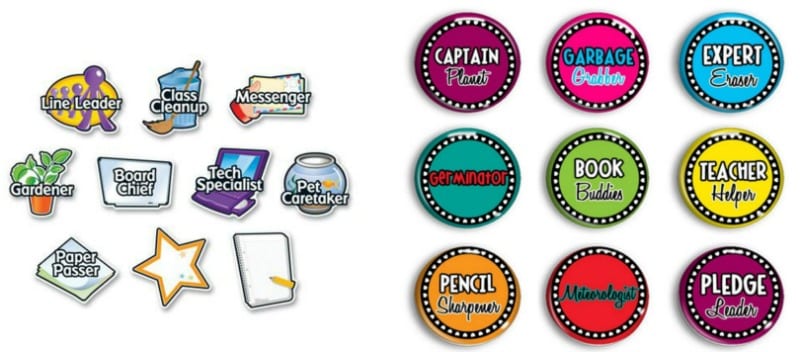 28. Magnetic job chart with laminated cards
Look how great this magnet job board turned out! And so easy to use over and over each year.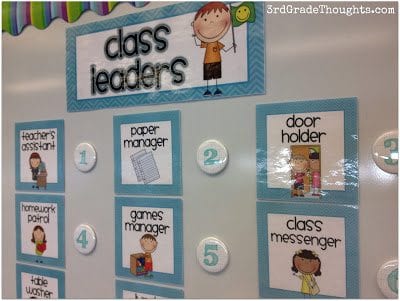 Source: 3rd Grade Thoughts
29. Out of this world helpers
A rocket ship full of helpers to keep your classroom in stellar shape.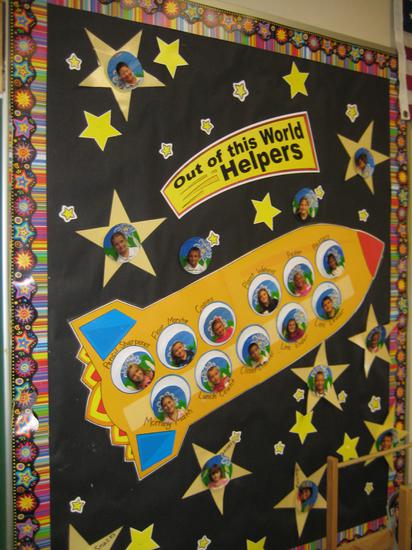 SOURCE: MPM School Supplies
30. Colorful helpers
Simple design to DIY, colorful and easy to read.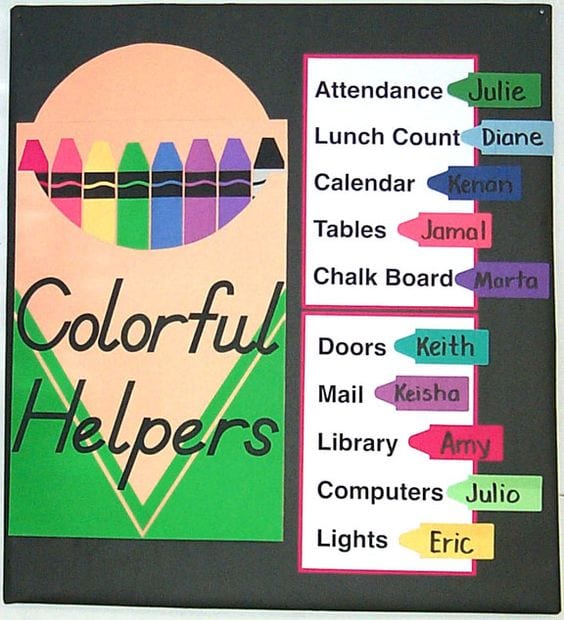 SOURCE: MPM
For more great ideas and examples of job charts, check out our WeAreTeachers Classroom Jobs Pinterest board.