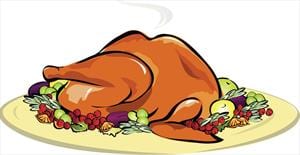 As Thanksgiving approaches,
we are thankful for so many things that enrich our lives:
Our wonderful families, our students who we learn from every day, our jobs that put
food on the table and the colleagues who "get" us—
even when we're in that crazy pre-Thanksgiving I-really-need-a-break place.
Absolutely. But there are just a few other tiny little things (okay, 17) for which we wish to express our gratitude:
We are so, so thankful for the first four-day weekend since August.
For those blessed extra hours of sleep (even though we're so accustomed to getting up early that we can't sleep past 8AM).
We're thankful for the last bell of the day (and usually the first, but always the last).
For the kids who don't mind playing outside even when it's cold (otherwise their holiday jitters might just drive us up the wall).
5. We're grateful for cheesy holiday movies to watch while grading.
6. And the coffee that makes teaching possible. (Quick Tip: Starbucks gift cards are always the right size!)
7. For the school janitor who helps us keep up a room in which 30 or more sticky children spend six hours a day, and especially for forgiving us for spilling a half pound of glitter. (Sorry, Steve!)
8. We're thankful our students have finally stopped using text speak in their essays. (4REAL!)
9. And that all the technology in the classroom seems to be working (at the same time, no less).
10. That we get to read a book this holiday weekend without "differentiation" or "Common Core" in the title.
11. Were thankful for the "apple for the teacher" mugs and kid-made Christmas cookies that are coming our way next month—or at least for the thoughtfulness behind them.
12. We're thankful for the colleague who makes great margaritas.
13. For the three kids that truly appreciate our jokes.
14. We're grateful that our principal didn't suggest the staff all dress as pilgrims like last year.
15. Instead she brought in pumpkin pies. We're thankful for pie.
16. And for our students' natural curiosity, even though they asked if we attended the First Thanksgiving.
17. Finally, we're thankful that winter break is coming up in just a few short weeks!