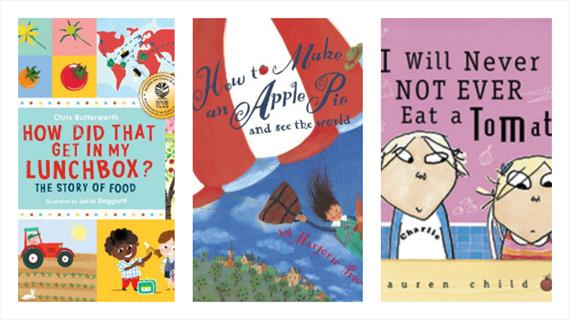 I write books for adults, but I confess, children's books are my absolute favorite book genre. In fact, one of my favorite things about having a child is I now have an excuse to build a ridiculously large kid's book library.
Books open up new worlds to both kids and adults, spark the imagination and inspire adventure. Which is why books are so wonderful for encouraging healthy eating habits in our students and children. These 11 books for elementary-aged students are funny, entertaining, moving, or just plain silly…but they also get kids to open their minds to a broader, healthier view on food and encourage healthy eating habits.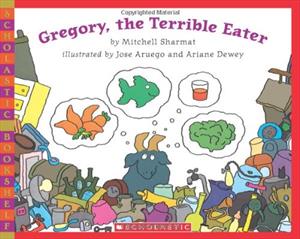 Gregory, the Terrible Eater
by Mitchell Sharmat
Gregory is a goat who loves fruits, vegetables, eggs and fish, rather than typical goat fair of tires, cans, and t-shirts. Kids will find it hilarious that Gregory's parents don't want him to eat his fruits and veggies and instead want him to eat trash. Instead of being told what's healthy, the kids will be pointing it out themselves in this book of silly role reversals.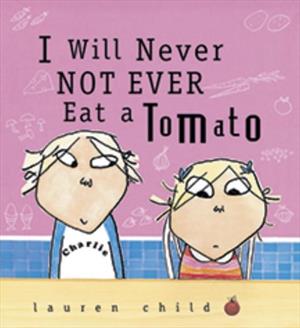 I Will Never Not Ever Eat a Tomato (Charlie and Lola)
by Lauren Child
A witty book on perspective. Lola won't eat healthy foods until her brother creatively renames them, calling carrots Orange Twiglets from Jupiter, and mashed potatoes Pointy Peaks of Mount Fugi. After reading, have your students come up with other creative fun names for commonly disliked foods or write a story about a time they ate something new and were surprised by it's taste.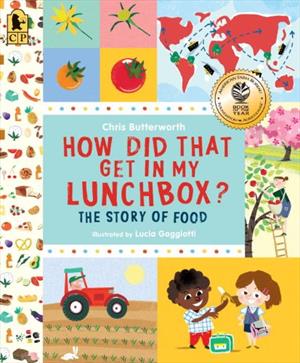 How Did That Get In My Lunchbox?: The Story of Food
by Chris Butterworth
One of the best parts of a young child's day is opening a lunchbox and diving in. But how did that delicious food get there? From planting wheat to mixing dough, climbing trees to machine-squeezing fruit, picking cocoa pods to stirring a vat of melted bliss, here is a clear, engaging look at the steps involved in producing some common foods. Health tips and a peek at basic food groups complete the menu. (Amazon Description)
A part of making heatlhy food choices is understanding where food comes from. This book does that in a colorful fun way.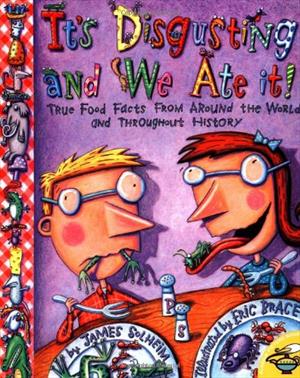 It's Disgusting and We Ate It! True Food Facts from Around the World and Throughout History
by James Solheim
After reading this book, even your pickiest eater students will think meatloaf and mashed potatoes sounds pretty good. Boys especially will love this wacky book on some of the crazy things people from around the world eat. It's educational, entertaining, and down right disgusting.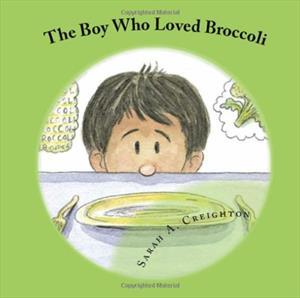 The Boy Who Loved Broccoli
by Sarah A. Creighton
"The Boy Who Loved Broccoli" is a humorous tale about Baxter, a boy who enjoys eating broccoli so much that it gives him super powers. After jumping over mountains and splashing through lakes, he goes on to perform superhero good deeds and convinces others to indulge in the delicious green veggie, only to find out that they become filled with super powers as well. Find out what happens next when Baxter finds himself in a bit of trouble! (Amazon Description)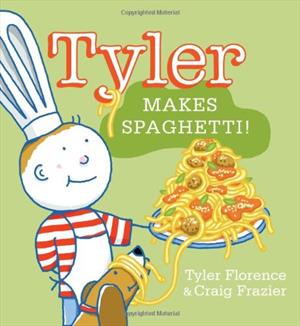 Tyler Makes Spaghetti
by Tyler Florence
Who doesn't love Food Network Star Tyler Florence? My three-year old thinks he's a friend of mine after watching a few "Food Truck Race" episodes with me. "Hey Mom, where's Tyler? He's at work?" Anyway, this adorable story by Tyler about a little boy getting to spend the day making fresh pasta, sauce, and meatballs with a local chef, teaches kids about real home cooking….the first step to raising a long-term healthy eater.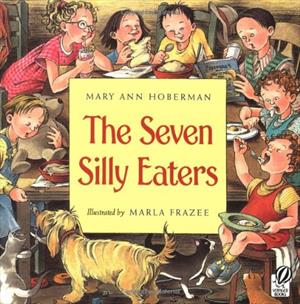 The Seven Silly Eaters
by Mary Ann Hoberman
A book about picky eaters and problem solving. According to The School Library Journal it's "…both hilarious and satisfying," and "could add humor to classroom units on nutrition…"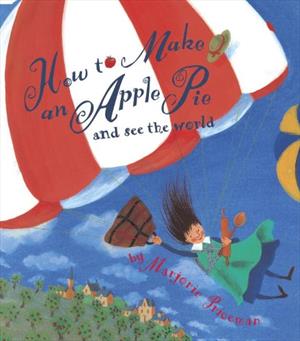 How to Make an Apple Pie and See the World
by Marjorie Priceman
An apple pie is easy to make…if the market is open. But if the market is closed, the world becomes your grocery store. This deliciously silly recipe for apple pie takes readers around the globe to gather ingredients. First hop a steamboat to Italy for the finest semolina wheat. Then hitch a ride to England and hijack a cow for the freshest possible milk. And, oh yes! Don't forget to go apple picking in Vermont! A simple recipe for apple pie is included. (Amazon Description)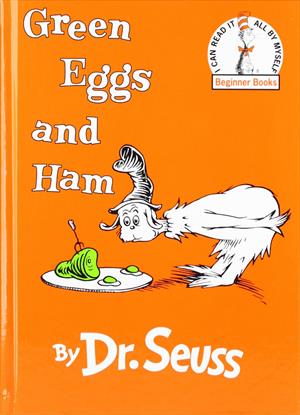 Green Eggs and Ham
by Dr. Seuss
How could I leave out the classic children's story on overcoming food objections? True story: my son has refused eggs for months. "No, I don't like eggs" he has insisted over and over, just like the Dr. Seuss tale. (We've been vegan for his whole life and just added eggs back in in the last few months, so they are a new food for him.) I picked upGreen Eggs and Ham for him a few weeks ago and last night for dinner, he requested a fried egg and then asked for an encore for breakfast this morning. The power of books!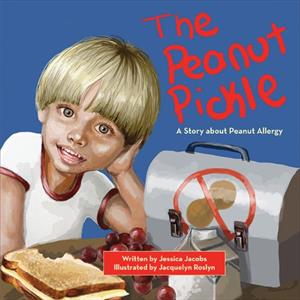 The Peanut Pickle
by Jessica Jacobs
Part of healthy eating is understanding that not every body is the same. Some "healthy" foods can be very harmful to those with allergies or food sensitivities. Because so many classrooms are now Nut-Free zones, I included in this list this cute story about a boy with peanut allergies. Told in a playful way, students will understand the severity of allergies while also seeing kids in the class with allergies as normal peers.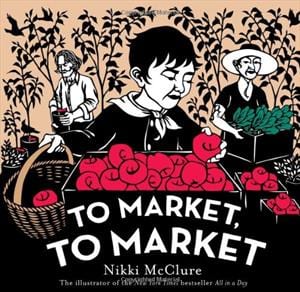 To Market, To Market
by Nikki McClure
Oh, I love this book!
Alternating between story and fact, this lovingly crafted picture book follows a mother and son to the weekly market. As they check off items on their shopping list, the reader learns how each particular food was grown or produced, from its earliest stages to how it ended up at the market. (Amazon Description)
~~~~~~~~~~~~~~~~~~~~~~~~~~~~~
Rachel Randolph is a mom to a busy toddler boy and a wife to an even busier high school football and baseball coach. She is co-author of We Laugh, We Cry, We Cook, a food memoir written with her mom, and their upcoming book Nourished: A Search for Health, Happiness, and a Full Night's Sleep(Zondervan, January 2015). She also blogs at www.TheNourishedMama.com and www.laughcrycook.com.