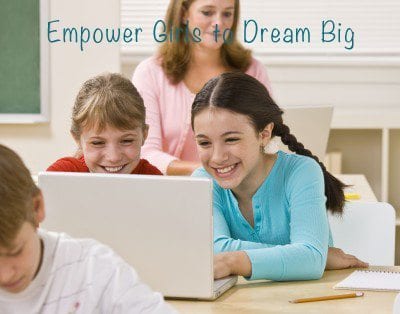 by guest blogger Joann Wasik from TheGateway.org
My fourth grader came home recently, disappointed at not having performed as well on a Math Olympiad contest as she'd anticipated. As we talked about it, she suddenly perked up and said, "Well, girls aren't supposed to be good at math anyway." This statement momentarily threw me for a loop, since she certainly hasn't been raised with these stereotypes, and she is good at math – this was an enrichment class for kids who needed additional math challenge.
Upon questioning, she told me that some boys in her class had passed this nugget of information along to her and some other girls in her class. I was stunned to find that not only were these old misperceptions alive and well, but they were apparently thriving among younger students. More disconcerting was the fact that many of the girls were buying into the stereotype.
Numerous studies have been conducted over the years on gender equality in the classroom. Although there are critics on both sides of the issue, most studies have concluded that in general, girls often receive short shrift in the classroom. While the unequal treatment of boys and girls in the classroom is largely unintentional, it spawns a host of problems both inside and outside of the classroom. Research points to a dramatic decline in girls' self-confidence between the ages of 10-16, and this decline coincides with (or perhaps prompts) a drop in grades at school. Girls express increased anxiety about subjects such as science and math, and feel less equipped to handle these subjects. Some girls turn away from academic, athletic, and intellectual endeavors completely, and may refocus their energy on more socially rewarding pursuits, such as increased popularity or their physical appearance. For many girls, it's more socially acceptable to aspire to be like reality "star" Kim Kardashian rather than global leaders such as U.S. Secretary of State Hillary Clinton or IBM CEO Ginni Rometty.
Girls receive very mixed messages from our schools and our culture at large. They are urged to achieve lofty academic and athletic goals, but at the same time, are expected to exhibit "feminine" characteristics such as self-effacement, empathy, collaboration, cooperation, and relationship-building. Although all of these attributes are certainly positive traits for both girls and boys to possess, they can also end up hindering girls in getting their fair share of attention and credit. While boys are expected to express competitive drive and an eagerness to excel, girls are often viewed as unseemly and "pushy" if they express too much of these same desires. To help ensure that girls receive the same amount of credit and attention in the classroom as boys, teachers should make an effort to call on both genders equally, point out historical female contributions in various subject areas, and insist that girls participate fully in class discussions and activities. Also consider gearing some in-school or afterschool activities focused exclusively on girls:one math teacher I know regularly holds lunches for her female students to discuss different careers that use math skills, such as engineering, architecture, and others.
Beyond the Classroom: Empowering Girls
Subjects: Science, Sociology
Grade: K-12
This booklet provides a collection of ideas and activities from Peace Corps volunteers around the world to be used as a resource in the valuable work of empowering young women. The booklet presents ideas on organizing events, mentoring, taking your daughter to work, internships, clubs, activities, and workshops. There are plenty of ideas here for creating resources aimed at supporting girls at all ages. This booklet was produced by the Peace Corps, whose thousands of volunteers travel around the country and the globe with the express purpose of making a real difference in the lives of real people.
Girls Read: Online Literature Circles
Subjects: Language Arts
Grade: 6-7
Girls develop skills in reading, analysis, and written expression as they share their thoughts about literature with e-mail pen pals and in classroom literature circles. They also explore a larger literacy community when they visit and contribute to a website devoted to adolescent literature. I love how this resource uses literature with strong female characters, and that girls participate in face-to-face and online forums to share their thoughts about the readings. This lesson is a product of ReadWriteThink, which presents free, standards-based resources in reading and language arts instruction.
Girls Speak Out
Subjects: Geography, Sociology, World History
Grade: 9-10
Through the activities outlined in this lesson, students will become familiar with the current barriers standing in the way of educational opportunity, especially for girls. They will watch video clips to understand the sense of urgency surrounding this issue, the potential benefits that can result from educating girls, and the ways that local communities are trying to address these problems. I like that this lesson focuses on the global problem of denying education to girls, and ways to combat such injustice. This resource was created by Wide Angle: Window into Global History, an outreach initiative produced by the LAB@Thirteen, Thirteen/WNET New York's Educational and Community Outreach department.
Peggy's companion column:
Resources mentioned in this post: