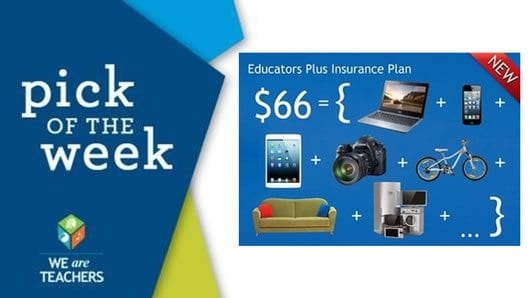 A teacher's life is beautiful … and messy. Coffee spills onto laptops. Kindles are forgotten on airplanes. iPhones are dropped in parking lots and acquire spiderweb cracks. Mysterious lines appear across tablet screens the day after warranties expire.
Our Pick of the Week makes cleaning up these everyday messes a little easier and a lot more affordable.
Why we love it: This personal property insurance policy is designed especially for teachers. One plan insures all of your personal property, including your school-issued electronic devices. Phones, laptops, tablets, bicycles, clothing and more are covered against accidental damage, theft, vandalism, fire, flood and natural disasters. Even protection against liquid damage and weather-related power surges is included in the Educators Plus policy.
At home and away: Educators Plus policies are valid both on and off school grounds. In fact, your property is covered literally anywhere in the world.
Specify and prioritize: Many renters or homeowners insurance policies do not cover liquid or screen damage, and often the deductibles cost more than device replacement. Educators Plus allows you to specifically and completely insure those devices most important to your busy life.
The price is right: Deductibles on Educators Plus policies start as low as $25—less than mobile phone providers' insurance plans—and more coverage is offered for less.
Find it: Worth Ave. Group
Connect with Worth Ave. Group on Facebook, Twitter and Pinterest.
Which device is completely essential to your life as a teacher? Is it your laptop, phone or tablet? Share in the comments!