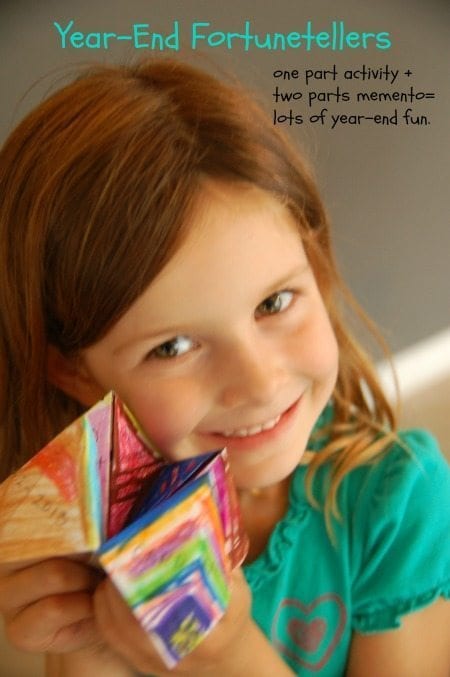 We love this idea for the end of the school year: Make a fortune teller that helps your students to consider the past year or their goals for the years to come. You could ask what lessons they learned during the year, the most fun activity, which school event happened each season… and the list goes on and on.
Here are some of our favorite ideas: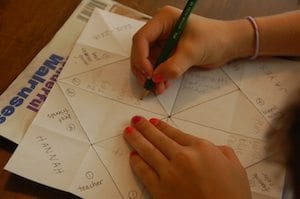 Year's Best Fortuneteller: This fortuneteller lists the student's favorites and bests! They write their answers and decorate it, and voila! A memento is born.
Corner pieces: First Name, Grade, Last Name, School Year
Inside:
Teacher Name
Favorite book
Favorite color
Biggest accomplishment
Yummiest food
Favorite subject
Best recess game
Best friend
Subjects Fortunteller: This fortuneteller gives students a chance to think about all they've learned over the course of the year.
Corner pieces: English/Language Arts, Social Studies, Math, Science
Inside: A break down each subject into favorite part and biggest challenge for 8 answers.

Teacher's Pet Fortuneteller: This fortuneteller is a gift from you to your student. Take a moment to tell them what you love about them and how they make you proud. Send it home with them at the end of the year – they'll keep if for years to come!
Corner pieces: First Name, Grade, Last Name, School Year
Inside:
Biggest Accomplishment
Best Trait
Funniest Moment
Best Subject
Something They Taught YOU
Prediction for Next Year
Favorite Extracurricular
Role Model/Famous Person They Remind You Of
Seasons of Fun! The end of the year is the perfect time to think about the fun they've had all year. Use the seasons as a reminder and have them share what they love best about each one.
Corner pieces: Autumn, Winter, Spring, Fall
Inside: Two things they love about each season.