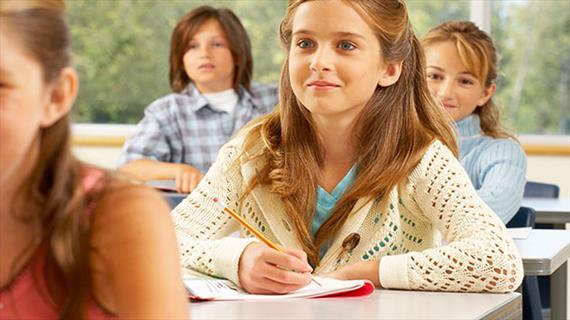 Joann Wasik from TheGateway.org
The late Christopher Hitchens was famous for turning in pitch-perfect articles and columns that he'd dashed off in one fell swoop – no outlines, no preliminary drafts, no revisions. It irritated his fellow writers to no end, as they labored over each sentence while their publication deadlines loomed. Indeed, the overwhelming majority of us often have difficulty with writing at one time or another. Writing can be a messy business, and it often stymies novices and experienced authors alike.
Students in particular often face writing difficulties, as they wrestle with how to harness ideas, tame meandering sentences, and extract clear meaning from a thicket of paragraphs. At some point, every writer must also confront the dreaded "blinking cursor" or "blank page syndrome," where ideas seem to dry up and the words just won't flow. Sound familiar?
The writing process is comprised of five distinct stages. In the Pre-writing phase, students come up with ideas through brainstorming sessions, writing prompts, or other methods, and build on those ideas. They may make an outline of the salient points or events that they wish to include in their pieces, and begin to plan the structure of their writing. The students then move to the Drafting stage, where they write paragraphs without worrying about spelling, grammar, or the accuracy of facts. The important part of this stage is to simply write, and writers often have others read through their completed drafts and offer suggestions for improvement. Once a draft is complete, students then Revise their work. They reread their drafts, removing unnecessary elements, clarifying vague parts, and so forth. They may make changes to their work based on other readers' suggestions. Once the revisions have been completed, students must then Proofread or Edit their work, fine-tuning it to make sure that there are no grammatical errors, misspelled words, or weak sentences. Finally, students move to the final phase of the writing process, where they Publish their work. The term "publish" can mean different things, depending on the type of work produced and the reason for writing it in the first place. "Publishing" for students can mean simply handing in a final copy of a paper or producing a blog post.
It's important to remember that while the stages of the writing process are usually taught sequentially, the stages actually overlap one another, and are repeated throughout the process. Writing is not a linear process, but a recursive one, and students should know that – Hitchens aside – all writers go through these same stages, and all writers occasionally struggle with their writing.
This week I've highlighted three Gateway resources on the writing process for various grade levels. As always, I'll be featuring many additional lessons and activities throughout the week on our Gateway Twitter and Facebook pages, so please give them a look.
Writing Workshop: Helping Writers Choose and Focus on a Topic
Grade: K-2
This lesson, conducted in a workshop format, helps young writers bring greater focus to their writing. Students use a timeline to break a larger topic into several events or moments; then, each student selects an event to write about from the timeline. Students first work with a whole-class topic, then apply this strategy to self-selected topics. Students share their writing and respond constructively to one another's efforts. Finally, teacher–student conferences help students incorporate feedback and work on specific weaknesses. I really like the timeline feature in this lesson, which helps students to focus on specific events, and not be so overwhelmed by a wide-open topic. This lesson is a product of ReadWriteThink, which offers peer-reviewed resources in reading and language arts instruction.
Introduction to the Writing Process
Grade: 4-6
Help students develop a more effective writing style by exploring the steps of the writing process. The lesson will use guided activities to encourage brainstorming and proofreading, and students will compose a structured short story. This lesson features Brainstorming as the first stage of a 6-step writing process, and is great for ELL students. This lesson was produced by The Zimmer Twins, a Web site devoted to kids and creative storytelling.
Write Right!
Grade: 9-12
Students will learn methods to warm up and get ideas to begin the writing process and get over the blank page, I-don't-know-what-to-write-about syndrome. I like the thoroughness of this lesson, as it incorporates a lot of free thinking and brainstorming sessions to stimulate student writing ideas. This lesson is a product of Beacon Learning Center, an online educational resource and professional development center that offers standards-based resources and professional development activities.
Peggy's companion column:
Resources mentioned in this post:
Looking for more writing help? Check out all the great advice on our Writing Across the Curriculum page.