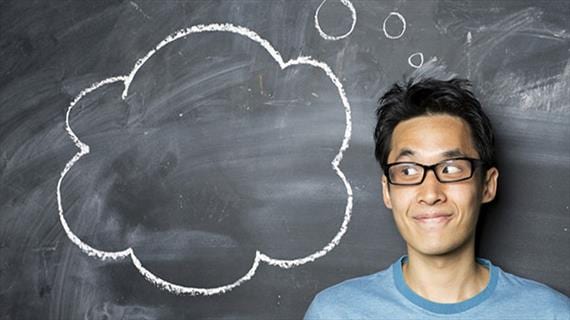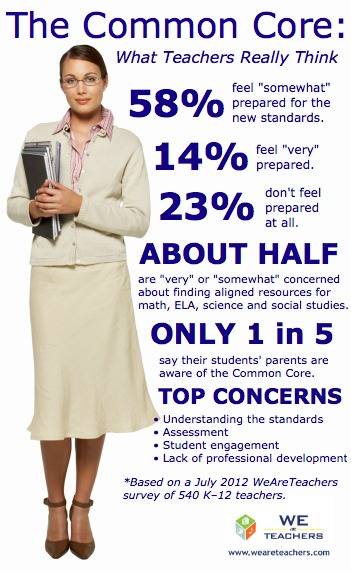 There's been a lot of talk about the new Common Core State Standards—how they will impact students, what the new expectations will be for math and reading and how the standards will affect the curriculum school-wide. But we don't think there's been enough discussion about how the Common Core will affect teachers' jobs, whether or not they feel prepared and where they are finding resources.
So WeAreTeachers decided to do a little research. During July, we conducted an online survey of 540 K–12 teachers and asked them about their readiness for the Common Core, as well as what kind of professional development they have received and what challenges they believe lie ahead. Here's what they had to say:
Close to half of teachers say their school will be implementing the standards during 2012–13. Twenty-nine percent of respondents faced implementation last year, and 12 percent will be implementing in 2013–14.
Seventy percent of teachers have received some kind of professional development regarding the Common Core.
That said, 23 percent of teachers feel "not at all" prepared for the new standards, 58 percent feel "somewhat prepared" and only 14 percent feel very prepared.
Around half of the respondents are "very" or "somewhat" concerned about finding CCSS resources for math, ELA, science and social studies content.
Teachers are using a wide variety of sources to find materials for the Common Core, including their states (68%), districts (59%), publishers (53%) and associations (37%). Sixty percent of teachers say they are also creating their own CCSS-aligned resources.
Only one in five teachers say their students' parents are aware of CCSS. Of those that are aware, top concerns include how the CCSS will impact assessment and grades, as well as not being able to help their child.
Teachers see several challenges to Common Core implementation, including their own understanding of the standards, student engagement, assessment, and lack of professional development.
Question for you: What's your take? Do you feel ready for the Common Core? What do you see as the biggest challenges?