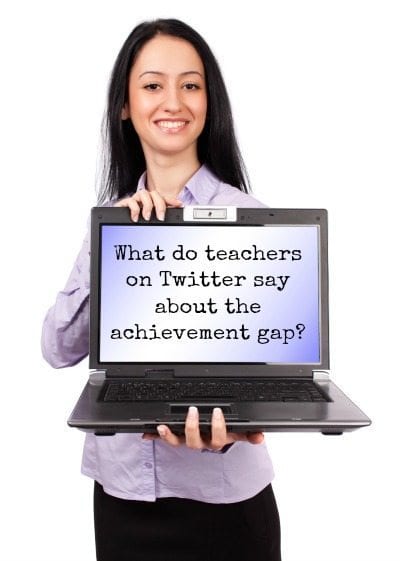 How can early learning educators intentionally and creatively work to not only bridge but also to prevent the achievement gap? We teamed up with VINCI Education to find out—and invited early learning educators to share their insights and ideas at our #preventhegap Twitter Party. Throughout the party, we got a glimpse into the inspiring minds of these savvy educators, and after looking through their responses, here are some of the top ideas, tips, and trends that we started to see.

1. Use technology as curriculum instead of a reward.

In the past, technology has often been used as a reward for students who behaved well or finished work early. But with the advent of curricular programs that allows children to interact with technology in a meaningful way, many teachers are starting to integrate technology into their early learning curriculum.
@karennemethEdM: Rather than using tech as a prize, try using it as a true, intentional tool for learning, planned to meet learning goals.
@VINCIgenius: Spending quality time with your kids and technology could be a great way to bond and learn.
@seventeenmiledr: Technology use should be daily! There are so many ways to include technology as part of the curriculum.
@bobbiC07: Educational tech is a tool that, just like a crayon, should be used frequently, not as a one-time wonder.
2. Differentiation is harder than it seems…and it seems hard.

Having to personalize lessons for 20 different personalities, learning styles, and abilities is a feat unto itself, but when you have state standards, teacher workload, and parent expectations on top of that, it can be downright impossible. Our educators seemed united on one thing: getting some help with differentiation—usually through a well-researched technology program—is the key to being successful at bridging achievement gaps.
@bobbiC07:

Having good technology personalizes learning and apps for each child so learning isn't cookie-cutter.




@Margaret_A_Powers: One of the best ways I've found to differentiate is to find out what's most meaningful to each child and build lessons and projects around it.
@KarenNemethEdM: Technology lets you immediately research and explore deeper for any teachable moment!
3. Learning takes both inspiration and perspiration.
Yes, learning takes hard work on both the part of the student and the teacher, but it also takes a lot of inspiration. The teachers at our Twitter party reiterated again and again that a huge part of preventing the achievement gap is inspiring a love of learning in struggling kids. And part of inspiring a love of learning is being an inspired learner yourself.
@kodable: The earlier you inspire kids, the more likely they are to enjoy learning later and aspire to greatness.
@frm1mom2another: The earlier you teach, the better the chance the child will succeed. Make learning fun!
@karennemethEdM: What inspires me to teach the teachers of young children? The hope of the future they hold in their hands every day!
@VINCIGenius: We are inspired to develop learning tools to support the bright minds of tomorrow.
4. The achievement gap often starts at home.
Many kids just don't have access to the learning tools they need to be successful. This starts at home, where many kids not only lack access to books but also to technology that is a key part of learning in a 21st century classroom. This can be prevented by giving kids early access to essential learning tools through early learning programs as well as through educating parents on the learning resources that are available to their children.
@geographyU: I think part of the discussion we are ignoring is that tech is part of the gap. Many kids don't have as much tech exposure.
@KarenNemethEdM: Our national survey of teachers and administrators found tech is most often used by the teacher and children together—great collaboration!
Tell us what you think! Do you agree with these educators? What do you have to say about the achievement gap?