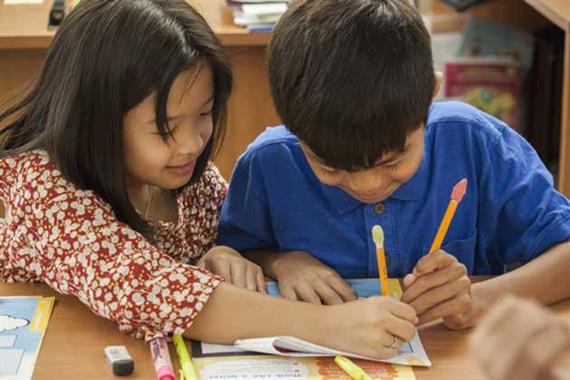 Brought to you by Teacher Created Materials
More
When you teach in independent schools like I have for most of my career, you often have the benefit—and burden—of writing your own curriculum. I've spent hours tracking down each resource, tailoring it to my liking and then designing every assessment to match my instruction perfectly. It's satisfying to have your signature on your teaching, but it's also a lot of work! So when this ready-to-go Write Time For Kids curriculum from Teacher Created Materials arrived on my doorstep a few weeks ago, I was eager to check it out. And I liked what I found.
The program is so well organized that any teacher could teach a lesson as soon as they open the box. Even better, it has all of the components I'd want to include if I were building my own writing curriculum.
Mentor Text Cards Capture Kids' Attention
The concept of Write Time For Kids is simple. It uses real-world, engaging text from Time For Kids magazine to teach students in grades K–5 narrative fiction, narrative nonfiction, opinion/argument and informative writing. These articles are presented on Mentor Text Cards, which were the first thing to catch my eye. They were so full of compelling content that my elementary-school-age daughter ended up pulling them from my hands to read them herself. She started poring over the cards, reading one after another—I worried I'd never get them back into the right order again! That's when I noticed another of my favorite things about this kit: All of the cards are tagged in a way that makes it easy to keep cards organized and in the right place after you've used them in a lesson. Plus, they're made of laminated card stock, so they're built to withstand real classroom use.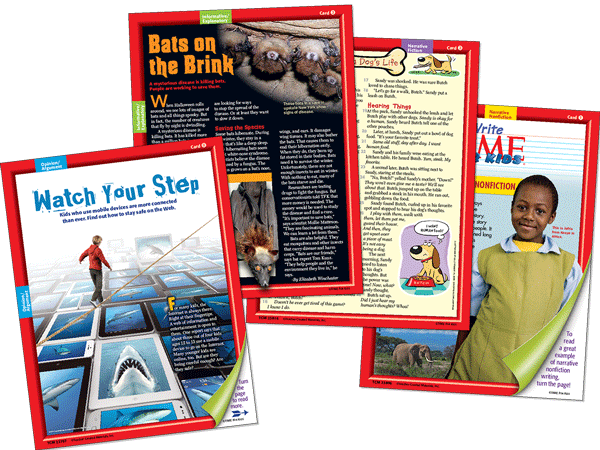 Easy-to-Use Digital Resources for Differentiating Instruction
As I walked through the technology component of this curriculum, I was instantly flooded with ideas for how students of all abilities could benefit from using the Write Time For Kids curriculum. When I worked as an elementary-school learning specialist, we were constantly looking for ways to make content more accessible for struggling readers. That's what the digital resources do here, and they make it so easy. Each of the Mentor Text Cards is available in digital format. Students can click on the image of the card they need, and then have the components of the card read aloud to them. Then they can type their responses if they are able, or even record a spoken response.
There are also three different graphic organizer options for each Mentor Text Card. Teachers can help students choose the one that is the best fit, and then the child can fill out the graphic organizer on the computer. I can think of five kids right now who would benefit from this kind of technology. I had one student who had fantastic ideas to write about, but just couldn't bring himself to sit and read a piece of text for more than two minutes at a time. He could easily formulate a cohesive verbal argument about why kids should be allowed to play dodgeball in school (one of the topics from the Mentor Text Cards), but asking him to put those arguments in writing would prove challenging. If he had the chance to hear the content out loud and then dictate his response, his finished written product would probably improve by two grade levels.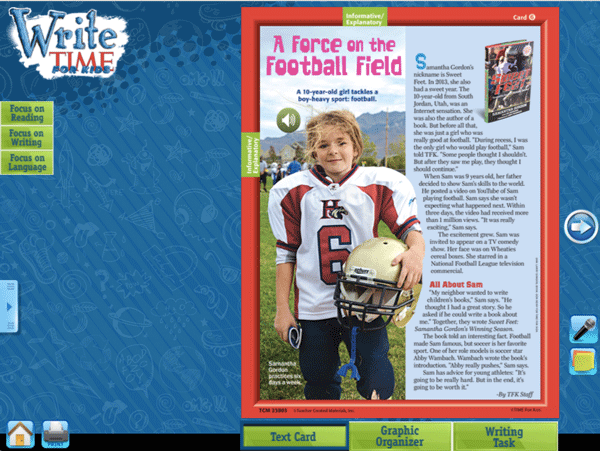 Four Teacher's Guides, Plus a Best Practices Guide to Help Structure Your Lessons
Even if you've been teaching for years, sometimes it's nice to have a few ideas for introducing content all spelled out on the page for you. Sure, you can deviate from what's there, but it's nice to have a guideline. The Teacher's Guides have lessons to go with each of the 32 Mentor Text Cards. They include rubrics, follow-up activities and a review of the writing process in each lesson. Additionally, the Best Practices guide gives general teaching advice for the program, including how to use the content in a Writers Workshop–type setup. (I love workshop teaching!)
Student Handbook for Teaching Specific Skills and Grammar
One of the most challenging things about teaching writing is balancing the creative and organizational components against the basic grammar and punctuation skills that kids need to become good writers. The student guide included with the curriculum weaves skill instruction into the writing task so that kids are getting a well-rounded writing instruction experience. (The third-grade version even teaches kids how to use an em dash, which I never even learned in college or graduate school—still trying to wrap my brain around them, truthfully.)
One of the Mentor Text Cards that especially captivated my daughter focused on a 10-year-old football player, who also happens to be a girl. The girl's father posted a video of her playing football, and the video went viral. The Student Handbook leads students through a lesson about using temporal words in writing, all based on the Time For Kids article about this unusual athlete who found success on the field, and on YouTube. Content like this makes the process of learning to write clear descriptions of events 10 times more interesting for kids.
The Bottom Line
There aren't going to be any holes in your students' writing instruction if you work your way through theWrite Time For Kidsprogram. It covers everything. Narrative Fiction, Narrative Nonfiction, Informative/Explanatory Writing and Opinion/Argument Writing are all included in the curriculum. Factor in the grammar and punctuation lessons included in the Student Handbook, and you've got one of the most thorough writing programs that I've come across. Even if you just pull out bits and pieces to teach here and there (the curriculum is totally modular), the kids are going to love it. Whether they're learning to write a persuasive essay about whether kids have too much homework or learning to tell a nonfiction story about a 12-year-old champion chess player, students are going to want to be involved in telling these stories—they won't be able to help themselves.
Want to try out the Write Time For Kids curriculum? Teacher Created Materials is giving away a free curriculum to the first 100 people who sign up on their website! Go now!