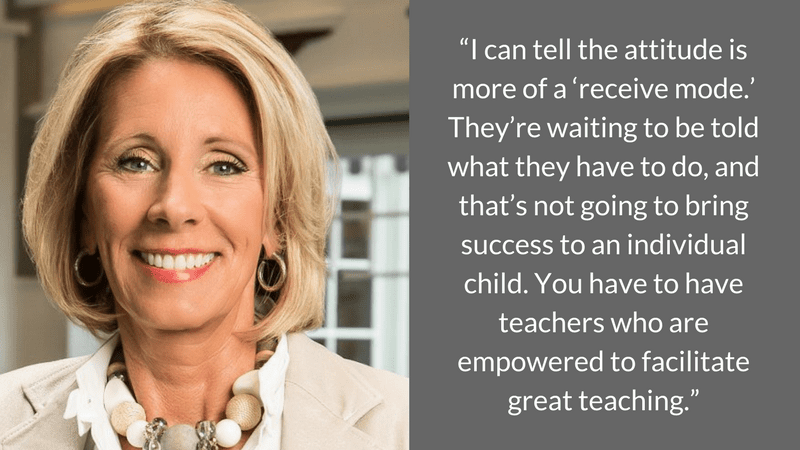 According to our new Secretary of Education, public school teachers are "waiting to be told what they have to do" to help our students.
I don't know about you, but I do, in fact, spend a lot of my day waiting. I get to school early and wait in line for the one working copier. At the beginning of my planning, I generally have to wait for the single-occupancy teacher bathroom to be available. Then, of course, there's the approximately 50,000 times a day I stand at the front of the room and say, "I'll wait" until my kids get quiet and listen. Then after school, I frequently have to wait for parents who are late picking their kids up because they got held up at work.
But I never realized I was waiting to be told what to do. Still, if the government says so, it must be true. I am just passively waiting to be told how to teach my kids. And so are you. But while we're waiting, here are a few things I'll be doing in the interim.
While I wait to be told what to do, I'll be making four sets of lesson plans for my four seventh grade English classes, so I can make sure each class's lessons meet not only their needs, but also their interests.
While I wait, I'll write grants and beg for money for books and field trips and all the other stuff the school system doesn't fund. I'll shop kids' consignment sales for decent uniform pants and shirts for my students, and pick up the occasional pair of shoes for a kid who needs them.
While I wait, I'll read every awful "teen paranormal romance" a student recommends, because it shows them that I value their input and lets them experience the joy of sharing a book they love with someone else. I already know more about sexy vampires than anyone I know, but it's something to do while I wait.
While I wait for Betsy DeVos to tell me what to do, I'll be going over my lesson plans again and again, trying to figure out ways to incorporate more movement, more art, more music, more performance. You see, those are all things that have been cut from our public schools, so I have to make sure my kids get them somewhere.
While I wait, I'll be working with my kids on their social and emotional development, calling their parents when they do something amazing, and coaching them on the choices they make.
And while I sit passively and await instructions on how to do the job that I believe God put me on earth to do, I'll be calling my senators and representative every day, advocating for our public schools and the students who attend them.
It's not much, I know. But it's something to do while I wait.